A Collection of 15 Bonnet Knitting Patterns Free
Knitting can be a creative and therapeutic hobby that can be enjoyed by anyone with some patience and practice, and why not create a newborn bonnet with free patterns?
Bonnet patterns are a great project for beginning knitters, as they don't require too much time or skill. It's also a great way to try out a new knit stitch without feeling overwhelmed.
And trying out different knit stitches on quick newborn bonnet patterns is a great way to relieve stress and make a baby gift. Keep on reading for a collection of 15 Bonnet Knitting Free Patterns.
Want the ad-free downloadable pdf?
Baby bonnets have been around for centuries and are seen as a timeless addition to any infant's wardrobe.
They were initially used to protect a baby from the elements, but they have also become a fashion statement in recent years.
Baby bonnets come in various styles and materials, making them suitable for any season or occasion.
With this 15 free baby bonnet knitting pattern collection, you can create the perfect handmade gift for a newborn.
Whether you create a traditional bonnet or something more modern, the options are practically limitless.
Each free knitting pattern below provides detailed instructions to make a beautiful baby bonnet pattern with different options for knitting in round or flat.
In addition to being a great gift for babies, knitting a newborn bonnet pattern is also a fantastic way to practice your newfound craft skills!
With these free patterns, you can learn how easy it is to read a knitting pattern, follow a stitch chart, and recognize different types of stitches.
Why are baby bonnet knitting patterns so popular?
Not only are cute baby hats practical, but they have a timeless charm that will last for years to come. So why not show off your knitting skills and make something special for a little one?
Here are ways to showcase the free baby bonnet knitting patterns:
Newborn photography session. Make your baby the star of their photo shoot with a hand-knitted bonnet. It's also great if you sell at markets for newborn photo props for extra sweet pictures.
Christening bonnet for a traditional occasion. Show your love and appreciation with a handmade knit bonnet for her bundle of joy. The baby bonnet will be a keepsake item to pass down from generation to generation.
Make an impression at the baby shower with a unique, handmade baby bonnet as a present. A handmade knitted bonnet is a special gift for a new mom.
How to choose the right yarn for baby bonnet knitting patterns.
When selecting the yarn for a baby bonnet, choose soft and gentle materials on the baby's skin. Natural fibers such as cotton or wool are best, so reading the label before buying is essential.
The type of yarn will also determine how thick or thin your knitted bonnet will be and if the bonnet fits. Check the label on the yarn to determine if it is suitable for baby wear or be conscious if a baby might have an allergy to certain fibers and opt for an acrylic or synthetic fiber instead.
Many different yarn weights can be used for these adorable bonnets, and it's easy to adjust to different sizes of most of these patterns. Casting on less stitches, or going down yarn and needle size, can create a different size for a preemie. And it takes less than just one skein.
If you want to go with a fingering weight, sport weight, or lace weight, simply adjust the rows and follow the decrease repeats. To make sure the bonnet pattern fits, check the measurements as you go.
For this free pattern collection, the recommended yarn is worsted weight yarn or dk weight yarn. This weight means the baby bonnets knitting patterns work up really fast!
What's unique about these simple newborn bonnet patterns?
Each bonnet has 4 finishing options for the back of the hat. This means you can use whatever needles you want for each bonnet. Finish the bonnet backs:
In the round in pattern.
In the round with no finishing pattern.
Flat in pattern and sew the back.
Flat with no finishing pattern and easily sew the back of the bonnet.
For each strap of the bonnet to tie around the neck, you can either use strands of yarn to create ties, or crochet a chain for the steps.
Another option could also be i cord ties, find out how to knit and i-cord.
These baby bonnets with ties should always be worn under adult supervision.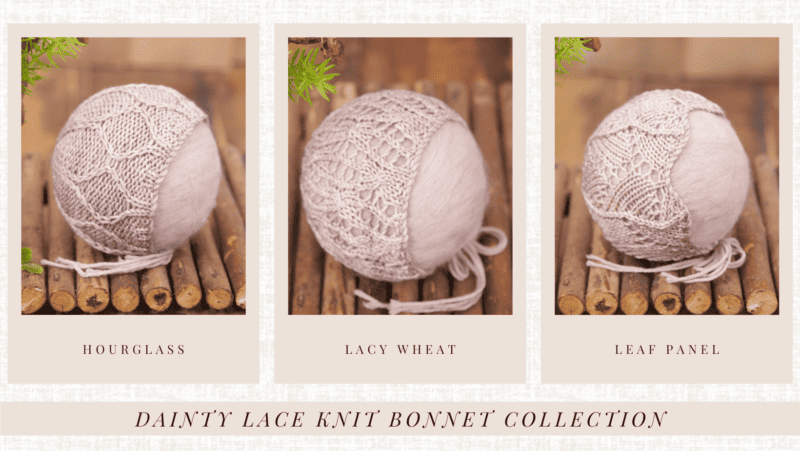 A Collection of 15 Free Knitted Newborn Bonnet Patterns
1. The Linen Stitch Knit Newborn Bonnet
Step up your knitting game with the timeless and stylish knit linen stitch technique. This versatile, easy stitch has stood the test of time and is perfect for creating durable, comfortable, and oh-so-chic garments.
This basic stitch pattern is reminiscent of the classic linen look with alternating columns of knits and purls. And what better way to showcase its beauty than with a newborn size knit bonnet?
The free adorable bonnet pattern takes advantage of the simplicity and attractiveness of this easy stitch to create a cozy, charming accessory for your little one.
Get ready to stitch up something exceptional with the knit linen stitch with this free pattern!
2. Stockinette Stitch Ridge Newborn Bonnet
Get ready to knit like a pro because we've got an awesome four-row repeat stitch for you! The stockinette stitch ridge is perfect for adding texture to any fabric with its easy stitches and simple decreases and increases.
This is not your average stitch, folks! It creates lines across the fabric, and the decreased stitches create an eyelet effect.
And the best part? Even though it has a lot of decreases, it still maintains its flexibility (shocking, we know!). Just be sure to block it to lessen the curl on the front of your project. Happy stitching with this free pattern!
3. Crossover Texture Newborn Bonnet
Ready to become a knitting master? Join me in learning the oh-so-chic left and right cross stitches! With my super helpful video tutorial, you can master these must-know techniques in no time.
And if you're short on time or resources, no worries - I'll show you how to do it with or without a cable needle.
Bonus: Once you've got these skills down, you can put them to use with my free knit baby bonnet pattern that's perfect for all your adorable photoshoots. Let's get started on our knitting journey with this free bonnet pattern!
4. Double Rice Knit Stitch Newborn Bonnet
Are you ready to improve your knitting game and impress everyone with your skills? Look no further than the double rice stitch! This unique and textured pattern is perfect for creating a sturdy fabric to complement any baby nursery theme. A
And the best part? It's easy to learn, making it a great way to practice your knitting technique. Don't be intimidated by knitting through the back loop - the double rice stitch tutorial will have you mastering it like a pro in no time.
Once you've mastered the stitch, you can create the cutest and most gender-neutral newborn bonnets around. So, grab your knitting needles and prepare to add some fantastic texture to your next project!
5. Newborn Baby Bonnet with the Knotted Openwork Knit Stitch
Are you a lace lover searching for a creative pattern to add texture to your knitting? Look no further than the Knotted Openwork Stitch!
This stitch pattern boasts a gorgeous lattice-like mesh and unique knotted texture that will have you in awe.
Don't be scared off by the intricate appearance - the pattern repeat is quite simple, making it perfect for experienced and beginner knitters alike.
Plus, this stitch's sturdy yet flexible fabric is perfect for crafting cozy blankets and adorable bonnets for any gender. The result is worth the effort!
6. Arrowhead Lace Knit Stitch Newborn Bonnet
Behold the Arrowhead Lace Stitch! Don't let its intricate appearance fool you, as it's an easy feat to learn. This stitch creates a stunning openwork fabric with arrow-like motifs that amazes everyone.
The stitch lines dance across the knit fabric in such a captivating manner, almost resembling a chevron but without any unwanted pulling at the front of the fabric.
The Arrowhead Lace Stitch has a light and airy drape, making it the perfect choice for all lacy projects.
Pick up those needles for an exciting and satisfying bonnet knitting adventure resulting in a show-stopping project.
7. The Purse Stitch for a Bonnet Knitting Pattern Free
Do you want to add a touch of sophistication to your knitting game? Here's your chance to learn the coveted Purse Lace Stitch. This one-row repeat may look complex, but it's actually quite simple to master. And the result? A stunning, reversible fabric with a delicate give.
The vertical lines create a timeless appearance that will never go out of style. And the combination of purl stitches, yarn overs, and decreases works like magic to produce a polished finish.
Moreover, this stitch is perfect for creating a gender-neutral newborn knit baby bonnet. You can use your newfound skill to make a sweet and versatile accessory in which any baby will look adorable.
So, don't wait any longer -- give Purse Lace Stitch a try and take your knitting skills to the next level!
8. Front Cable Trim Knitted Bonnet
How cute does a baby look in a cozy little bonnet, am I right? But why settle for a plain, lackluster version when you can add a trendy twist?
That's where a cable trim comes in! Elevate your baby's fashion game with this charming detail that's sure to make heads turn.
Not only will your adorable little one stay snug and stylish, but they'll also be the unofficial fashion icon of your next playdate.
Say goodbye to boring bonnets and hello to the awe-inspiring accessory that is the cable-trimmed bonnet!
9. Herringbone Stitch Newborn Knitting Pattern Free
This horizontal cable knit pattern is reminiscent of a fish's scales and results in a gorgeously textured fabric that will leave you proud of your creation.
Don't let the intricate design fool you - mastering the herringbone stitch is easier than you might think.
Use basic knit stitches with a video tutorial, and you will pick up the herringbone stitch quickly.
The Herringbone knit stitch is a a robust and durable weave that's perfect for enhancing your home decor and a thicker textured newborn bonnet.
10. Knit Hourglass Slip Stitch Baby Bonnet Pattern
Welcome to the captivating world of the hourglass slip-stitch knit pattern! Prepare to wow your pals with a darling newborn bonnet crafted using this interesting stitch. And fear not, beginners!
A video tutorial of the stitches in this free pattern will quickly lead you through the knit right and left cross stitches.
Before you know it, you'll be a pro at this stunning stitch pattern- just be sure to pack some patience and practice!
11. Bonnet Knitting Pattern with the Lacy Knit Wheat Stitch
Looking for a stitch that's as light and airy as a summer breeze?
Look no further than the lacy wheat stitch! Perfect for capturing picture-perfect moments of your cute little one during their photo shoot session, this stunning stitch features intricate eyelet knit lace work that's sure to impress.
Its lightweight DK weight yarn makes it comfortable and breathable for even the warmest months.
So why not upgrade your baby's wardrobe with the effortlessly chic lacy wheat stitch today?
12. Knitting a Bonnet with the Leafy Panel Stitches
Looking for a way to add a touch of nature to your knitting? Say hello to the Leaf Panel Stitch Pattern!
This stunning design mimics the mesmerizing texture of cascading leaves, perfect for creating an elegant and eye-catching masterpiece.
Even beginners can easily create this gorgeous leaf-shaped lace in a breeze. Imagine this panel's ethereal and breezy feel stitched into your summer baby wardrobe.
So why wait? Get your knitting needles and see your projects bloom to life with this free pattern beginner-friendly stitch pattern.
Trust us; the rest is a breeze once you conquer the double-knit decrease. So, are you ready to infuse some leafy allure into your knitting projects? Let's go with this free pattern!
13. Baby Bonnet with a Lacy Cable Knit Stitch
Looking for a new knitting adventure that's equal parts stunning and challenging? Meet the Lace and Cable Stitch - a mesmerizing combination of cable and lace stitches that will turn heads.
With the proper technique and a delicate, lightweight yarn, this stitch details creates a gorgeous pattern that's a feast for the eyes.
Whether you're a seasoned knitting pro or dipping your toes into more complex stitches, the Lace and Cable Stitch is a must-try.
So why not take your knitting skills up a notch and give it a spin? With a bit of patience and creativity, you'll be amazed at what you can create with the Lace and Cable Stitch!
14. Knitted Baby Bonnet with the Lattice Knit Stitch
Upgrade your knitting game with the versatile stitch known by many names: Lattice Stitch, Lozenge Stitch, or Diamond Stitch.
Don't let its advanced appearance intimidate you - starting with a small project, like a baby knit bonnet, is the perfect way to practice this lovely pattern and chic texture.
With the Lattice Stitch, you get the aesthetic of cabling without any extra work. This stitch is a breeze to learn and can even be incorporated into existing patterns to take them to the next level.
Ready to impress everyone with your new skills? Give the Lattice Stitch a try and see what you can create!
15. Knit a Baby Bonned with the Wrapped Stitch
If you're a knitting enthusiast looking to elevate your skills and add something unique to your repertoire, the wrapped knit stitch is just the thing for you!
Don't be intimidated by its challenging nature - the stunning design is well worth the effort. This stitch resembles a classic wheat stitch, adding just the right amount of texture and interest to any project.
It's versatile enough for any gender, especially when fashioning a sweet bonnet in newborn sizes.
So, get your hands on some needles and yarn and embark on this thrilling, fun, and rewarding knitting adventure!
Thank you for following along with each knit bonnet. I hope you enjoy exploring different knit stitches, happy knitting!
Well That Was Fun! What's Next?