Crochet Pillow Patterns! Handmade Home Decor
I recently republished one of my favorite winter crochet pillow patterns, the Tree Tassel pattern (which also comes in a knit version). Doing so reminded me how much I love handmade home decor. Pillows are a quick and easy make that can significantly change the style of your home as suited to the season. Therefore, I wanted to roundup all of my crochet pillow patterns for you in this one space.
How to Crochet A Pillow
Before we dig into the patterns, themselves, I thought I'd go over some basics about how to crochet a pillow.
First of all, you can crochet a pillow or alternatively crochet a pillow cover. The difference is that the pillow includes the insert. Oftentimes, these crochet pillow patterns are seamed shut around the insert. In contrast, crochet pillow cover patterns are typically removable for easy washing. This is also a great way to switch out your home decor style each season without having to stash a bunch of full pillows in storage.
Other things to know about how to crochet a pillow:
Obviously pillows come in different sizes. You usually want to leave a little room for ease to tuck the pillow in.
Likewise, pillows are often square or rectangular in shape but may also be round. Therefore, you want to think about shape and size before you begin a project. I use square and rectangular pillows in my home, typically in standard sizes of 20" square and 12" x 20" rectangular.
Oftentimes, you'll crochet the front and back pieces of a pillow separately. Then you'll stitch them together. You might add length to the front cover so that it wraps around the back, allowing you to add buttons for closure.
Crochet Pillow Patterns
Here's a roundup of all of my crochet pillow patterns available to date. I hope that you bookmark this page and come back to it to create new handmade home decor throughout the year. Remember that handmade pillows also make great gifts for others!
And if you want to add some dimension to your pillow, check out The Best 27 Crochet Leaf Patterns for Any Season for some leafy appliques.
This free pillow pattern comes in both knit and crochet versions. The base of each pillow, meaning the knit or crochet stitches, is super simple. That's because the point is to celebrate the yarn tassels that make up the boldness of this design. Learn how to make yarn tassels, then assemble them to create a 3D pine tree on the front of the pillow. Designed for Christmas, this cabin-style decor works all winter long. If you changed out the colors to something brighter and bolder, it might even work throughout the year!
I've made a few different crochet pillows patterns that are great for the Christmas holidays. This one is the one that's the most "Christmas." It's got a cute Santa belt right across the center of it that really makes the design pop. If you need a last minute holiday gift, learn how to crochet a pillow like this right now! Another unique feature of this pillow that it's a rectangular pillow designed vertically instead of horizontally. I hope you agree that this is a fun twist!
I love the word "cheers" because it really reminds us to celebrate the little things in life. Although it's associated with the Christmas holidays, I think it's a word that can brighten our lives all year long. That's one of the reasons that I designed this crochet pillow in neutral colors. I've designed this as a 12" x 20" pattern. In other words, this is one of my rectangular crochet pillow patterns. Similar to "Cheers," I thin Joy is a word we can use more of all year round:
This is another of my favorite crochet pillow patterns. That's because it uses my crochet knit purl stitch, the video for which went viral on TikTok awhile back. I love this easy crochet stitch pattern designed to mimic knit stitches. If you're looking for that look, then you'll enjoy working with this pattern. It's worked in a single color; choose the color that works best with your home decor. Make several in different complementary colors for a full set.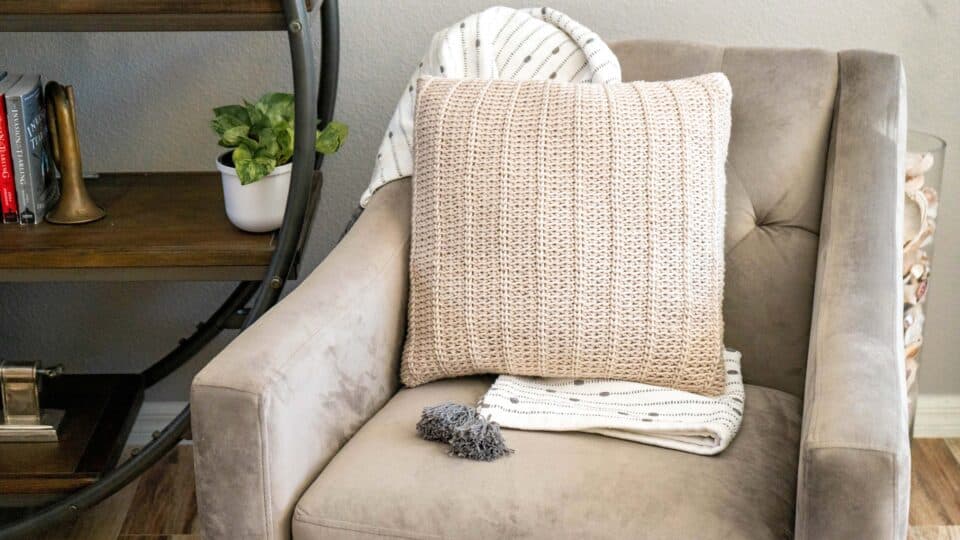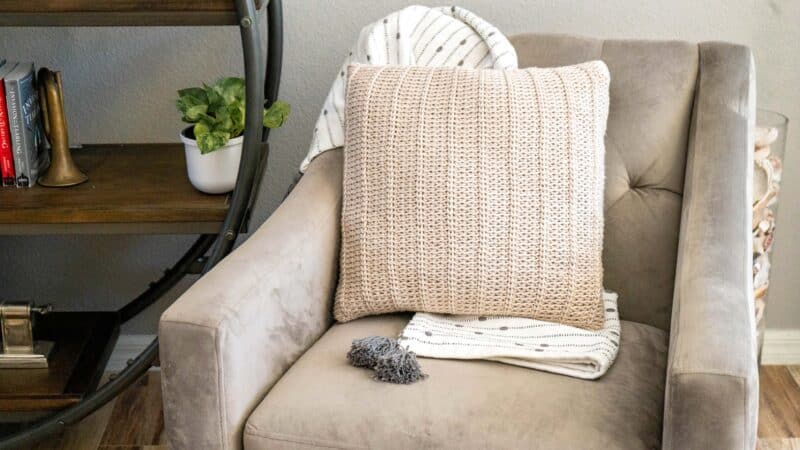 Love the look above and want a little bit of a variation? The Crochet Nutmeg Pillow Pattern has more stitches in the back loop between those split single crochet stitches. So it's still very simple and easy to work up. This is another home decor style that can be used all year round, or crocheted in a color that matches your room decor.
Are you familiar with my infinity crochet technique? It's a unique approach to crochet cables that are highly three-dimensional. Worked in neutral colors on a pillow, these add sophisticated style to any home decor.
Are you looking for a colorful, detailed design that you can use all year long in any room of the house? Then look no further. Inspired by quilt design, this 20" square crochet pillow gives you a chance to play with color work and create something fabulous for your home.
I designed this as a New Year's pillow, indicating fresh starts and new directions. This neutral design works all year long though, and it works for different decor styles. For example, pair it with some blue and white crochet pillows for a nautical theme.
You probably know by now that I love the red farmhouse truck design. Combined with knit or crochet, this design just emanates that farmhouse chic style that makes a home so cozy. So, of course, I think a set of these pillows is perfect for a rustic contemporary home.
In addition to the red truck, plaid is one of my favorite features of farmhouse chic decor. Moreover, I think it's really fun to learn how to crochet plaid. This pillow is part of that fun. In fact, I enjoy it so much I re-worked it as a spring crochet pillow pattern as well:
Designed for St. Patrick's Day, this is another of my crochet pillow patterns that works in many different settings, particularly in springtime.
Some pillows really work all year long. Others are best suited for just a particular holiday. Although some people might use this one at any time of the year, I obviously designed it for Halloween. It's fun to keep a stack of pillow covers in storage, pulling them out every few months to change things up. This is truly one of the simplest ways to give yourself that feeling of the changing seasons in your home.
Here's another example of my crochet pillow patterns designed for a specific time of year. Many of us love when fall arrives. It's time for cozy knits and leaves changing colors and crisp air and cuddling inside more often, right? So why not celebrate that with a pillow that ushers in the season?!
This one is great to match with the fall pillow above. Harvest time celebrates bounty. It's a more neutral design in terms of color, but you get the feeling of falling leaves from the sprinkle of color in the yarn selection. If you have a combination of square and rectangular pillows in your house, then these two designs really go well together. And I've got one more that's a nice addition to this series:
Although designed as a fall pattern, the cute "hello pumpkin" phrase is also fun for a new baby pillow.
Here's another example of a complementary set of square and rectangular crochet pillow patterns. As you can see, the color choices here are entirely different from my usual palette. Use these in your home in spring and summer to brighten up the space. Go check out the pattern description to learn the story behind what inspired these designs!
Speaking of summer, have you seen my camper crochet pillow cover pattern? I love the colors and the fun design of the camper on this one. In fact, I love it so much that I designed a holiday version as well!
As you can see, these camper crochet pillow patterns use a lot of color work for visual detail on square pillows. However, I also have a more neutral-toned rectangular design in this series: the Happy Camper pillow (also available as a knit pattern):
I think this series works so well for summer homes, camper / RV decor, and to dress up your own home at different times of year.
Camping naturally makes me think of my Crochet Bear Sleeping Bag pattern. It has a detachable bear head pillow that you could also make on its own. This is one of my only round crochet pillow patterns.
That, in turn, reminds me of one of my older designs - a sleeping bag blanket with matching pillow that creates a robot shape together. The pillow is the head of the robot and works perfectly well on its own. This is one of my best crochet pillow patterns for a kid's room.
What's a quillow, you ask? It's a blanket that turns into a pillow. I designed my rainbow crochet blanket pattern this way. You add a pillow pocket to the design then it folds up, tucks into the pocket, and you have a pillow. I've included instructions to make a rain cloud, flowers, hearts, and more as decor for this unique pillow.
Here's one of my winter crochet pillow patterns. It's designed to complement the Let It Snow crochet blanket pattern. Of course, you can make one or the other on its own as well. The snowflake design is a two-color design that you can switch up if you want to create a pillow that perfectly matches the colors in your own home decor.
Like the Let It Snow set, this is a matching crochet pillow and blanket set. The blanket reads either "You, Me and The Cats" or "You, Me and The Dogs." And the pillow says either Meow or Woof. Of course, if you have both kinds of furry friends in the family, make both Meow and Woof pillows for your living room couch. And bookmark these patterns as great gifts for the pet lovers in your life.
As you can see, many (but certainly not all) of my crochet pillow patterns are well-suited to fall and winter decor. However, I want to make sure that you have enough designs to carry you through the year. Bloom is perfect for spring, of course.
Here's another of my crochet pillow patterns that are perfect for Spring. Of course, it's got an Easter feeling to it, specifically. However, cute animal pillows like this also work in nurseries throughout the year. And this one brings us full circle because the puffy bunny tail is three-dimensional just like those yarn tassels on the first design in this roundup! Are you ready to have lots of fun with these crochet pillow patterns all year long?