Deer Crochet & Knit Patterns
Who knew I had such a collection of Deer Crochet & Knit Patterns?! It doesn't surprise me since I grew up in Idaho around lots of wildlife, and one of my favorite woodland creatures to see remains to be deer. It's a great theme for home decor, especially for a cabin. Or even seasonal & holiday decor.
Interesting Facts About Deer
A male deer is called a buck or a stag, a female deer is called a doe. Any guesses on what a baby deer is called? If you said fawn then you are correct.
The word fawn comes from the Old English word 'glad', which seems just right for these cute little creatures.
The white spots on fawns will disappear as they grow older. It helps them camouflage while they are young.
Deer can jump up to 10ft high, this is why most fences don't stop them from roaming.
All deer have four-chamber stomachs that allow them to regurgitate and chew their food to digest.
10 Deer Crochet & Knit Patterns
Here is a list of all the patterns I have designed.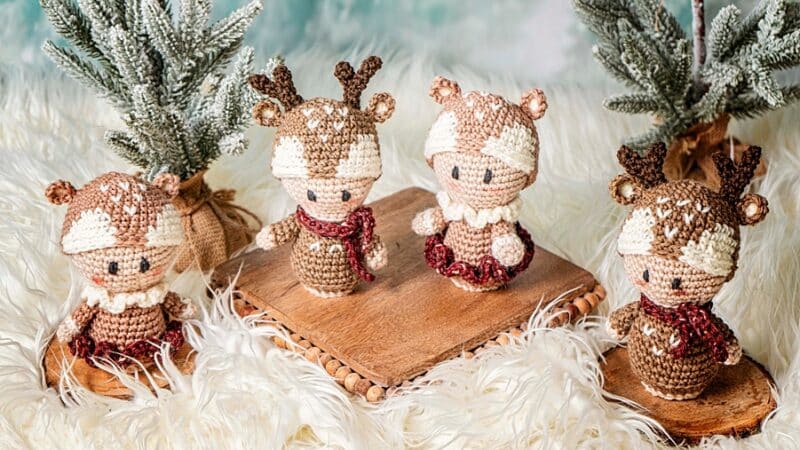 These ami crochet deer are so cute for holiday decor and rustic-themed decor. I can imagine them in a woodland-themed room or as a gift. This pattern includes the doe and the buck so you can create a whole family of deer, which is called a herd.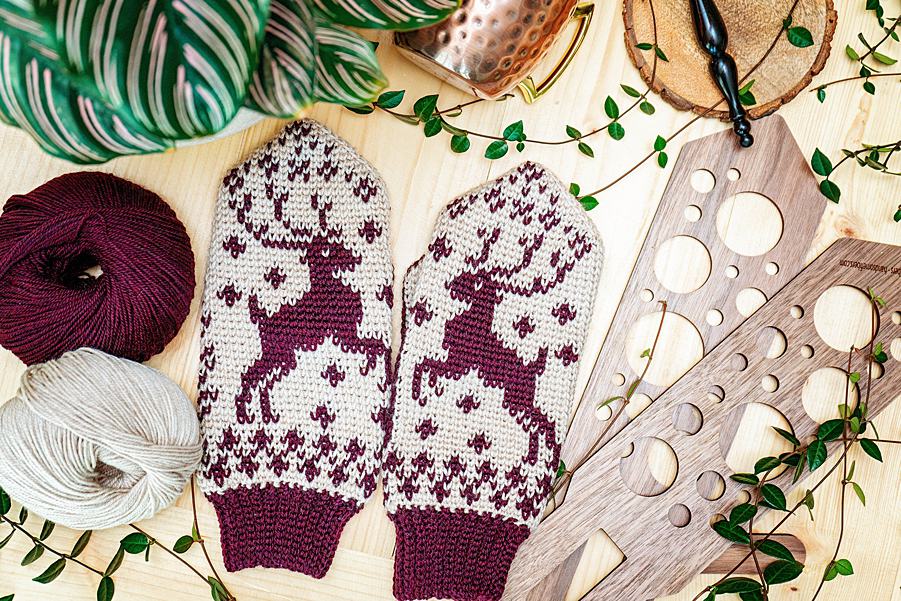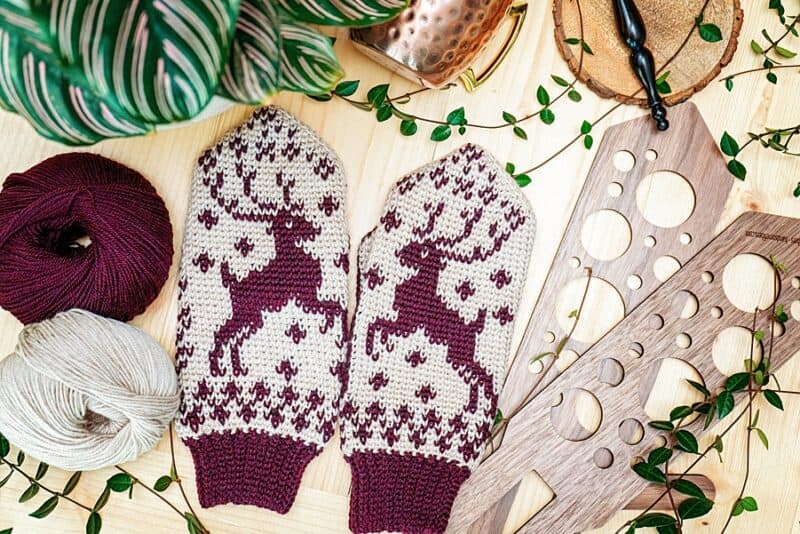 Need warm hands while out in a snowy landscape? Whip up the Deer Fair Isle Crochet Mitten Pattern. Warm hands are crucial to surviving those chilly months. It's a beautiful crochet colorwork accessory that mimics the look of knitting.
Who hasn't fallen in with the Farmhouse style decor? With its cozy, relaxing, and rustic charm, I can't help but love the plaid woodland look. Add some farmhouse character to your room with the Farmhouse Plaid Deer Knit Pillow Cover.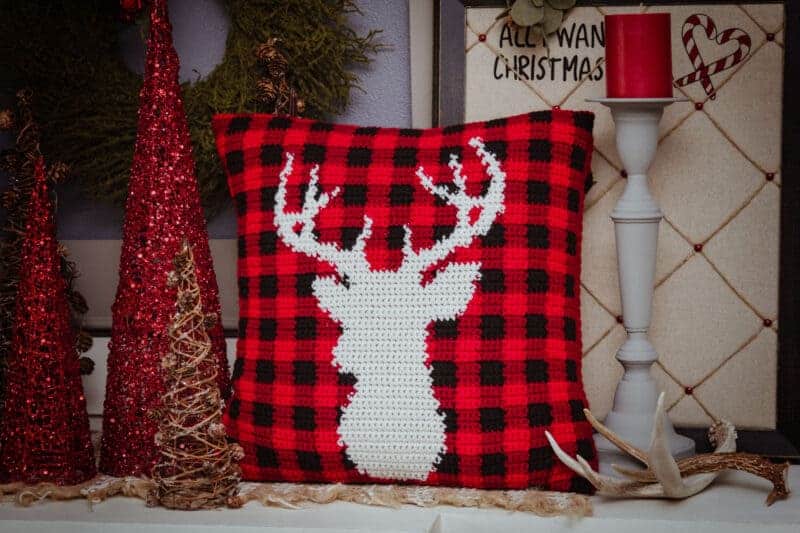 The Farmhouse Plaid Deer Crochet Pillow is one of my favorites to pull out each season. And it's also easy to store with its button on the back, so it can be removed from the pillow and tucked away. But you can also display this plaid-themed pillow all year round.
What better way to keep warm than with the theme of Rudolf! This adorable Reindeer Hooded Cowl Crochet Pattern has extra warmth with a neck cowl that can be pulled up over your face. And with it's little red nose it's just adorable. This comes in sizes 1-99 so it's festive for the whole family.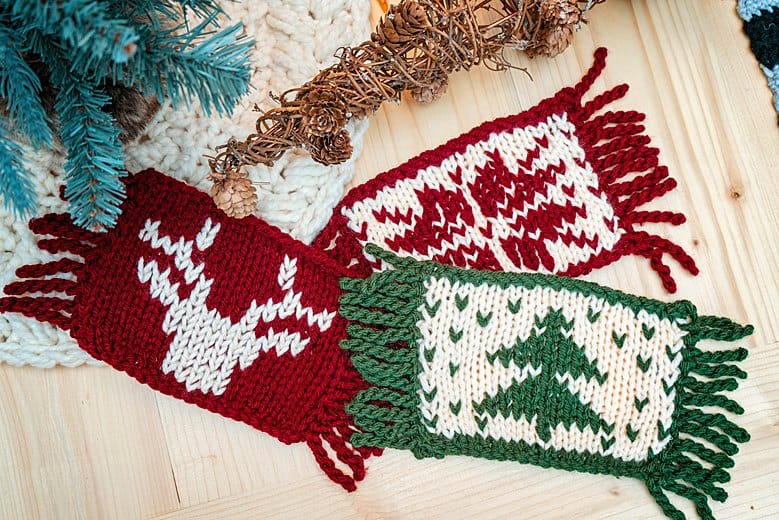 While these holiday mug rugs are festive for the holidays, I can also imagine them in rust and brown tones to match decor any time of the year. It's also a quick last-minute gift.
If you've ever been afraid of fair isle crochet colorwork, the holiday crochet mug rug is a great place to jump right in. This quick project, it will strengthen your skills, plus make a great home decor piece. And of course one of my favorite mug rug is the one with the deer.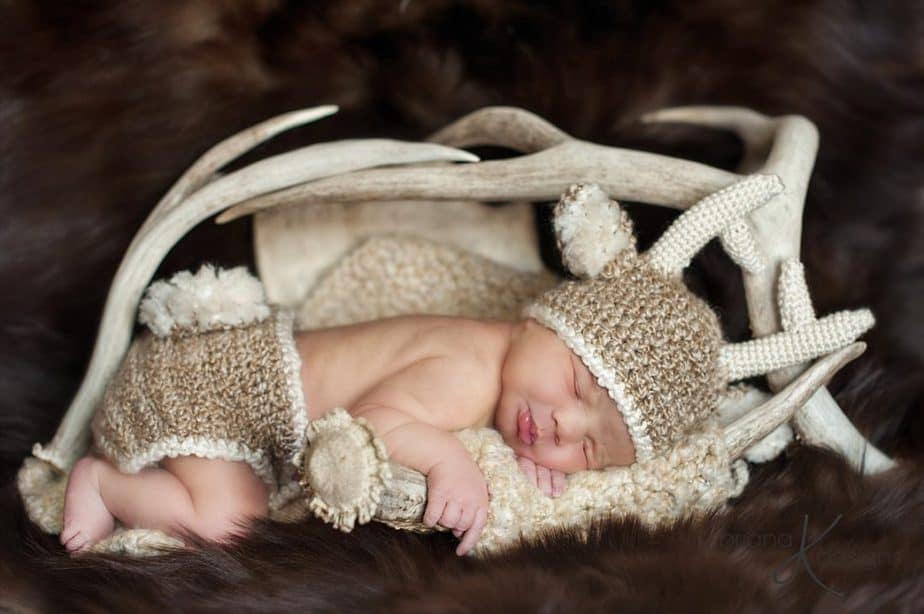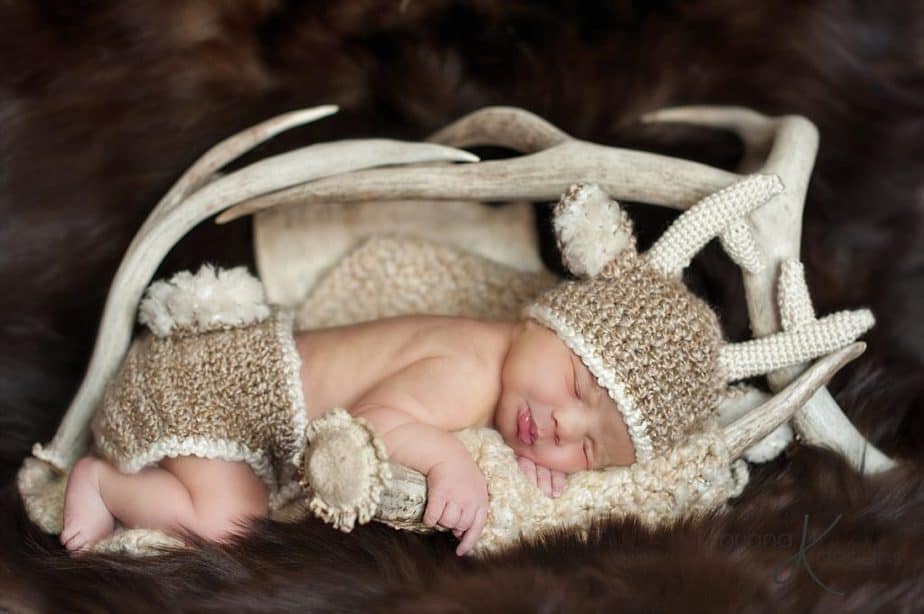 The cute little baby in this image is my own little fawn. We have a history of loving the outdoors in my family, so we did a cute little deer theme for part of his newborn session. This pattern comes in sizes from newborn to 12 months so it can be created for all those milestone portraits.
It's so fun to see how things transform by merely doing a color change. I loved the plaid deer pillow so much that I was curious to see how it worked for a lighter decor piece. I can imagine this one as a chic meadow theme. Don't underestimate bringing in some lighter tones.
Wouldn't this Spring Plaid Deer Pillow Cover be adorable in a little girls room? Or even with a chandelier. The possibilities are endless with a little bit of color imagination. There is no reason why we have to stick to bold, we can use pastels and light colors in rustic decor as well.