Laser Engraver For Crafts


Have you wondered how those excellent craft wood or leather tags are customized? There are lots of shops on Etsy that offer awesome customizations, but what is the process of producing them? Is a laser engraver for crafts right for you?
I've wanted to explore laser engraving for a while, so I decided to purchase an entry-level laser engraver from Amazon and give it a go. My experience might help you determine whether this craft tool is for you too.
What does a laser engraver it do?
A laser engraver basically carves a design onto a material by using a laser. Think of it as burning or etching an image onto the surface of an object. Laser engravers vary greatly in cost from an introductory one to a professional level ranging into the thousands. Today I am only featuring the financially friendly and beginner engraver.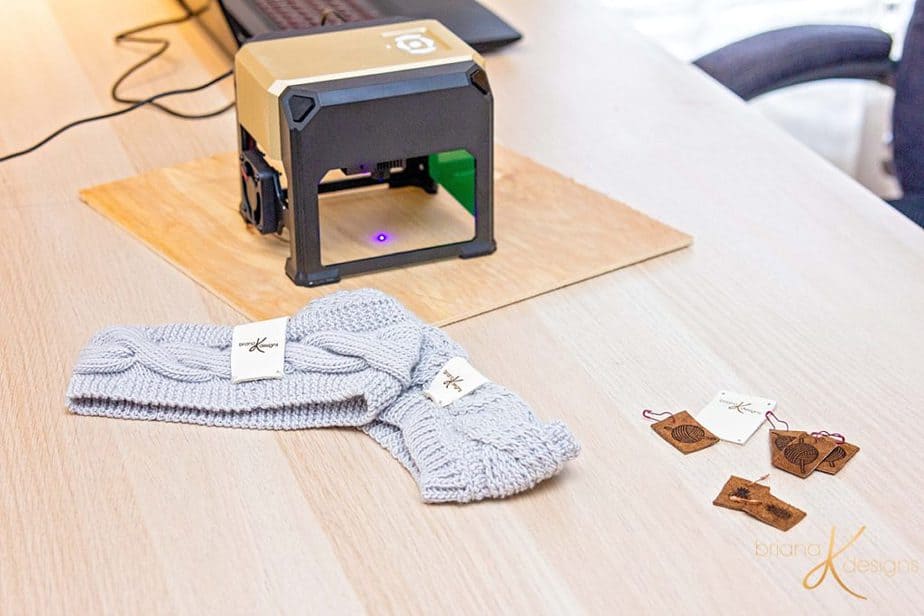 What Types of Materials Can It Engrave?
Here are the materials this entry-level machine can engrave:
Wood
Leather
Paper
Rubber
Plastic
Bamboo
PCBA
So what can I make with a laser engraver?
Of course, being a fiber fan, most of my projects so far have been centered around yarn accessories. I could see how this tool would be useful if a craft vendor wanted to add more items to their shop. I've only just touched the surface of the possible projects.
For my very first engraving experience, I used a leather-bound notebook my husband brought home from work. It had a sporting company logo on it and was leftover from an event, so a great project for a test run. After engraving my logo on the back and was instantly impressed. I think personalized leather-bound notebooks might be on the list of gift-giving in the future.
Crafting up some fun.
Once I got the hang of working on leather, I decided to make a few items for myself. I've adored the custom leather tags I've seen crocheters and knitters put on their finished pieces. So a engraved a couple of those, and I'm so excited to make more whenever I want.
Next, I knew I wanted to use the laser engraver for some fun stitch markers. These were super simple and easy to do. I purchased a bag of scrap leather and colorful stitch markers on amazon, along with a leather hole punch. After printing an image on the scraps of leather, I simply cut out the squares, punches a hole, and placed the stitch marker. The stitch markers will work for both knitting or crochet.
For my next stitch marker project, I think it would be awesome to do some simple numbers. That way, when working in the round, it helps me keep track of my starting points or where I'm at on the project.
The hardest part is deciding what image you want to engrave with lots of options of themes. The machine doesn't have an extensive built-in library of images, but not to worry with many free or paid images on the web. They can't be too high in detail for the computer program to read them.
Holiday and Home Decor with the Laser Engraver.
I'm really in the fun play stage of this thing. If I were to sell these in a shop I would be more intentional, but right now I'm all about making ALL the things. So I created a snowflake design on a small piece of wood and an engraved gift tag.
I could see how this could be used to personalize almost anything, especially around the holidays. Gift-giving means so much more when it's personalized. I see engraved coasters, earings, cutting boards, tags, and so much more laser engraver crafts in my future.
Plus, I'm going to label all of my children's items so they are easy to identify in the lost and found lol.
Where Can I Purchase These Items?
I purchased this machine and the crafting accessories on Amazon. The affiliate links below add no extra cost to you and I may make a small percentage from sales.
What are the Pro's and Con's?
The engraver in this post is an entry-level laser engraver machine. So the surface workspace is approximately 3×3 inches. If you want a bigger workspace, you will need to go up in price. It is excellent for small projects like featured above.
Don't think of it as working as fast as your ink printer. It takes time to engrave, so doing lots of projects at once will require time. The built-in fan also needs time to cool between projects, so you don't overheat the machine. And while it's working, it's essential to not look directly at the laser as it will harm your eyes. There is a green plastic barrier on one side so you can visually check your printing. As it is working, there will be a burning smell since it's mostly burning an image onto your item.
For an entry-level crafter who does the occasional projects, this is a great starter machine for all types of projects and decor. If you sell at craft fairs, it's a great way to test the market and expand your inventory with something custom. If these items take off and large quantities are crafted fast, then a more extensive and faster machine may be required.
Overall I'm enjoying making my custom tags and projects. It's great for personalizing my items and having a unique look. I can't wait to make even more!