Magical Knit and Crochet Unicorn Patterns
Unicorns are such magical, whimsical, interesting, beautiful, mythical, creative creatures. Children love them for that reason but adults love them as well. And isn't it just a little bit magical that you can actually make them with your own two hands using knit and crochet unicorn patterns? I think so, which is why I've designed several types of things using them as inspiration.
Knit and Crochet Unicorn Baby Outfits
For a long time, my favorite thing to make was baby outfits. They're so cute for photography. Even if a baby sleeps through the entire photo session, they look adorable with the right props. And who doesn't love the charming whimsy of a unicorn look for their baby? So, my knit and crochet unicorn baby outfits were born.
There are two parts to the outfit. First is the beanie. Naturally, it has a unicorn horn on it. The horn can also be adorned with a pretty flower. Additionally, the hat has a pastel rainbow yarn fringe mane that's not only cute but pretty fun to create. Second, there's the diaper cover, which also has that mane. Of course, you could make the mane a single color to change up the style.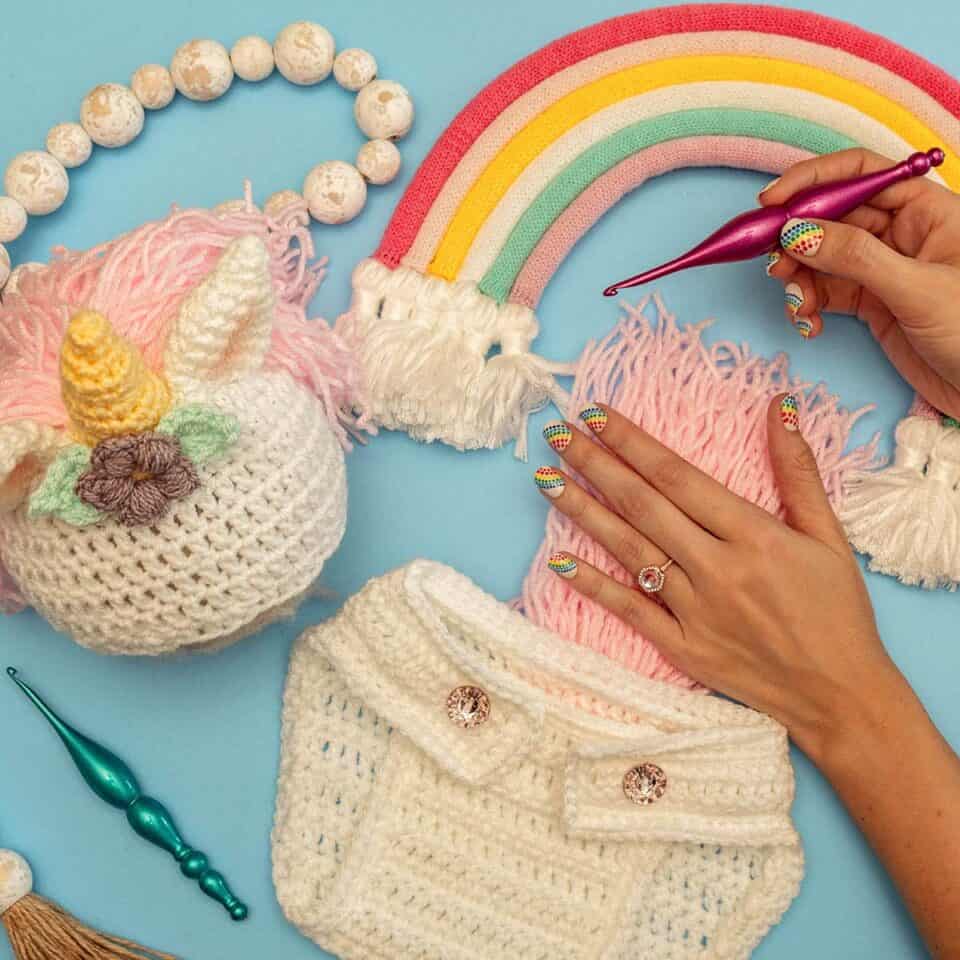 I'm thrilled to share this amazing crochet pattern with you, and the best part is, it's absolutely free! Thanks to the revenue I receive from Ads and affiliate links, I can offer this pattern without any cost to you. Find my privacy & disclosure policy here. However, I kindly request that you don't copy and paste or distribute this pattern. It's a way for me to protect my hard work and ensure that I can continue providing great content for free.
Prefer an ad-free experience? Buy a digital PDF pattern for a small fee from one of my online stores. It's a fantastic option if you prefer to have a more professional, seamless crochet journey.
I really appreciate your support and readership. You're the reason I can keep doing what I love and sharing it with others. So, thank you from the bottom of my yarn-loving heart!
Unicorn Rainbow Game Knit and Crochet Patterns
What's even more fun than making unicorn clothing for children. Make them a game instead! This game helps young ones learn about shapes and colors while having a lot of fun. Check it out:
Knit and Crochet Unicorn Headphones Wraps
People of all ages can enjoy unicorns. And people of all ages love music. Pair those things together and you get my idea for unicorn headphone wraps. You knit or crochet a simple wrap to decorate the top of your headphones. This piece includes ears, the unicorn horn, and a decorative flower. Have fun while wearing your headphones!
More Unicorn Crochet Patterns
I obviously love to design both knit and crochet patterns. But when it comes to unicorns, crochet has been a more natural choice. Here are some of my other unicorn crochet patterns: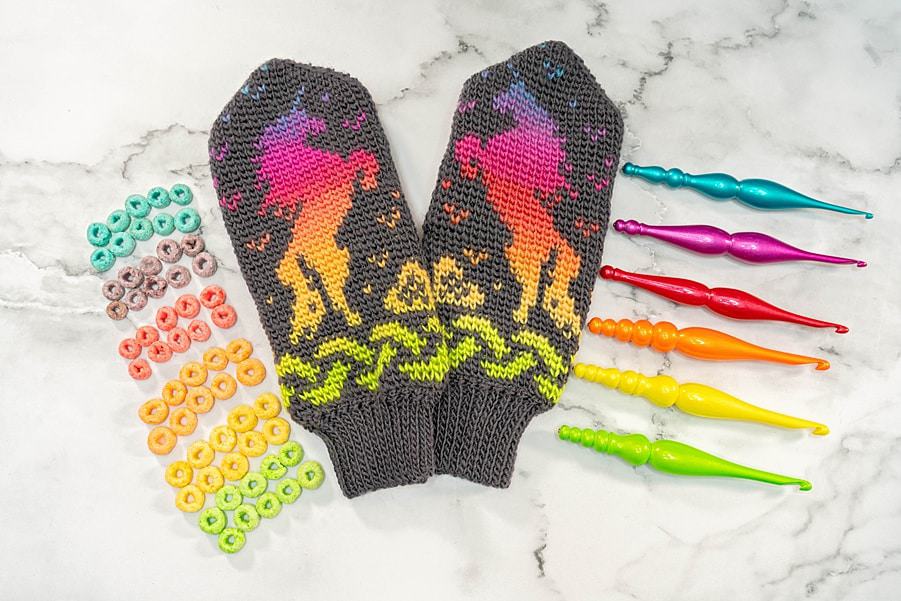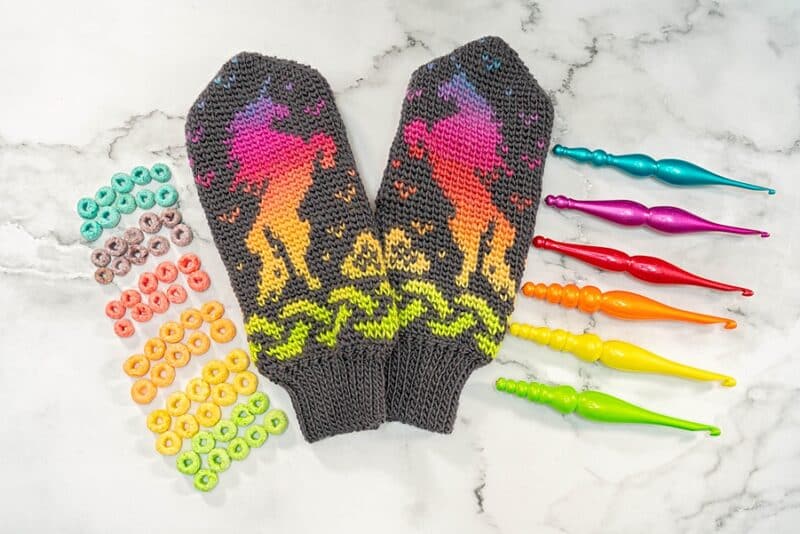 These are adult-sized crochet mittens. I used Split Single Crochet stitch to do the colorwork that adds a detailed full body dancing unicorn to the design. I choose a colorful yarn for that section and set it against a neutral shade so that the unicorn would really pop.
This crochet pattern comes in different sizes from babies age one and up all the way through adult. Because honestly don't we all want to be unicorns sometimes? It's a cozy, warm hooded crochet cowl with a unicorn horn and colorful mane. It's great for a costume but also just really fun to wear.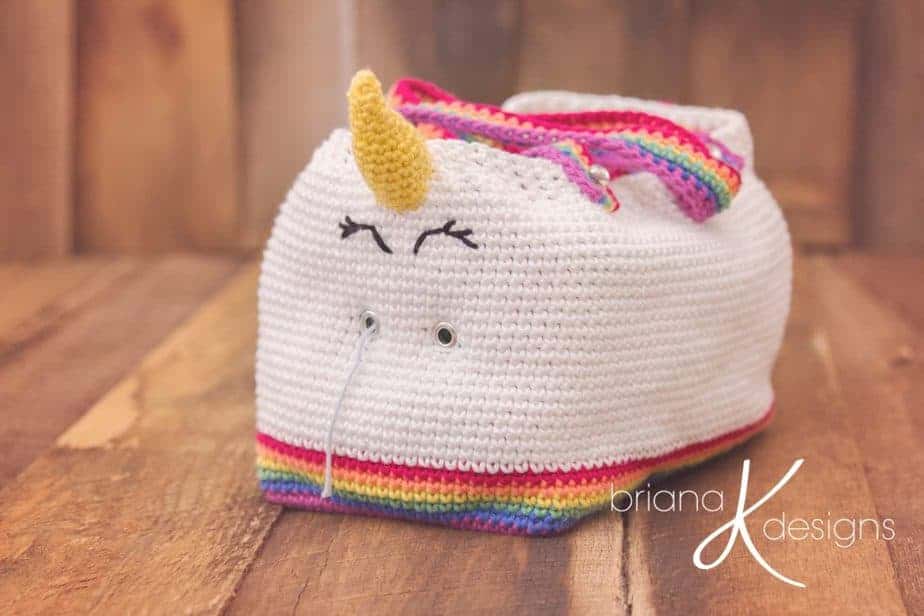 What can I say - unicorn farts are just kind of funny. They fart pretty colors. And in this case, the bag holds your yarn inside and "farts" out the colors for you through grommets. So this is a functional project bag that keeps your yarn organized and untangled, great for traveling with your knitting and crochet.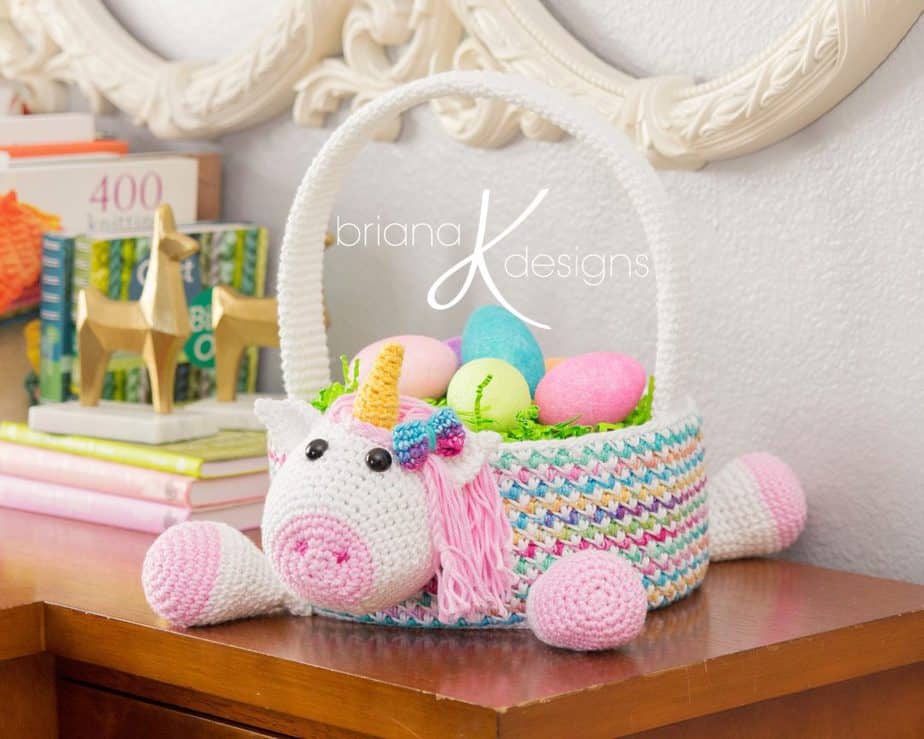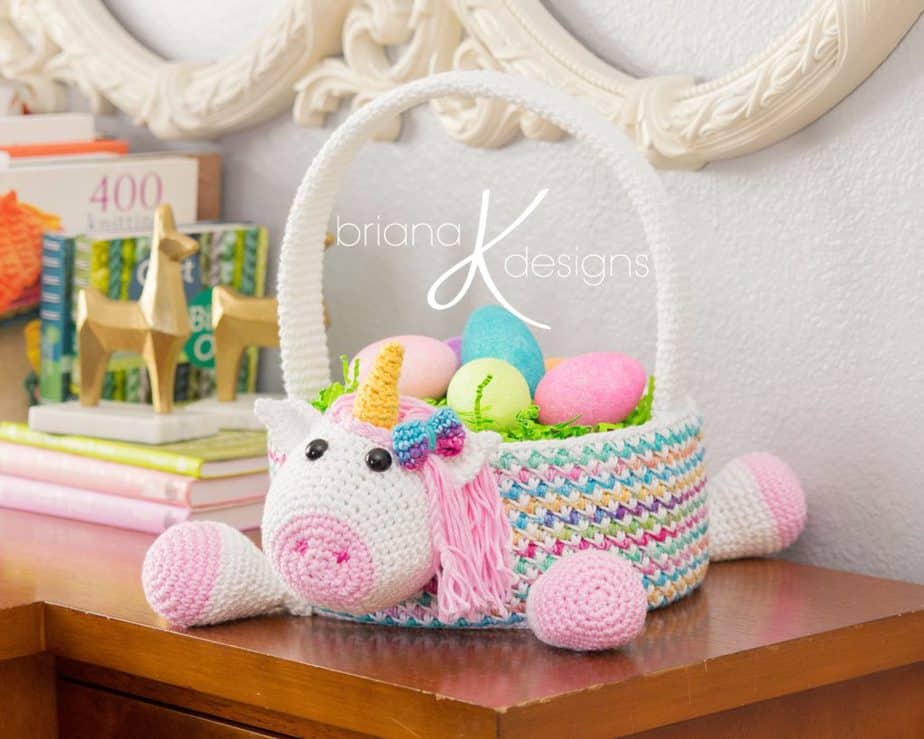 You can crochet unicorns for any season. That means that you can combine them with different holidays. Santa Unicorn? Why not? Halloween Unicorn? Sure? In this case, I've designed an Easter Basket for the child who loves unicorns. The colors lend itself well to the magic of the unicorn as well as the holiday itself. And when it's not Easter, this makes for cute storage on a child's shelf.
Knit Unicorn Patterns
Right now I don't have any additional knit unicorn patterns beyond the ones above. But I didn't want to leave the knitters out, so here are a few of my favorites from other designers selling on Etsy:
We often think of toys like this as being amigurumi crochet patterns. However, you can knit toys as well. Those colorful stripes will make this a favorite toy for any child.
This knit pattern is similar in concept to my unicorn hooded cowl crochet pattern above. Except that it's knit and is a scarf instead of a cowl. It's one of those items that can work as a costume but also as fun everyday wear.
This is a girl's knit sweater pattern with a unicorn on the front it. The arms are striped and it comes with a striped hat pattern to match.
Everything about this knit hat pattern is lovable. The yarn choice is cozy and pretty, and it's worked beautifully to create wonderful texture. There's the unicorn horn, of course. And then there are cozy braids ending in poms. Just so fun.
There are many different unicorn knit mitten designs out there. However, this one is a little bit genius in that the thumb is actually what creates the horn of the unicorn!
I hope you have so much fun with these knit and crochet unicorn patterns!
Well That Was Fun! What's Next?