While it is summer, my house isn't being as adventurous outside of the home this season, and you might relate to that. I've also taken this challenge to use what is in my stash and I just so happened to have some amazing Whims Merino Yarn just calling to me. As expected, it was perfect for this project. I highly recommend you jump on over to the website and put in an order, no need to leave the house.
---
Where To Purchase My Ad-Free Downloadable PDF's:
---
The weather is starting to warm up so now is the time to start those fun summer garments. And this one is a relaxing easy crochet piece, perfect for practicing those lazy summer vibes while soaking up some sun. Plus, a little extra crochet time is just what we all need right now.
This top is made in two pieces. If you would like you can work the pieces together or wait until the first piece is done and then start on the other.
Are you a knitter? I have created a mimic of this pattern in knit, check it out HERE.
Supplies:
Crochet Hook:
5.0mm (H hook), or hook to obtain gauge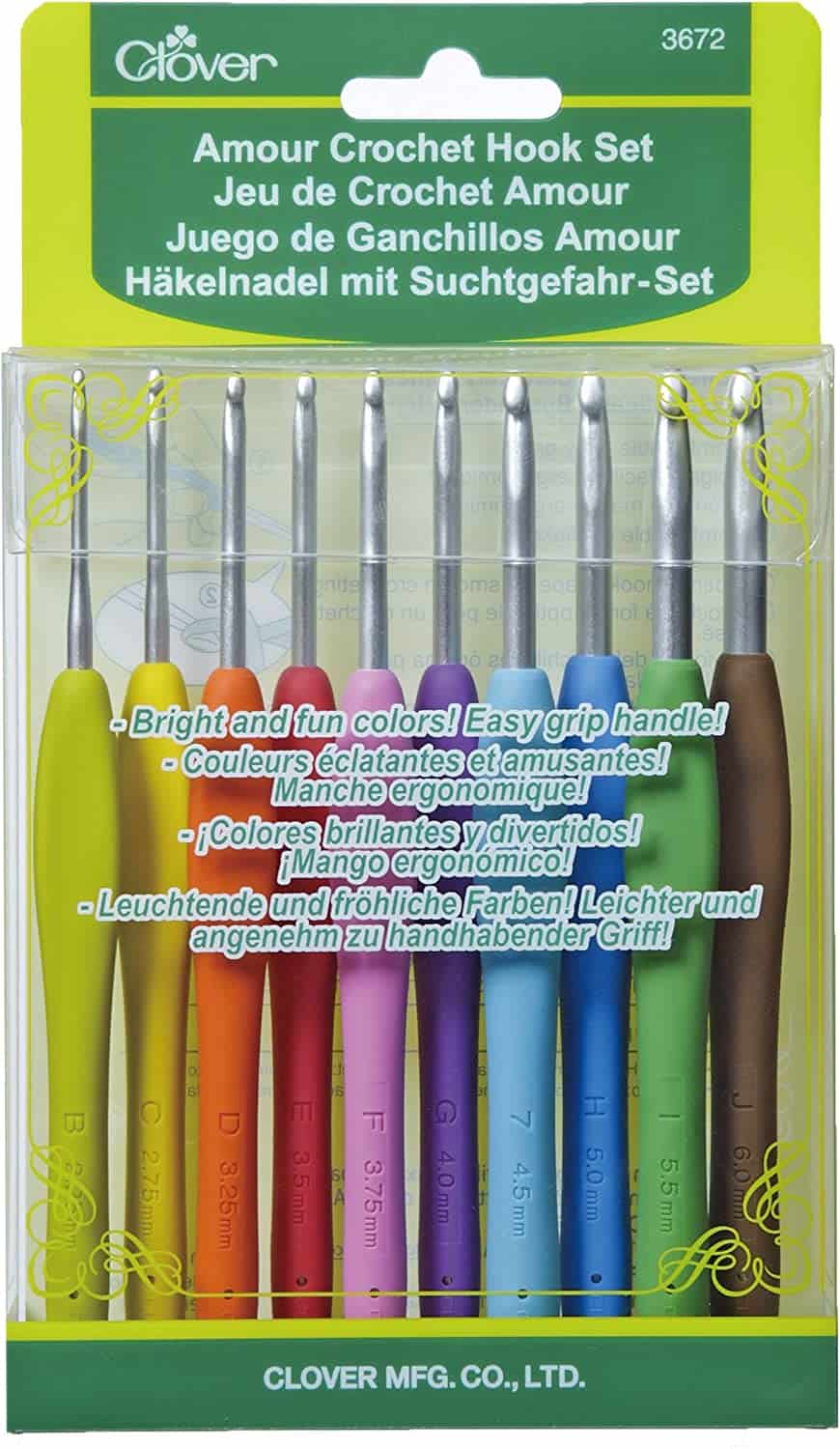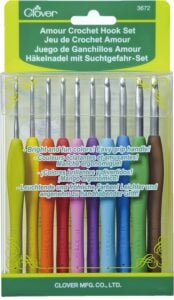 Notions:
Removable stitch markers if needed
Yarn needle to weave in ends
Scissors
Yarn:
Furls Whims Merino DK
in colorway Blue
Yardage:
XS: 455 yards, 3 skeins
S: 502 yards, 3 skeins
M: 625 yards, 3 skeins
L: 724 yards, 4 skeins
1X: 827 yards, 4 skeins
2X: 959 yards, 5 skeins
3X: 1,100 yards 5 skeins
Abbreviations/Stitches:
ch – chain
sc – single crochet
sl st – slip stitch
st(s) – stitch(es)
RS – Right Side
WS – Wrong Side
Gauge:
21 sts and 24 rows = 4×4" (10 cm)
in Moss Stitch
Skill Level:
Beginner
Size:
Finished Bust Sizes (includes ease)
XS: 32.5" (83 cm)
S: 35" (88 cm)
M: 40" (102 cm)
L: 44" (112 cm)
1X: 49" (125 cm)
2X: 51.5 " (131 cm)
3X: 56.5 (144 cm)
Notes:
The Summer Crochet Top is a simplistic design that creates two rectangle pieces, front and back.
This pattern is worked from the main body bottom to top lace in two rectangle pieces. Then a slip stitch ribbing is added along each bottom piece. Last it's seamed together at the sides and top shoulders.
Sizes are written as:
XS (S, M, L, 1X, 2X, 3x)
Graph measurements are in inches.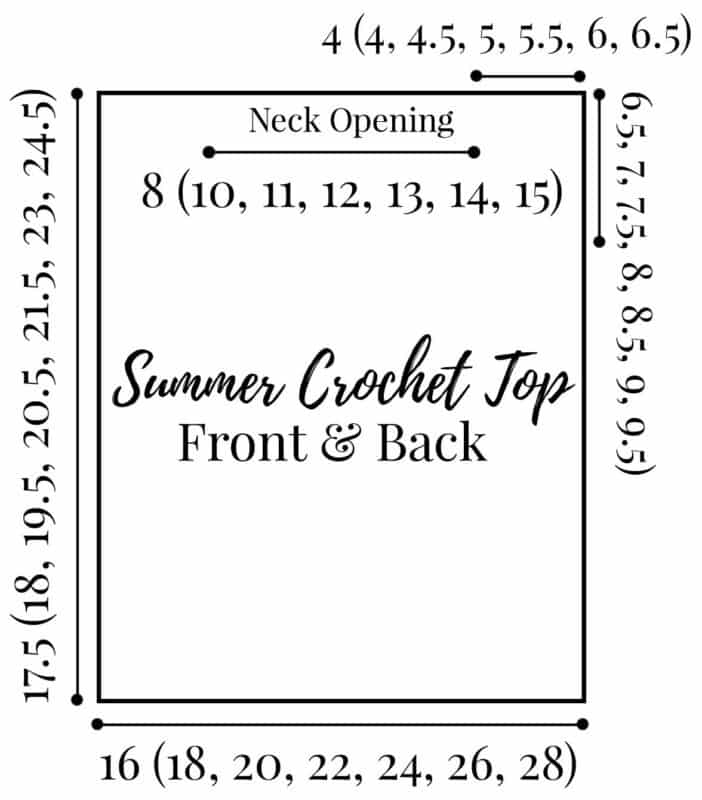 Body:
| | |
| --- | --- |
| Row | Description |
| 1 (RS) | Chain 85 (93, 105, 117, 129, 136, 149) Sc in the second chain from hook and across, turn. Stitch count for every row in this pattern is 84 (92, 104, 116, 128, 136, 148) |
| 2 (WS) | Ch 1 (does not count as st), sc in first 2 sts, *ch 1, skip 1, sc in next*; repeat from * to * across, turn. |
| Repeats | This repeat section will create the body section before the top lace work. Repeat row 2 until total body row count is 60 (66, 72, 76, 78, 84, 90) rows. For a longer or shorter top, add/omit rows. If adjusting the length of the Summer Knit Top, keep track of rows so front and back have the same row counts. The body portion will measure approx. 10 (11, 12, 12.5, 13, 14, 15) inches. |
Lace Top:
| | |
| --- | --- |
| Row | Description |
| 1 | If desired, change yarn colors for a pop of color on the top of the summer shirt. All chains are counted in stitch count for the lace portion. *Ch 3 , skip 3 sts, slip st in next*; repeat from * to * across, turn. |
| 2 | Ch 2, sl st in the ch 3 space, *ch 3, sl st in the ch 3 space*; repeat from * to * across, sl st in last ch, turn. |
| 3 | *Ch 3, sl st in the ch 3 space*; repeat from * to * until ch 2 space, sl st into ch 2 space, turn. |
| Repeats | Repeat rows 2-3 eight more times creating a 5 inch panel of lace. Fasten off and continue to ribbed bottom. |
Ribbed Bottom:
| | |
| --- | --- |
| Row | Description |
| 1 | Chain 6, sl st in 2nd chain from hook and across. (5 sts) St st in 2 sts on brim (these count as a turning chain), turn. |
| 2 | Skip the two st sts on brim, in blo, sl st 5, turn. |
| 3 | Ch 1, in blo, sl st 5, sl st in next 2 sts on the bottom edge, turn. |
| Repeats | Repeat rows 2-3 along the bottom edge of shirt. |
Finishing:
Block both front and back pieces to make seaming easier. Using the schematic measurements from the notes and the mattress seam, line up each side and seam, leaving the opening for the arms.
And then line up the shoulders of Front and Back, seam the shoulders on each side, leaving an opening for the neck.
The chain stitches may shrink back down a little after blocking, so most important measure the opening for the head and seam the remainder of shoulder stitches. Wear and Enjoy!

CROCHET & TAG
I hope you have enjoyed making the Summer Crochet Beginner Tank Top Pattern!
If you have made this, please share it on social media. Above all I love to see the projects created with my patterns and also share your beautiful work.
Please use #brianakdesigns or @brianakdesigns
It is much appreciated and adored!
THIS IS A PDF FILE which requires Adobe to read this pattern and can be downloaded for free at www.adobe.com
Share Your Project & Share Pictures!
I really hope you enjoyed working on this project. The best way to make a designer smile is to share what you've made! When it comes to free or premium content, I really rely on you to help me keep designing and supporting my family. Here is how you can make my day:
Share your yarn choice, in-progress, or finished projects on Instagram and use the hashtag #brianakdesigns
Link and share your project on Ravelry. It really helps to have inspirational photos for others.
Join the Briana K Designs Community Group on Facebook and share anything crafty.
Don't Lose This Project! If you aren't ready to start it save it on Pinterest by clicking any of the images above.