Valentine's Day is coming up. Although it's historically been a romantic holiday, we increasingly celebrate all different kinds of love. People give Valentine's Day treats and cards to their children, parents, siblings, friends, and even sometimes acquaintances depending on the workplace. There are some great Valentine's knit and crochet patterns that feature hearts or just use red, white, and pink yarn. While great for the holiday, they often work throughout the year as well.
Disclosure: This website may contain affiliate links to cover the cost of publishing my blog and bringing you excellent content. Should you choose to make a purchase, at no additional cost to you, I may earn a small percentage of the sale. Thank you for your support.
My Valentine's Knit and Crochet Patterns
I don't think I've ever set out to specifically design Valentine's knit and crochet patterns. However, some of my patterns naturally work well for this holiday. Take a look:
Rainbow Knit and Crochet Quillow with Heart Applique
What is a quill you ask? It's a blanket with a pocket on the front of it. When you fold the blanket into the pocket, you get a pillow. I created a rainbow quillow in both knit and crochet. I also designed several different appliqués that you can put onto the front of the pillow portion of the quillow. This is a fun design that doesn't have to be Valentine's make at all. However, it does certainly work as a cute Valentine's gift.
Here's the Knit Rainbow Blanket Pattern.
Here's the Crochet Rainbow Blanket Pattern.
Knit and Crochet Lip Balm Holders
This has got to be one of my most convenient patterns for gift giving. You simply knit or crochet the quick cozy, insert an EOS lip balm, and you've got a great gift for basically anyone. I created several different designs for these, including two with hearts that are perfect for Valentine's (or anytime). There's a bigger heart and a smaller set of hearts.
Here's the Knit Lip Balm Holder Pattern.
Here's the Crochet Lip Balm Holder Pattern.
Baby Boxer Knit and Crochet Patterns
This isn't specific to Valentine's Day, per se, but the red and white colors are spot on for the holiday. Plus, it's extra cute, and I haven't shared it with you in a long time, so I wanted to make sure you knew about it. It's a cute little photo prop/ costume outfit for a baby that comes with red and white pants as well as adorable little boxing gloves.
Here's the Knit Baby Boxer Pattern.
Here's the Crochet Baby Boxer Pattern.
Whims Easy Flat Knit Socks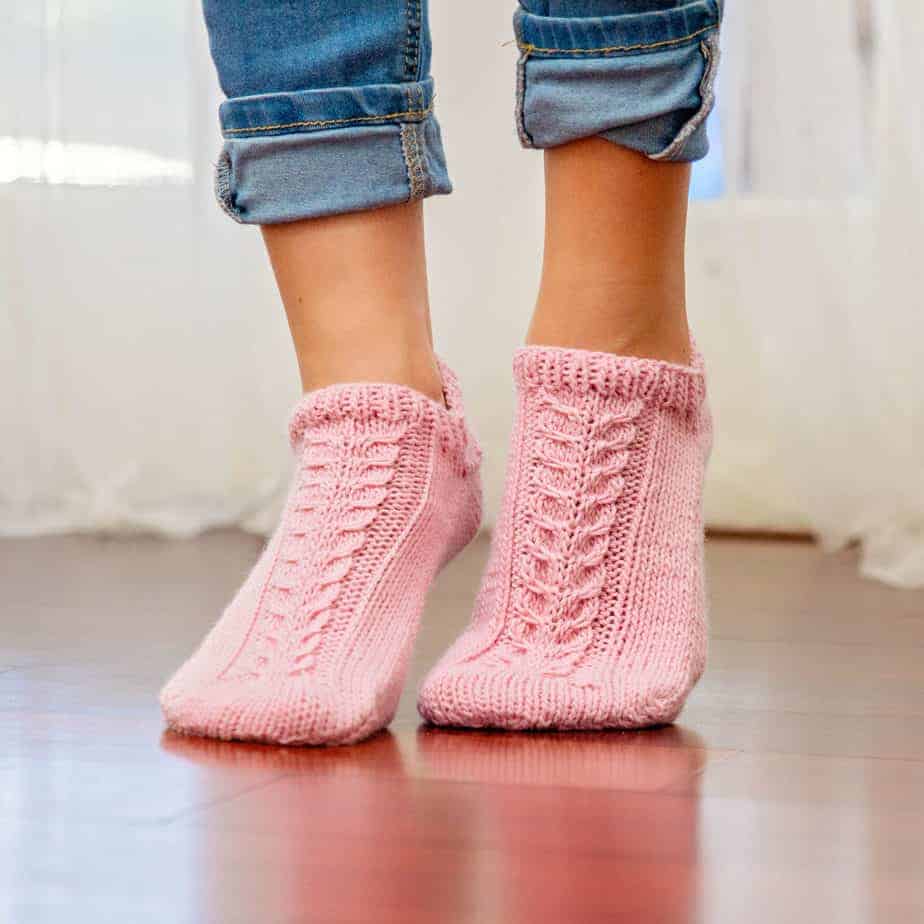 These beginner knit socks are great for Valentine's Day because of their perfect pink color.
Rosy Romper
If you love to crochet baby clothes then this pink onesie romper is a fun choice. Obviously, it works for Valentine's Day because of the color, but it also works throughout the year.
Picot Crochet Shawl Pattern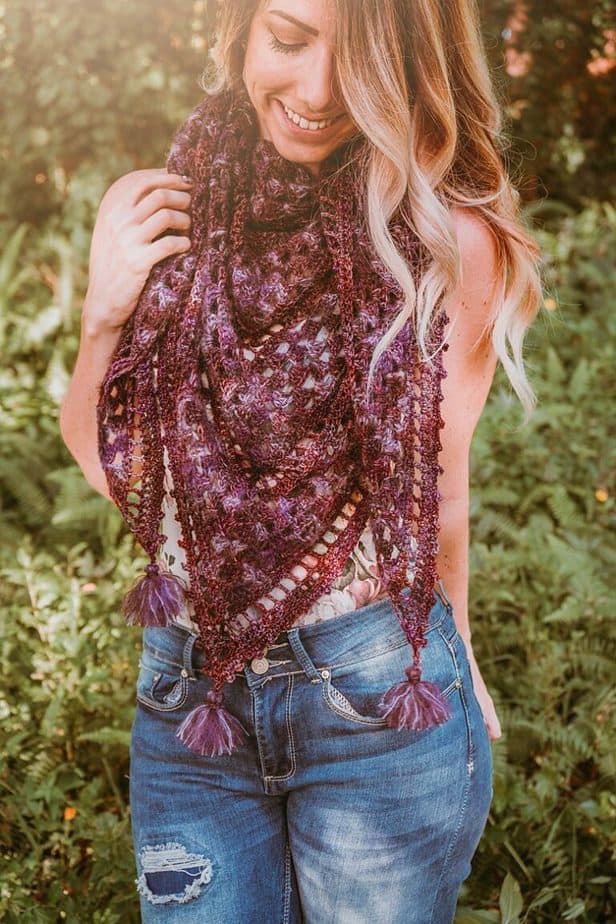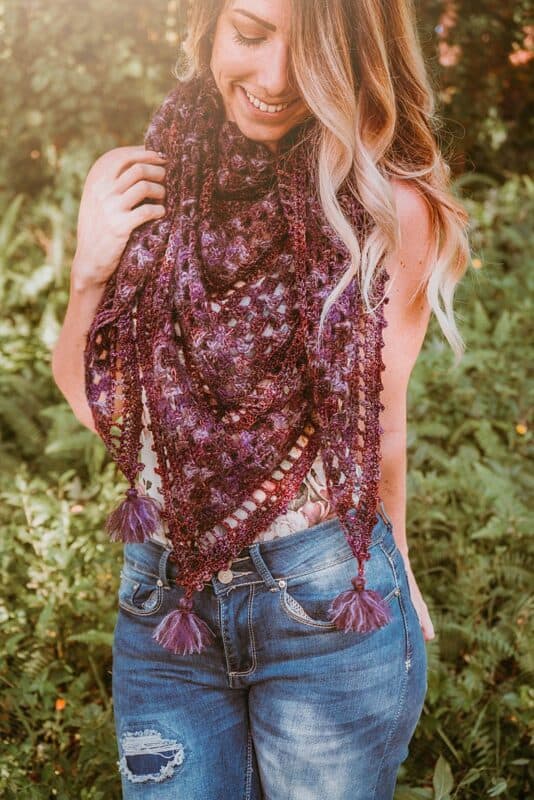 This crochet shawl pattern works perfectly as a Valentine's Day accessory thanks to the rich color of the divine yarn it calls for.
Summer Knit Beginner Tank Top
Although this is designed as a summer top, the colors definitely work for Valentine's Day. It's a beginner knit pattern that's easy to craft. You could wear it over long sleeves or under a jacket if you knit it up now.
Other Valentine's Crochet and Knit Patterns
There are lots of other great patterns out there besides mine, of course. Here are some of my favorite Valentine's crochet and knit patterns from other designers:
I actually see tons of different uses for this cute crochet notebook pattern over at WeCrochet. It's designed to hold Love Notes for Valentine's Day.
I didn't want to make too many of these Valentine's knit and crochet patterns focused on the love and romance of the holiday because that's not all that it's about. But it's an undeniable part of Valentine's Day, of course, and who could resist this unique set of mittens for couples?
Make a gift of cookie dough, soup starter, or a candle in a jar and add this cozy for Valentine's Day.
Delicate and beautiful regardless of the time of year. Find this knit pattern at KnitPicks.
Practice a variety of different techniques as you make these different knit coasters.
These knit fingerless mittens with heart stitches are adorable any time of year.
Share Your Project & Share Pictures!
I really hope you enjoyed working on this project. The best way to make a designer smile is to share what you've made! When it comes to free or premium content, I really rely on you to help me keep designing and supporting my family. Here is how you can make my day:
Share your yarn choice, in-progress, or finished projects on Instagram and use the hashtag #brianakdesigns
Link and share your project on Ravelry. It really helps to have inspirational photos for others.
Join the Briana K Designs Community Group on Facebook and share anything crafty.
Don't Lose This Project! If you aren't ready to start it save it on Pinterest by clicking any of the images above.