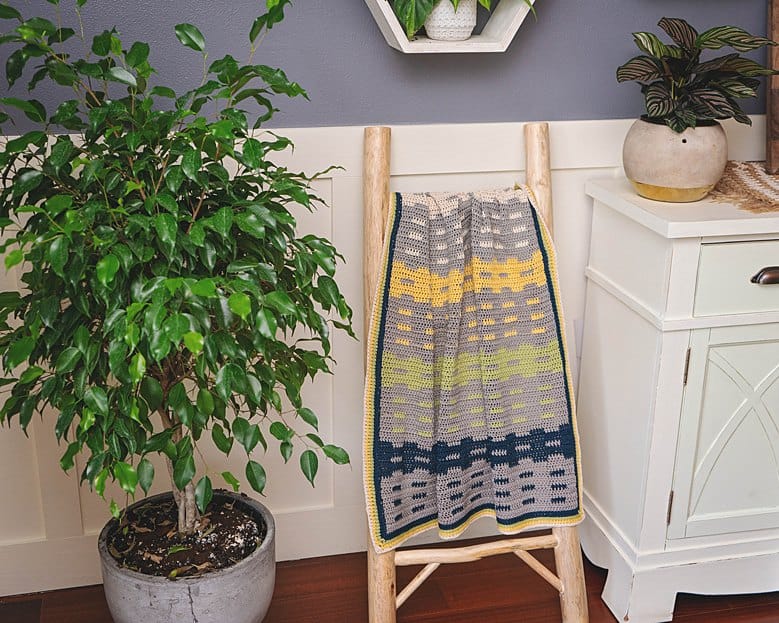 Who loves the summer months? I'm raising my hands. It's my favorite season. I go through so much sunscreen because I just can't keep away from those beautiful sun rays. But blankets aren't often a crochet item thought about during the summer months. However, the Garden Fence Free Crochet Blanket uses the perfect yarn for a summer evening or baby blanket.
---
Where To Purchase My Ad-Free Downloadable PDF's:
---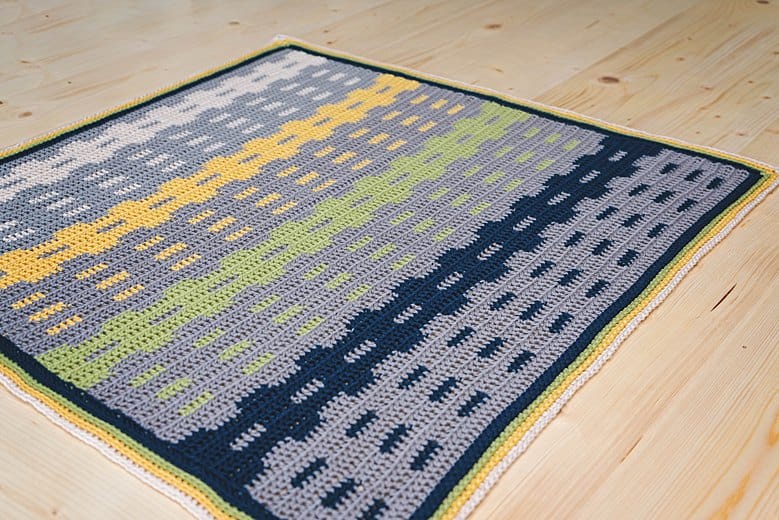 About the Yarn
If you live in a warmer climate as I do, then baby blankets can be tricky. But with the right yarn, the crochet blanket becomes the favorite.
The Garden Crochet Blanket is my first time making a blanket with Shine Sport, and it will not be my last. Between the breathability of the 60% Pima Cotton, 40% Modal® natural beechwood fiber, and the drape, it's just fantastic.
Plus, with the number of colors offered, it's so easy to match home decor styles. I've also used this yarn for the Glass Knife Pin Cushion, and it would also be fantastic for crochet toys.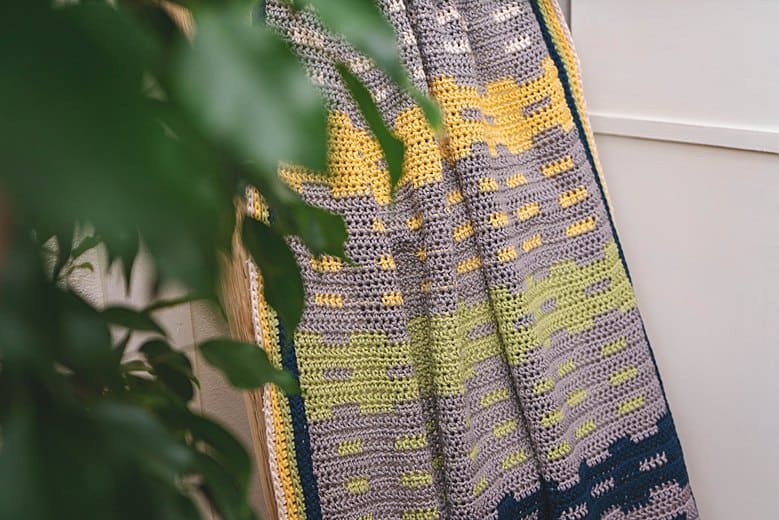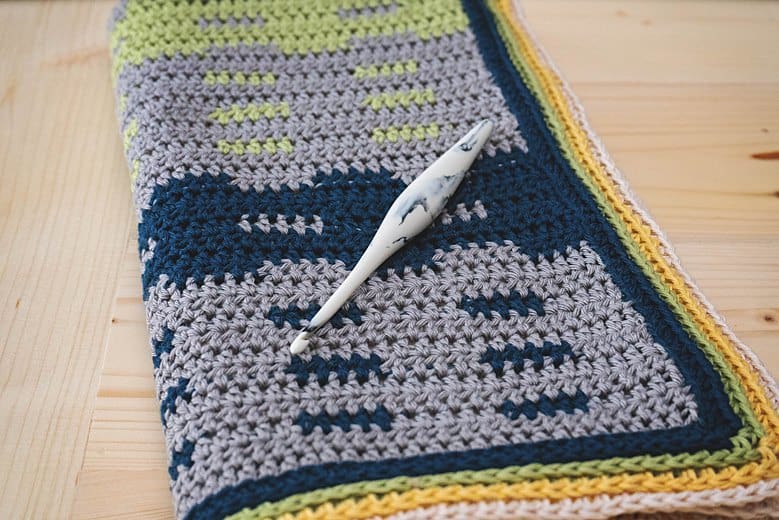 Disclosure: To cover the cost of publishing my blog and bringing you awesome content, this page may contain affiliate links. Should you choose to make a purchase, at no additional cost to you, I may earn a small percentage of the sale.
Supplies for the Crochet Garden Blanket Pattern:
Crochet Hook:
Size US H-8 (5.0 mm) hook or size to obtain gauge
Notions:
Yarn needle to weave in ends
Scissors
Yarn:
2 Sport Weight yarn
in colorways:
Main Color: Robot Grey – 4 balls
CC1- Sailor (blue) – 1 ball
CC2- Peapod (green) – 1 ball
CC3- Dandelion (yellow) – 1 ball
CC4- Cream – 1 ball
Yardage:
850 yards (777 m) total yardage
Main Color: 450 yards (412 m)
Each Contrast Color: 100 yards (92 m)
Abbreviations/Stitches:
cc – accent color
ch – chain
hdc – half double crochet
mc – main color
st(s) – stitch(es)
Gauge:
•15 sts and 11 rows = 4" (10 cm)
in half double crochet stitch before blocking
Measurements/Sizes:
Blocked to:
Height: 30.5" (78 cm)
Width: 30.5" wide (78 cm)
Skill Level:
Beginner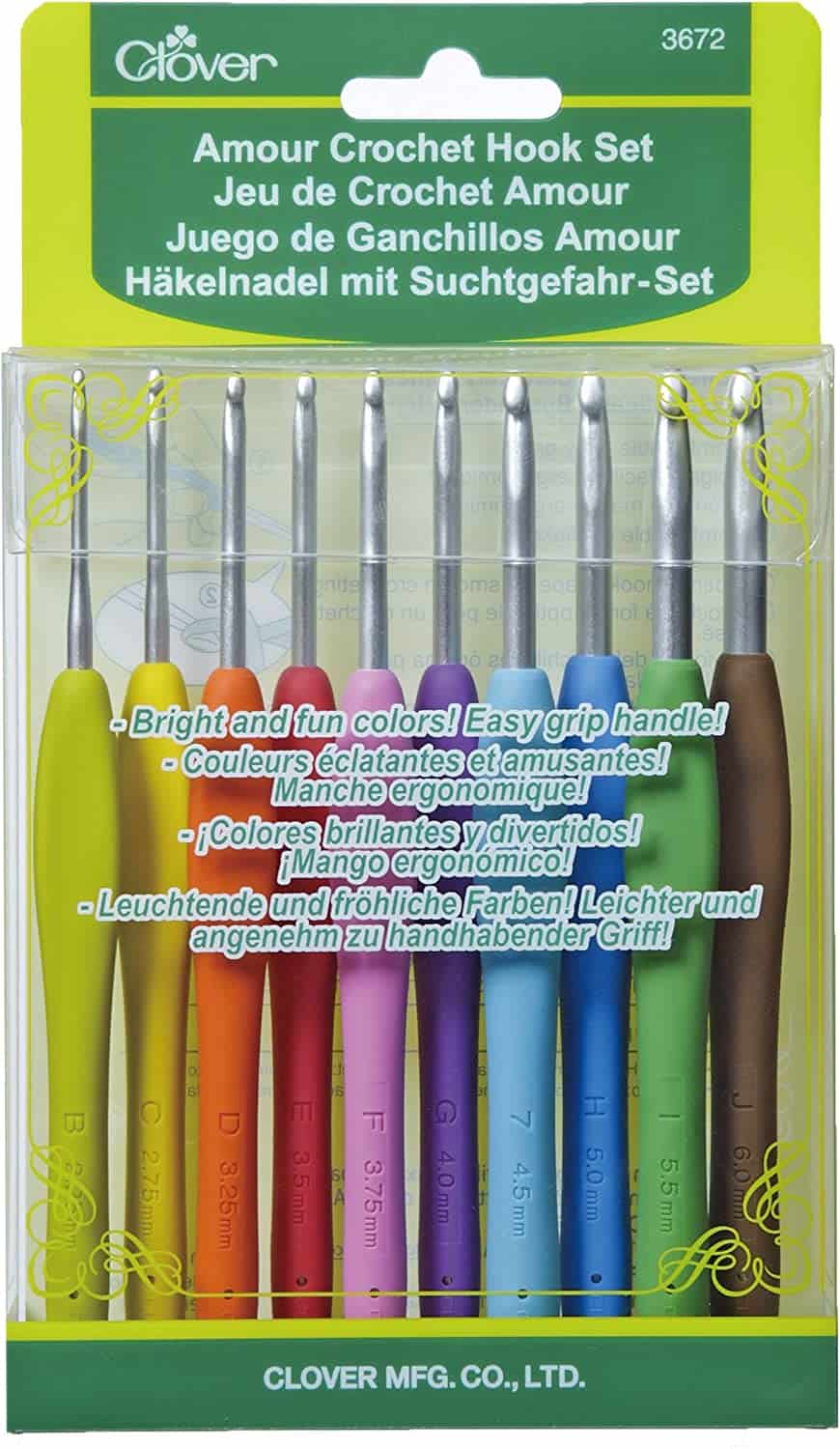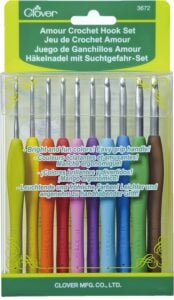 Want to learn which crochet hook to choose? Check out Best Crochet Hooks: Learn How to Choose!
Many of the supplies can be found at the affiliate links below:
Notes:
The blanket pattern uses half double crochet stitches in rows. It can be sized by chaining additional width in multiples of 10 and crocheting more rows. Feel free to use the colors in your stash or match your home decor theme.
There is a chart at the end of the pattern to help visually with the color changes. It can also be used to help you plot your own color choices.
The beginning stitch is worked as a stacked single crochet instead of chaining. This counts as a stitch.
More on the Stacked Single Crochet HERE.
Are you ready to jump right in and crochet? Before you get started, take a moment to hop on over to this post. Learn about the different ways to do crochet color-work but also for a freebie!
The printable Sheep Yarn Bobbins are super helpful and also cute. You can even cut them out on a cutting machine!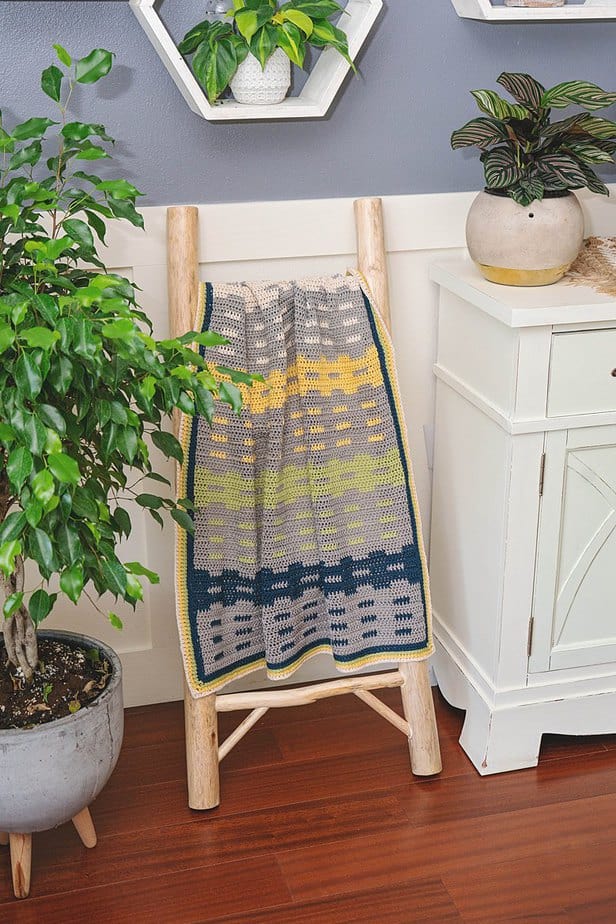 Garden Fence Free Crochet Blanket:
Row 1: With MC Ch 106, working in the second chain from the hook, hdc in each stitch across, turn. (stitch count is 105 on every row)
Row 2: With MC St sc, hdc across, turn.
Row 3: With MC St sc, hdc 4, *with CC1 hdc 5, with MC hdc 5*; repeat from * to * across, turn.
Row 4-5: With MC St sc, hdc across, turn.
Row 6-11: Repeat rows 3-5 two more times.
Row 12: With CC1 St sc, hdc 4, *with MC hdc 5, with CC1 hdc 5*; repeat from * to * across, turn.
Row 13 – 14: With CC1 St sc, hdc across, turn.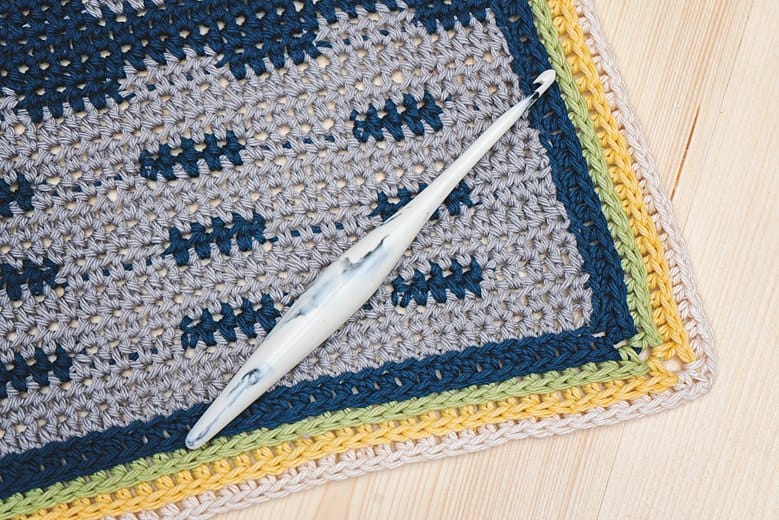 Rows 15-27: Repeat Rows 12-14.
Row 18: Repeat Row 12.
Rows 19-20: Repeat Row 2.
Repeats: Repeat rows 3-20 three more times while using the next CC yarn following the color order in notes. Fasten off and weave in ends.
HDC in the Third Loop Blanket Edge Border:
Rnd 1: With CC1 join yarn at corner of blanket and sl st around edge, on corners work a sl st, ch 2, sl st, join.
Rnd 2-5: The hdc stitches will always be worked in the third loop for the rest of the blanket edging. St sc, hdc in third loop until next corner, (hdc, ch 2, hdc) into corner chain space, join. Switch CC yarn every round following the color order in notes.
Fasten off and weave in ends. Block blanket to measurements.
Blanket Chart: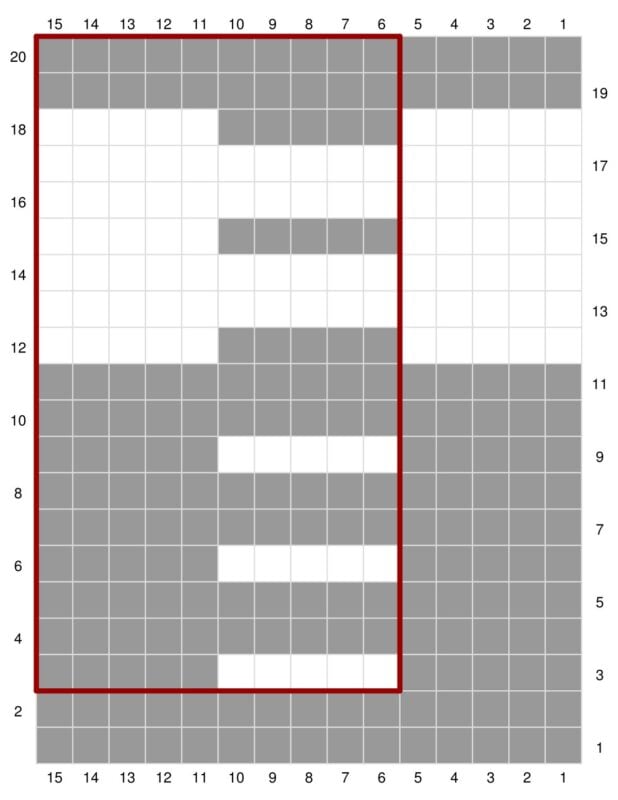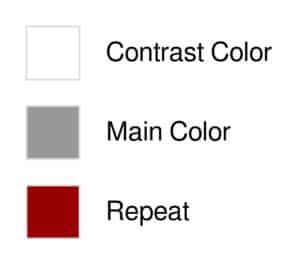 Crochet & Tag
I hope you have enjoyed making the Garden Fence Free Crochet Blanket Pattern!
If you have made this, please share it on social media. Above all I love to see the projects created with my patterns and also share your beautiful work.
Please use #brianakdesigns or @brianakdesigns
It is much appreciated and adored!