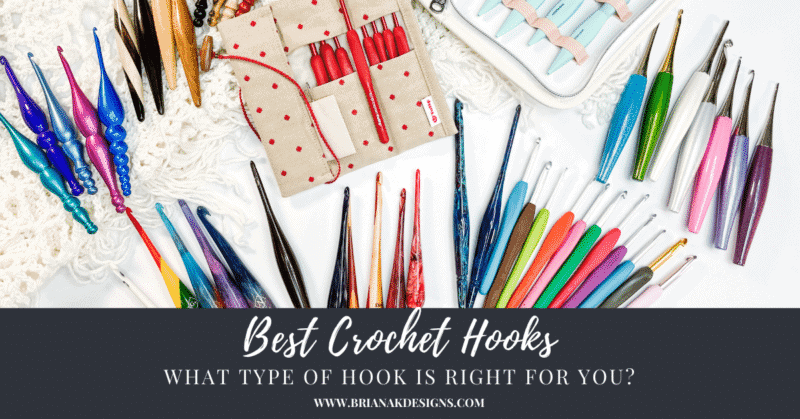 Do you want to find the best crochet hooks for you? It can feel overwhelming with the many choices on the market to know which one you might like best. I'm going to walk you through the anatomy of a hook, different hook sizes, and the types of hooks to help you make the best choices.
You and your best crochet friend might have totally different favorites. It's kinda like food, we all have our likes. And if you are a wine drinker, think of it as different wines go with different foods. Same for hooks! Different hooks can pair with different yarns. It's all about tasting and sampling everything.
The first thing we must talk about is what each part of the hook is labeled and how they may differ from brand to brand. Keep on reading for my list of favorite hooks and pricing.
---
---
Anatomy Of A Crochet Hook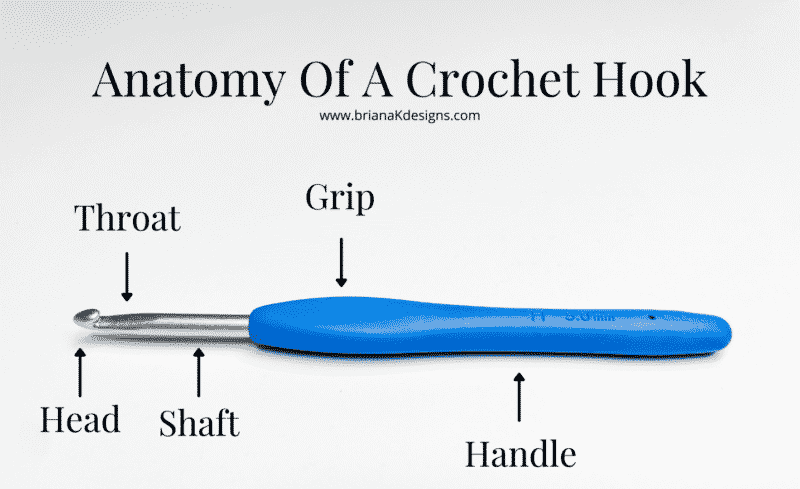 The Head, Throat, & Shaft Of The Crochet Hook
For me, the head of the hook is just as important as the grip, possibly more important. There are two main types of hook heads, inline or tapered. When it comes to picking between an inline or tapered hook, it really comes down to preference.
An inline hook has a deeper space between the hook and the shaft. And it can have a sharper point, which I find helpful for working the split single crochet stitch when doing colorwork. Because the throat has a faster taper it tends to have a thinner throat. So, even when you have the same crochet hook sizes between two brands, these shapes differ.
A tapered hook will look curvier, without sharp lines. This is helpful for reducing splitting yarn that isn't plied tightly or is very textured.
The two entry-level hooks most talked about are Susa Bates (inline) and Boye (tapered). Since these basic metal hooks are inexpensive, it's great to try each of them out and see which type of crochet head you prefer.
The Grip & Handle Of The Crochet Hook
When it comes to the handle, this is where we start to see lots and lots of variations and styles. From basic to ergonomic, with different types of materials from plastic, wood, steel, and resin. We will go over each type, and even the combinations, below.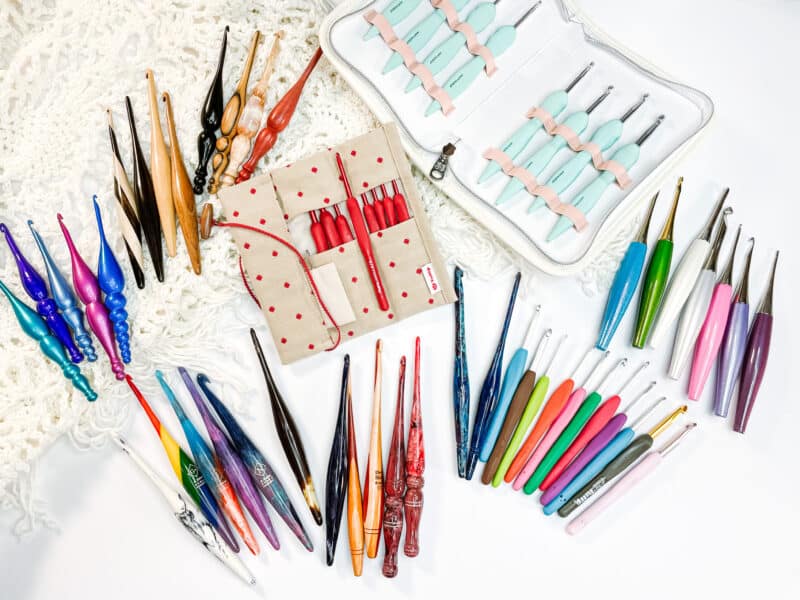 Crochet Hook Sizes
How are hook sizes labeled? It can often feel confusing to the new crocheters to see numbers and letters on a hook. What means what? And what's even more confusing is that the labeling for crochet hook sizes can vary by where you live.
Listen, if I had my way we would all get on the same page and only use one form of labeling, but I feel we have passed the point of no return. So instead, I've made this chart to help you out. Whenever in doubt, go by the millimeters, that's just math and fact.
The way crochet hook sizes are labeled in the United States is different than in the United Kingdom. This crochet hook size chart will come in handy if you are ever in doubt. Be sure to pin it and bookmark this post.
Types of Crochet Hooks
Here we go for the best part, the best crochet hooks. When it comes to finding which you like best, it's a process of trial and error. Whenever working with a new hook, give it a chance. It will always feel odd at first, but complete at least one project with it before forming an opinion.
And if you are looking for a new hobby, I recommend collecting a variety of different hooks, I enjoy it myself lol.
---
Disclosure: This website may contain affiliate links to cover the cost of publishing my blog and bringing you excellent content. Should you choose to make a purchase, at no additional cost to you, I may earn a small percentage of the sale. Thank you for your support.
Wood Crochet Hooks
---
Metal Hooks with Rubber & Plastic Handles
---
Resin Crochet Hooks
---
Handmade Hooks from Artists
---
Crochet & Tag:
I hope you have enjoyed reading about the best crochet hooks!
If you have enjoyed this post, please share it on social media.
Please use #brianakdesigns or @brianakdesigns
It is much appreciated and adored!


Want to learn some tips and tricks? Click on the images below to pick up something new today!