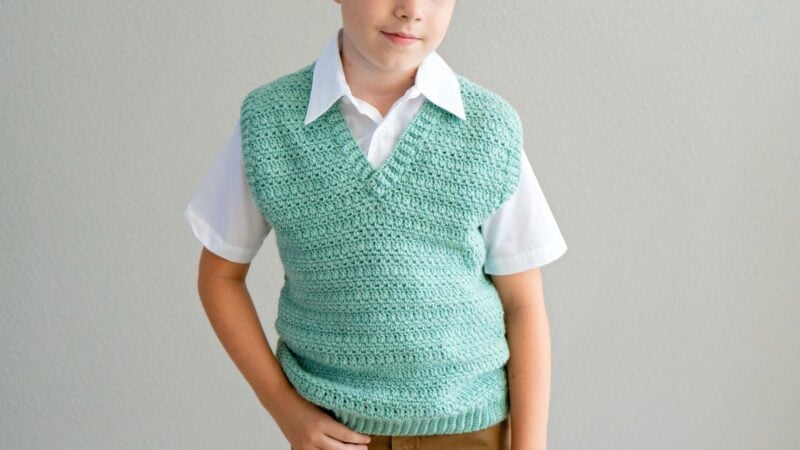 Ever want an Easy Crochet Vest Pattern? Look no further with this simple stitch repeat that packs a punch of texture and drape. And is this just for the boys? NOPE! This is a unisex sweater that can be worn by anyone 0 to 99. Head on over to WeCrochet and get the Heatherly Crochet Vest Pattern now. Or find this pattern on Ravelry or Etsy.
What do I think of WeCrochet Heatherly Yarn?
When I previewed Heatherly Yarn I seriously thought the price point was going to be above ten dollars a hank. The yarn is released and priced at 5.99, I see once again the amazing value offered by WeCrochet. The Heatherly Worsted has 218 yards per hank, and the Heatherly Sport has 328 yards per hank.
If you've never purchased a hank of yarn before, a yarn swift and winder are great tools for getting the yarn into a cake, which is much easier to work with. Or you can wind it into a ball by hand and use a helping hand from a friend to hold the hank while you wind.
This yarn is a great blend of 80% acrylic and 20% merino wool, which adds some softness. Heatherly is in the baby yarn category and comes in 12 gentle colors, but in my humble opinion, this yarn is for the whole family. I love soft things myself and the colors are fantastic shades.
Where To Purchase My Ad-Free Downloadable PDF's:
Easy Crochet Vest Pattern Video:
Want more crochet garment patterns? Check out these options:
Everyday Crochet Knit-Look Sweater Pattern
Whimsical Crochet Cardigan Dress Pattern
Favorite Arizona Sweater Dress Crochet Pattern
Gingersnap Crochet Pullover Sweater Pattern
About the Construction:
The Heatherly Crochet Vest is made in two pieces; the Back and the Front Panels. Then, the vest is seamed at the shoulders and down each side. Lastly, the ribbing is added around the neck, arms, and bottom.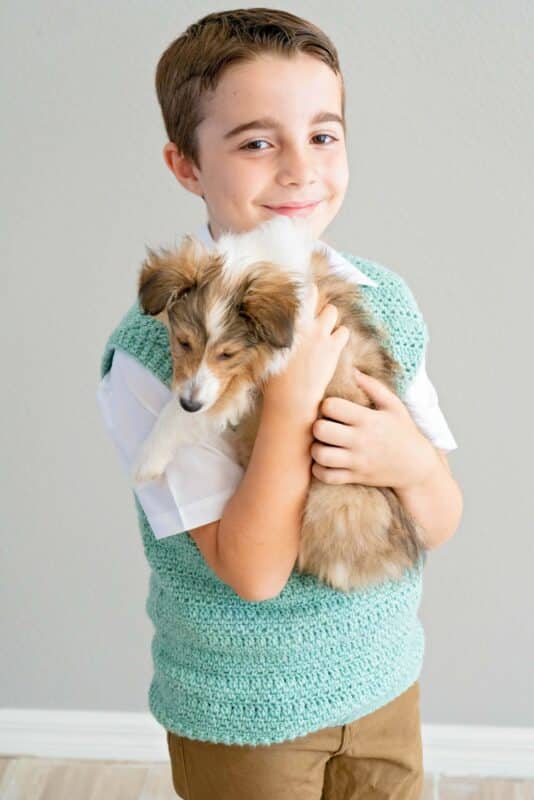 How To Determine The Best Crochet Vest Fit:
Use the bust measurements when determining size. Due to the 2-3" of ease; for a more fitted garment consider going down a size. This vest is a size 10 shown on my son who is 8, so he has a little room to grow. But I can also wear this vest as a fitted top as it's negative ease for me. Check out this Instagram video to see it on both of us.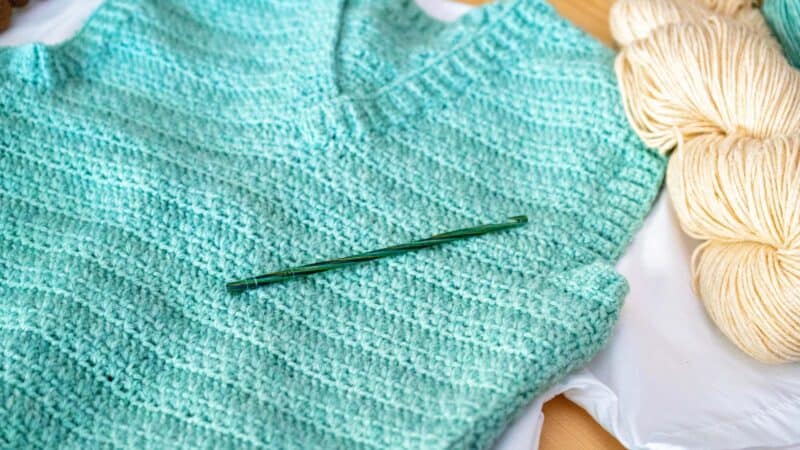 About Ribbing Gauge:
Ribbing can be fickle when it comes to matching the gauge. I find each crocheter can be very different in tension. Find the right tension for you by going up or down a crochet hook. The Ribbing will create a more fitted appearance, just maintain consistent tension. If tension is too tight fabric might pucker, to avoid this keep a loose tension or use a larger hook.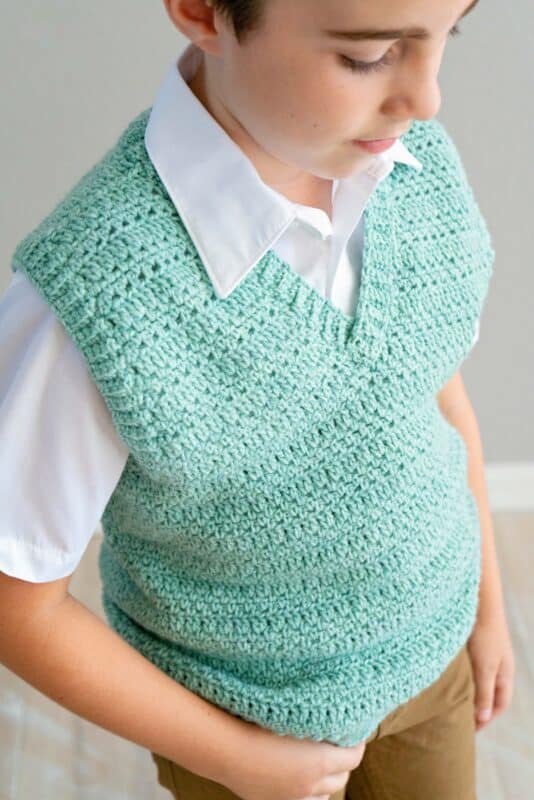 Easy Crochet Vest Pattern Supplies:
Crochet Hook:
Notions:
Removable stitch markers if needed
Yarn needle to weave in ends
Scissors
Yarn:
WeCrochet Heatherly Sport
80% Acrylic, 20% Merino Wool, 328yds/100g
Colorway: Agave or Butter in images
Yardage:
Child: 200 (250, 300, 350, 400) (550, 590, 615, 675)
Adult: 720 (800, 900, 1000, 1150) (1300, 1450, 1650, 1850)
Hanks:
Child: 1 (1, 2, 2, 2) (2, 2, 2, 3)
Adult: 3 (3, 3, 3, 3) (4, 4, 5, 5)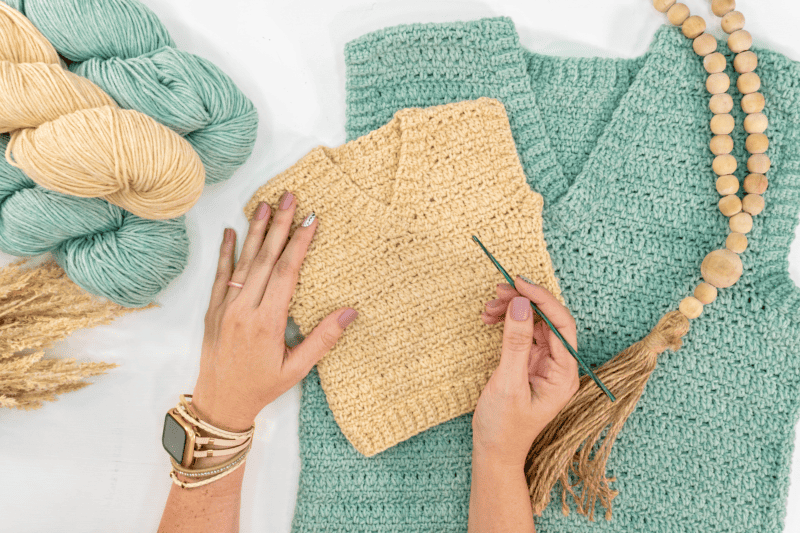 Abbreviations/Stitches:
blo- back loop only
ch – chain
dc – double crochet
dc2tog – double crochet two stitches together
RS – right side
sc – single crochet
sc2tog – single crochet two stitches together
Stsc – stacked single crochet
st(s) – stitch(es)
WS – wront side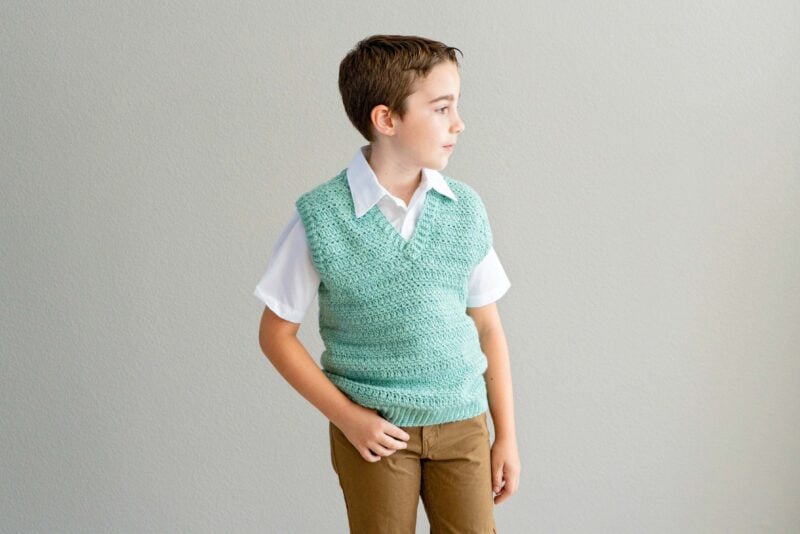 Gauge:
19 sts x 15 rows = 4×4 inches in Row 1-4 in
Rows 1-4, the established row repeat.
Skill Level:
Advanced Beginner/Intermediate
Size/Measurements:
This garment has a 2-3" ease.
Bust Sizes (does not include ease):
Child: 15 (18, 20, 22, 24) (26, 28, 29, 31)
Adult: 34 (38, 40, 44, 47) (50, 54, 58, 62)
See the schematic in the pattern for finished garment measurements.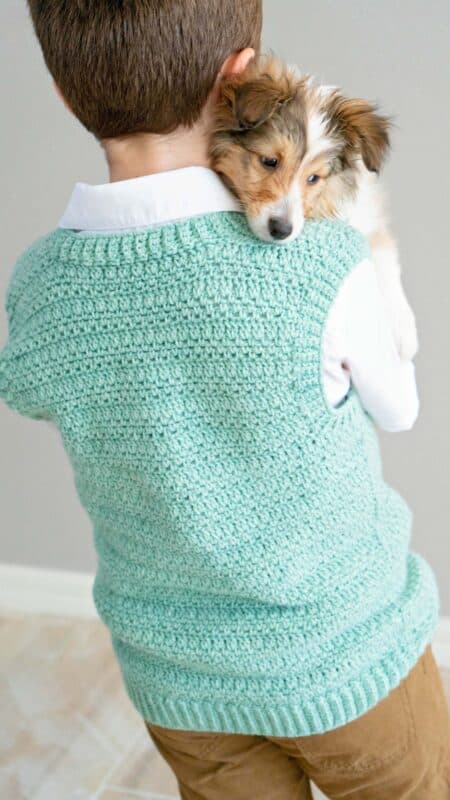 Notes:
The sizes are written as: 1-3 mo (6-9 mo, 12-18 mo, 2y, 4y) (6y, 8y, 10y, 12y); X-Small (Small, Medium, Large, 1X) (2X, 3X, 4X, 5x)
There is no need to use starting chains, instead, use the Stacked Single Crochet (see Special Stitches).

CROCHET & TAG
I hope you have enjoyed making the Heatherly Easy Crochet Pattern!
If you have made this, please share it on social media. Above all, I love to see the projects created with my patterns and also share your beautiful work.
Please use #brianakdesigns or @brianakdesigns
It is much appreciated and adored!
Share Your Project & Share Pictures!
I really hope you enjoyed working on this project. The best way to make a designer smile is to share what you've made! When it comes to free or premium content, I really rely on you to help me keep designing and supporting my family. Here is how you can make my day:
Share your yarn choice, in-progress, or finished projects on Instagram and use the hashtag #brianakdesigns
Link and share your project on Ravelry. It really helps to have inspirational photos for others.
Join the Briana K Designs Community Group on Facebook and share anything crafty.
Don't Lose This Project! If you aren't ready to start it save it on Pinterest by clicking any of the images above.