I am buzzing with excitement over this pattern! The Buzzing Beehive Blanket was a surprise project I enjoyed more than I imagined. Worked as instructed the blanket sizes as a throw.
Where To Purchase My Ad-Free Downloadable PDF's:
With a small weight yarn and going down a hook size, it would be perfect for a non-gendered baby blanket and gift. Can you just imagine how this one would win over with loved ones?
Bee's are such a wonderful insect for our environment and do such hard work. I've seen more bees this last year since we moved to a home with citrus trees.
There are times the whole tree is just swarming and it makes me smile because I know they are helping us produce amazing fruit and flowers. One small act can create a big outcome.
This pattern includes a visual chart as well as written instructions for each hexagon shape. It also has a video to assist in how to join together.
Measurements:
44 inches (112 cm) wide
63 inches (160 cm) long
Are you ready to jump right in? Before you get started take a moment to jump on over to this post to not only learn about the different ways to do crochet colorwork, but also for a freebie!
The printable Sheep Yarn Bobbins are super helpful and also cute. You can even cut them out on a cutting machine!
Visit: https://brianakdesigns.com/ways-to-colorwork-in-crochet/
Come and join the fun with the Briana K Community Facebook to stay up to date with new releases, giveaways, sales and testing opportunities: https://www.facebook.com/groups/BrianaK/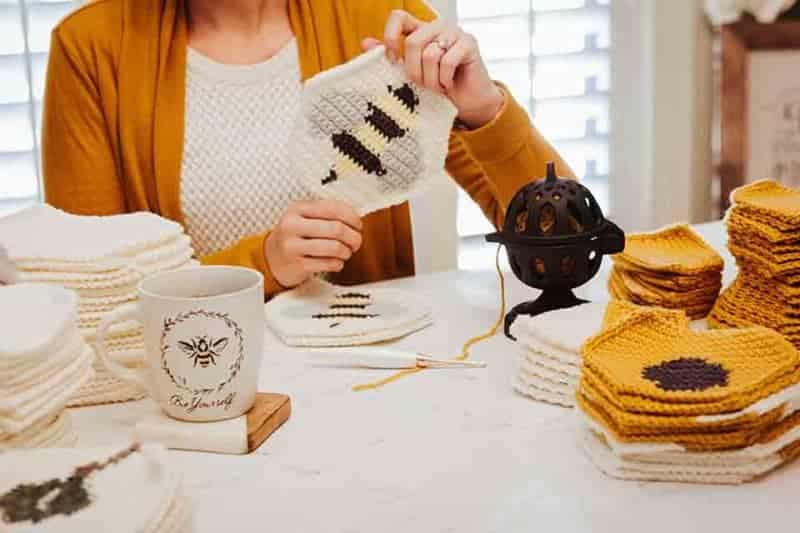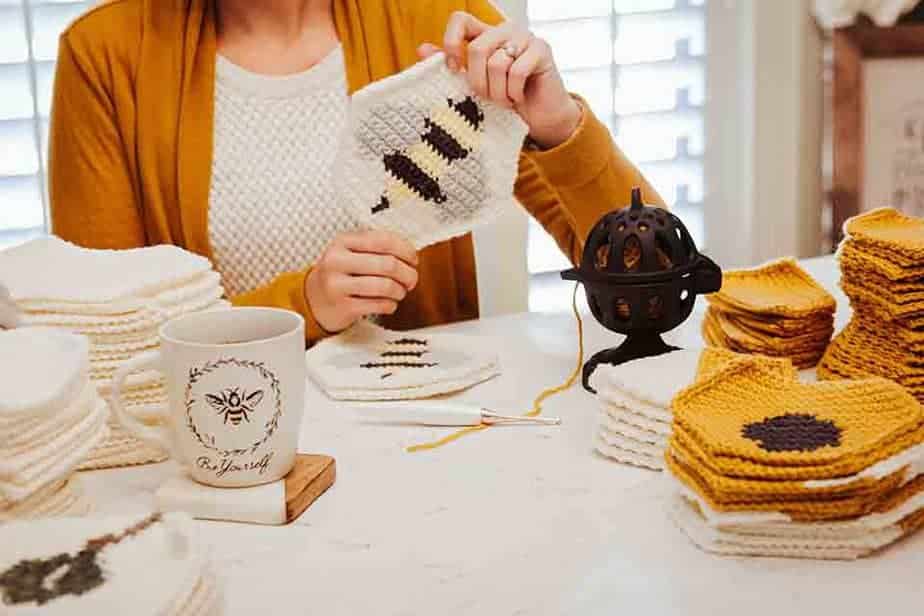 CROCHET & TAG
I hope you have enjoyed making the Buzzing Beehive Blanket Pattern!
If you have made this, please share it on social media. Above all I love to see the projects created with my patterns and also share your beautiful work.
Please use #brianakdesigns or @brianakdesigns
It is much appreciated and adored!
THIS IS A PDF FILE which requires Adobe to read this pattern and can be downloaded for free at www.adobe.com
Share Your Project & Share Pictures!
I really hope you enjoyed working on this project. The best way to make a designer smile is to share what you've made! When it comes to free or premium content, I really rely on you to help me keep designing and supporting my family. Here is how you can make my day:
Share your yarn choice, in-progress, or finished projects on Instagram and use the hashtag #brianakdesigns
Link and share your project on Ravelry. It really helps to have inspirational photos for others.
Join the Briana K Designs Community Group on Facebook and share anything crafty.
Don't Lose This Project! If you aren't ready to start it save it on Pinterest by clicking any of the images above.