Want to make a bee crochet blanket?
I am buzzing with excitement over this blanket pattern, and if you are a bee lover you will be too! The Buzzing Beehive Blanket was a surprise project I enjoyed more than I imagined. The combination of the stitches used to make this pattern look like a bee hive was clever, and I love the end result.
Want to print & go?
Get the downloadable pdf pattern: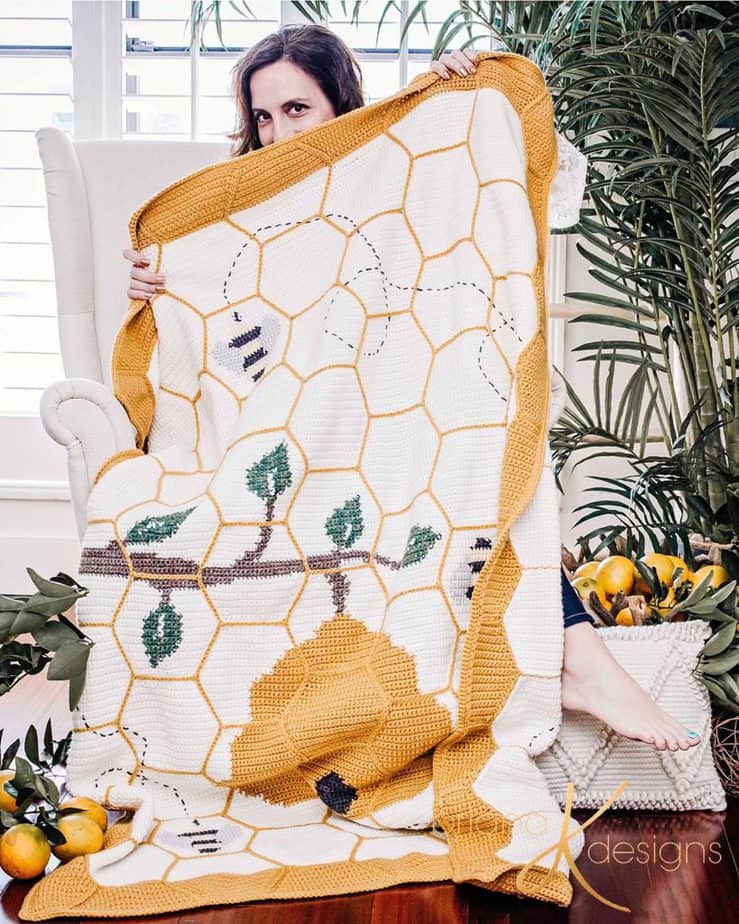 How do you crochet a honeycomb pattern?
For this blanket we are creating the honeycomb pattern by making a version of a granny hexagon and then sewing the pieces together. By doing this modular style crochet, we create a honeycomb pattern through the joining process that appears to overlay the background colorwork image.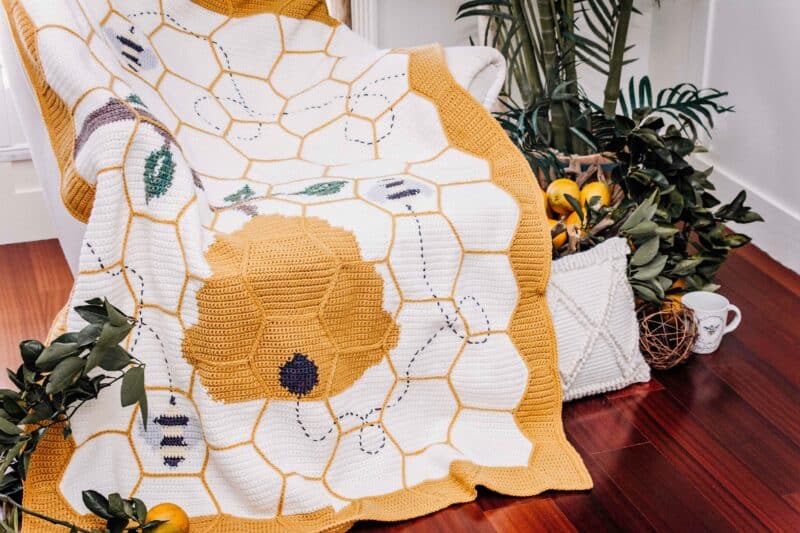 If you want to learn the crochet honeycomb stitch pattern, I also have a blog post and free pattern for that textured stitch as well. Head on over and visit How to Crochet Honeycomb Stitch + Headband Pattern.
And if you want to create the honeycomb pattern by using filet crochet stitches, the Modern Honeycomb Shawl Crochet Free Pattern is an easy and fun pattern to crochet.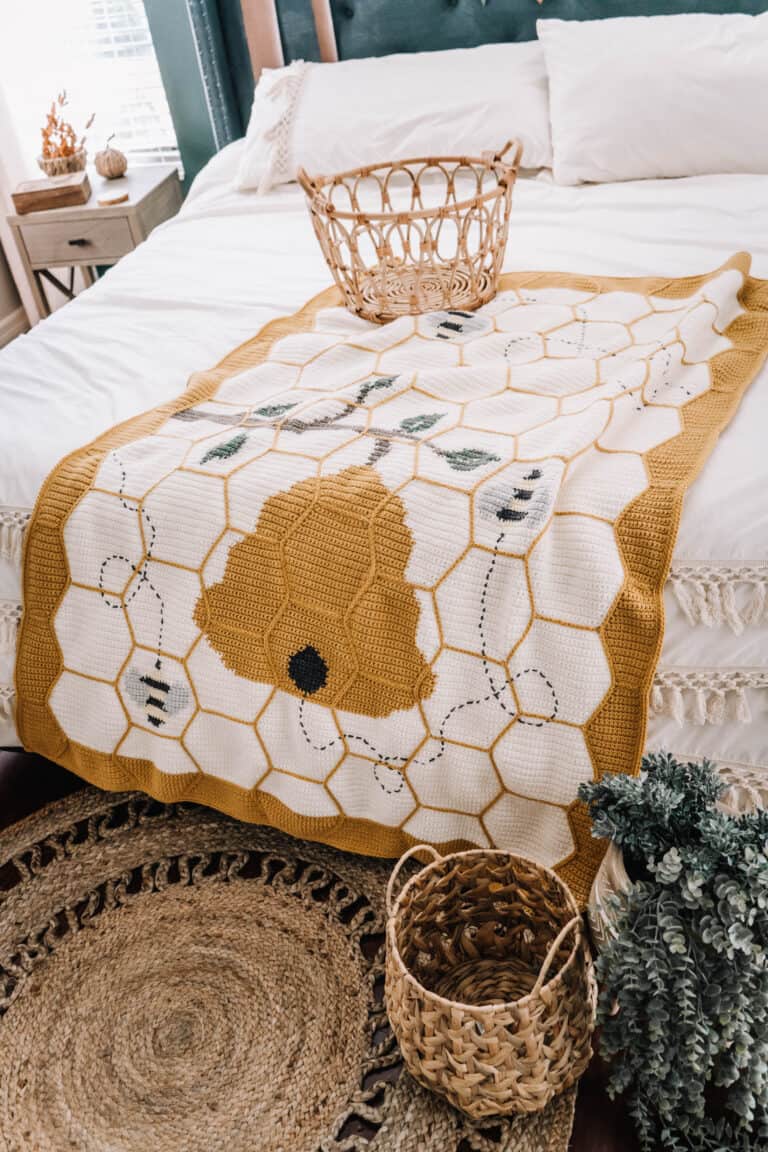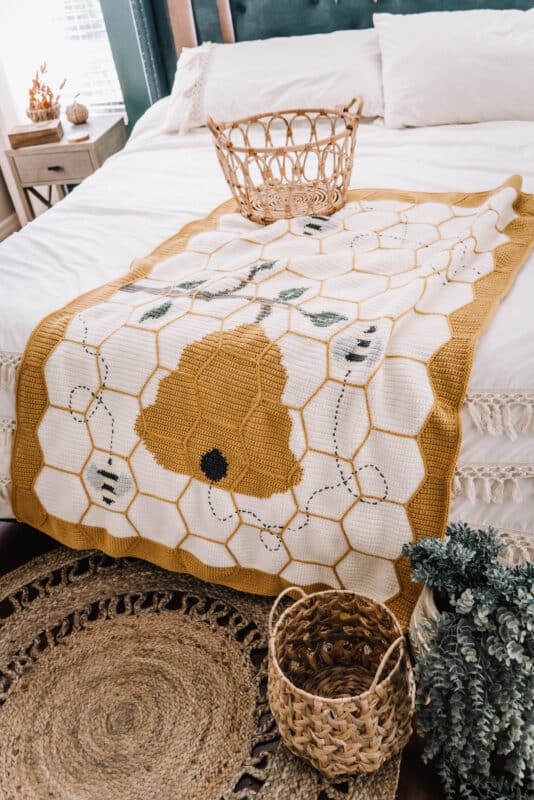 Why we should care about protecting bees.
Bees are essential for the health of our planet and its ecosystems, and as a designer, I love including them in my crochet patterns. They are major pollinators responsible for up to 90% of the world's pollination needs. Without them, many species of plants (including those used in food production) would not survive.
In addition, bees provide honey and other products that benefit humans in many ways. Unfortunately, bee populations are in decline due to a variety of causes, including the use of pesticides, habitat loss, and climate change.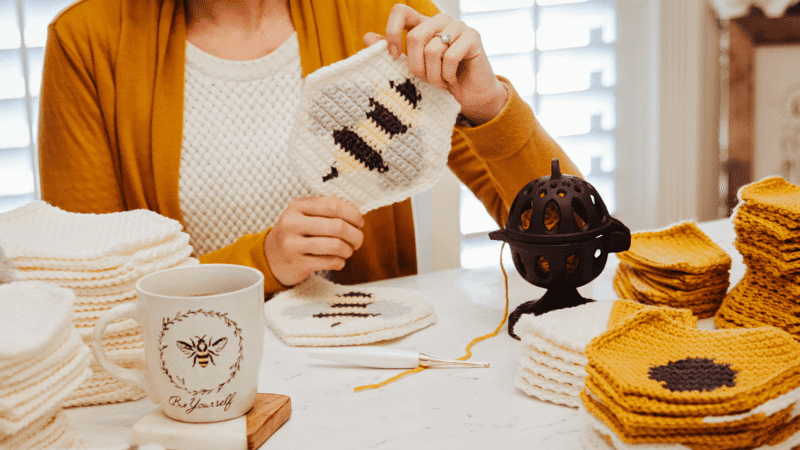 Thankfully, there are many ways to help save bees and their habitats. Planting native flowers that bloom at different times throughout the year will provide a source of food for bees all season long. Building bee houses or structures that provide shelter for them is another way to help create a hospitable environment.
Lastly, reducing the use of pesticides and other chemicals can go a long way in helping to protect bees from harm. Together, we can create more awareness and make changes to our environment that will benefit everyone on Earth!
We can make a real difference in the fight to save bees by taking action. We can join or start local initiatives to protect bee habitats and educate communities about how important bees are for our environment. We can also support organizations working to conserve bee populations and spread awareness about their importance.
Every effort counts! Together, we can help create a harmonious future where bees and people can thrive. Thank you for taking the time to explore this topic with me. Your support means so much to those of us who are passionate about protecting our pollinators!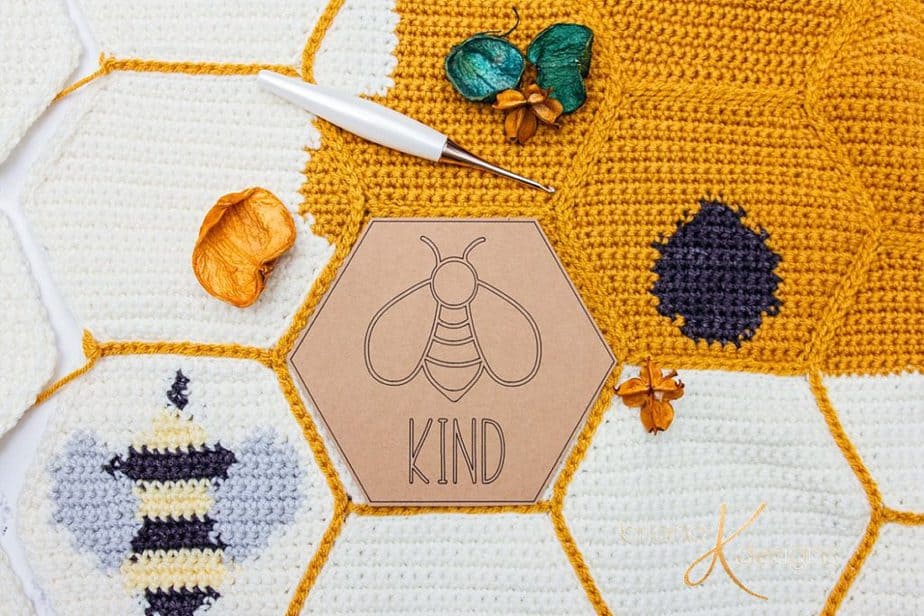 How to adjust the sizing for a bumble bee baby blanket.
With a smaller weight yarn and going down a hook size, it would be perfect for a non-gendered baby blanket and gift. Making a crochet honeycomb baby blanket as a nursery room decor would be adorable. Can you imagine how this one would win over with loved ones? It's a perfect gift for a baby shower, especially for a bee lover.
When adjusting to be smaller, this will change your gauge, but that's okay! We are recreating the size so that's what we would want. The most important thing to note is keeping the ratio of the width and height stitches similar to the original gauge ratio.
Want another fun option for a crochet bee honeycomb baby blanket? Check out the The Crochet Honey Bee Blanket Pattern.
Bee's are such a wonderful insect for our environment and do such hard work. I've seen more bees this spring than last year since we moved to a home with citrus trees.
There are times the whole tree is just swarming and it makes me smile because I know they are helping us produce excellent fruit and flowers. One small act can create a great outcome.
This pattern includes a visual chart as well as written instructions for each hexagon shape. It also has a video to assist in how to sew and join together.
Supplies needed to crochet the crochet bee blanket.
5.0mm Crochet Hook – Check out the Dots Hook or the Furls Hooks
Yarn Needle
Scissors
Blocking Mat & Pins
Continuous Sprayer for Blocking
Investing in a wooden granny square blocker is another great tool to have when making a blanket in motif pieces.
What yarn can be used for this bee blanket?
The yarn in the images of this pattern are:
I Love This Yarn, worsted weight yarn, in Colorways:
Ivory 5 skeins
Sungold 3 skeins
Light Grey 1 skein
Buttercup 1 skein
I Love This Yarn Stonewash in Colorways:
Dark Grey 1 skein
Walnut 1 skein
Print I Love This Yarn in Colorway:
Dappled Wheat 1 skein

Total Yardage for the crochet blanket: 2,800 yards (2560 meters)
Yarn Substitutes:
WeCrochet Brava
Mary Maxim Starlette
What crochet stitches are used for this beehive crochet blanket?
ch – Chain
RS- Right Side
sc- Single Crochet
sc2tog – Single Crochet Two Together
sl st- Slip Stitch
sts- Stitches
WS- Wrong Side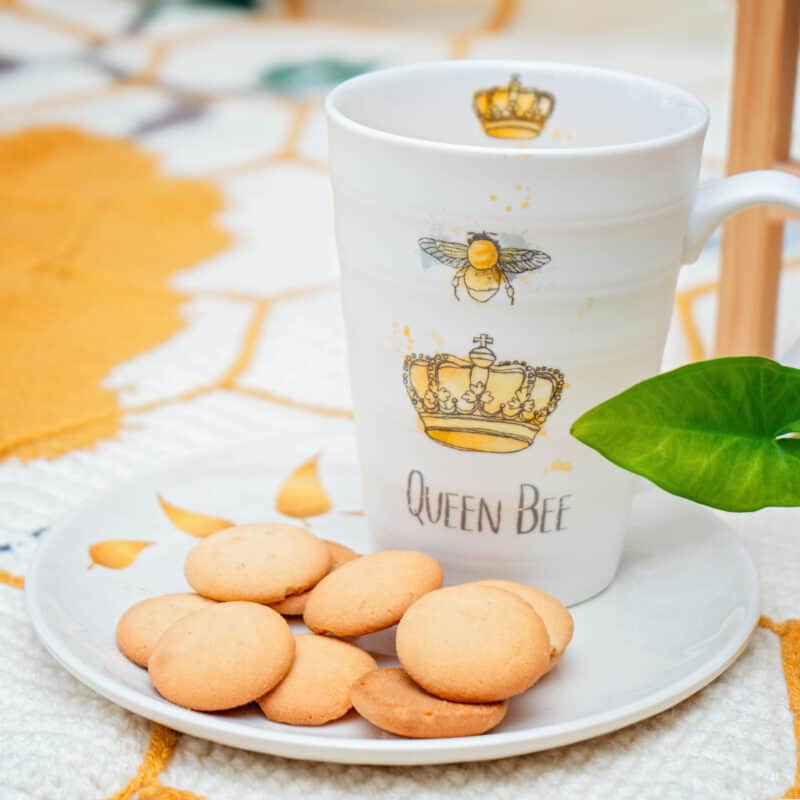 Skill level for the crochet blanket pattern.
The stitches used in this crochet blanket pattern are basic crochet stitches. However, there is some colorwork so this is an advanced beginner to intermediate pattern. You can create a beautiful and unique blanket with careful attention to detail.
The pattern includes detailed instructions for each row of colorwork stitch hexagons as well as a photo on how to arrange the finished project. While this is a larger project, being a crochet blanket, I'm sure you'll be proud of your work when it is completed!
What size is this crochet bee blanket?
Measurements including border:
44 inches (112 cm) wide
63 inches (160 cm) long
Are you ready to jump right in? Before you get started take a moment to jump on over to ways to do crochet colorwork, but also for a freebie!
The printable Sheep Yarn Bobbins are super helpful and also cute. You can even cut them out on a cutting machine!
---
HAPPILY BUZZING
"The Flower doesn't dream of the bee.
It blossoms and the bee comes."
---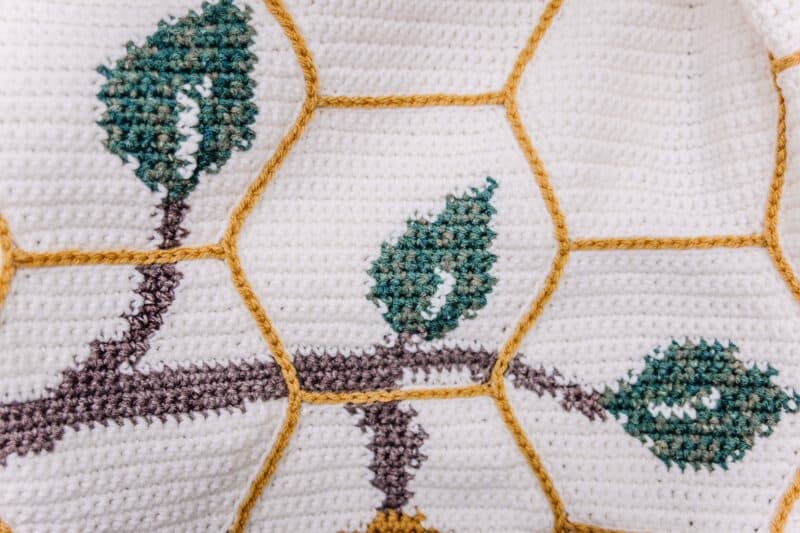 How are the bee hexagons joined together?
I have a video tutorial to walk you through the steps of joining all the hexagons together to finish the crochet bee blanket. Watch the video below on how to sew and join the hexagons for the buzzing beehive blanket pattern.
I hope you have enjoyed making the Buzzing Beehive Blanket Pattern!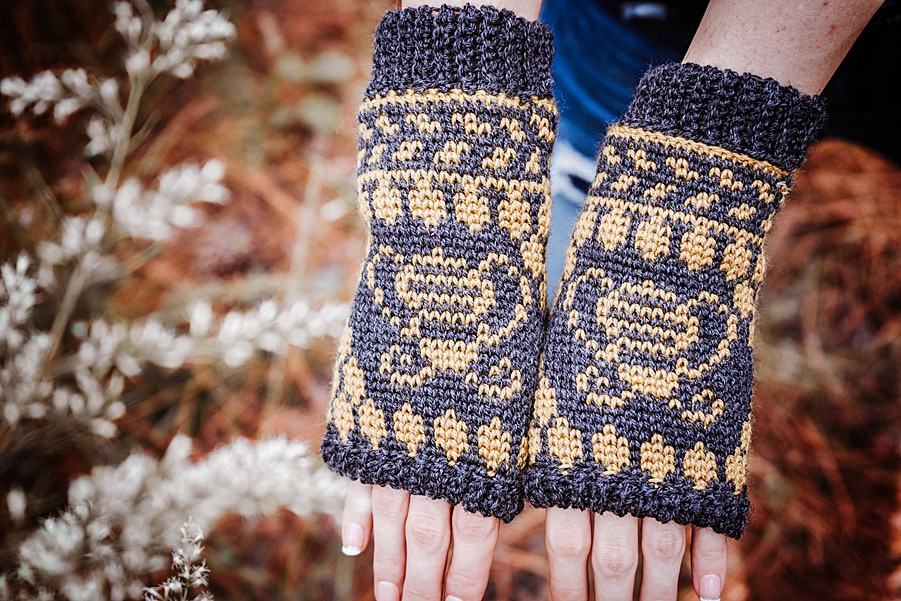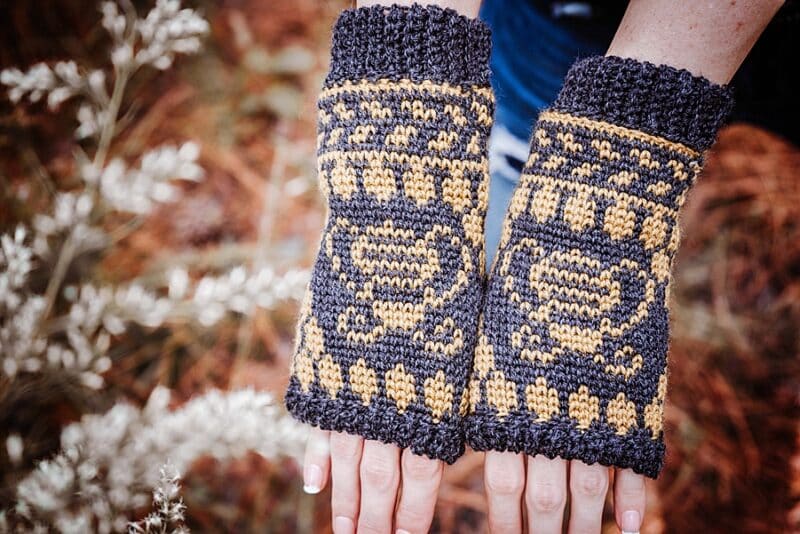 More Crochet Inspiration with Bees
Want a free bee crochet pattern? Check out the Bee Fingerless Mitten Free Crochet Pattern with a video tutorial.
And if you love summer tops, the Queen Bee Crochet Tank Top Pattern is fun and has a video tutorial. Happy crocheting!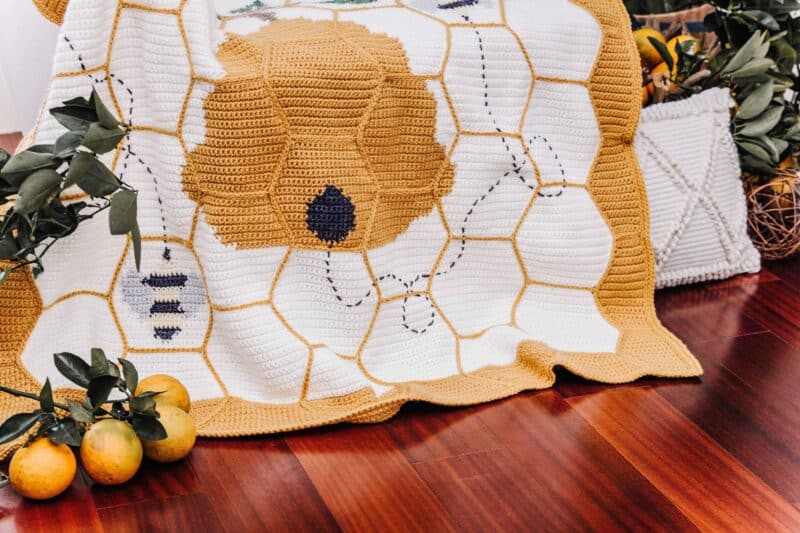 Share Your Project & Share Pictures!
I really hope you enjoyed working on this project. The best way to make a designer smile is to share what you've made! When it comes to free or premium content, I really rely on you to help me keep designing and supporting my family. Here is how you can make my day:
Share your yarn choice, in-progress, or finished projects on Instagram and use the hashtag #brianakdesigns
Link and share your project on Ravelry. It really helps to have inspirational photos for others.
Join the Briana K Designs Community Group on Facebook and share anything crafty.
Don't Lose This Project! If you aren't ready to start it save it on Pinterest by clicking any of the images above.