How to Crochet Socks and Customize Fit With Sizing Guides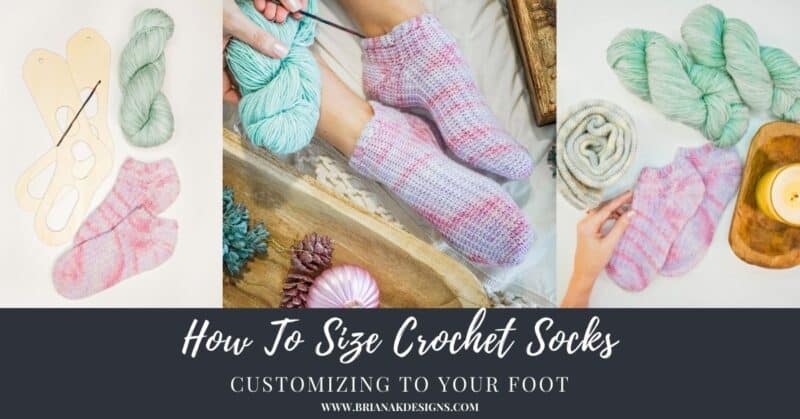 Who wants to go through the disappointment of crocheting a sock and not having it fit? Nobody, that's who. I'm going to walk you through how a sock is supposed to fit and how to measure your foot or follow a size chart to make socks as a gift.
How Crochet Sock Patterns Are Sized
We know crochet stitches tend to be a bit denser and have less give than a knit sock, but that doesn't mean we can't find the best fit for our foot. The popular measurements to determine the size of a foot are the circumference of the foot and the ankle. These are necessary for the sock to slide onto the foot, the length of a sock can be easily adjusted.
Using the right stitches for a crochet sock is important because they need to have some stretch in order to get over the ankle area, but also remain structured to not be too loose.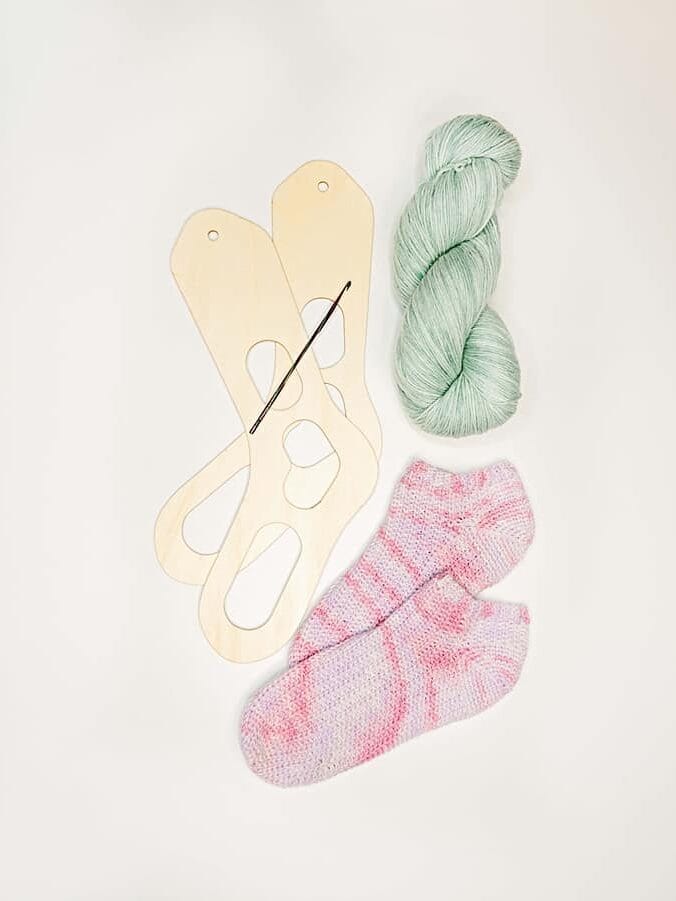 What Is Negative Ease And Why Is It Important?
All socks should have some negative ease. What this means is the measurement is closer to the foot size than the shoe size. A sock should fit snuggly and have a slight stretch when worn. If not they will probably slide down on your foot, or bunch up in your shoe when you wear them.
If your sock feels too loose, or won't stay up, then you need to frog back a bit and add a decrease or two. As a sock is worn throughout the day, it will stretch out a little bit. Ever notice this with your jeans? You may have struggled to get them on in the morning, but they feel a bit more comfortable in the evening, especially if you've had some extra snacks. This is the same thing that happens to socks.
If the sock is too loose it will slide around in your shoe a bit more, which causes friction, and this will cause the sock to wear down sooner than intended. The goal is for a sock to feel comfortable, stay in place, and not wear out quickly.
As a general rule, a sock should measure 10% less than your actual foot or leg circumference, which ends up being around 1 inch smaller circumference. And be about ½ inch shorter than the length of the foot. This negative ease, or smaller measurement than the foot, is what helps get the best fit.
We all have unique feet, which means our leg circumference and our foot circumference may not be the same. Many patterns are generally written to assume these are the same, and this is where the crocheter must modify socks to fit their unique foot and leg shape.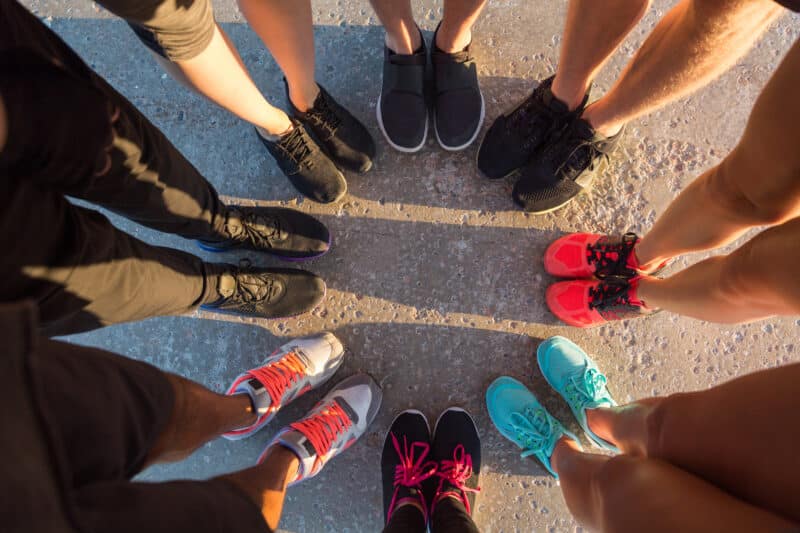 Shoe Size Versus Foot Circumference
Not all shoe sizes are the same, they will differ depending on where you live. A shoes size 8 in the U.S. is different than shoe size 8 in the UK. And most shoe sizes are designed longer than the actual foot, which makes sense since it's going around the foot and not manufactured to stretch. We want our shoes to have positive ease to be comfortable.
Shoe sizes will also have narrow and wide options. If you fall into one of these categories, recognize how this might translate to a crochet sock pattern. If you have narrow feet then the average sock pattern might be too big for you, or too tight if you have a wide foot.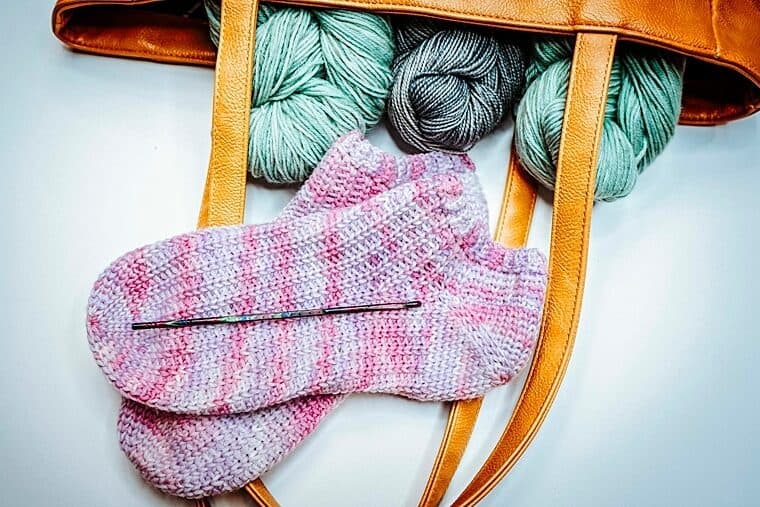 Toe-Up Versus Top-Down
My absolute favorite way to make socks is from toe-up. There are two major benefits of crocheting a sock this way. First, you can try it on as you go and adjust the sizing. Second, there is less of a worry about running out of yarn. If your sock height, or cuff, isn't as tall as intended, it's not a big deal. But if you run out of yarn before completing the toe, well that's a bummer.
Some crocheters prefer top-down socks because the start of the sock can feel a little easier. With toe-up, the first rounds will go right into increasing and prefer to decrease at the end for the toe.
Roundup! Checkout these knit and crochet sock patterns!
Conquer Toe Up Crochet & Knit Socks With These Terrific Patterns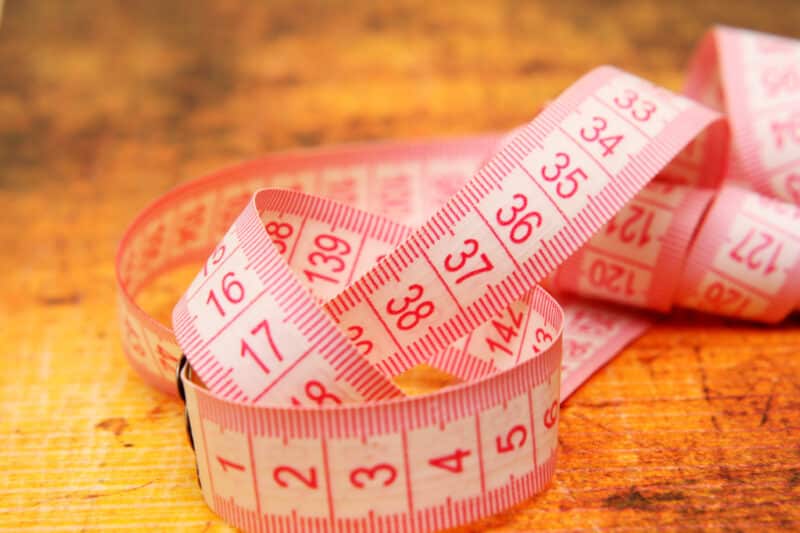 How To Take Foot Measurements
When making socks for yourself, or someone you can measure, it's important to know how to take these measurements.
A: Circumference for Leg:
Measure the topmost part of your leg, the thickest part, and where you would like the height of the sock.

B: Height of Leg:
From where you took measurement A to the top of the heel.
C: Circumference of Foot:
Measure where your foot is thickest. The actual measurement of the finished sock will be about ½ to 1 inches less than this measurement.
D: Instep:
Measure from the bottom of your toes to about 1 inch before the heel.
Using Gauge To Your Advantage
So how do we know if a sock will fit us? This is where gauge can be our best friend. It's worth taking the time to do a little math to make sure you make a sock you are going to love wearing.
I'm going to walk you through the formula for calculating how many stitches you would need for your foot circumference. This is the measurement C on the schematic above.
Formula To Calculate the Circumference Stitches (C)
Foot Circumference Measurement - 10% = Sock Circumference
Next, take the Sock Circumference and multiply it by the gauge stitches per inch.
Example:
Actual Foot Circumference Measurement of 9 inches - 10% = 8.1 (the Sock Circumference). Or find these measurements on the free chart download.
Now that we have the Sock Circumference we will multiply it by the gauge (sts per inch), for this example, let's say the gauge is 5 sts per inch.
8.1 x 5 = 40.5
So for this foot calculation, the stitches needed for C are 40 sts.
What Are Gusset Stitches?
On a toe-up sock, gusset stitches come right before you get to the heel. These additional stitches are often necessary so the heel area will fit. While we can calculate the instep stitches like above, our feet don't have the same measurements for our whole foot.
Often gusset stitches are placed on either side of the foot to widen the circumference. Without increasing for before the heel, some socks may be difficult to get onto your foot.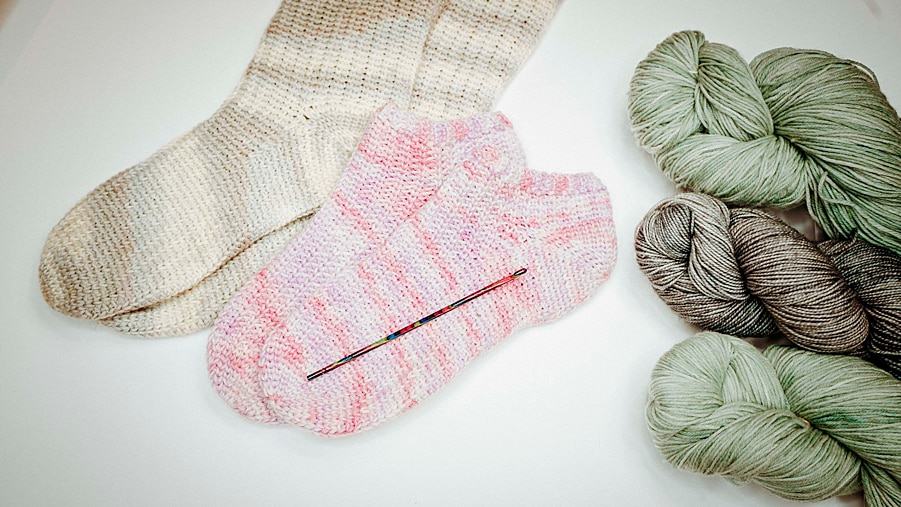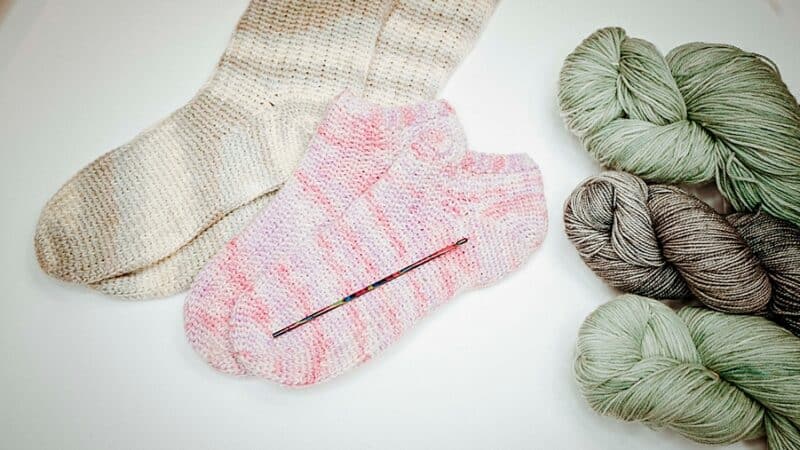 What Yarn Is Best For Socks?
How you want to wear your sock will determine what type of yarn to choose. Do you want to wear it in a shoe? Have some extra bulk for boots or cold weather?
Fingering Weights:
For a sock that has great stretch and can be worn in a shoe, I recommend either a Lace (0) or Fingering (1) weight yarn. I also love using fibers such as merino and nylon. Check out the Felici Crochet Sock Pattern and then pick your yarn:
Stroll - 75% Fine Superwash Merino Wool, 25% Nylon
Stroll Tonal - 75% Fine Superwash Merino Wool, 25% Nylon
Capretta Superwash - 80% Fine Superwash Merino Wool, 10% Cashmere, 10% Nylon
Hawthorne Fingering Kettle Dye - 80% Fine Superwash Highland Wool, 20% Polyamide (Nylon)
Lion Brand Truboo - 100% Rayon (from Bamboo), for those who might be allergic to wool.
DK & Worsted Weights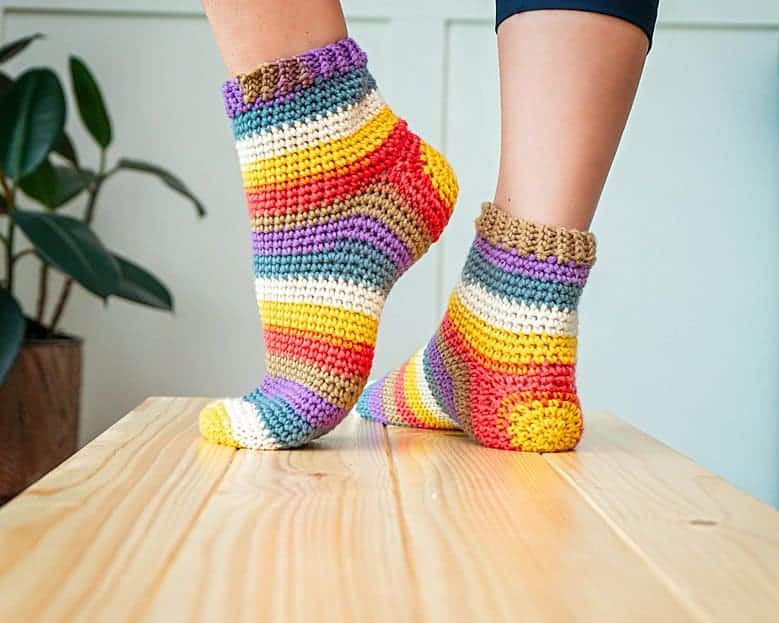 Socks made in these yarns might be a bit bulky for shoes, but they are perfect for Adokoo Boots. Or even just to wear around the house as a light slipper. Check out the Felici Crochet Sock Pattern and then pick your yarn:
KnitPicks Felici - 75% Superwash Merino Wool, 25% Nylon
Chroma Worsted - 70% Superwash Wool, 30% Nylon
Snuggle Puff - 70% Pima Cotton, 30% Nylon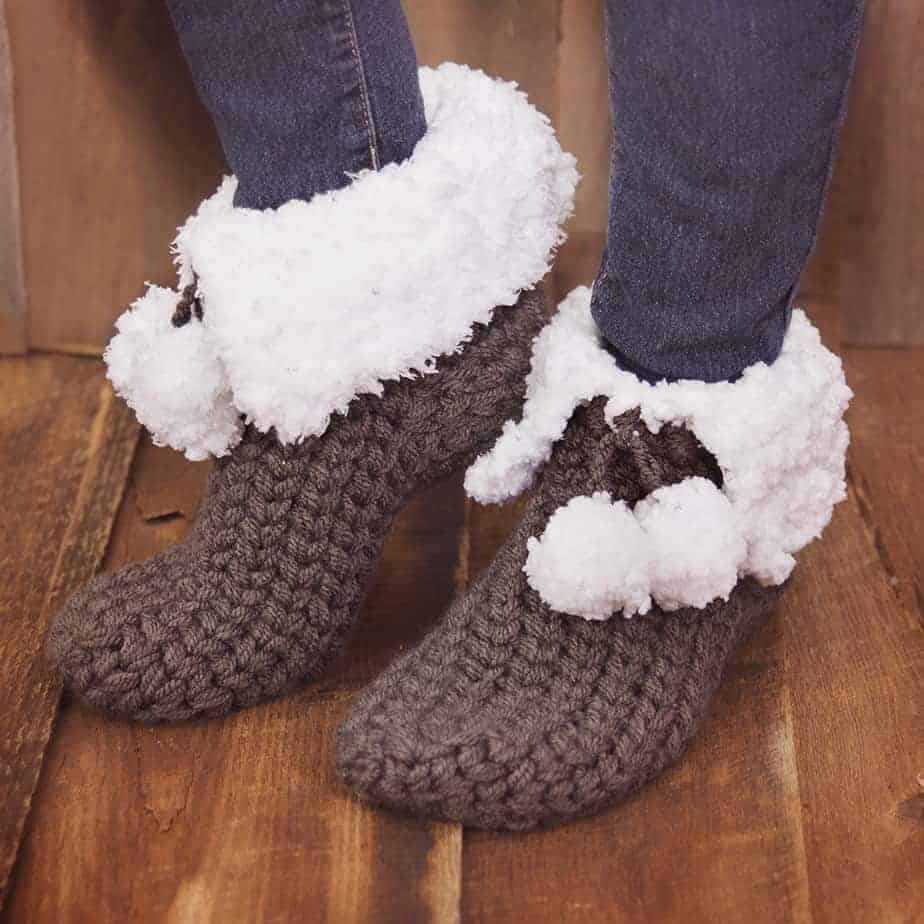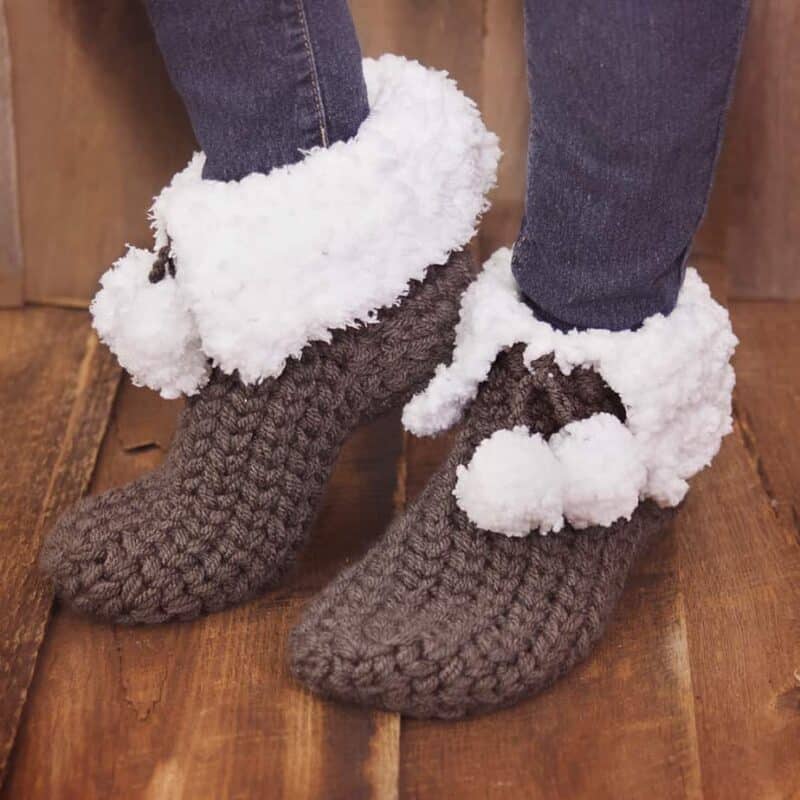 Bulky & Extra Bulky
Snuggle up with these yarn weights! They are perfect for squishy crochet slipper socks. Check out the Winter Crochet Slipper Pattern and the Quick and Cushy Slippers.
Biggo - 50% Superwash Merino Wool, 50% Nylon
Chroma Twist Bulky - 70% Superwash Wool, 30% Nylon
Lion Brand Thick & Quick Wool Ease -80% Acrylic, 20% Wool

Well That Was Fun! What's Next?