Crafting Your Way to Toe-Up Crochet and Knitting Patterns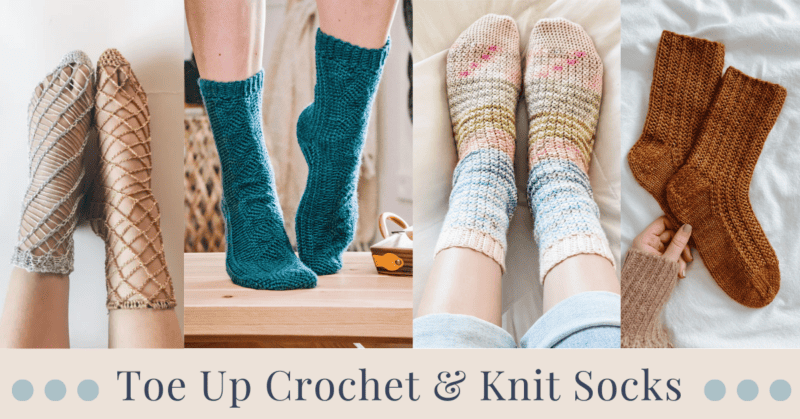 Are you seeking a new way to express your creativity? If so, crocheting and knitting toe-up patterns may be the perfect solution. Toe-up patterns offer an exciting twist on traditional crafting that will add flair to any wardrobe.
Not only are they stylish, but they provide plenty of opportunities for customization. Let's examine why toe-up patterns are the perfect project for any crafter.
Why Crochet or Knit Toe Up Socks?
Have you ever seen someone wearing toe-up crochet or knit socks? Did you wonder how they managed to create such a unique design? If so, you're in luck—toe up sock patterns are a great way to showcase your creative skills, and they're more straightforward than you might think!
Here's what you need to know about why toe up socks crochet and knit patterns are so popular. Toe up socks start at the toe of your project and work their way up, allowing you to customize the length of whatever it is you're making.
No more worrying about running out of yarn before you get to the top since we are doing a cast on at the toe! Additionally, since you are working from the toes up, any mistakes that happen will be at the bottom and can be easily corrected. This method saves a lot of time because you don't have to rip out all your work to go back and fix the beginning.
Finally, toe up sock patterns use less yarn overall since you can adjust the length according to your needs. So, if you're looking for an easy and efficient way to customize your projects, try out toe up knitting or crocheting! You won't regret it. 😊🧶👍
The Benefits of Toe-Up Sock Patterns
When it comes to crochet or knitting projects, toe-up patterns offer several advantages over their typically knit top-down counterparts. For starters, they allow you to try on the item as you go along, giving you a better sense of how it will fit once it's complete. This is especially useful when making items like socks or sweaters with complex shapes and measurements.
Toe-up patterns also make it easy to customize your projects. While top-down designs usually require careful calculations upfront, toe-up patterns with toe increases can be adjusted "on the fly" by simply continuing until you reach the desired length or circumference. This makes them ideal for customizing fit and sizing in garments like dresses or pants that require specific measurements.
Finally, toe-up patterns are great for stash-busting! If you have partial skeins of yarn left over from previous projects, these designs are perfect for using up those last few yards without purchasing more materials. Plus, since most toe-up designs start with just a few stitches, they're great for using up small amounts of yarn without worrying about running out before completing the project.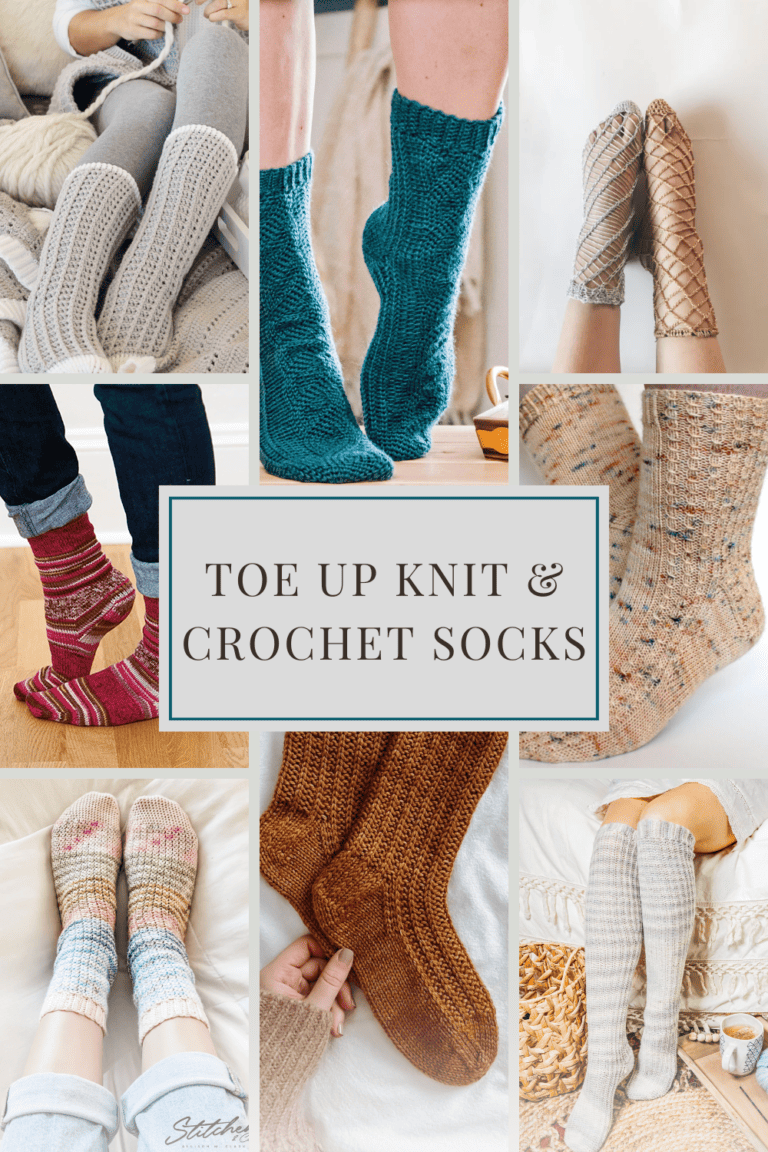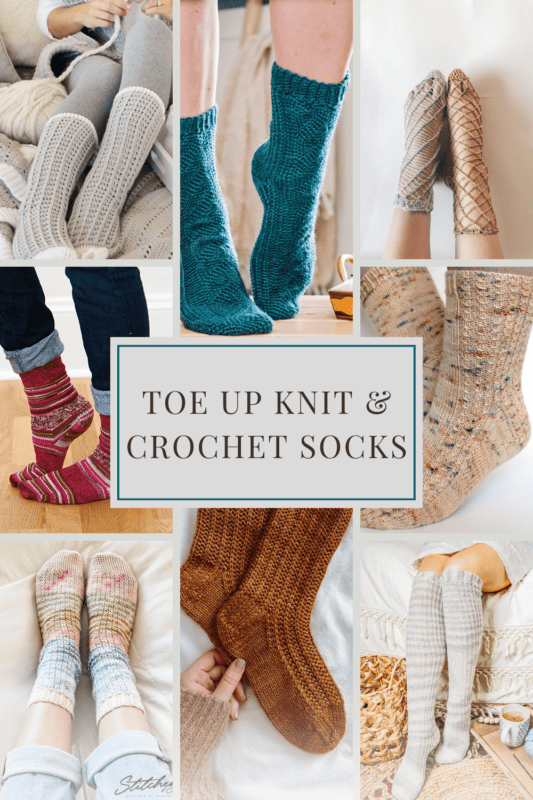 A Tip for Increasing the Toe-up Knit Sock
If you would like a clever alternative to the kfb technique – try the yarn over method, and then secure it by knitting it through the back loop in the next round. This nifty trick keeps pesky holes at bay, making it perfect for sock knitting.
Never again will you accidentally work increase stitches where it's unnecessary or vice versa. Although not as snug as the kfb, this sturdy and inventive technique is a game-changer for knitters everywhere.
Do your sock toes usually bear the brunt of wear and tear? Perhaps a denser increase would suit you best, as knitting the yarn over through the back loop can result in a small gap at the stitch's base. However, if you're cozying up at home or snoozing in your knit socks, this tiny detail might not bother you at all!
A Helpful Sizing Chart for Crocheting or Knitting Socks
If you are creating socks as a gift, it can be more difficult to know what size to create. If you don't know the recipient's shoe size, measure the foot circumference. But the simplest way to know what size to make is to ask their shoe size. However, when making socks there is a negative ease to be aware of.
I have a helpful sock sizing guide that can be used to know the measurements of a sock for crochet or knit. Visit How to Crochet Socks and Customize Fit With Sizing Guides. This way your finished measurements are just right.
Toe Up Crochet & Knit Sock Pattern Inspiration
There's something magical about creating a pair of socks from just yarn and a hook or needles. The inspiration for toe-up crochet and knit socks lies in the ability to craft each sock to the perfect fit, ensuring unmatched comfort for every wearer. Imagine starting at the tip of the toes, watching as the stitches weave a flawless pattern and the sock gradually forms.
The fine art of toe-up construction offers a beautiful canvas for experimenting with intricate designs, mesmerizing textures, and bold colorways. Ultimately, the desire to cover one's feet in warmth and coziness while exhibiting a unique fashion statement fuels the passion for toe-up crochet and knit socks. Create your own snug masterpiece and relish in the satisfaction that each step will carry a unique, personal touch.
Crochet and knitting toe-up patterns offer many advantages over traditional top-down designs – from being able to try on your project as you go along to be able to easily customize fit and sizing without having to make complicated calculations upfront – that make them appealing choices for any crafter looking for an exciting twist on their next project! Whether you're making something practical like socks or something fashionable like a sweater dress, there will surely be a pattern out there that fits your style! So why not give one a try today? You never know what fantastic creation awaits!