Uses for potholders
Potholders are versatile and practical items. They can be used to cover cookware on the stove, to protect hands from heat when handling hot dishes or pans, or even to add some color to a kitchen space. Potholders are also great for baking, as they can keep cake tins and trays from burning or scorching.
Additionally, potholders can be customized to match a kitchen's décor or as a gift. They make great housewarming presents or even holiday decorations. Potholders are also an inexpensive and creative way to repurpose fabric scraps into useful items. In general, potholders offer countless uses for any foodie or baker!
Potholders can also be used as place mats or hot pads. Placemats can add a splash of color to the table and protect it from heat or spills. Hot pads are great for serving food directly from the oven or stovetop, protecting hot dishes and platters.
Potholders are also useful for protecting tabletops from hot dishes or food spills. Whether simply adding a pop of color to the kitchen or providing protection when handling hot items, potholders are essential in any home.
Customizing these crochet potholders to match any decor is effortless and adds a touch of DIY style to your kitchen. Potholders are a simple yet effective way of enhancing your kitchen's appearance. Besides serving as a decorative piece, they also make excellent hot pads, keeping your kitchen counters safe from hot objects placed on them.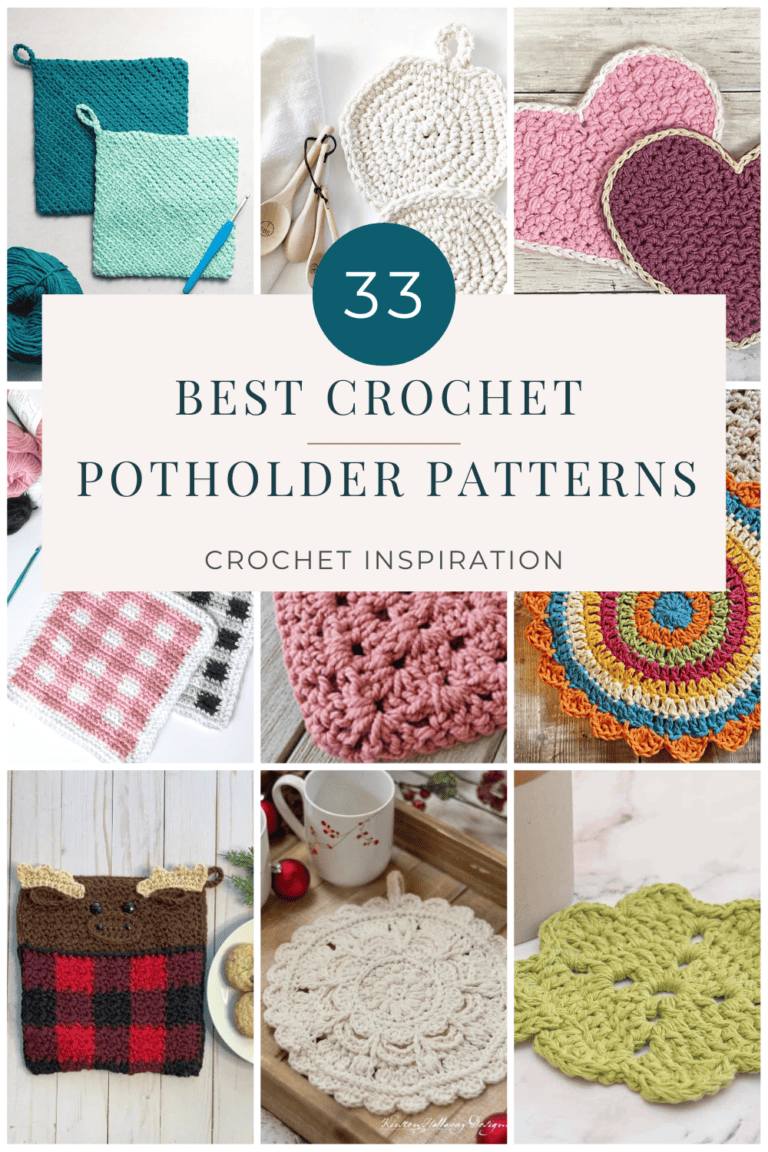 What supplies are needed for crocheting a potholder?
WeCrochet Dishie cotton yarn is the best choice for crochet potholders. It is the best cotton yarn! Keep in mind acrylic yarn is a synthetic fiber, so it's not as breathable as natural fibers like wool or cotton. Using acrylic yarn for any item exposed to high temperatures is not recommended. It is important to note that some yarns, such as silk or linen, maybe too thin and not heat-resistant enough for use in a potholder.
In addition to the chosen yarn, you will need a crochet hook, scissors, and a yarn needle. The crochet hook should be 4mm or larger to ensure the stitches are tight enough for a secure and heat-resistant finish.
Interested in more of my roundups?!
40 Ultimate Ways To Crochet Crafty Coasters For Home Decor
Crafting Your Way to the Best Lacy Crochet Patterns
The Best 27 Crochet Leaf Patterns for Any Season
26 Beautiful Knit & Crochet Flower Patterns Bouquet Inspiration
The 30 Best Crochet Bee and Hexagon Inspired Patterns
Share Your Project & Share Pictures!
I really hope you enjoyed working on this project. The best way to make a designer smile is to share what you've made! When it comes to free or premium content, I really rely on you to help me keep designing and supporting my family. Here is how you can make my day:
Share your yarn choice, in-progress, or finished projects on Instagram and use the hashtag #brianakdesigns
Link and share your project on Ravelry. It really helps to have inspirational photos for others.
Join the Briana K Designs Community Group on Facebook and share anything crafty.
Don't Lose This Project! If you aren't ready to start it save it on Pinterest by clicking any of the images above.