26 Beautiful Knit & Crochet Flower Patterns Bouquet Inspiration
Are you looking for some crafty inspiration? Whether you are a knitter or a crocheter, we've got the perfect project for you! This blog post is full of beautiful knit and crochet flower patterns that will add a touch of beauty to any room in your home.
From a small pretty crochet bouquet of flowers to more extensive floral arrangements, there is something here for every crafter. So grab your hook or needles and yarn and prepare to make the perfect bouquet of your favorite flowers!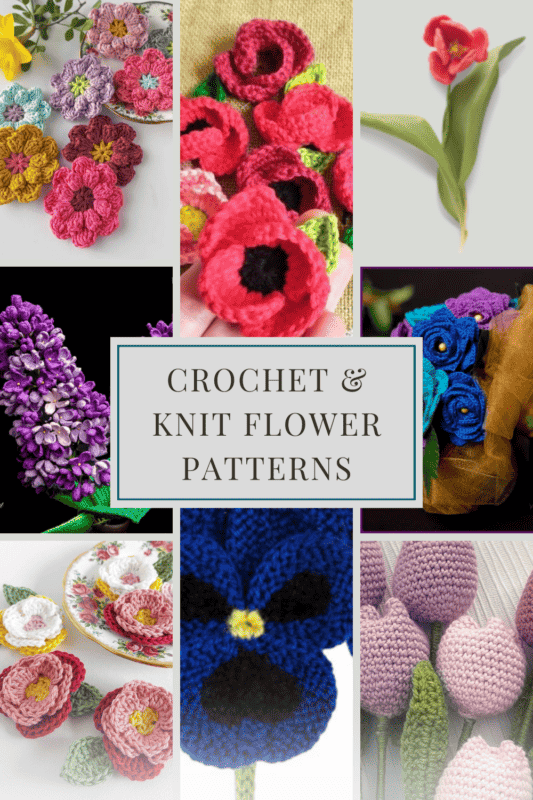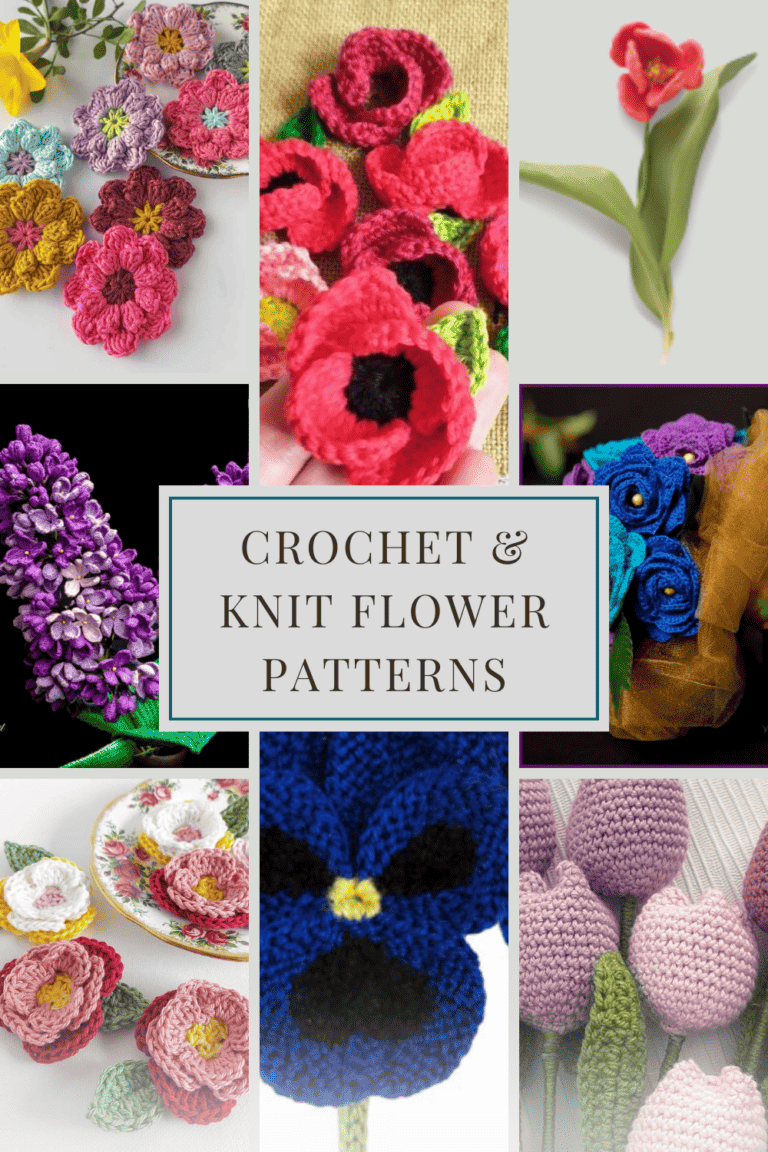 How do you crochet or knit a bouquet of flowers?
When it comes to crocheting a bouquet of flowers, the possibilities are endless. Depending on the type of bouquet and look you want, you can use different colored yarns and sizes of hooks to achieve the desired result for simple yet beautiful flowers.
You can make individual crochet flower stems, single blooms, or join them together into a bouquet by adding stems with leaves. To help guide your projects, there are plenty of free pattern and paid patterns below with step-by-step instructions for making various types of knit and individual crochet flower stems.
What is the best yarn for a crochet or knit flower bouquet?

The best yarn for making a crocheted flowers, or knit flowers, depends on what look you are trying to achieve. For example, the lightweight cotton yarn would be ideal if you want your flower bouquet to be light and airy. Especially for the crochet leaves.
On the other hand, if you want a more substantial look with heavier blooms, then thicker wool or acrylic blends would work well. There are also specialty yarns in many different colors and textures that can create stunning effects when combined into floral designs and beautiful bouquets.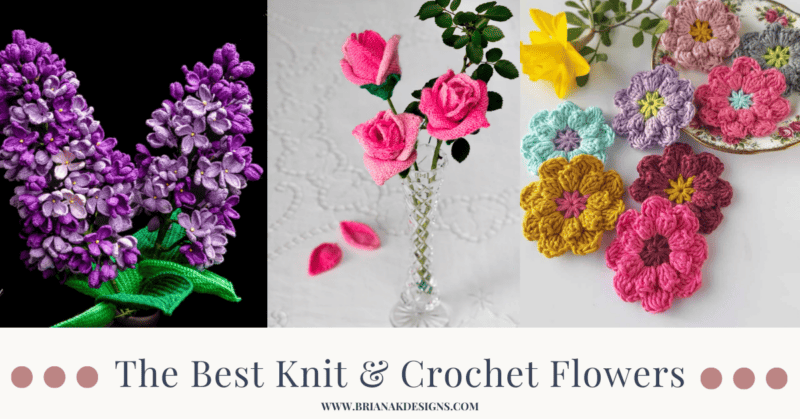 Why are crochet or knit flowers better?
Crochet or knit flowers offer several advantages over other types of crafts when creating floral arrangements. Unlike fabric or paper flowers that need glue or sewing techniques to construct them, crocheted flowers require no additional supplies. Beautiful flower bouquets can be made quickly and easily with just basic tools such as scissors and needles.
Additionally, crocheted blossoms provide an added level of versatility since they can be customized in any size or shape according to the preference of the flower pattern.
Finally, unlike artificial silk or plastic blooms that may fade over time due to exposure to sunlight or moisture, crocheted versions will remain vibrant indefinitely so long as they're properly cared for! And of course, the best part is they aren't real flowers, so you don't have to water them. It's a great gift, too, especially for Mother's Day.
And if you are looking to add some leaves to your flowers, check out The Best 27 Crochet Leaf Pattern for Any Season post. But if you want to see some lacy stitch companion patterns, check out Crafting Your Way to the Best Lacy Crochet Patterns.
Are crochet flower bouquets or knit flowers hard?
The difficulty level of crocheting flowers varies depending on the flower patterns' complexity; however, even simple crochet flower patterns can produce stunning results! Beginner-friendly crochet flower patterns often use only one stitch (such as single crochet stitch or the stockinette stitch for beginner-friendly knit flowers), which makes it easy to learn how to make basic blossoms without too much difficulty.
As skill level increases with experience, more advanced crochet stitches like half double crochet stitch can be utilized to create intricate details such as petals or leaves on larger pieces like wreaths or wall hangings. Why not try one of the many free crochet patterns below for a gorgeous bouquet arrangment? Many of the knit or crochet flowers can be worked up with scrap yarn, making them the perfect gift.
Knit & Crochet Flower Bouquet Patterns
Whether you're looking for a bridal bouquet, an accent piece for your home decorating project, or something large like an entire beautiful bouquet using multiple different types of blooms. Knitting and crocheting offer endless possibilities for crafting beautiful flower projects! The bright colors are perfect for a themed event or special occasion.
So don't wait - grab your needles & yarn today & start creating one-of-a-kind bouquet items that will bring color & joy into any space! These flower bouquet patterns are beautiful for any home decoration or even a crochet wedding bouquet.
Take a look at some other roundups!
Crochet Steering Wheel Cover Patterns
40 Ultimate Ways To Crochet Crafty Coasters For Home Decor
Crochet Pillow Patterns! Handmade Home Decor
The 30 Best Crochet Bee and Hexagon Inspired Patterns
33 Of The Best Crochet Pot Holder Patterns Ever
Well That Was Fun! What's Next?