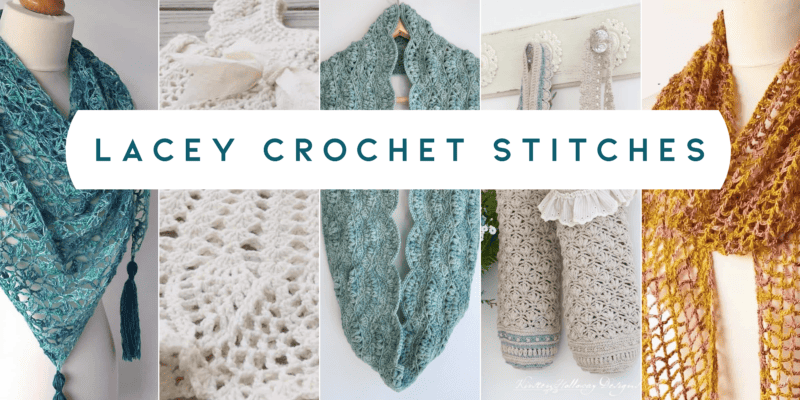 Crafting Your Way to Lacy Crochet Patterns
Lacy crochet stitch patterns are ideal for creating lightweight and airy garments, perfect for the hot summer months. The intricate detail lace stitches provide can add visual interest to any project. Plus, they are easy enough for a beginner crocheter to tackle yet versatile enough to keep an experienced one challenged. So, if you're looking for a fun and beautiful crochet project, try out one of these lacy crochet patterns.
From shawls, baby blankets, tops to scarves, there's something for everyone when it comes to lacy crochet. Whether you're a beginner or an experienced crocheter, this is a great way to start crafting your way into the world of lacy crochet patterns.
Why crochet the lacy stitches?
The beautiful lacy crochet stitches are versatile and can be used to create a variety of items. They are perfect for making light, airy garments such as shawls, scarves, wraps, and tops that will keep you comfortable in the hot summer months. Adding the lace crochet stitches also adds intricate detail to any project, making it an ideal choice for both beginner and experienced crocheters.
So, add a splash of color to your outfit, no matter the season, with a crochet lacy stitch. With its simple stitches, delicate design and versatile uses, it is sure to be a favorite for any crocheter!
The benefits of lace crochet stitches
When it comes to crocheting projects, the lace stitches have a lot of advantages. The addition of lace stitches can also help to create intricate and exciting patterns, making it an ideal choice for beginner crocheters as well as experienced ones. Lace is an excellent option for those looking to add texture and visual interest to their crochet projects too, as its delicate openwork allows the yarn color or stitch pattern beneath it to be highlighted.
Finally, using lace stitches can help create pieces that are lightweight but still warm enough for cold weather months. Combining a few bulky yarns with some thinner laceweight or fingering-weight yarn allows you to make items that will keep you cozy on those chilly days without being too heavy!
Whatever the season, lace crochet is an excellent choice for any crocheter. Its lightweight airiness makes it perfect for summer garments and accessories, while its intricate detail adds visual interest to any project.
Can't get enough crochet inspiration? Check out these awesome roundup post:
Crochet Steering Wheel Cover Patterns
40 Ultimate Ways To Crochet Crafty Coasters For Home Decor
The Best 27 Crochet Leaf Patterns for Any Season
Crochet Pillow Patterns! Handmade Home Decor
The 30 Best Crochet Bee and Hexagon Inspired Patterns
33 Of The Best Crochet Pot Holder Patterns Ever
The Best 36 Crochet Scarf Patterns for Every Season
Beginner Lace Crochet Poncho Pattern
Lace Crochet Overall Set Pattern
Share Your Project & Share Pictures!
I really hope you enjoyed working on this project. The best way to make a designer smile is to share what you've made! When it comes to free or premium content, I really rely on you to help me keep designing and supporting my family. Here is how you can make my day:
Share your yarn choice, in-progress, or finished projects on Instagram and use the hashtag #brianakdesigns
Link and share your project on Ravelry. It really helps to have inspirational photos for others.
Join the Briana K Designs Community Group on Facebook and share anything crafty.
Don't Lose This Project! If you aren't ready to start it save it on Pinterest by clicking any of the images above.