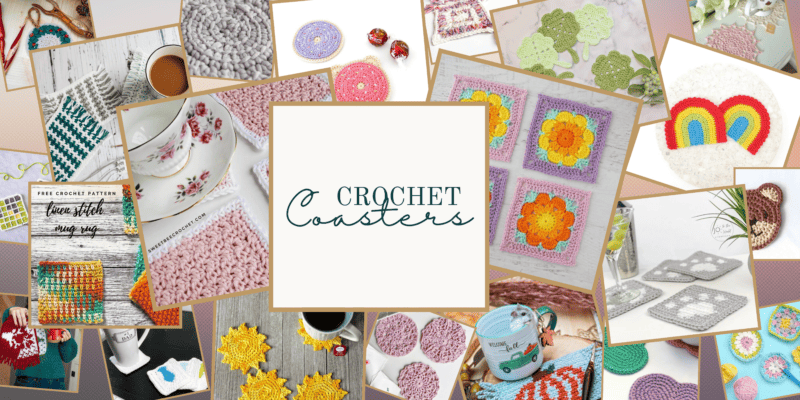 Crafting Your Way to Crochet Coasters
This easy crochet coasters roundup is an excellent resource that will help you create a plethora of unique and eye-catching designs. It includes an array of crochet coaster patterns, from lace to bobble stitches, giving you plenty of options for any home decor or crochet project.
What better way to show off your skills than by crocheting beautiful coasters? With its easy-to-follow patterns, this roundup has all the many crochet coaster patterns and ideas you need to get your creative juices flowing. So add a touch of beauty and elegance to your home decor with these magnificent crochet coaster patterns!
Delicate crochet coasters can be a great addition to your home decor. Whether you opt for intricate designs or basic shapes such as circles and squares, they will surely bring life to any surface. Squares are particularly popular because they can be made quickly and add an attractive touch to a picnic or meal.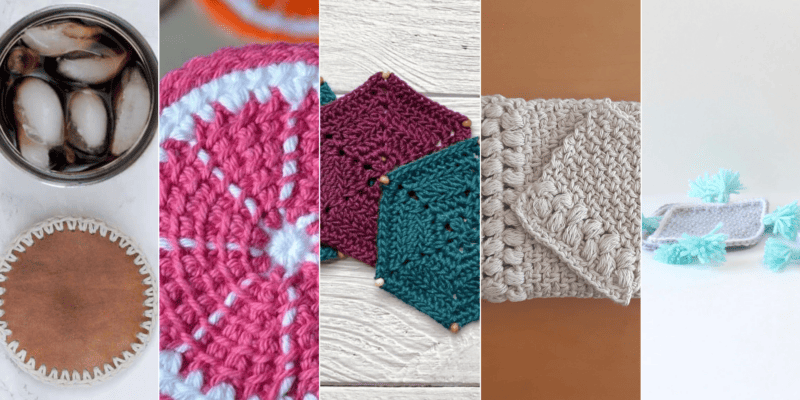 Why Should You Crochet Coasters?
They're a great way to add color, texture, and style to any room. Plus, if you're looking for an easy project that will add a personalized touch to your home decor, crochet coasters are the perfect solution! Crochet coasters can also make wonderful gifts for friends and family. From basic shapes to intricate designs, there's something to suit everyone's skill level and style. So grab your yarn and get crocheting! You'll be surprised at how easy it is to create beautiful, unique crochet coasters patterns.
The Benefits of Crochet Coasters
Coasters made from crochet are excellent for safeguarding furniture surfaces from stains and spills. They're also great conversation starters! These coasters are wonderful for showcasing your creative abilities, whether you opt for a straightforward design or a more complex one with vibrant patterns.
They make for lovely gifts and can add a touch of appeal to any household. With some cotton yarn, acrylic yarn, or any yarn leftover from your stash, and a dash of creativity, you can effortlessly create stunning coasters to use in your own home or present to others as gifts.
Basic stitches and techniques, you can make wonderful coasters that are both cute and unique. These coasters feature a fun twist and tassels, adding an extra bit of excitement to your coaster set.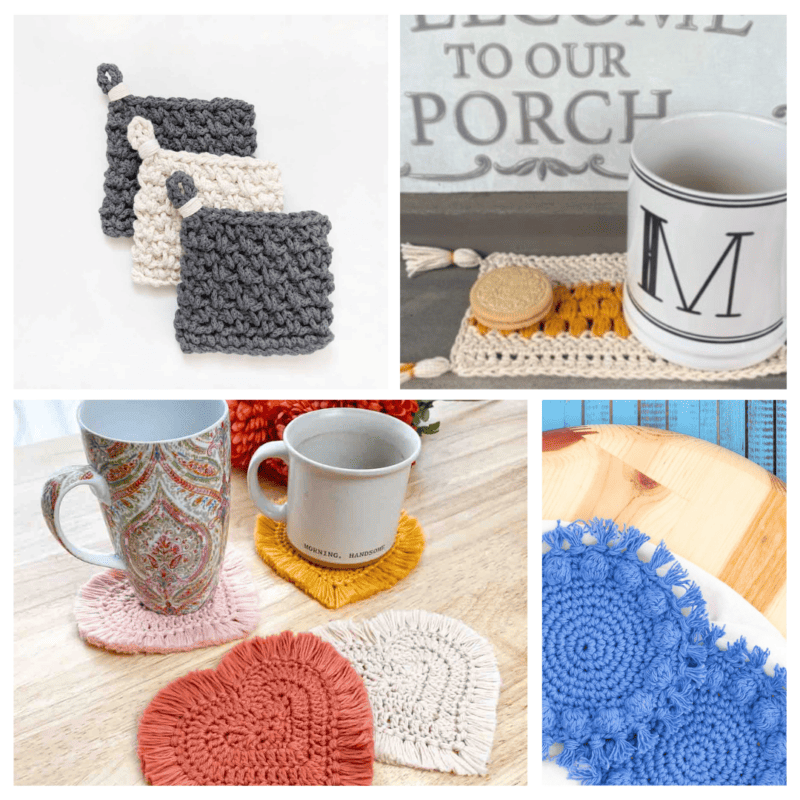 What is the best yarn to use for crochet coaster patterns?
For these crochet patterns and coasters, you can use any yarn but it is best to choose one that is easy to work with. Cotton and acrylic yarns are ideal for making coasters because they are lightweight and absorbent, making them perfect for protecting delicate surfaces from spills and scratches. My favorite yarn for crochet coaster is WeCrochet Dishie.
What size yarn for crochet coasters?
Worsted-weight yarn is a popular choice for making crochet coasters. Cotton yarns in particular have the added benefit of being absorbent, making them ideal for absorbing liquid spills. But you can even use crochet thread to make a crochet coaster.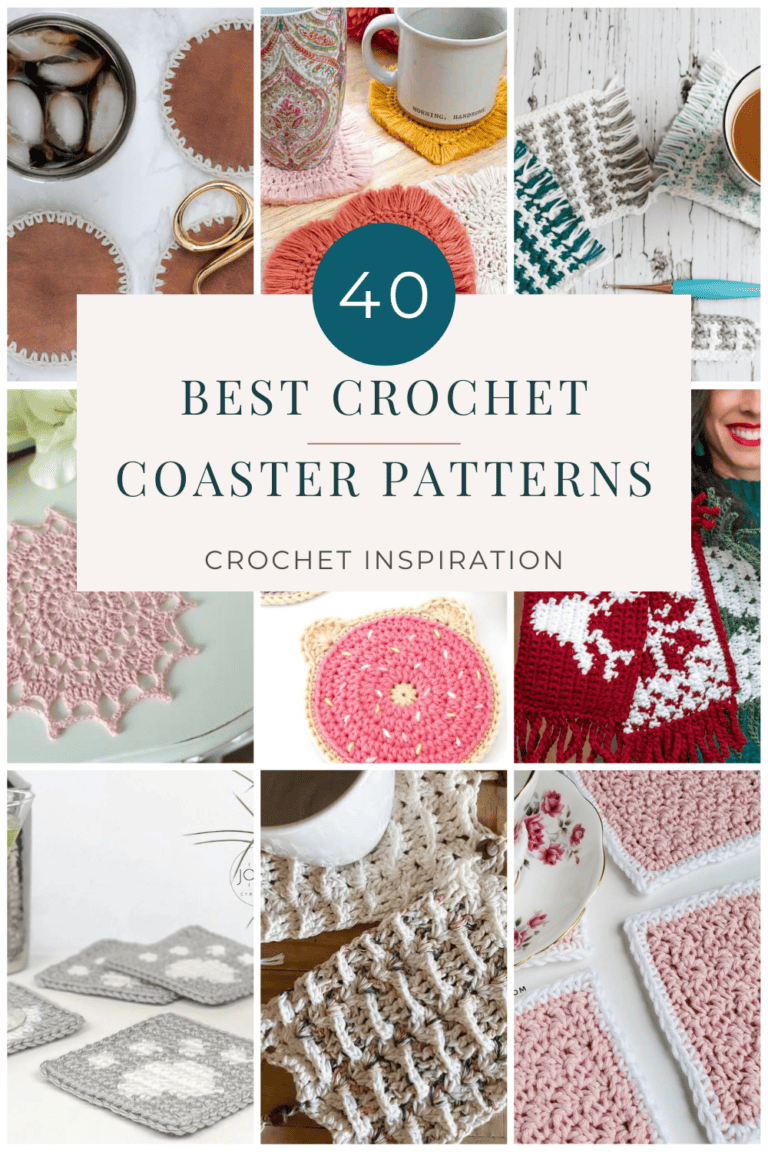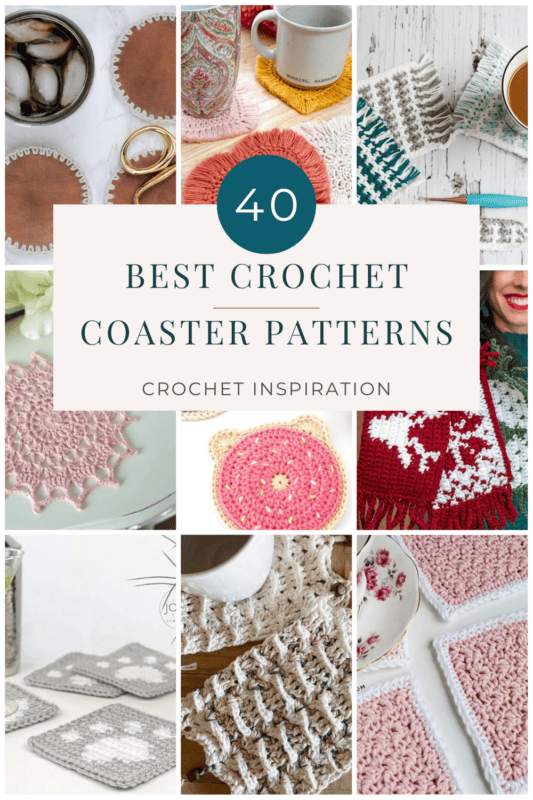 Tips for Crocheting Perfect Coasters
If you are going to crochet a coaster, you want to make sure your coasters are functional and beautiful. The biggest thing to pay attention to is how flat they lie. You don't want to end up with a set of coasters that can't properly hold a cup or mug. That's why even stitches are essential. If you need to fix your stitches visit this post for the best tips: Why Crochet Gauge Is Important and How To Fix It.
But don't stress if your crochet tension isn't perfect. Here's a tip: block your finished coasters. I like to use cotton yarn because it blocks well and stays flat for many uses.
The best blocking method for coasters is damp blocking. Simply pin your coaster to a flat surface. You can use blocking mats and pins, or even a blocking board. . Then, lightly spray it with water using a continuous spray bottle. You don't need to soak it, just get it wet.
Let it dry on the blocking board and voila! Your stitches will be lying flat and looking professional in no time. Trust me, it's super easy and worth it for perfect crochet coasters.
Make some fun coasters!
Cute coasters can be fun to make and add a special touch to any room. What could be more cute and unique? These coasters feature a fun twist with tassels, bobbles, colors, patterns, and other creative elements that can instantly enliven any space. So let your imagination run wild as you craft these delightful crochet creations!
Take your coaster collection to the next level with these amazing crochet projects. With a wide variety of shapes, sizes, and designs available, you're sure to find something to make your home look unique. So grab your crochet hook – it's time to create an incredible, fun coaster!
Whether you're an experienced crocheter or just getting started, these coasters are the perfect way to add a touch of homemade charm and style to your home. So go ahead and experiment with many of these paid and free crochet coaster patterns, and textures – you can create wonderful pieces for yourself or as gifts for friends and family.
Crochet Coasters For Every Season
Want even more free crochet patterns?
What would compliment the crochet coasters pattern? You might love the Teton Crochet Basket Pattern, or How To Crochet A Textured Blanket, or one of my favorite roundups of Crochet Pillow Patterns! Handmade Home Decor
Check out more of my roundups!
The 30 Best Crochet Bee and Hexagon Inspired Patterns
Crochet Steering Wheel Cover Patterns
Crafting Your Way to the Best Lacy Crochet Patterns
The Best 27 Crochet Leaf Patterns for Any Season
33 Of The Best Crochet Pot Holder Patterns Ever
Share Your Project & Share Pictures!
I really hope you enjoyed working on this project. The best way to make a designer smile is to share what you've made! When it comes to free or premium content, I really rely on you to help me keep designing and supporting my family. Here is how you can make my day:
Share your yarn choice, in-progress, or finished projects on Instagram and use the hashtag #brianakdesigns
Link and share your project on Ravelry. It really helps to have inspirational photos for others.
Join the Briana K Designs Community Group on Facebook and share anything crafty.
Don't Lose This Project! If you aren't ready to start it save it on Pinterest by clicking any of the images above.