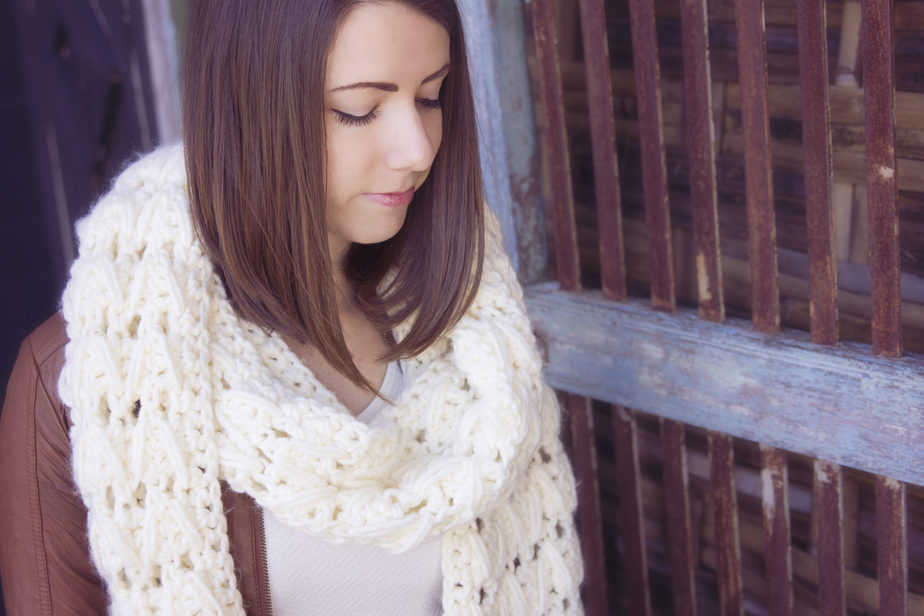 As the weather starts to get colder, there's nothing quite as cozy and comforting as wrapping yourself in a big scarf. And what's better than a scarf that you've made yourself?
The Alamos Crochet Big Scarf is the perfect project for winter, as it's both quick and simple to make yet also incredibly stylish and practical.
In this blog post, we'll take you through everything you need to know about this amazing crochet pattern, from the materials you'll need to how to adjust the length and width. So why not grab your crochet hook and some bulky yarn, and get started on your own Alamos Crochet Big Scarf?
Do you love scarf patterns? Check out The Best 36 crochet Scarf Patterns for Every Season blog post.
Want a fun hat to go along with your scarf? Check out How To Crochet An Amanita Mushroom Hat Free Crochet Pattern
Pattern Hoarder? You are in trouble…
Find the latest fashions and a variety of projects in my shops:
First things first, let's talk about the materials you'll need to make this scarf. You'll want to use a bulky weight yarn for the Alamos Crochet Big Scarf, as this will give your scarf the perfect combination of warmth and drape.
The pattern suggests using Bernat Roving Yarn, but other yarns, such as Lion Brand Wool-Ease Thick & Quick, is a great choice. You could also try other similar yarns like Wool of the Andes Bulky or Lion Brand Hue & Me. You'll also need a 9mm crochet hook, a yarn needle, and some scissors.
Once you've gathered your materials, it's time to get started! The Alamos Crochet Big Scarf uses a very simple stitch pattern, perfect for beginners or anyone wanting to work on a quick and easy project.
How to adjust the size of the Alamos Crochet Scarf
One of the things that makes the Alamos Crochet Big Scarf so versatile is that you can adjust both the length and the width of the scarf very easily.
To make the scarf longer, simply add more chains to the starting chain (in increments of 4+3). To make it shorter, take away chains. To make the scarf wider, simply work more rows. And if you want to make it more narrow, work fewer rows. You can really make this scarf your own, depending on your personal preferences.
Alamos Crochet Big Scarf Supplies:
9.0mm (M/N hook)
Scissors
Yarn
Bernat Roving in color of choice (or any bulky yarn)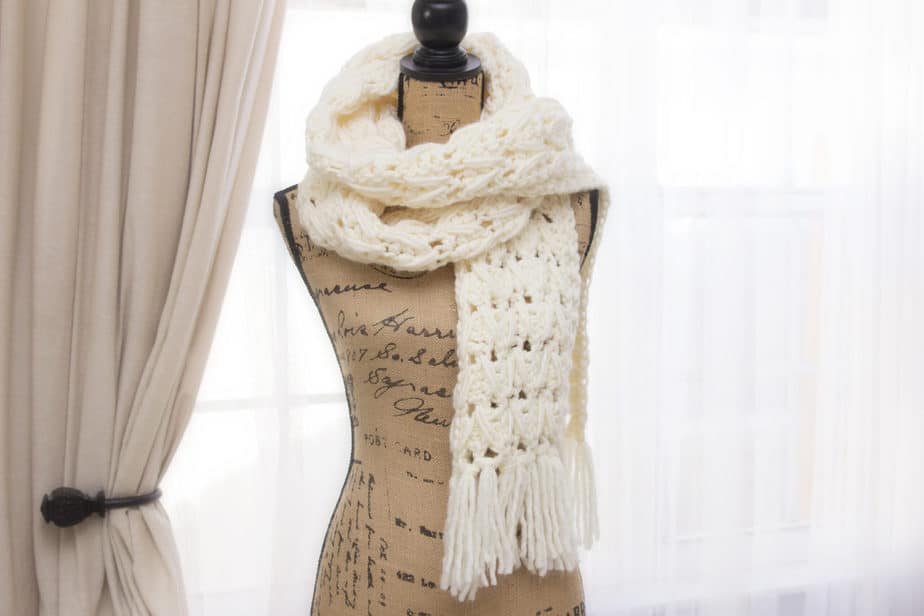 Abbreviations / Information
ch- Chain
sc- Single Crochet
Fsc- Foundation Single Crochet
fpsc- Front Post Single Crochet
bpsc- Back Post Single Crochet
dc- double crochet
cos- cross over stitch (explained in pattern with pictures)
Possible Yarn Substitutes (always check gauge):
Wool of the Andes Bulky
Lion Brand Hue & Me
Wonderfluff

Gauge: 4 x4 inches:
4 double crochet rows x 8 stitches, not critical for this project
Skill Level: Easy
Yardage: 230-360 yards
Measurements (not including fringe):
Small: 6 inches wide x 60 ½ inches long
Medium: 7 inches wide x 76 inches long
Large: 8 1/2 inches wide x 90 inches long
Notes:
Cross-over stitch (cos):
Yarn over, insert hook into previous skipped stitch, yarn over, pull loop across three double crochet stitches (not too tight that it cinches your work, and not too loose that the crossover hangs). Three loops are now on the hook. Yarn over and pull through two; yarn over and pull through the last two.
Sizing Tip:
-This scarf can be sized to any length by doing the foundation row in multiples of 4 + 3
-For a wider scarf, repeat row 3
Written Pattern Instructions for the Alamos Big Scarf:
Stitch Count: Sizes Small (Medium, Large)
Row 1: Fsc 127 (147, 171) and turn OR Chain 128 (148, 172) and sc in the second chain from hook across and turn. Stitch Count: 127 (147, 171)
Row 2: Ch 1, *fpsc in first, bpsc in next; repeat * across until last, fpsc in last, turn. Stitch Count: 127 (147, 171)
Row 3: Ch 3 (counts as first stitch), skip next stitch, *dc in next 3 stitches, cos, skip next; repeat * across until last, dc into last (or top of chain 3), turn Repeat this row 3 more times for small, 4 more times for medium, and 6 more times for large. Count: 127 (147, 171)
Row 4: Ch 1, sc in each stitch across, turn. Count: 127 (147, 171)
Row 5: Ch 1, *fpsc in first, bpsc in next; repeat * across until last, fpsc in last, fasten off, tie beginning and end tails into fringe. Count: 127 (147, 171)
Row 6: Cut 11 inch strips of yarn (3 pieces per row), using 3 pieces of fringe at a time attach to each end row using a larks head knot.
Finishing the Crochet Scarf
Once you've finished crocheting your Alamos Crochet Big Scarf, it's time to weave in any loose ends and block the scarf.
Blocking is a process of gently stretching the fabric of the scarf, which helps to even out the stitches and give it a more polished look.
To block your scarf, simply wet it with some cool water, squeeze out any excess water, and then pin it out on a blocking mat, using T-pins to hold it in place. Leave it to dry completely, and then remove the pins. Your scarf should now be beautifully soft, drapey, and ready to wear!
The Alamos Crochet Big Scarf is an amazing pattern for anyone who loves quick, easy projects that still look beautiful and stylish. Whether you're a seasoned crocheter or a complete beginner, this scarf is sure to become a firm favorite in your winter wardrobe.
So why not give it a try? With a simple stitch pattern, easy adjustments for length and width, and some cozy bulky yarn, you'll have a gorgeous scarf in no time. Happy crocheting!
Share Your Project & Share Pictures!
I really hope you enjoyed working on this project. The best way to make a designer smile is to share what you've made! When it comes to free or premium content, I really rely on you to help me keep designing and supporting my family. Here is how you can make my day:
Share your yarn choice, in-progress, or finished projects on Instagram and use the hashtag #brianakdesigns
Link and share your project on Ravelry. It really helps to have inspirational photos for others.
Join the Briana K Designs Community Group on Facebook and share anything crafty.
Don't Lose This Project! If you aren't ready to start it save it on Pinterest by clicking any of the images above.