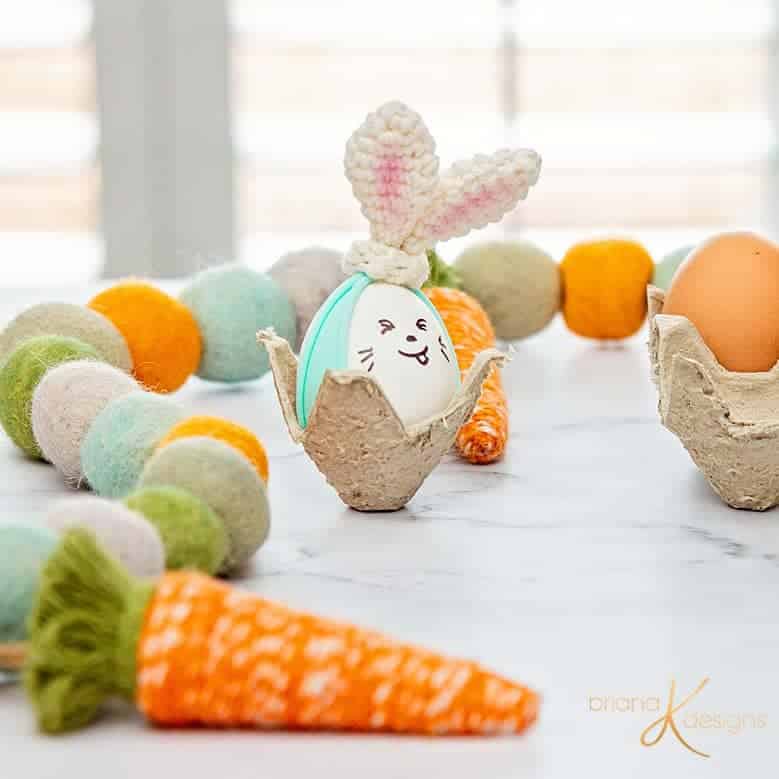 Aren't these the cutest Crochet Bunny Hair Ties? The bunny ears are a fun little accessory to add a little hop in your day. And they fit perfectly around an egg so they can be used for Easter decor as well!
I can just see some happy girls out there opening up an Easter egg to find this inside.
Where To Purchase The Ad-Free Downloadable PDF: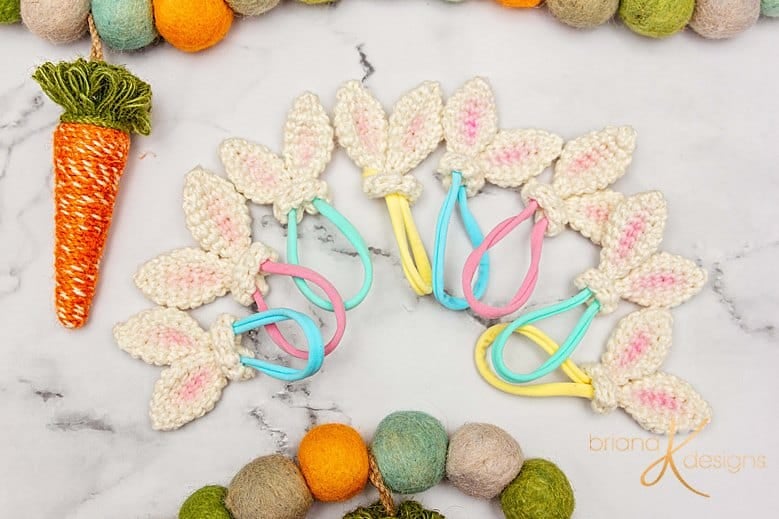 Where To Purchase The Ad-Free Downloadable PDF: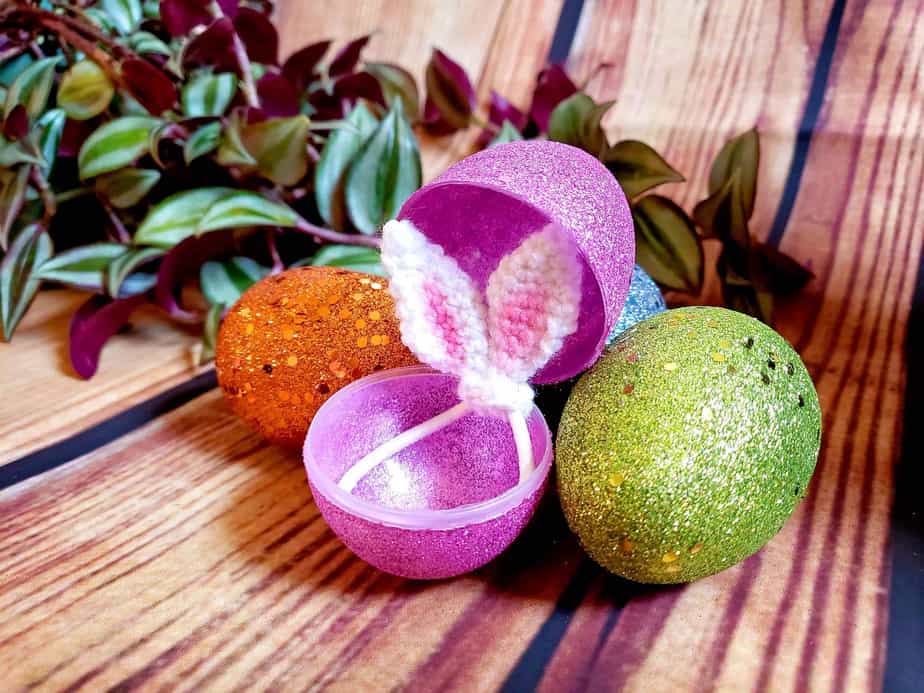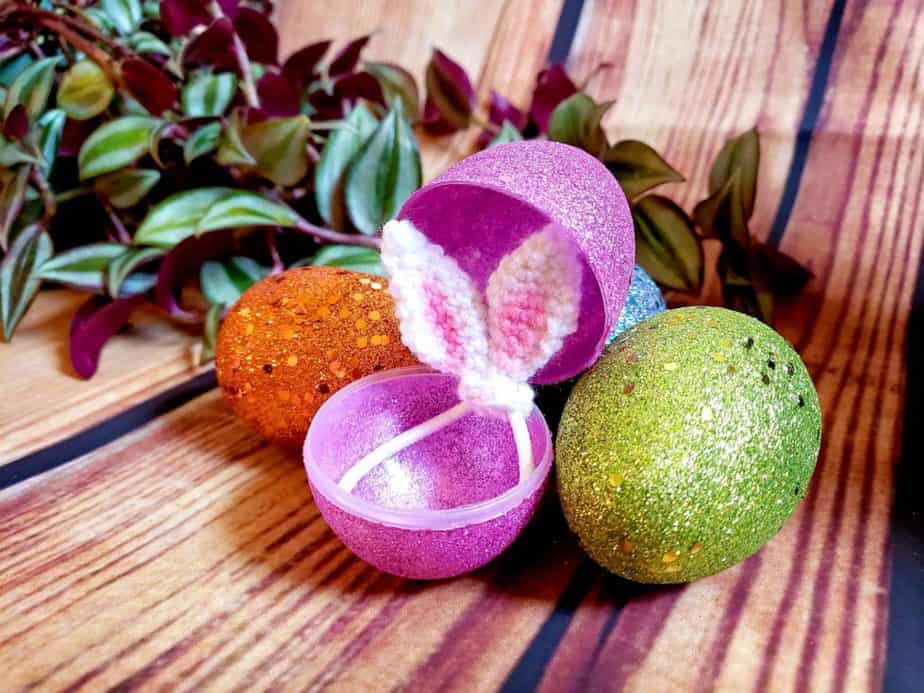 With new life and spring just around the corner, I wanted to take a moment and chat with you about a recent experience of mine. It's about a crying baby.
Hold up, stop right there. I know the words 'crying baby' might have possibly already caused a slightly anxious feeling. So don't run away yet, I promise everything worked out fine.
But how often have you found yourself hearing a crying baby in public?
Or been the parent trying to calm the crying baby?
It's Hard. Like Super Hard
Remember that wonderful time before kids when you could judge everyone else parenting mistakes. It was soooo easy to say 'well if that were me I would just do this and that.'
Give me a minute to go ahead and laugh at my old self right here. Feel free to join me.
Hypothetical parenting is easy.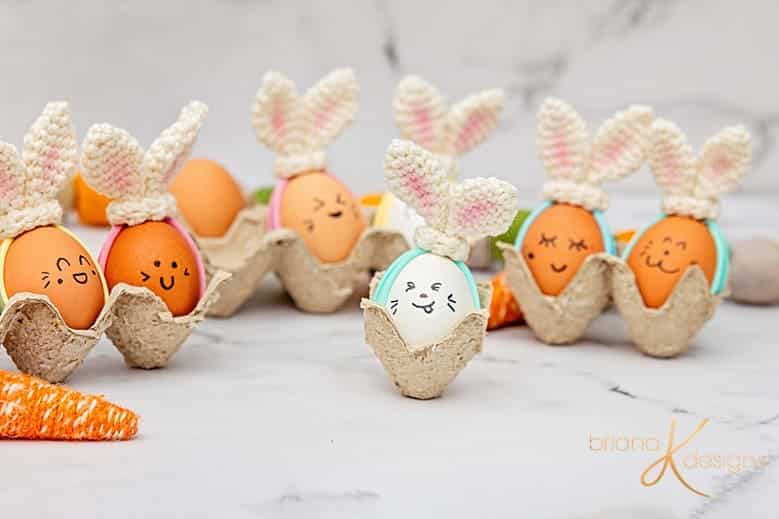 But things shift, and at one point of your life, you may have found yourself at the mercy of a screaming baby. And you have no idea how to make it stop.
And then you start to sweat a little.
Your face feels flushed.
You are sure everyone is staring and judging. Because the truth is some people just might be judging.
The other day I found myself on the outside of the screaming and crying. The crying baby is no longer my own, and my struggle is now sibling arguments.
I was sitting in the car line to pick up the kids, shuffling through my bag looking for a hook.
At first, when I started to hear a baby crying I ignored it, it wasn't my kid, and where the heck was that hook.
I gave up on my crochet hook in my bag and went for the emergency stash in the console. Yes, I have an emergency stash in the car. Feel free to judge lol.
Being a little bored, I was so excited to work up more crochet bunny ear hair ties.
Being a little bored, I was so excited to work up more bunny ear hair ties. I took a deep breath, tried to tune out the baby cries, and then I realized….I forgot my pattern. Like ugh.
I snapped a pic and was about to message my fiber friend Sincerely, Pam. It was something funny about #designerlife and not having access to the pattern, which is probably scribbled on a scrap piece of paper left on the coffee table.
In the next moment, it was hard to avoid the struggle of the mother next to me.
With nothing to distract me anyone and I glanced over at her car. Instantly I saw the familiar emotional struggle. So much so, I had to take a deep breath for her at that moment.
The front gates to the school opened and the cars began to shift in two lines, side by side.
So I waited for her.
Of course, I could have skipped ahead of her, and allowed passing cars to stress her out more, but I waited. I blocked the line until she was ready. There was no rush; the school doesn't let out for 15 more minutes, so no one is getting their kids soon.
She couldn't do anything but leave the baby in the car seat and get back into the car.
When we were through the gate and stopped again, I couldn't help but feel for her. And me.
I thought to myself 'would she think I'm crazy if I got out of my car and walked to her car?'
'What would I say?' and 'Maybe she doesn't want any more attention.'
But then I remembered me. How lonely and isolating these moments can be. So before another thought, I grabbed my unopened granola bar and hopped out of my car.
As I strolled over to her window I saw the tears in her eyes. You wouldn't think a crying baby would upset you so much until it does. And it can completely unravel your emotional control.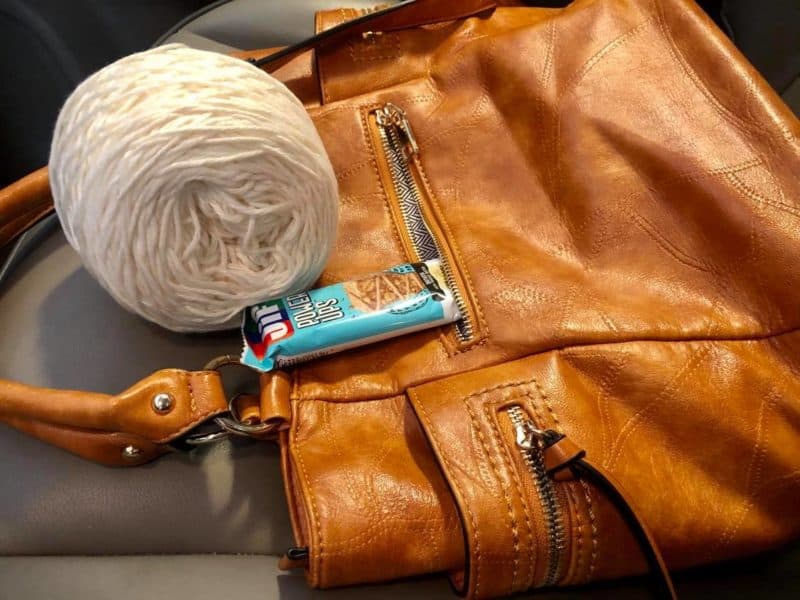 She rolled down the window and I said, 'Hey, it's gonna be okay" and handed her the granola bar and told her by the time she finished it the line might be moving. It could be a helpful distraction and a snack to keep her fueled.
More tears rolled as she was so grateful. When a mother is struggling a small gesture like a granola bar can be the same as diamonds.
I told her I had been there, I had cried. And every single parent in this line had too.
No one was judging her today for the crying baby she couldn't calm.
We were all rooting for her.
She told me thank you and how much it means.
I said I know. Because I do.
And maybe you do. Maybe you remember the struggle.
So the next time you are out and see a struggling parent, just let them know they aren't alone and it will be okay. Even a smile and a nod can go a long way.
Why do I share this story? Because I want you to know why I offer some patterns for free on my blog and why you might see me promote them all over social media.
I'm giving you the granola bar distraction, just in case you are having a tough moment. It's just me, tapping on your window, saying it's going to be okay.


Disclosure: To cover the cost of publishing my blog and bringing you awesome content, this page may contain affiliate links. Should you choose to make a purchase, at no additional cost to you, I may earn a small percentage of the sale.
Supplies:
Measurements:
Length before placing onto hair tie:
6.25 inches (16 cm)l
Abbreviations:
• MC – Magic Circle
• sc – single crochet
• sc2tog – single crochet two together
• st(s) – stitch(es)
Skill Level:
• Easy/Advanced Beginner
Gauge:
• 6 sts and 4.6 rows = 1" (2.5 cm)
in single crochet stitch
Many of the supplies can be found at the affiliate links below: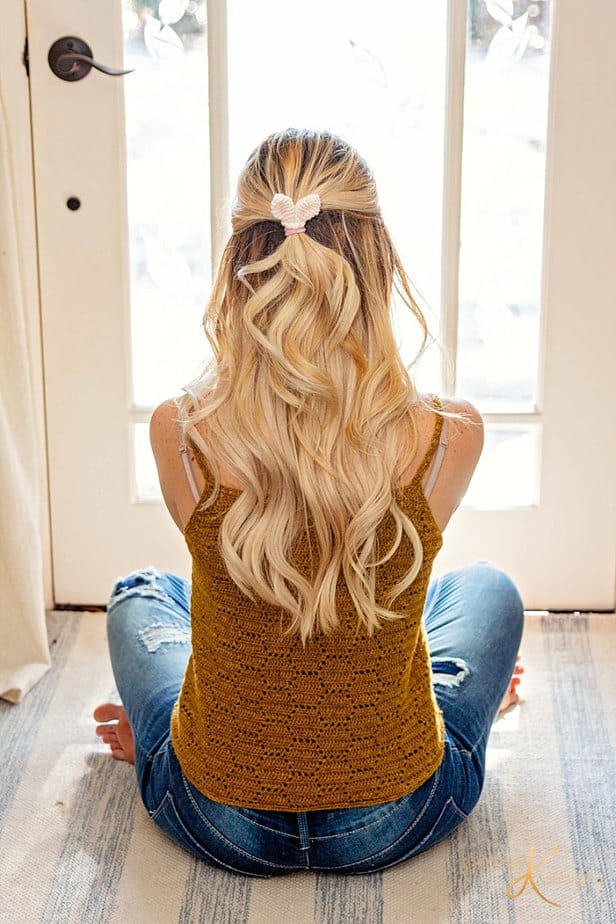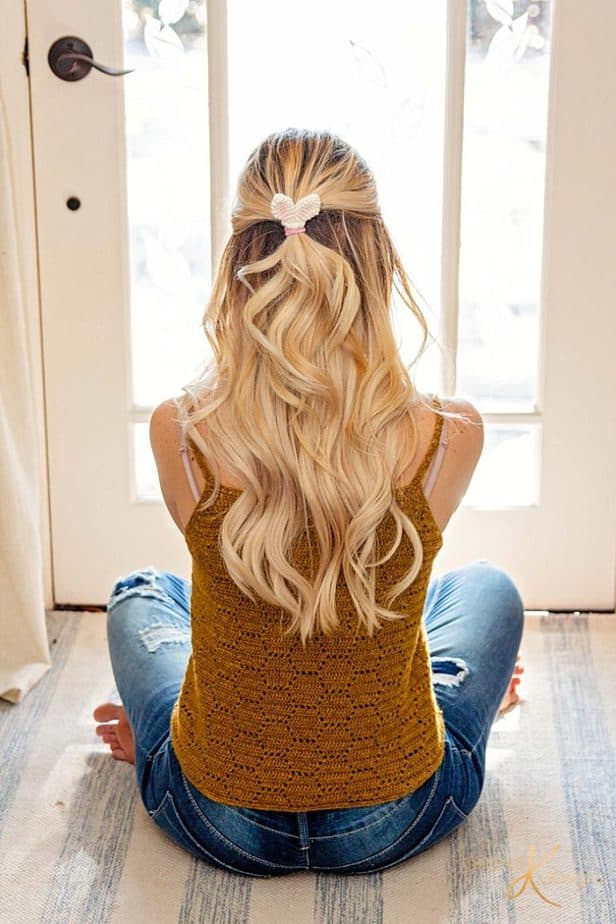 Notes:
Fun and quick bunny hair tie can add a little hop in your step or even decor for your Easter eggs. These can also be gifts to be put inside plastic eggs for an extra surprise.
– This pattern is worked in the round continuously without joining. Use a stitch marker to keep track of rounds.
– When the pattern is written as sc 2 this means to sc in each of the next two stitches (2 stitches in total worked). When the pattern is written as 2sc, this means to sc 2 into the next stitch which increases the stitch count.


Magic Ring Video:
Invisible Decrease (sc2tog) Video:
Bunny Hair Tie Crochet Ears:
| | | |
| --- | --- | --- |
| Round | Description | Stitch Count |
| 1 | Working in the Magic Circle, sc 4, do not join as this is worked continuously, use a stitch marker on each round. | 4 |
| 2 | (2sc, sc 1) twice | 6 |
| 3 | (2sc, sc 2) twice | 8 |
| 4 | (2sc, sc 3) twice | 10 |
| 5 | (2sc, sc 4) twice | 12 |
| 6 | sc in each stitch around | 12 |
| 7 | (sc2tog, sc 4) twice | 10 |
| 8 | (sc2tog, sc 3) twice | 8 |
| 9 | (sc2tog, sc 2) twice | 6 |
| 10 | (sc2tog, sc 1) twice | 4 |
| 11-20 | sc in each stitch around (a total of 40 sc stitches) | 4 |
| 21-29 | Repeat rows 2-10 | |
| | Fasten off and use the tail to weave through remaining stitches and close the opening. | |
Assembly for Bunny Hair Tie:
To attach the bunny ears to the hair tie we will be using a larks head knot. See images below: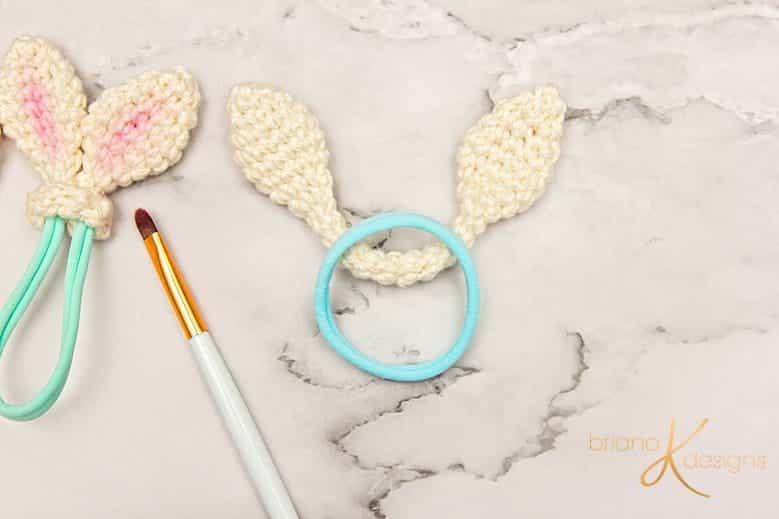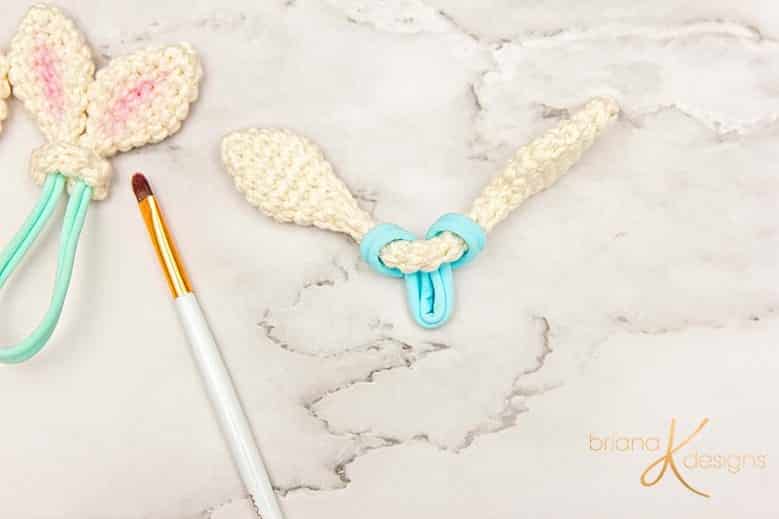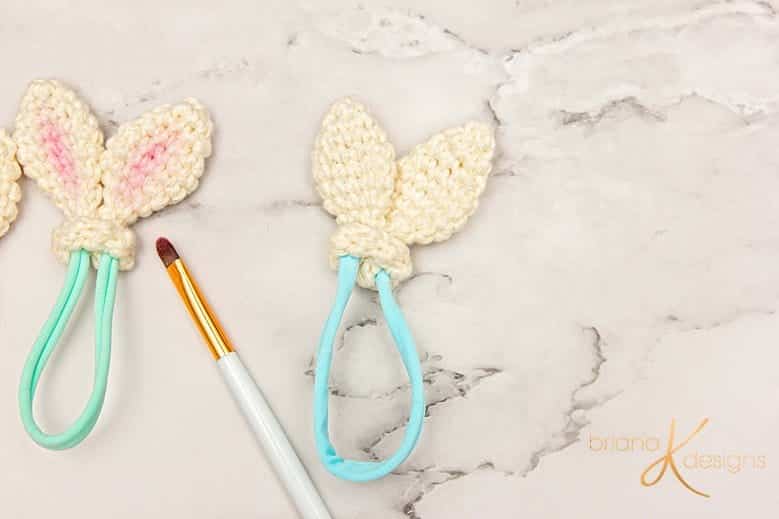 Pink Inner Bunny Ear:
Using a make-up brush or q-tip, brush the inner ear with either a pink chalk pastel or even blush from your make-up stash.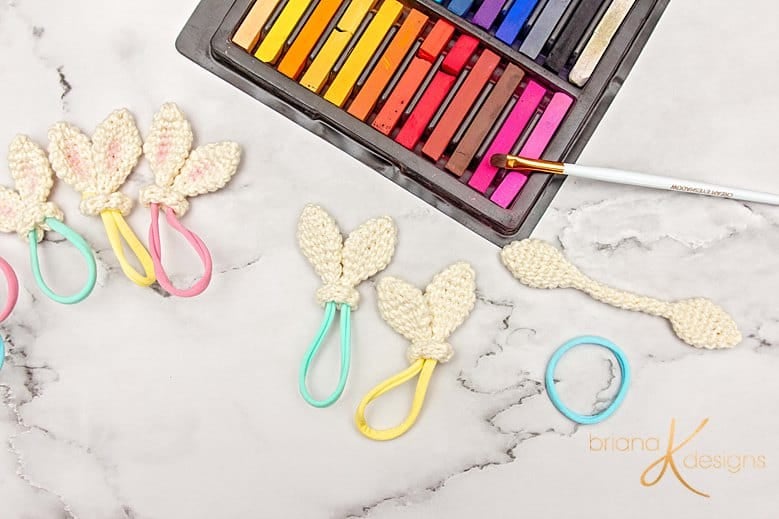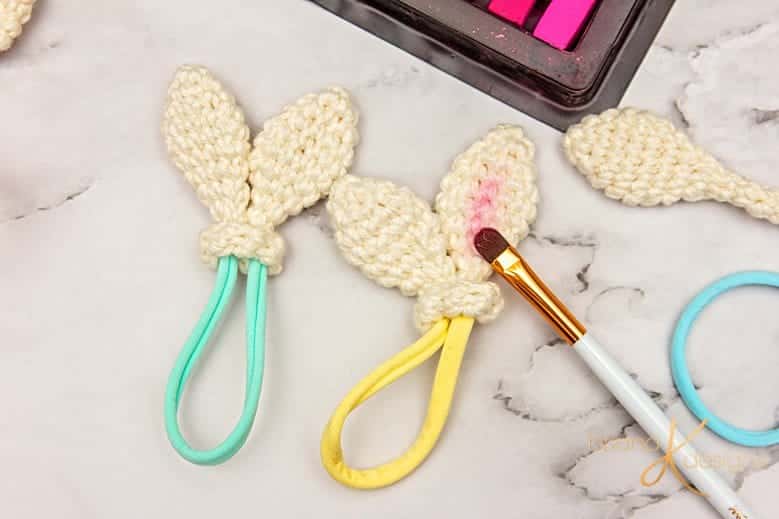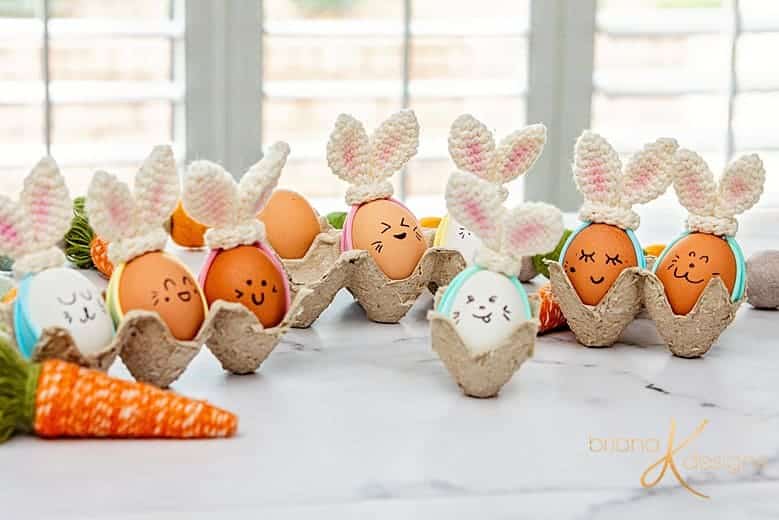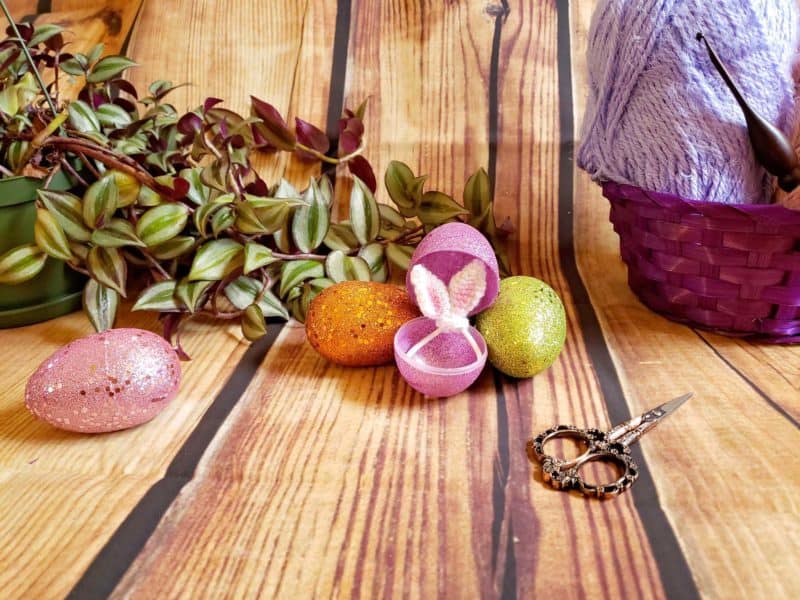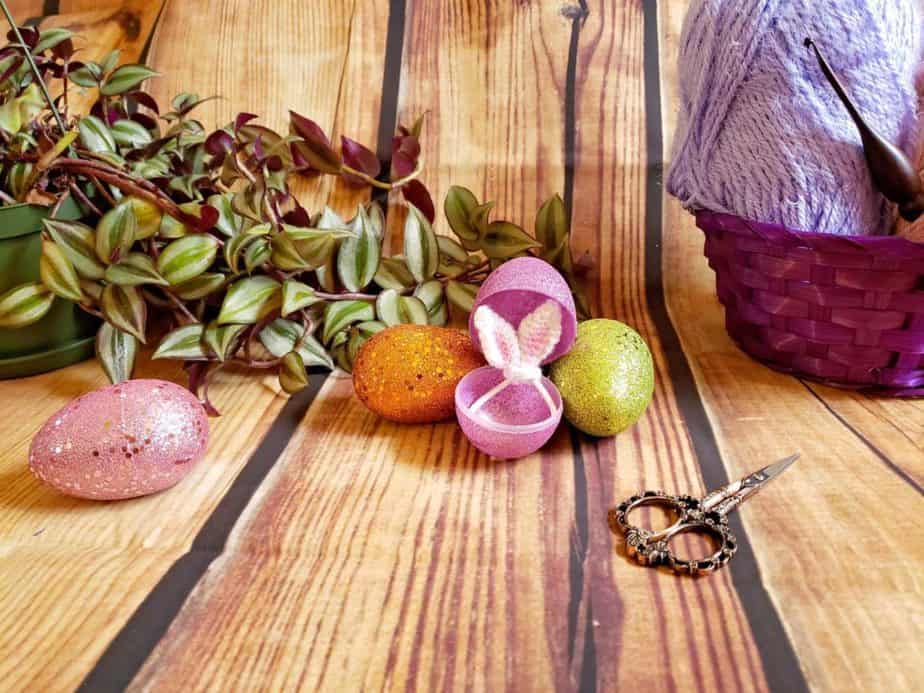 Crochet & Tag:
I hope you have enjoyed making the Crochet Bunny Hair Tie!
If you have made this, please share it on social media. Above all, I love to see the projects created with my patterns and also share your beautiful work.
Please use #brianakdesigns or @brianakdesigns
It is much appreciated and adored!