Handbags are one of my favorite crochet projects. And of course, if I love the bag, I'll want a Hygge Infinity Crochet Bag & Clutch to match! Being a mother to small children means also feeling like a pack mule at times, so an awesome bag is necessary. As we rush out the door, I need snacks, bottled drinks, activities…you get the picture, it's like Mary Poppins. Actually, where can I get a Mary Poppins bag with endless storage? I mean, she fits a lamp in her bag!
---
Where To Purchase My Ad-Free Downloadable PDF's:
---
And even though I have to take all of these things with me, there are times where I want to leave some of that extra weight in the car. Maybe I just need to run into the school office quick and no need to carry all the extras. This is when I adore having a clutch. Grab the ID or credit cards I need, my cell phone, and keys. It's freeing! And I don't feel bad about leaving the awesome bag behind because although the clutch is small, it's packed with style.
Flower Truck Photo Op
I also wanted to take a moment to talk about this awesome flower truck. My sister is the model in this picture and little did she know the main priority of this photo shoot was actually to keep her out of the house. Her soon to be fiance was getting the house ready for a really cool proposal and it was my job to make sure she didn't find out. While asking her to model for me is so normal, keeping her away for the whole day wasn't. We ran into this flower truck outside a coffee shop and I jumped at the opportunity to say 'WE MUST PHOTOGRAPH THIS!'
It was so adorable and such a fun distraction while the clock continued to tick along.
I hope you really enjoy not only working up this pattern but adding a beautiful hand made accessories to your fashion wardrobe. I love being able to bring you awesome crochet content, will you please help keep this possible? Pinning this post, sharing with friends, and favoriting on Ravelry is a great way to support a small business.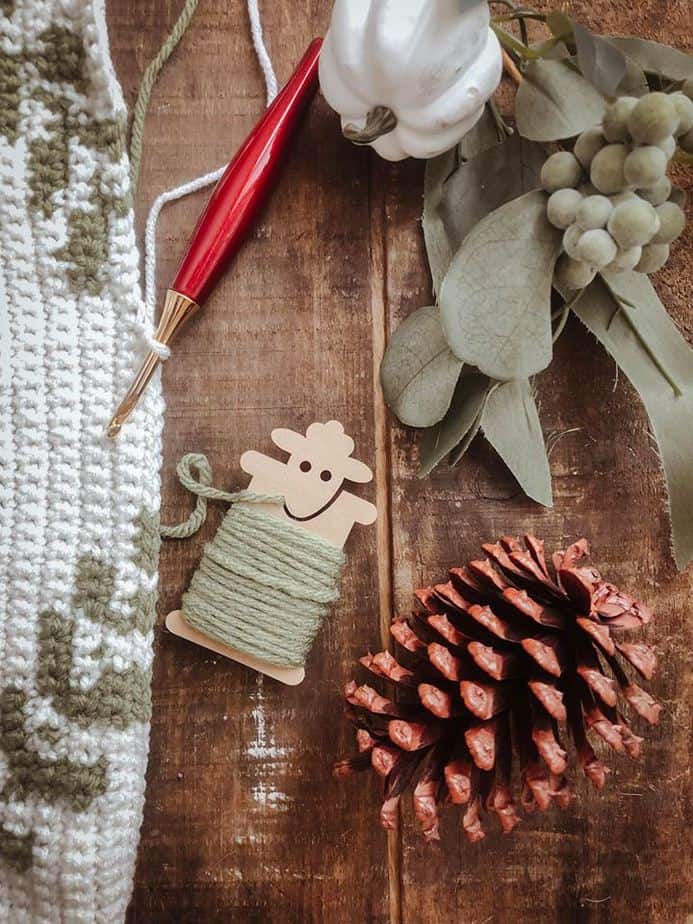 Are you ready to jump right in and crochet? Before you get started, take a moment to hop on over to this post to learn a bit more about the newest cabling method in the crochet world, Infinity Crochet. There is even a practice swatch to get you started with understanding why these impressive stitches work the way they do.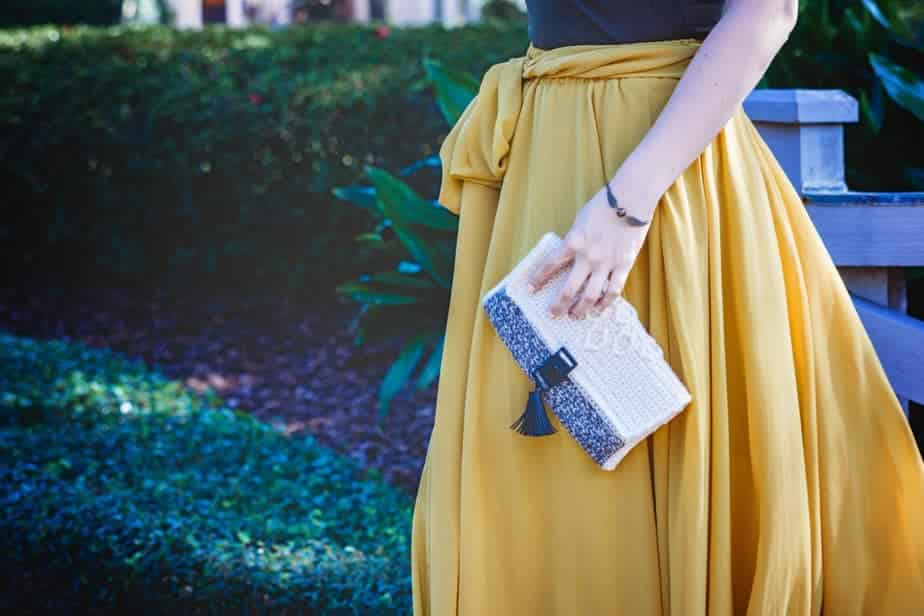 Hygge Infinity Crochet Bag & Clutch Supplies:
Crochet Hook 4mm (H), I highly recommend Furls Odyssey (affiliate link). Of course, there is no doubt I love these hooks.
Yarn for clutch:
Patons Classic Wool Worsted: (affiliate link)
Winter White 1 skein
Dark Grey Marl 1 skein
Possible Yarn Substitutions (check gauge):
Plymouth Yarn Galway Worsted
Brown Sheep Nature Spun
Knit Picks Wool of the Andes Worsted
Yardage: 190 yards (174 m)
Yarn for bag:
Super Bulky 6 Weight Yarn
• Big Twist Yarns Roving
in colorway
Cream/Licorice (1 skein)
Cream (3 skeins)
Yarn substitutions (check gauge):
Bernat Roving
King Cole Comfort Chunky
WeCrochet Brava Bulky
Yardage: 265 yards (242 m) – 4 skeins
Tassle if desired
Yarn Needle
Scissors
Tassel if desired
Buckle Clasp. I found a really cool one by Hildie & Jo at Joann's Craft Stores in the jewelry isle. Of course, Feel free to get creative with clutch and bag closures. I've also included additional suggestions from Amazon below.
Finished measurments, Bag laid flat:
• Width 17" (43 cm)
• Height 12" (31 cm)
Finished measurements, clutch folded and laid flat:
• Width 9.5" (23 cm)
• Height 5.5" (14 cm)
This clutch is worked flat as a rectangle and then folded and seamed to shape.
The Ch 1 at the beginning of the row does not count as a stitch. The bag is worked in the round.

CROCHET & TAG
I hope you have enjoyed making the Hygge Infinity Crochet Bag & Clutch Pattern!
If you have made this, please share it on social media. Above all I love to see the projects created with my patterns and also share your beautiful work.
Please use #brianakdesigns or @brianakdesigns
It is much appreciated and adored!
THIS IS A PDF FILE which requires Adobe to read this pattern and can be downloaded for free at www.adobe.com
Share Your Project & Share Pictures!
I really hope you enjoyed working on this project. The best way to make a designer smile is to share what you've made! When it comes to free or premium content, I really rely on you to help me keep designing and supporting my family. Here is how you can make my day:
Share your yarn choice, in-progress, or finished projects on Instagram and use the hashtag #brianakdesigns
Link and share your project on Ravelry. It really helps to have inspirational photos for others.
Join the Briana K Designs Community Group on Facebook and share anything crafty.
Don't Lose This Project! If you aren't ready to start it save it on Pinterest by clicking any of the images above.