This Should Be Your First Triangle Crochet Shawl Free Pattern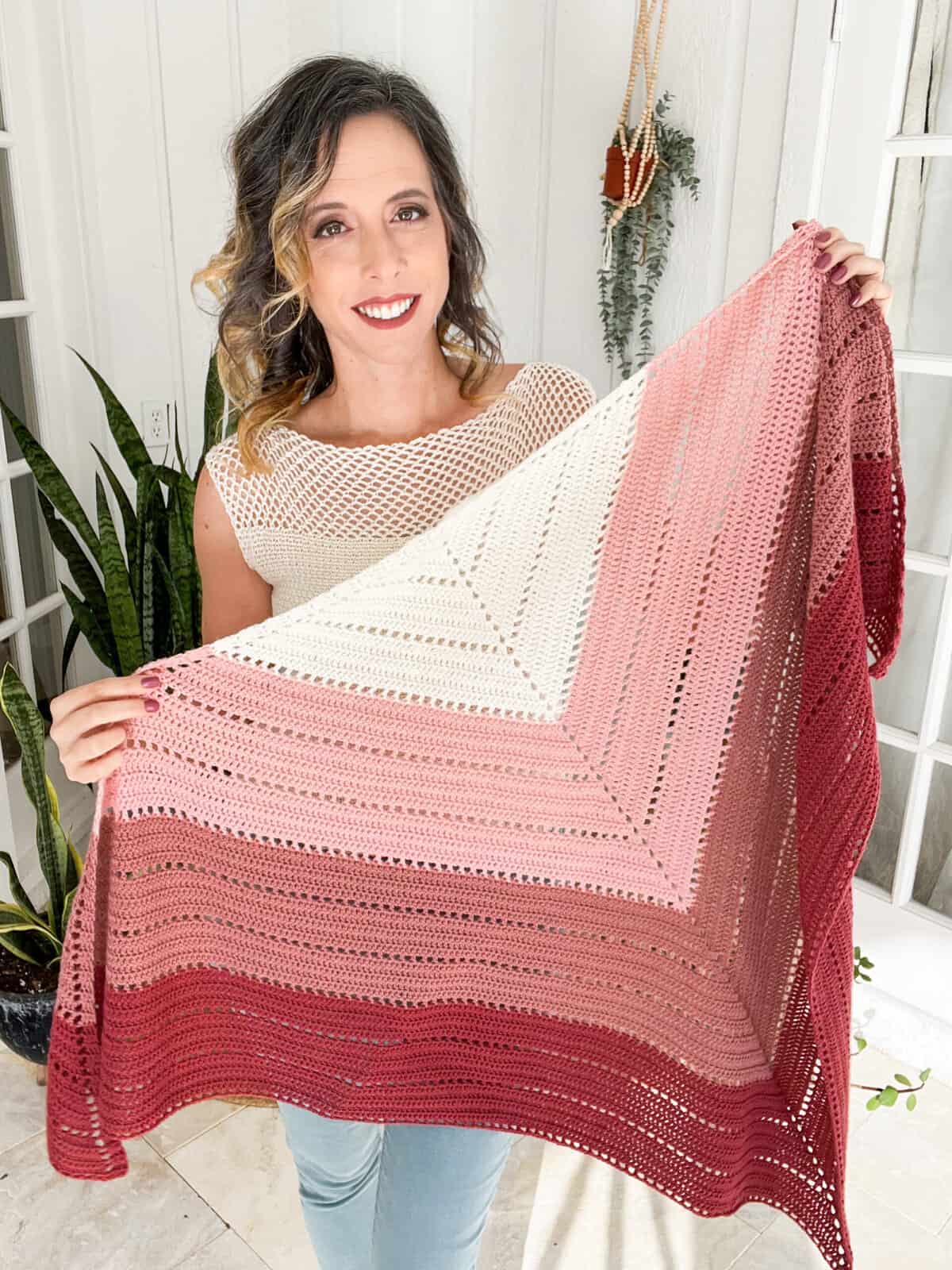 Transform any outfit with this simple, easy crochet triangle shawl pattern made for beginners! Spoil yourself with a calming and creative project by choosing the colors of your dreams, or even keep it one solid shade. Keep reading this blog post for the free pattern.
Want an Ad-Free PDF Download of this pattern?
This pattern is available in my shops:
And don't worry about being stuck wearing this piece just in winter - its lightweight and delicate fingering yarn makes it an easy choice year-round as you transition between seasons, whether indoors enjoying air conditioning or outdoors on balmy nights.
Video Tutorial for the Triangle Shawl Crochet Pattern
What is the best crochet stitch for a crochet shawl?
For the beginner crocheter, a double crochet stitch is great to start with. It's the most common stitch when creating shawls, as it creates a full, light, lacy shawl look that is delicate and perfect for any season.
The double crochet stitch can be easily worked into rows or rounds of stitches to create different looks and textures. If you want extra texture in your shawl, using chain spaces will help create an outstanding shawl that is still a simple and easy crochet pattern. With some practice, these double crochet stitches can give your shawl a unique and beautiful look.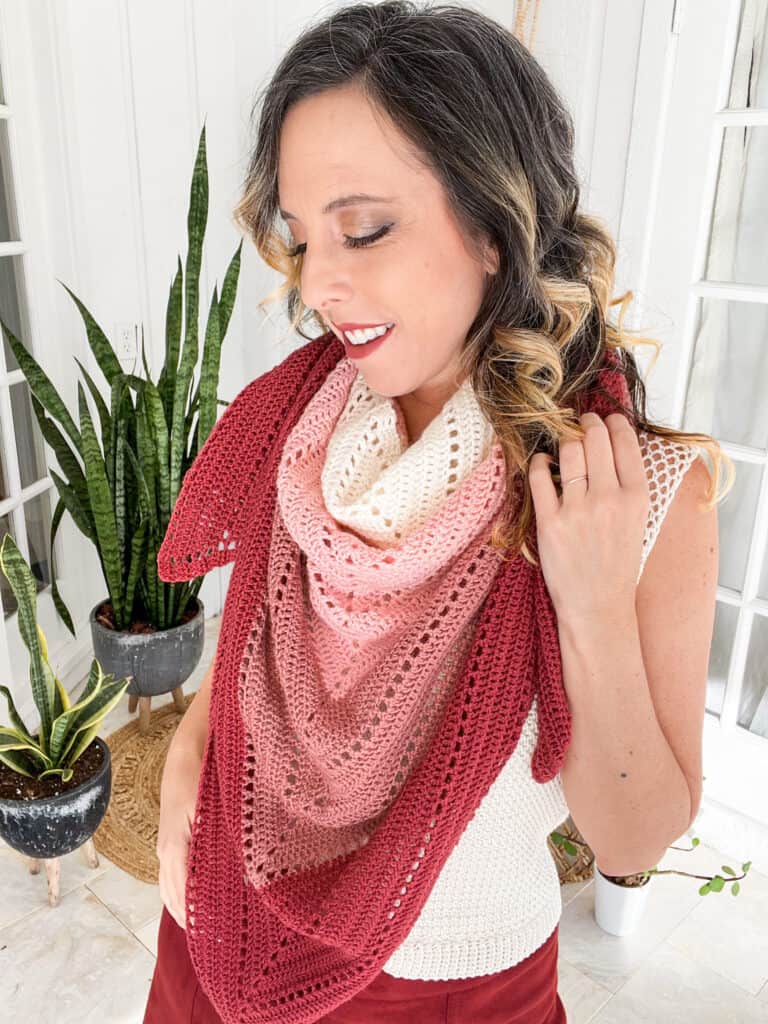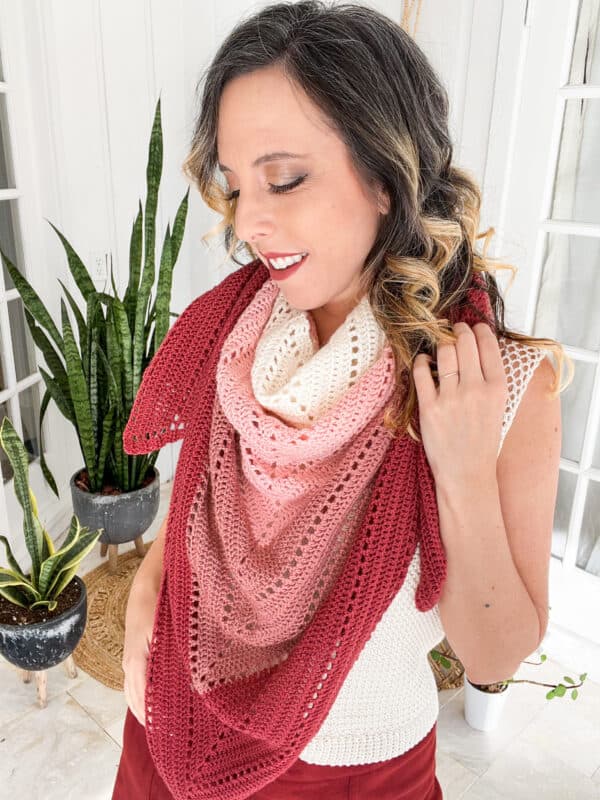 Can I use a different yarn weight for this crochet shawl?
Yes! You can use a different weight yarn and crochet hook and follow the instructions below. This is a flexible pattern for substitutions since it's a crochet accessory, not a fitted item. And if you don't want to change yarn colors, check out some self striping yarn.

To make substitutions and changes to the pattern:
1. A gauge swatch determines your yarn weight and crochet hook size. Check out my blog post on What is Crochet Gauge and How to Fix It for Success.
2. Once you have determined the correct yarn weight and crochet hook size, adjust your stitch count accordingly; you may need to start with fewer stitches in the first rows if you use bulky or worsted-weight yarn. Remove rows and/or stitches to achieve the correct size.
3. Remember to pay attention to the color changes if you use the worsted weight or bulky yarn. You will want to change color sections sooner than the instructions say to keep those sections the exact dimensions.
4. Be sure always to double-check your measurements when making substitutions! This will ensure that your finished product is exactly what you are after. Keeping a measuring tape nearby is often helpful.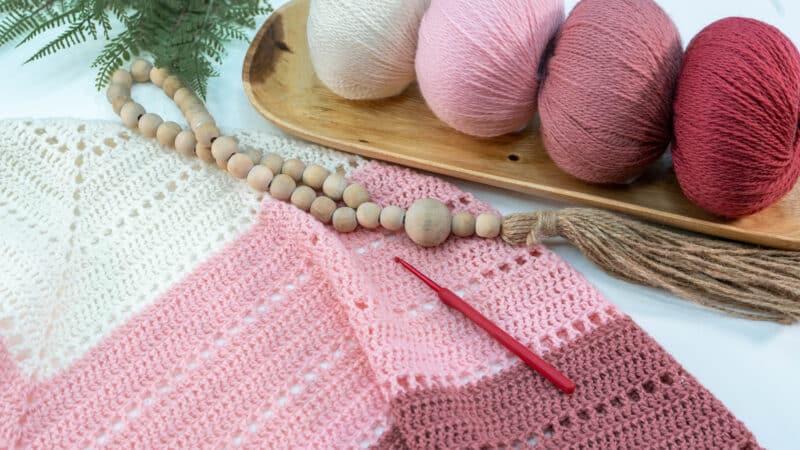 How to style a triangle crochet shawl.
A triangle crochet shawl is a classic and timeless shawl that can add flair to any outfit. Wear it over a dress or blouse to make the most of your crochet shawl for an effortless look. For a more formal occasion, you can fold the simple crochet shawl in half and drape it over one shoulder for a stylish touch.
This versatile accessory can even be used as a scarf or wrap, allowing you to pair it with almost any outfit. Proper styling and accessories will make your own crochet triangle crochet patterns with different stripes and add the shawl as a wardrobe staple!
With a bit of practice and patience, you'll easily create beautiful crochet shawls. Experiment with different crochet stitches, yarn weights, and colors to create the perfect look that suits your style. With a few simple steps, you'll be rocking the crochet shawl trend in no time!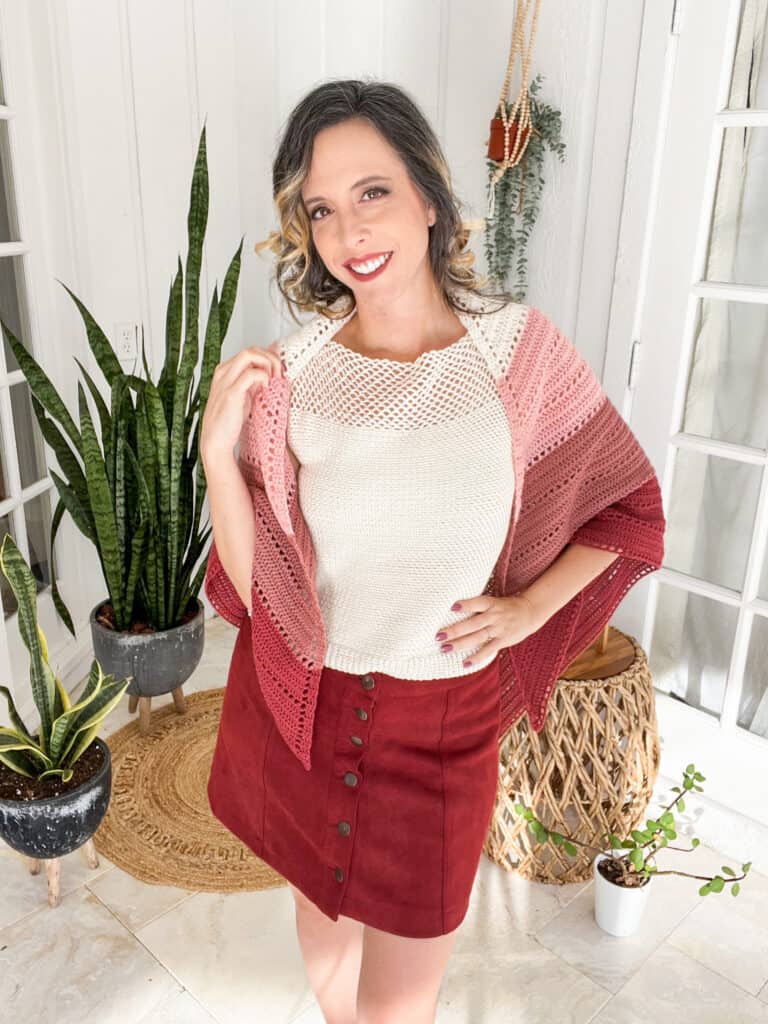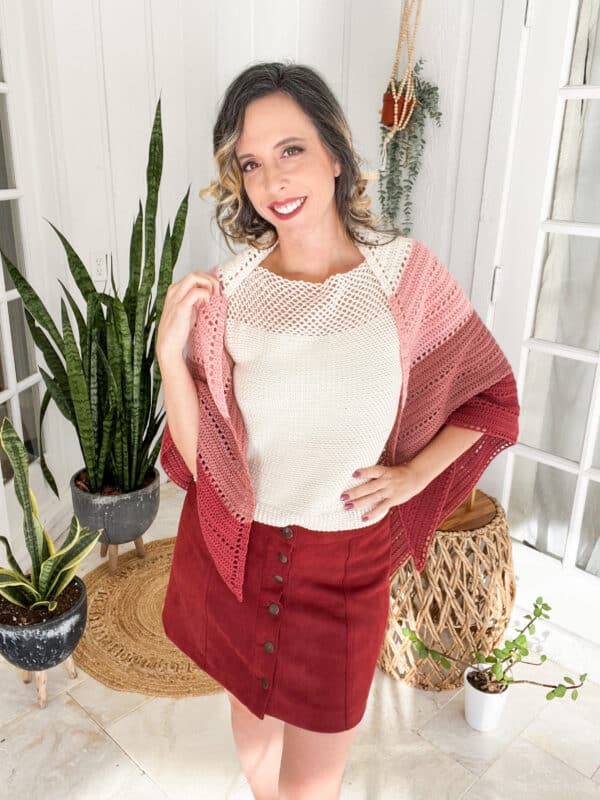 About the fingering weight yarn used for this shawl.
The WeCrochet Palette Fingering weight yarn is a great choice for creating shawls. The wool content makes this yarn incredibly warm and soft, making it perfect for cold days. Plus, the lightweight design means you can easily create delicate stitches that really stand out in your project. With its range of colors, you'll be able to find the perfect yarn for your crochet shawl pattern.
No matter what stitch or yarn weight you choose, creating a crochet shawl is an enjoyable and rewarding experience. With just some practice and determination, you'll have your very own beautiful lace shawl made in no time!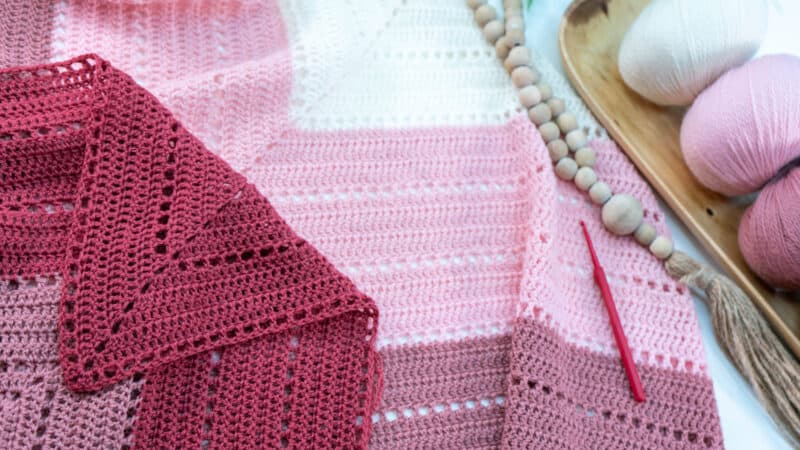 Double Crochet is perfect for crocheting light and airy shawls.
Double crochet is the perfect stitch for a lightweight summer shawl. Double crochet stitches create an airy fabric with lacy openings that keep you cool in even the hottest days.
When choosing colors for your project, opt for bright and cheerful colors that will bring a pop of color to your outfit.
For a unique look, try mixing different colors together to create a stunning shawl, with lots of texture and character.
Whether you wear the shawl over your shoulders or around your neck, you'll have a stylish accessory that keeps you cool all summer! With these tips in mind, you'll be sure to create a stunning summer shawl that looks great with any outfit.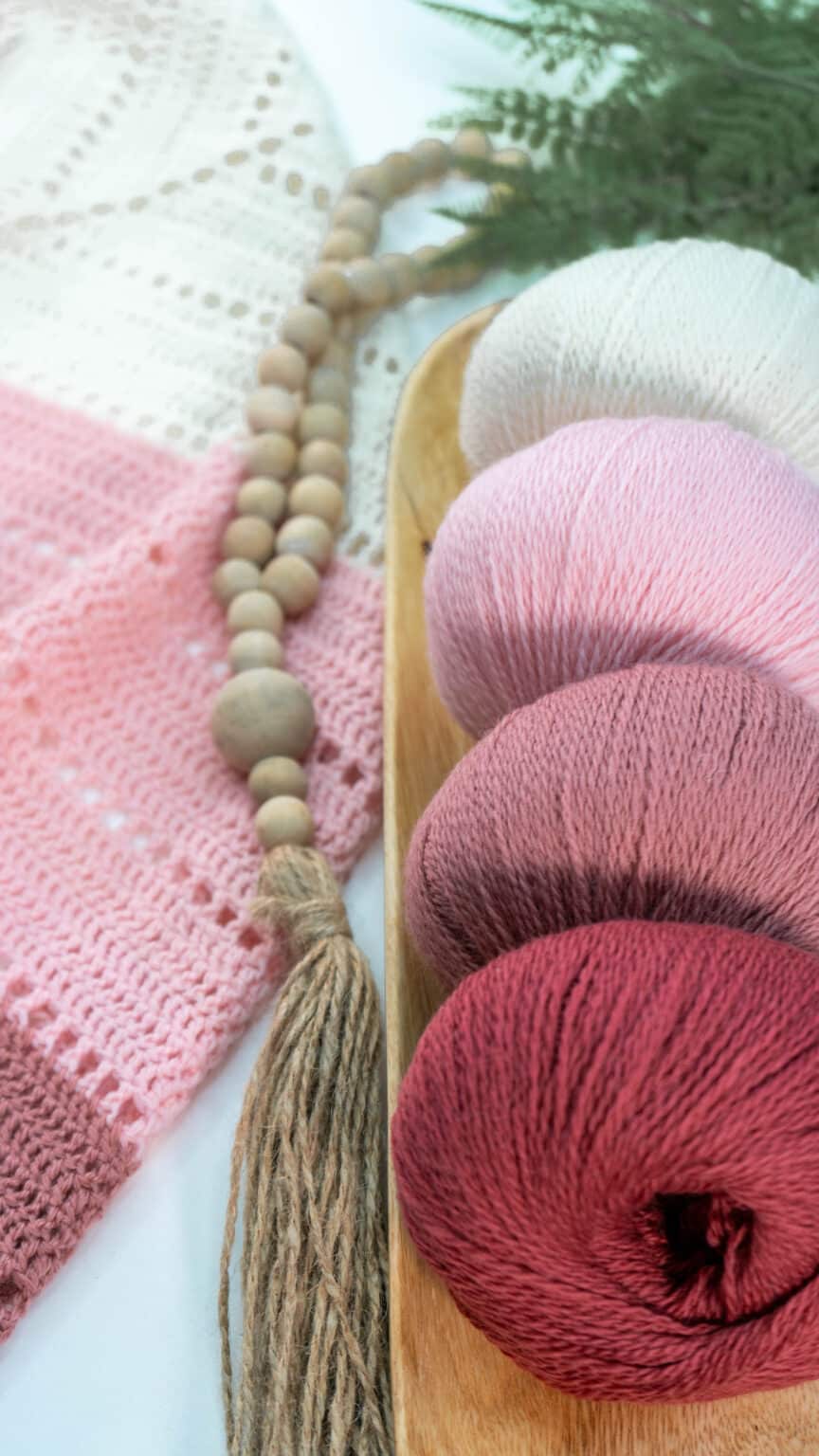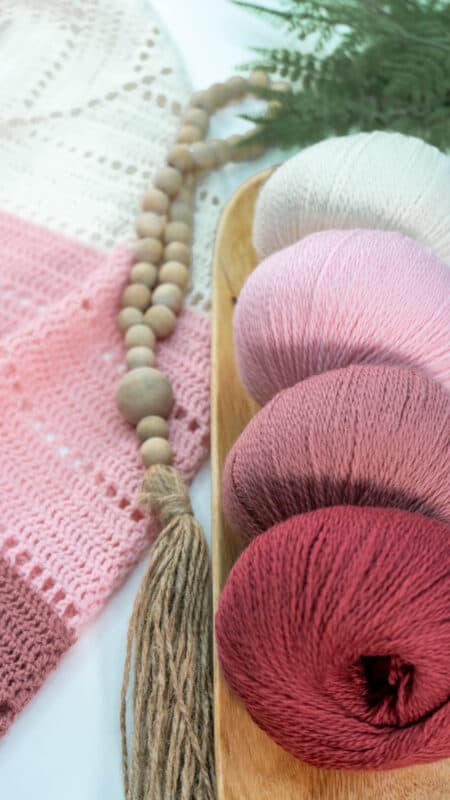 How to crochet a triangle shawl easy and elegant.
A triangle shawl is an easy and elegant accessory to add to your wardrobe. To make a triangle shawl, start off by crocheting several rows of foundation stitches, such as double crochet or half double crochet or basic crochet stitches.
Once you have the desired number of chain stitches, begin working in rounds until you achieve the shape of a triangle. Opt for a lightweight yarn such as WeCrochet Palette Fingering Weight to give the shawl an elegant finish.
The subtle sheen of this yarn will give your shawl a beautiful glow and make it stand out from the crowd. With just some practice, you'll be able to create a triangle shawl that looks like it was made by a professional!
So, go ahead and get creative with your crochet shawl, utilizing this free pattern. With the tips above, you'll surely create something beautiful and unique! Have fun, and don't forget to share your creations!
What is the most popular shawl shape?
The most popular shawl shape is the simple triangle shawl. Triangle shawls are classic and timeless, making them an ideal accessory for any wardrobe.
You can create a unique piece that will turn heads with a few simple stitches and some creativity. Whether you prefer a lightweight yarn for summer days or cozy wool for chilly winter nights, triangle shawls are a great way to add style and elegance to your look.
You can create the perfect triangle shawl for any occasion with practice and determination.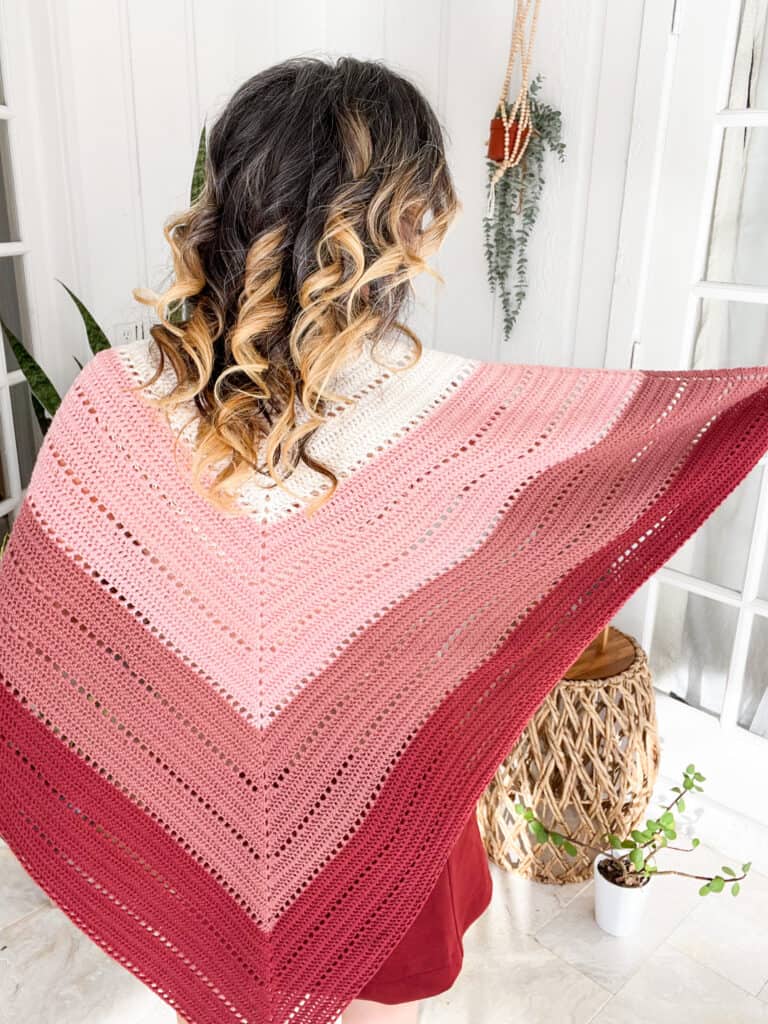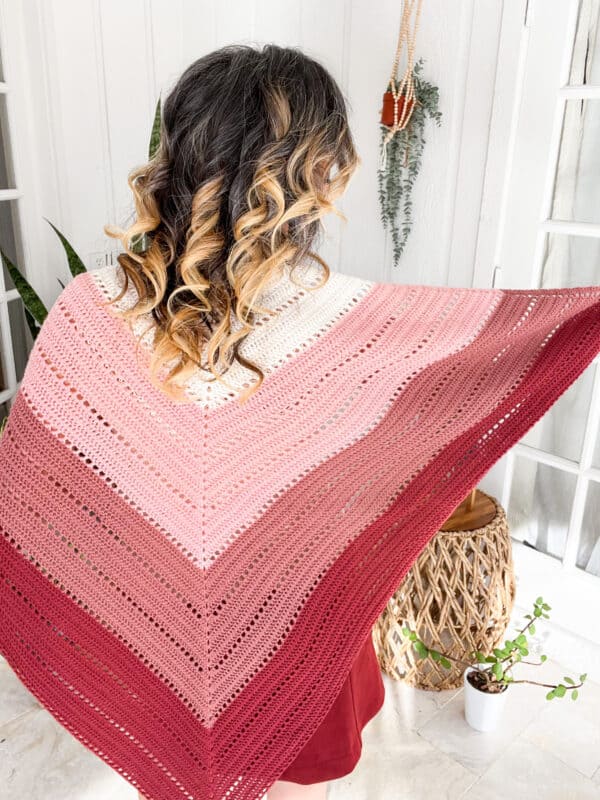 Should I block a crochet shawl?
Yes, it is recommended to block a crochet shawl to give your project the desired shape and size. Blocking is a technique that involves dampening and steaming your finished shawl, which helps to even out any crooked stitches or bumps and gives your shawl a neat, professional finish.
Blocking also helps preserve the shape and size of your beautiful shawl, so it's worth taking the time to do it. With just a few simple steps, you can give your shawl a beautiful professional look that will last for years.
Creating a crochet shawl is an incredibly rewarding experience and a great way to express your creativity. And what better way to learn new skills than with this free crochet pattern.
Easy and fun shawl project.
If you're looking for an easy and fun project, why not try making a triangle shawl? Triangle shawls are perfect for beginners as they require only basic stitches with no shaping and can be crocheted with just any color of yarn.
Consider adding fringe or decorative stitches such as popcorn or shells to make your triangle shawl unique. You can also experiment with different yarns and colors to create a one-of-a-kind shawl!
Take the triangle shawl traveling.
This summer, pack a triangle shawl for your next vacation! Triangle shawls are incredibly versatile and can be worn in different ways.
Wrap it around your shoulders as an elegant cover-up or drape it over your head like a stylish scarf. You can also use it as a cozy blanket on long car rides or plane journeys.
Triangle shawls are lightweight and easy to care for, making them the perfect travel companion. Best of all, you can crochet one in no time! With just a few hours of work, you'll have a versatile accessory that will become your new favorite summer wardrobe item.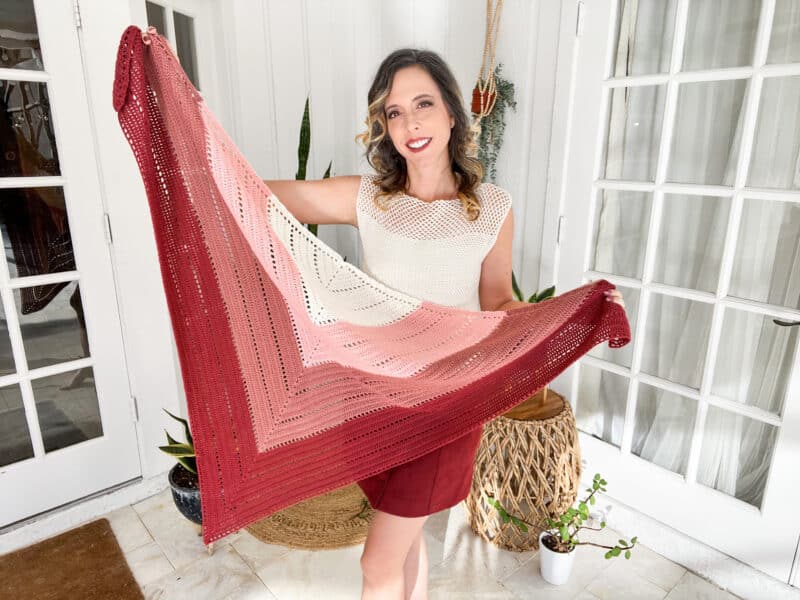 Supplies You Will Need For The Beginner Crochet Triangle Shawl:
Crochet Hook:
size (3.0mm), or hook to obtain gauge
Notions:
Removable stitch markers if needed
Yarn needle to weave in ends
Scissors
Fingering Weight Yarn:
WeCrochet Palette
100% Peruvian Highland Wool
Yardage:
Colorways:
Cream (1 ball, 190 yds)
Blush (2 balls, 325 yds)
Tea Rose (2 balls, 400 yds)
Victorian (3 balls, 575 yds)
Total Yardage: 1490 yds
Abbreviations/Stitches:
ch - chain
dc - double crochet
Stsc - stacked single crochet
st(s) - stitch(es)
Gauge:
21 sts x 13 rows = 4x4 inches in double crochet, unblocked.
19 sts x 12 rows = 4x4 inches blocked
Measurements/Sizes:
A: 62" (157 cm)
B: 39" (99 cm)
Skill Level:
Easy Beginner
Notes for the Pretty in Pink Triangle Shawl Pattern
It's best to place a stitch marker at the beginning of each row. You can substitute the Sts for a chain 2 as the first stitch in the row if desired.
More About This Triangle Shawl Pattern
Special Stitches:
Magic Circle (MC): Start by creating a loop with your yarn. The tail of the working yarn will be over the working end. Insert your hook into the loop from behind. Yarn over and pull through the loop. Work the stitches as instructed into the loop. https://brianakdesigns.com/magic-crochet-circle-ring/
Stacked Single Crochet (Stsc): Do NOT chain, insert hook into next stitch, yo, pull up a loop, yo and pull through both loops, insert hook in the vertical bar below, yo, pull up a loop, yo and pull through both loop on hook. https://brianakdesigns.com/stacked-single-crochet/
Written Pattern Instructions for the Crochet Triangle Shawl
Row 1 (RS): In Magic Circle, Stsc 1, dc 2, (ch 2, dc 3) three times, turn. (12 sts)
Row 2 (WS): Stsc, dc 2, ch 2, dc 1 in chain space, dc to next chain space, (dc 2, ch 2, dc 2) in
chain space, dc to next chain space, dc 1 in chain space, ch 2, dc 3. (18 sts)
Row 3-6: Repeat Row 2. Each row will increase the stitch count by 6 sts.
Row 7: Stsc, dc 2, ch 2, dc 1 in chain space, (ch 1, skip 1, dc 1) until next chain space, (dc 2, ch 2, dc 2) in chain space, (dc 1, ch 1, skip 1) until next chain space, dc 1 in chain space, ch 2, dc 3.
Repeats: Repeat Rows 2-7. Change the color after three total repeats.
Once the shawl is the desired length, cut yarn and weave in the ends. Block the fabric to open up the stitches for a nice finished look. And that's it! It's an easy and relaxing light and lacy shawl. I hope you have enjoyed this crochet triangle shawl pattern.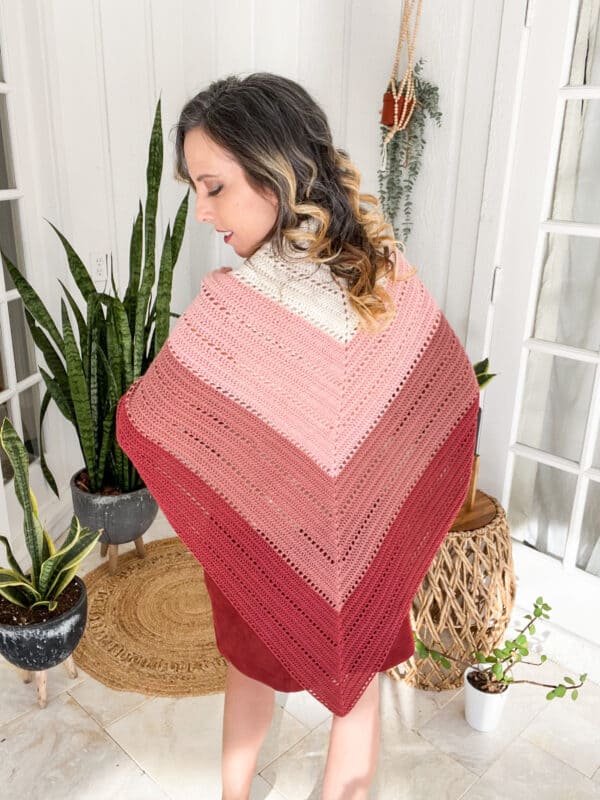 Love free crochet patterns?
If this crochet pattern has gotten you addicted to creating crochet shawls, I would also recommend checking out these great patterns:
Well That Was Fun! What's Next?