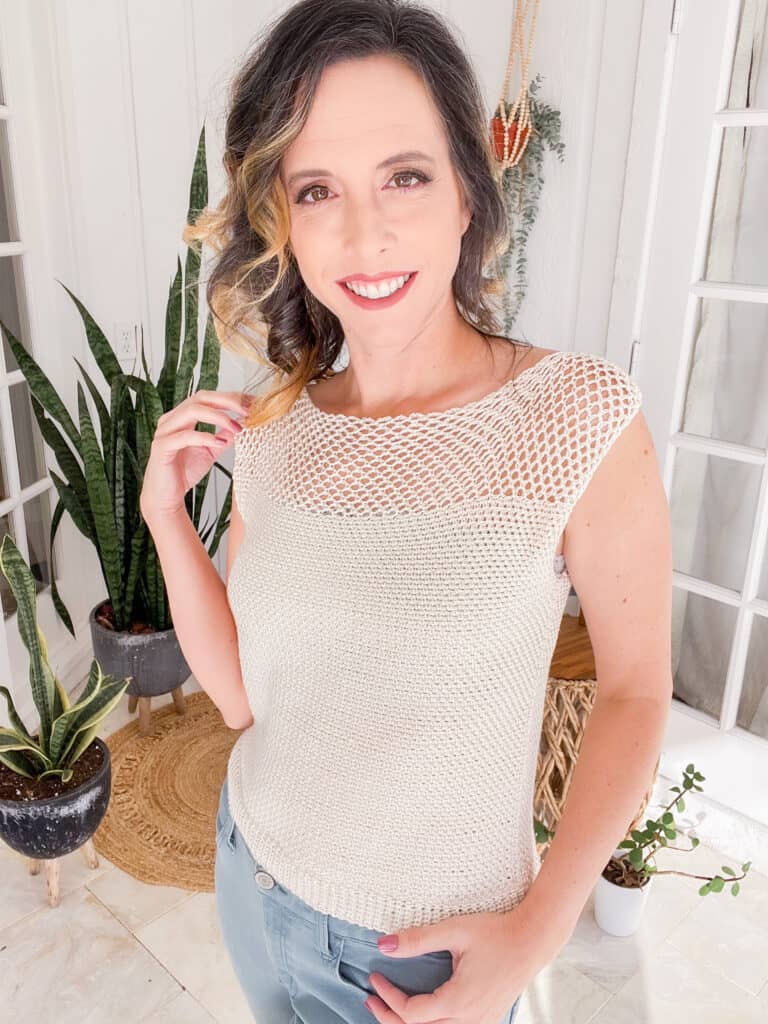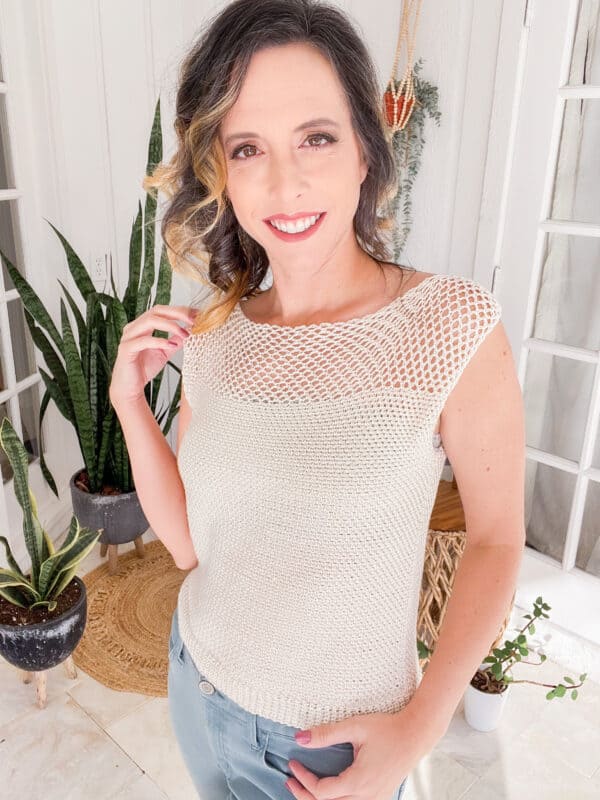 While it is summer, my house isn't as adventurous outside of the home this season, and you might relate to that. I've also taken this challenge to use what is in my stash and I just so happened to have some fantastic fingering weight and dk weight yarns just calling to me. As expected, it was perfect for this project. I highly recommend you jump on over to the websites and put in an order, no need to leave the house.
Want a Downloadable Pattern?
Find the latest fashions and a variety of projects in my shops: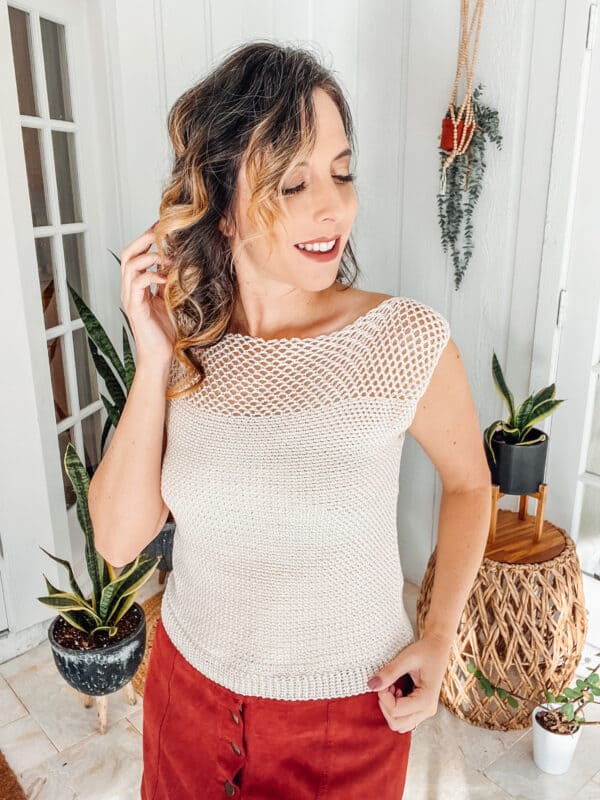 The weather is starting to warm up so now is the time to start those fun summer garments. And this one is a relaxing easy crochet piece, perfect for practicing those lazy summer vibes while soaking up some sun. Plus, a little extra crochet time is just what we all need right now.
This top is made in two pieces. If you would like, you can work the pieces together or wait until the first piece is done and then start on the other.
Are you a knitter? I have created a mimic of this stitch pattern in knit. Check it out HERE.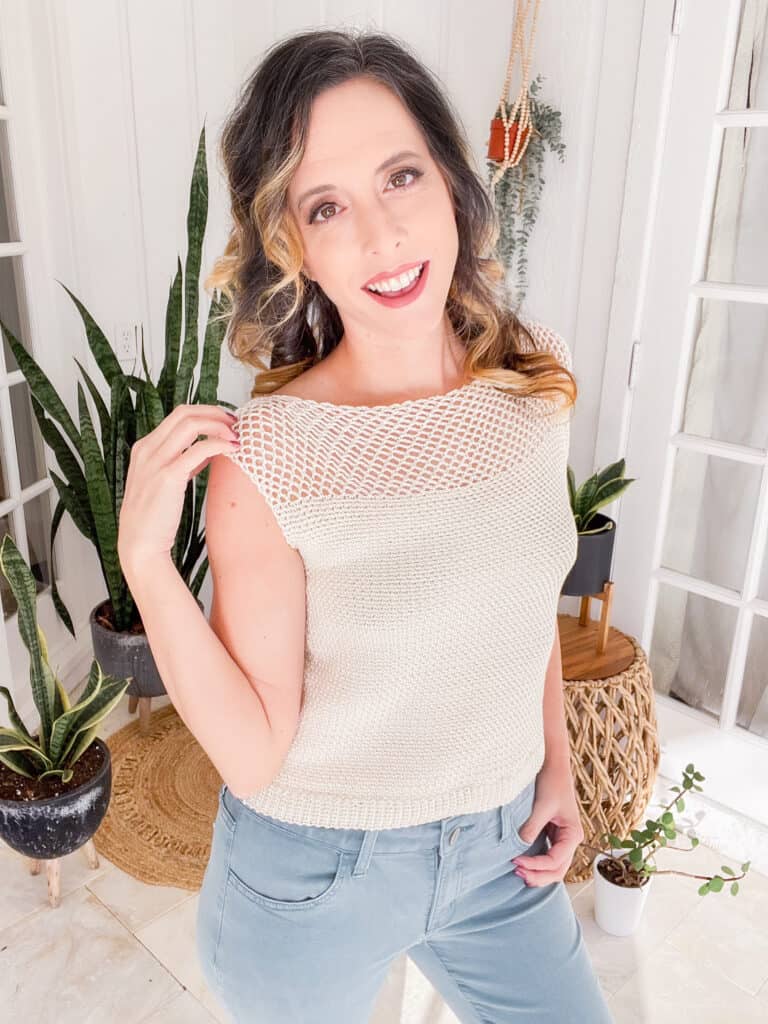 Why this crochet pattern is for beginners.
First time crocheting a garment? You've come to the right pattern. This summer crochet top pattern is ideal for beginners because it is easy to learn and doesn't require any advanced skills. This top's light and airy fabric makes it perfect for warm weather.
This pattern uses basic crochet stitches, such as single crochet, which is essential for crocheters of all levels. The crochet top also has a relaxed fit, which can be adjusted to fit any body type. With this pattern, you can create a fashionable and comfortable summer crochet top that will last for many seasons.
It is an ideal project for those just starting out in crochet and more experienced crocheters who want to practice their basic single crochet stitches too. So don't wait – try out this summer crochet top pattern today!
Why choosing the right yarn for your summer garment matters.
When it comes to summer crochet, the type of yarn you choose can make a major difference in the quality and comfort of your garment. For example, consider using a linen or cotton blend yarn if you're looking for something lightweight and breathable.
These fibers are perfect for creating airy garments that won't weigh you down in hot weather. A wool or acrylic blend may be better if you want something more sturdy and long-wearing. Choosing the right yarn can also help you create garments with unique textures and colors that will stand out from the crowd.
So take some time to research your options before getting started on your summer crochet project! The suitable lightweight cotton yarn used will make all the difference.
How to customize this easy crochet summer top for the best fit.
This summer crochet top pattern is designed with an adjustable fit, so you can easily customize it to your body type. Whether petite or plus-size, this crochet top pattern offers room for adjustment so everyone can enjoy a comfortable and stylish fit. To make adjustments, follow the instructions in the pattern and use a measuring tape to keep track of the changes.
For example, add extra stitches along that row if you want a looser fit in the bust area. This way, you can ensure that your crochet summer top is perfectly tailored to fit your body and provide a comfortable summer look!
With this easy pattern with basic stitches, anyone can create an attractive summer crochet top that fits their body type and style. So why wait? Get started on your handmade crochet summer garment today!
How to care for your summer crochet top
Knowing how to properly care for your summer crochet top patterns is essential so it lasts for many wears and washes. Most fiber blends should be hand washed and laid flat to dry for best results. This will help preserve the shape and color of your garment and keep it looking like new for longer.
Additionally, avoid using high temperatures when washing or drying your crochet summer top patterns since this can cause shrinkage or damage to delicate fibers. With these simple tips in mind, you'll be able to enjoy your handmade crochet summer top look for years to come!
This summer crochet top pattern is perfect for beginners, beginner and intermediate crocheters, and experienced crocheters alike. You can customize the fit with a few easy adjustments to suit your body type perfectly. And with proper care and maintenance, your handmade garment will last for many seasons. So don't wait – start making your summer crochet top pattern today! You'll be glad you did.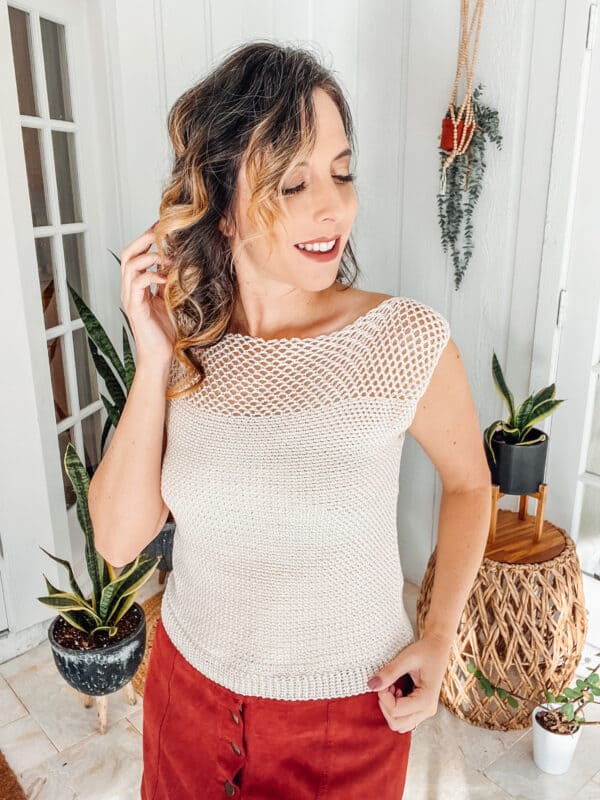 Why are crochet tops popular?
Crochet tops are popular because of their versatility and comfort. Crochet tops are great for summer! They can be dressed up or down depending on the occasion, and they provide lightweight coverage that is perfect for hot summer days.
Crochet tank tops also come in various colors, textures, and styles. From classic lacy designs to more modern looks, you can find something to suit any wardrobe. What's more, the crocheting process is relatively simple compared to other types of garment-making, so making your crochet or crochet tank top can be a fun and rewarding experience.
With these qualities in mind, it's no wonder why these crochet tank top garments are so popular for the spring and summer seasons! Check out the detailed instructions below.
Why are my edges uneven?
Uneven edges are a common issue for crocheters. This happens when stitches are not evenly worked across the row, resulting in an uneven edge. To fix this problem, look at each stitch and determine if it was pulled too tight or loose.
If you notice that some stitches are tighter than others, try adjusting your tension to make it more consistent. Also, count your stitches at the end of each row so you don't miss any. With practice and patience, uneven edges will become less of an issue!
Why are handmade garments better than mass-produced ones?
Handmade garments are often of higher quality than mass-produced items since they are made with more attention to detail. Handmade garments also often have unique features not found in mass-produced items, such as added customization or intricate designs.
Additionally, handmade items tend to last longer since they are created with better materials and techniques than large-scale manufacturers.
Finally, when you purchase a handmade item, you know you support an independent creator and help to promote sustainability. All of these qualities make handmade garments a better choice than mass-produced items.
Why add this summer crochet top to your list of crochet projects?
This summer crochet top pattern is perfect for beginners and experienced crocheters alike. This garment's lightweight construction makes it ideal for keeping cool during hot summer days. Moreover, the crocheting technique used to create it is relatively simple.
Discover why this easy crochet top pattern is the perfect addition to your summer wardrobe. With these qualities in mind, it's no wonder why this summer crochet top pattern is an ideal addition to your list of projects. So don't wait – start making your summer crochet top patterns today! You'll be glad you did.
How to finish a crochet project.
Finishing a crochet project is just as important as the process of creating it. To complete your project, begin by weaving in all the ends and trimming any excess yarn. Once this step is done, you can block the garment to even out each stitch.
Blocking also helps to give your crocheted piece a more polished look. Finally, you can apply fringe or any other decorations to the piece. With these steps and a little patience, you'll create a beautiful piece you can be proud of!
By taking the time to understand the basics behind crocheting, you can create fun and unique pieces for your summer wardrobe. The possibilities are endless, whether a simple crochet tank top or a shawl. So take some time and explore this excellent craft – you never know what you might discover!
How to block a crochet garment
Blocking is an essential step in making a garment from crochet. Blocking involves using block pins and wires to shape and even out the fabric, improving the overall appearance. To begin blocking your garment, lay it on a flat, clean surface.
Use block pins or wires to stretch the garment into its desired shape, then let it dry. Once the garment is completely dry, you can remove the pins or wires, and your garment will be ready to wear! Blocking crochet garments is a great way to ensure your handmade pieces have a professional finish. Want to get started with a blocking kit? Check out the Crafting Blocking Mats with Tape Measure and Pins. And if you want the best blocking pins on the market that make it faster and easier to block, get the Blocking Pin Combs.
How vital is gauge in crocheting?
Gauge is an essential aspect of successful crocheting. Gauge, or tension, refers to a project's number of stitches and rows per inch. Every crochet pattern will provide an ideal gauge range that you should aim for when making your garment.
Following the crochet pattern's recommended gauge will ensure that your finished item is the correct size and matches other pieces in your project. If you do not meet the crochet pattern's gauge, you may need to adjust your hook size and number of stitches.
Maintaining the correct tension is critical for creating well-made garments, so checking your gauge regularly is essential.
How to take care of handmade crochet garments
Handmade crocheted garments require special attention when it comes to care and maintenance. To maintain the quality of your garments, be sure to wash them separately with a gentle detergent in cool water.
After washing, lay flat on a towel and reshape any stretched areas that become misshapen. If needed, use a steam iron to press the fabric, then fold or hang it for storage. Following these tips, you can keep your handmade crochet garments looking beautiful for years!
I hope this article has given you a better understanding of the art of crocheting and how it's used to create summer crochet sweaters and crochet crop tops too. With an eye for detail and careful consideration, you can create a unique piece that expresses your style. So try that summer crochet crop top now – you never know what it could become until you try it!
Looking for crochet top patterns
The internet is full of great options if you're looking for a crochet tank top pattern. You can find free patterns from popular websites like Ravelry or purchase an e-book from independent designers.
When picking out a pattern, it's essential to consider your skill level and make sure the pattern includes detailed instructions. With the right easy crochet tank top pattern, you'll be able to make a beautiful crochet tank top that fits your style and tastes! Try out the summer crochet beginner tank top with detailed instructions below!
Check out some of my summer crochet tops patterns
Rainbow Crochet Top Free Pattern
Queen Bee Crochet Tank Top Pattern
Muse Crochet Summer Top Pattern
Lollipop Summer Cardigan Crochet Pattern
Long Summer Crochet Duster Free Pattern
The Lacy Key Largo Top You Will Want To Make And Wear All Summer – Free Crochet Pattern
What will your summer adventures be?
With your handmade crochet tank top on, you'll be ready for any summer adventures! Whether it's a day at the beach or an evening out on the town, you can confidently show off your style.
And don't forget to take pictures along the way – your handmade crochet summer tank top is perfect for capturing summer memories! Feel free to share your pics in the Briana K Community on Facebook. Put your new skills to use and create a memorable piece that will spark conversation this summer. So grab your yarn and hooks and prepare for a fun, fashion, and adventure-filled summer.
What do you need to know about the yarn weight used?
The yarn weight you use will affect the look and feel of your project. The weights are numbered from 0 to 7, with 0 being the lightest and 7 being the heaviest. When picking out yarn for a project, check the recommended weight on the pattern so that your finished piece looks as intended.
Remember that different fibers will affect the look and feel of your project, so be sure to select one that matches your pattern. With these tips, picking out the yarn for your crochet top pattern will become less of an issue!
The yarn listed in the supplies is the best option, but other yarns will work too, such as WeCrochet Cotlin yarn is a great choice for this project as it's lightweight and provides excellent stitch definition. Of course, you can use any yarn you choose to create this summer crochet top! DK weight yarn is suitable for this project as it provides a sturdier material, making the easy crochet summer top look more finished.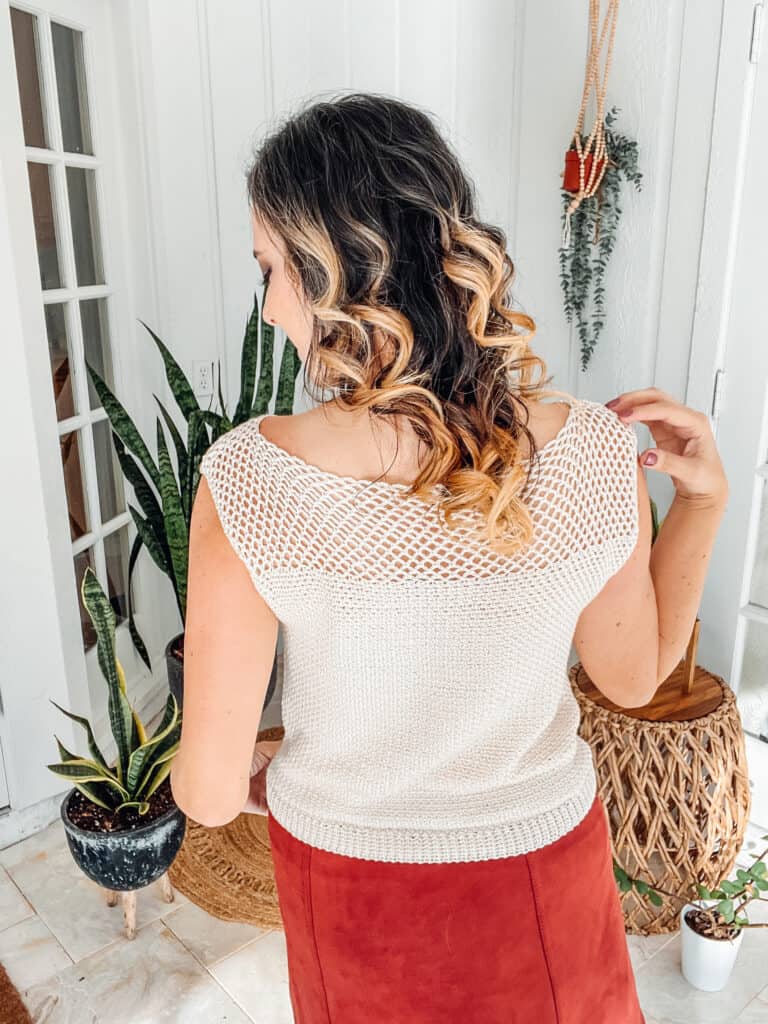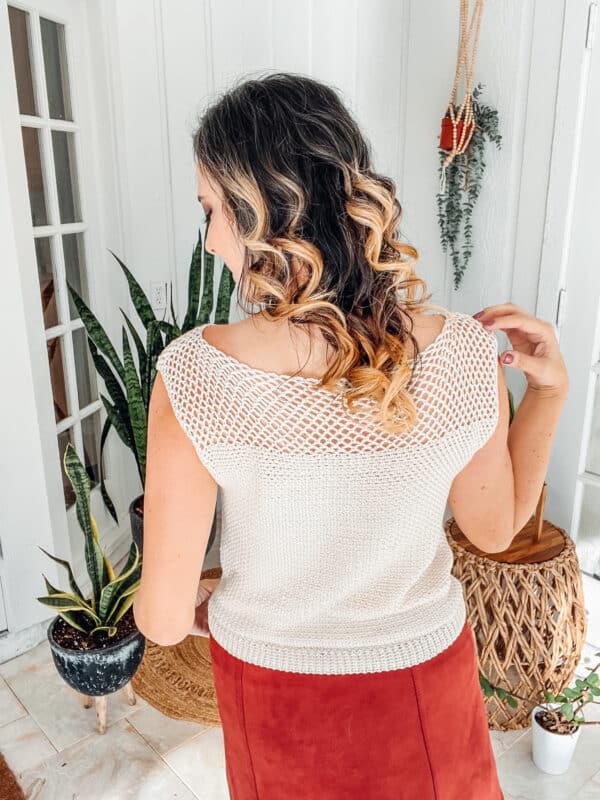 Other DK suggested yarns.
– Knit Picks Wool of the Andes DK Superwash
With these tips, you're ready to start your summer crochet top project! Follow the pattern and instructions, and don't forget to take pictures along the way. Enjoy creating a memorable piece that will spark conversation this summer!
Interested in other patterns of mine? Try out some of these crochet clothing patterns.
Sutherland Waterfall Vest Crochet Pattern
Everyday Crochet Knit-Look Sweater Pattern
How to Crochet a Top Down Cardigan with an Optional Hood
Campside Cardi Easy Free Knit-Look Crochet Pattern
Create an Easy Diamond Crochet Cardigan Pattern To Wear all Year
Get Comfy with the Crochet Cardigan Free Pattern
Suggested Crochet Supplies:
Crochet Hook:
5.0mm (H hook) for DK weight yarn, or hook to obtain gauge
OR 3.5mm crochet hook for fingering weight yarn
Try out one of the crochet hooks below!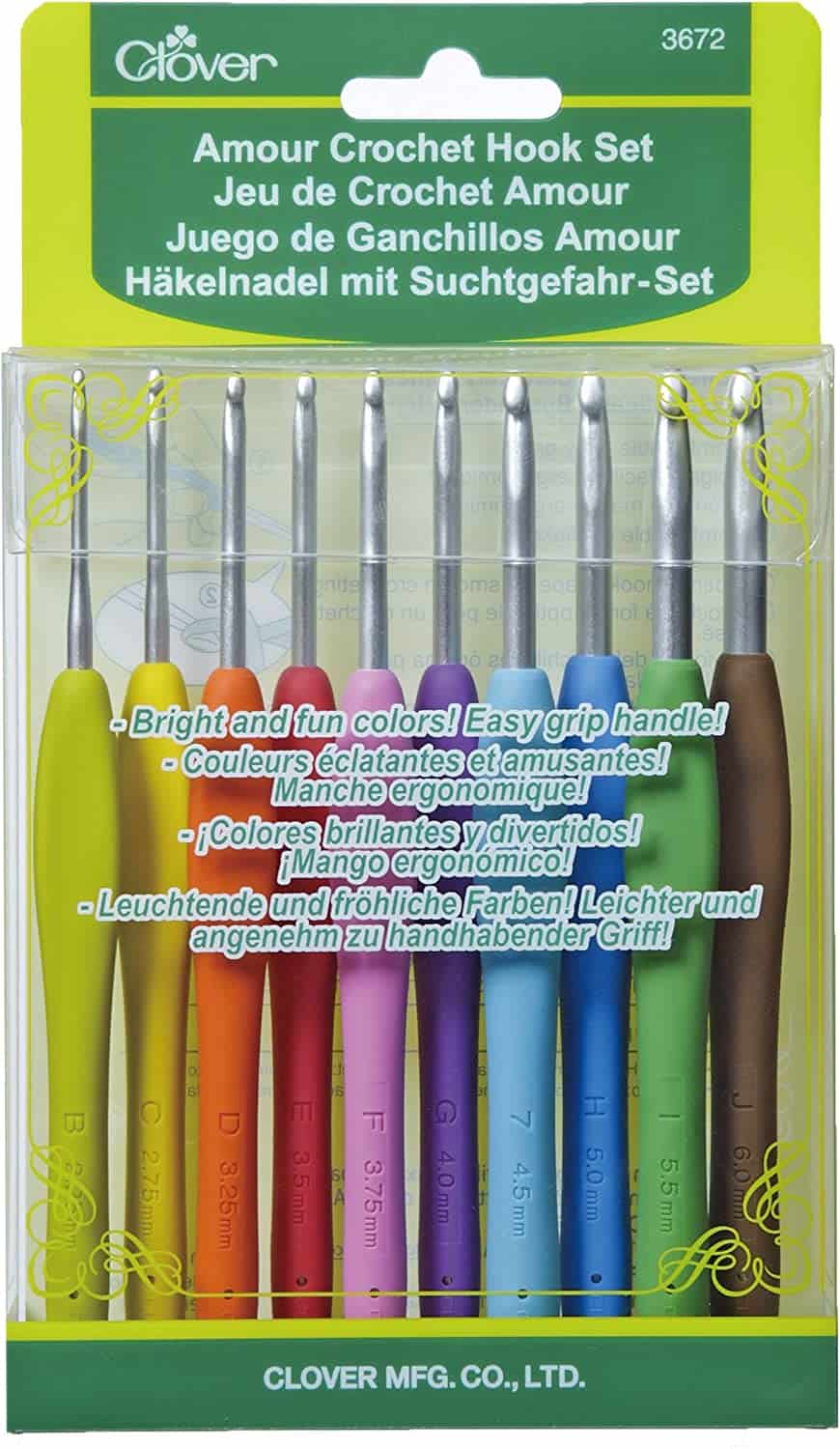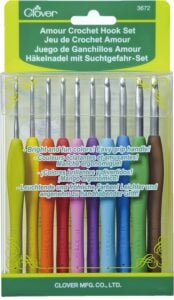 Notions:
Removable stitch markers if needed
Yarn needle to weave in ends
Scissors
Yarn:
WeCrochet Cotlin – DK Weight
70% Tanguis Cotton, 30% Linen, 123yds/50g
or
Mary Maxim Sunrise
Yards Needed for DK Weight:
100% Acrylic, 240yds/3.5oz
550 (600, 675, 775) (900, 1200, 1300) yards
or
WeCrochet Samia – Fingering Weight
80% Cupro, 20% Mulberry Silk, 188yds/50g
Yardage:
Yards Needed for DK Weight:
550 (600, 675, 775) (900, 1200, 1300) yards
Yards Needed for Fingering Weight:
775 (830, 925, 1025) (1200, 1350, 1500) yards
Abbreviations/Stitches:
ch – chain
sc – single crochet
sl st – slip stitch
st(s) – stitch(es)
RS – Right Side
WS – Wrong Side
Gauge:
For Fingering Weight: 28 sts and 30 rows
For DK Weight: 21 sts and 24 rows
= 4×4" (10 cm) in Moss Stitch
Skill Level:
Easy/Beginner
Size:
Finished Bust Sizes (includes ease)
XS: 32.5" (83 cm)
S: 35" (88 cm)
M: 40" (102 cm)
L: 44" (112 cm)
1X: 49" (125 cm)
2X: 51.5 " (131 cm)
3X: 56.5 (144 cm)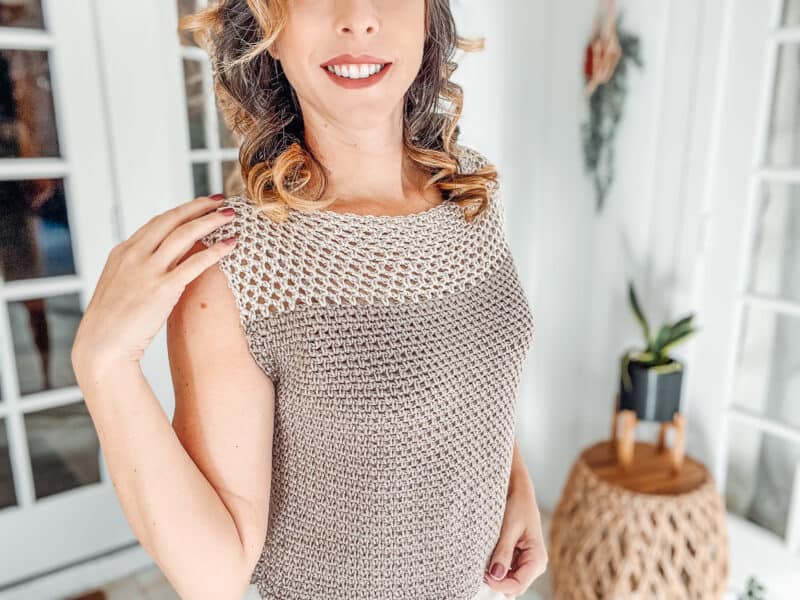 Notes:
The Summer Crochet Top is a simplistic design that creates two rectangular pieces, front and back.
This pattern stitch is worked from the main body bottom to top lace in two rectangular pieces. Then a slip stitch ribbing is added along each bottom piece. Last, it's seamed together at the sides and top shoulders.
Sizes are written as:
XS (S, M, L) (1X, 2X, 3x)
Easy Summer Crochet Top Video Tutorial
Graph measurements are in inches.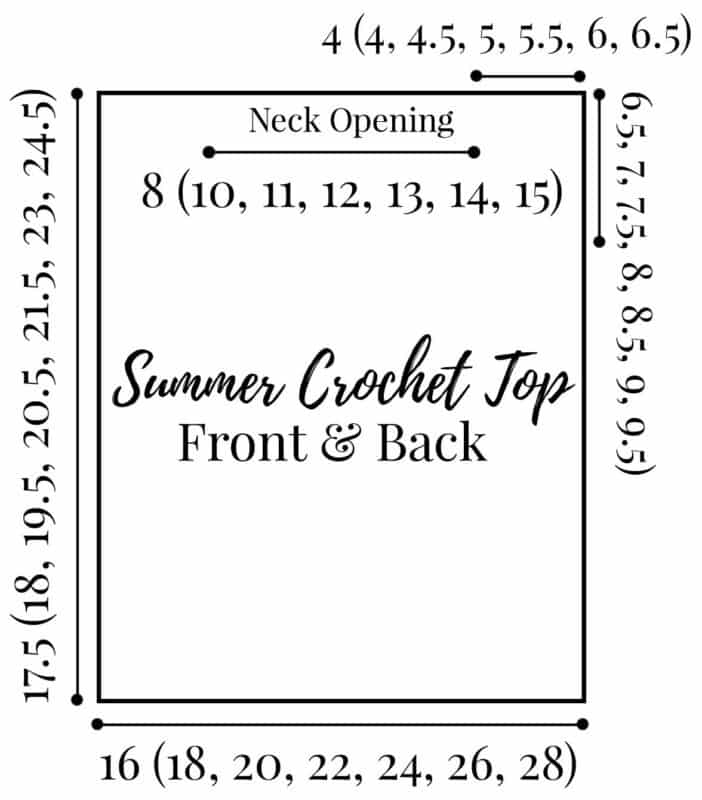 Body of the Easy Summer Crochet Top:
Row 1: For Fingering Weight Yarn chain 112 (126, 140, 154) (168, 182, 196). For DK Weight Yarn chain 85 (93, 105, 117, 129, 136, 149) for DK Weight.
Sc in the second chain from hook and across, turn.
Stitch count for every row in this pattern is 112 (126, 140, 154) (168, 182, 196) for Fingering Weight Yarn and 84 (92, 104, 116, 128, 136, 148) for DK Weight Yarn.
Row 2: Ch 1 (does not count as st), sc in first 2 sts, ch 1, skip 1, sc in next; repeat from * to *
across, turn.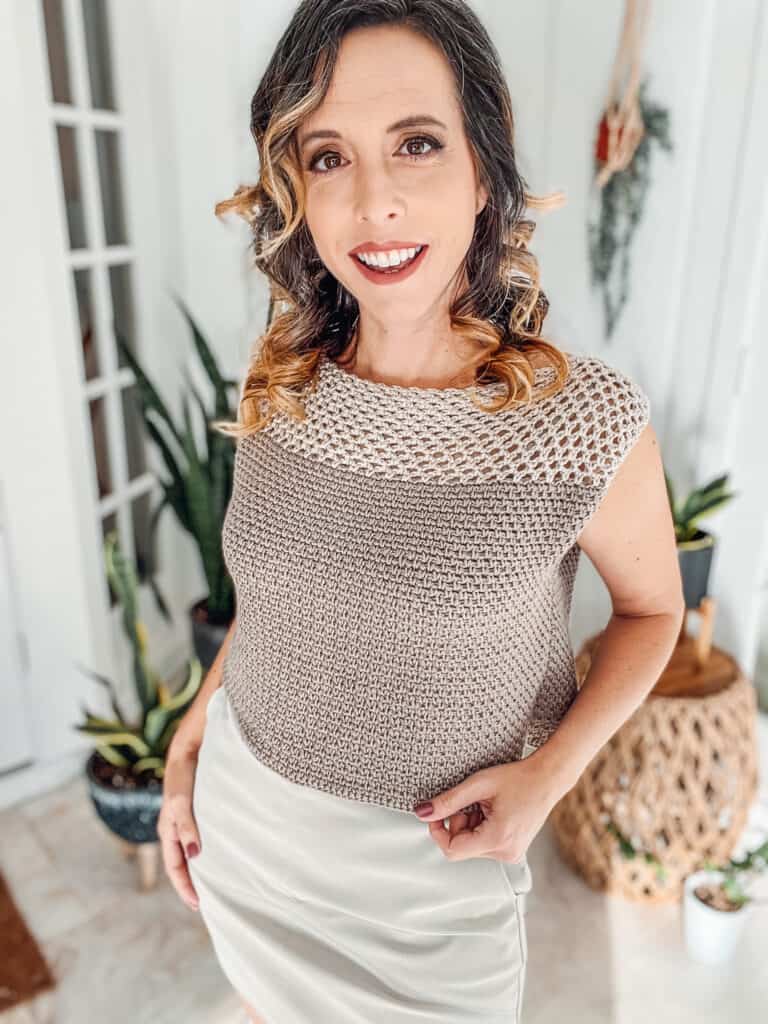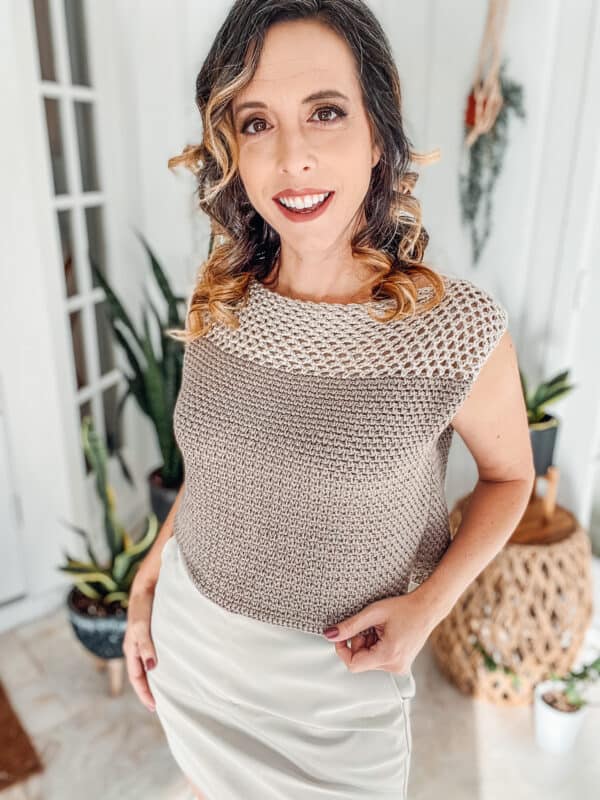 Lace Top of the Easy Summer Crochet Top:
Row 1: If desired, change yarn colors for a pop of color on the top of the summer shirt.
All chains are counted in stitch count for the lace portion.
Ch 3 , skip 2 sts, slip st in next; repeat from * to * across, turn. *Please note, if there are one less, or one more stitches at the end of row, simply ch 3, and sl st into the last.
Row 2: *Ch 3, sl st in the ch 3 space*; repeat from * to * across, sl st in last ch, turn.
Row 3: Ch 3, sl st in the ch 3 space; repeat from * to * until the last ch 3 space, sl st into the ch 3 space, turn.
Repeats for the Lace Top:
Repeat Rows 2-3 until there are 5 (5, 6, 6) (7, 7, 8) inches of the lace portion. You can adjust your fit by adding/omitting rows. Hold the project up to your body and test out the sizing as you go.
Fasten off and continue to the bottom ribbing section.
Bottom Ribbing:
The ribbing on this crochet top is optional.
Row 1: Chain 6, sl st in 2nd chain from hook and across. (5 sts)
St st in 2 sts on brim (these count as a turning chain), turn.
Row 2: Skip the two st sts on brim, in blo, sl st 5, turn.
Row 3: Ch 1, in blo, sl st 5, sl st in next 2 sts on the bottom edge, turn.
Repeats for the Bottom Ribbing:
Repeat rows 2-3 along the bottom edge of shirt.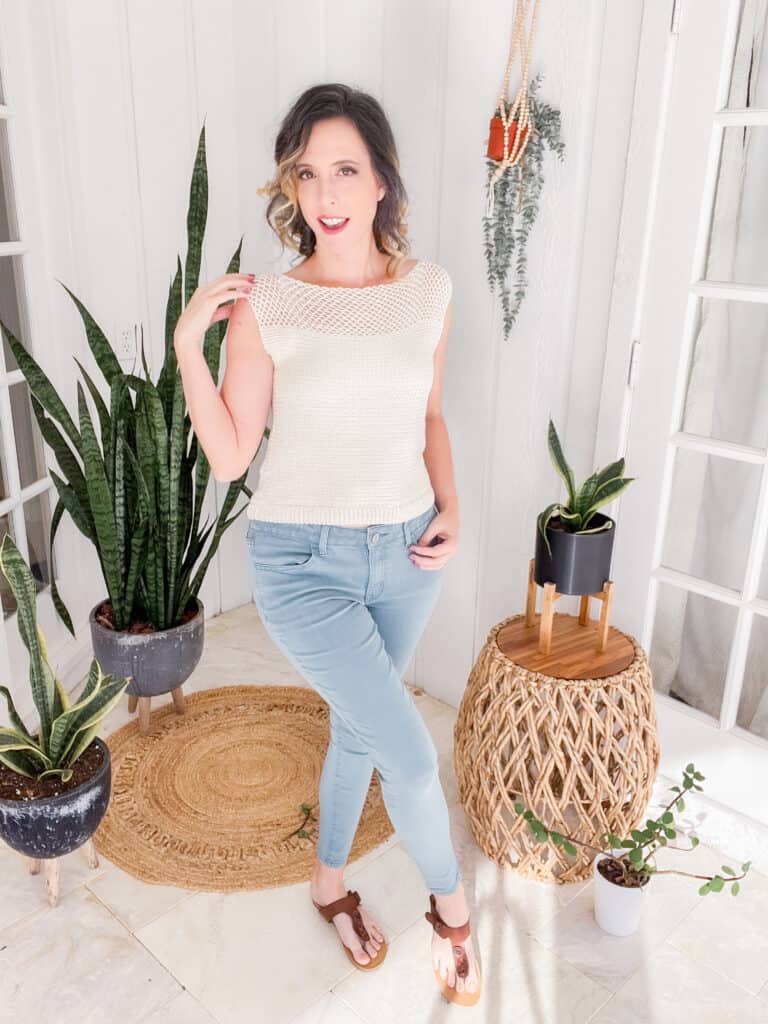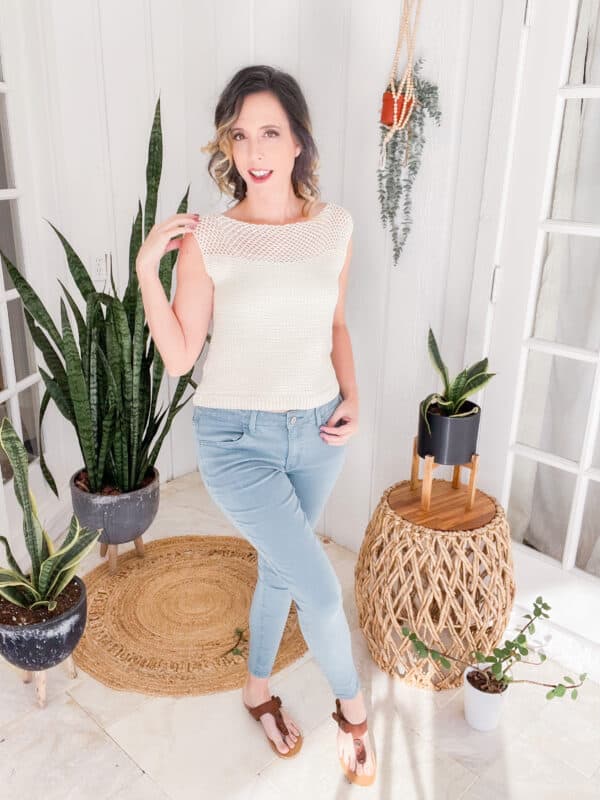 Finishing:
Block both front and back pieces to make seaming easier.
Using the schematic measurements from the notes and the mattress seam, line up each side and seam, leaving the opening for the arms.
And then line up the shoulders of Front and Back, seam the shoulders on each side, leaving an opening for the neck.
The chain stitches may shrink down a little after blocking, so most importantly, measure the head's opening and seam the remainder of the shoulder stitches. Wear and Enjoy!
Share Your Project & Share Pictures!
I really hope you enjoyed working on this project. The best way to make a designer smile is to share what you've made! When it comes to free or premium content, I really rely on you to help me keep designing and supporting my family. Here is how you can make my day:
Share your yarn choice, in-progress, or finished projects on Instagram and use the hashtag #brianakdesigns
Link and share your project on Ravelry. It really helps to have inspirational photos for others.
Join the Briana K Designs Community Group on Facebook and share anything crafty.
Don't Lose This Project! If you aren't ready to start it save it on Pinterest by clicking any of the images above.
This pattern was originally published March of 2021, updated and republished May 2023.