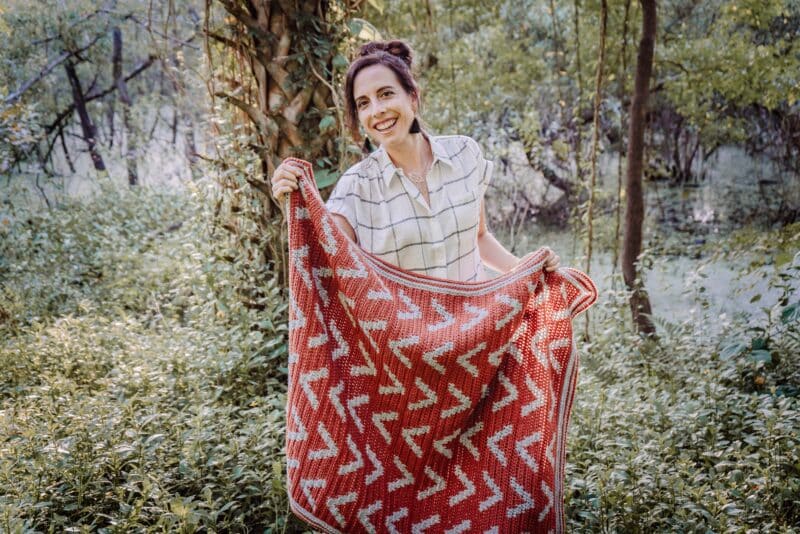 The Arrow Crochet Blanket is great for the crocheter wanting to try colorwork. With its easy stitch repeat and fun design, any crochet level will enjoy this project. This crochet blanket is also easy to adjust to any size. The border is crocheted in a nice modern style with a clean look.
For this crochet blanket, I use WeCrochet Brava Worsted Yarn. This is one of my favorite acrylic yarns that comes in a variety of colors. I can just imagine some of the great combinations, so many to choose from! And it's excellent for customizing your home decor, or for a baby room theme. This one is sure to win at any baby shower.
Continue reading this post for the free crochet pattern. Or visit Ravelry or Etsy for an ad-free downloadable pdf.
---
Where To Purchase My Ad-Free Downloadable PDF's:
---
Do You Love Crochet Blankets?
Crochet blankets are one of the most popular items to make. So if you love this blanket, also check out these other crochet blanket patterns:
Sanibel Crochet Blanket Pattern
Bear Sleeping Bag Blanket Crochet Pattern
You, Me & The Cats (Dogs) Crochet Blanket
The Crochet Honey Bee Blanket Pattern
Garden Fence Free Crochet Blanket
Arrow Crochet Blanket Supplies:
Disclosure: This website may contain affiliate links to cover the cost of publishing my blog and bringing you excellent content. Should you choose to make a purchase, at no additional cost to you, I may earn a small percentage of the sale. Thank you for your support.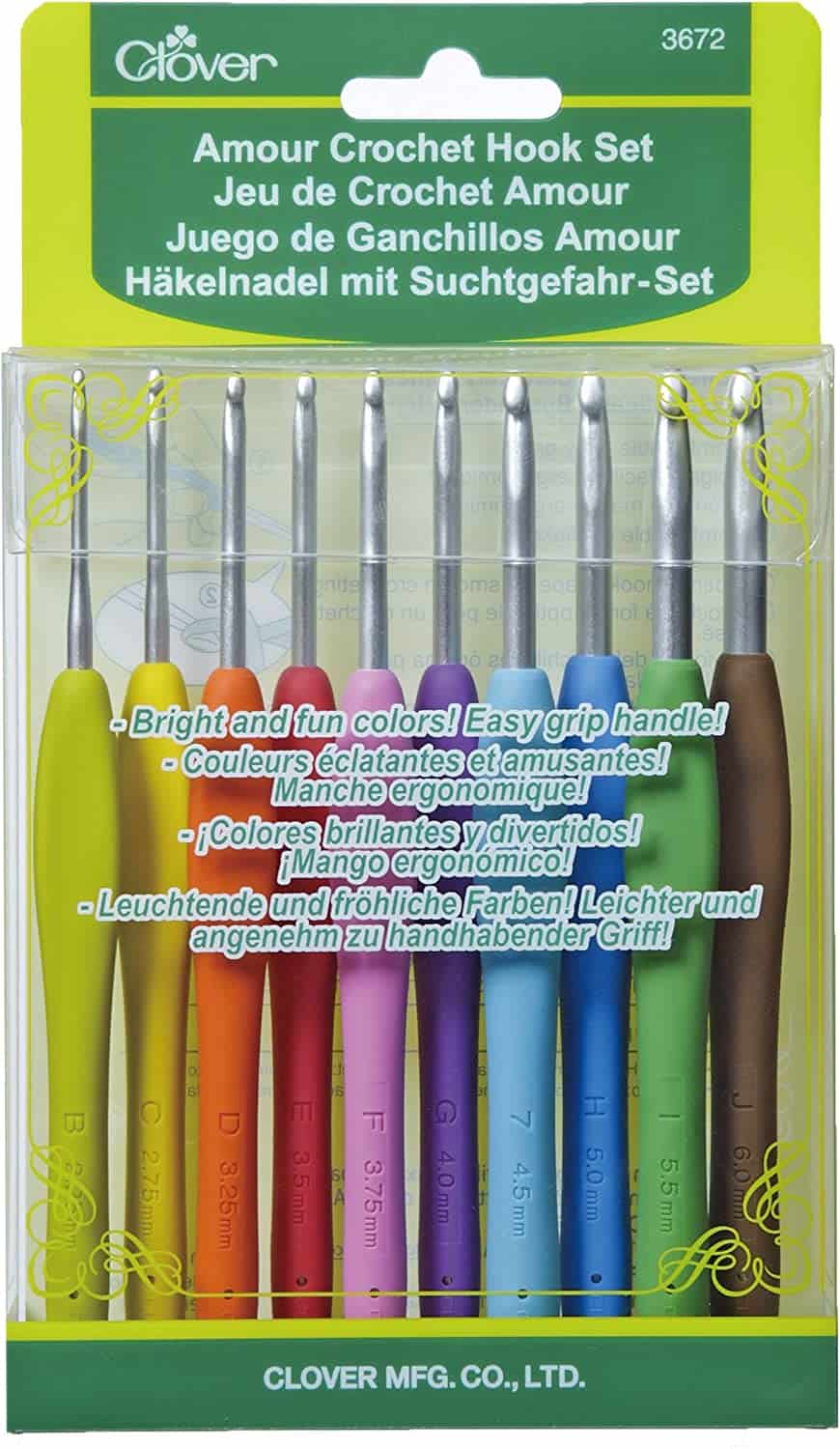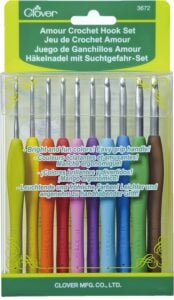 Crochet Hook:
Notions:
Removable stitch markers if needed
Yarn needle to weave in ends
Scissors
Yarn:
100% Premium Acrylic, 218yds/100g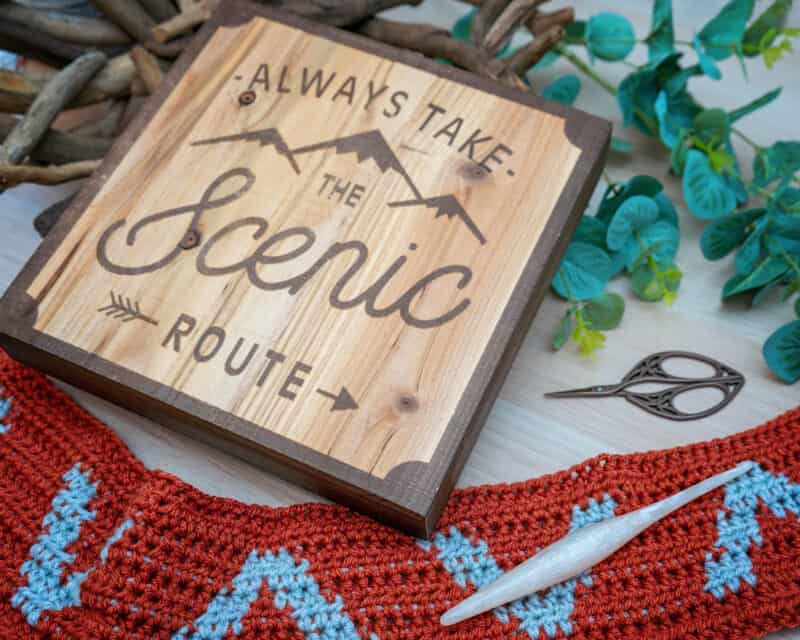 Yardage:
1,300yds (1,189m) total yardage
Main Color: Persimmon 850yds (777m); 4 Balls
Contrast Color: Dove Heather 450yds (413m); 2 Balls
Abbreviations/Stitches:
cc – contrast color
ch – chain
hdc – half double crochet
mc – main color
st(s) – stitch(es)
Stsc – stacked single crochet
Gauge:
13.5 sts and 9.5 rows = 4" (10 cm)
in half double crochet stitch before blocking
Skill Level:
Easy Beginner
Measurements:
Finished Blanket With Border: 32" (81cm) wide 41" (104cm) long
*The border is approx. 1.5 inches thick.
Notes:
The Arrow Crochet Blanket is created by using the tapestry crochet technique in rows.
This technique works with multiple colors in one row or round, but there is less of a need to weave in ends. The yarn colors not in use are worked over by the current color and they will sit within the stitches being worked.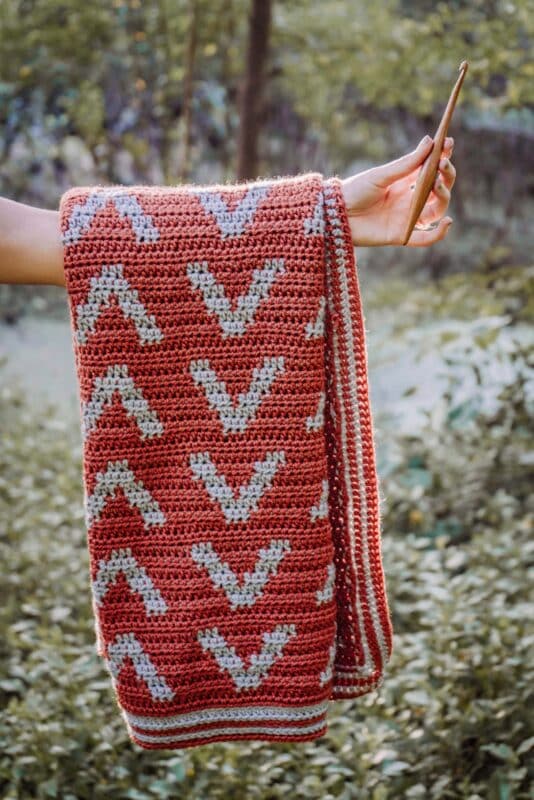 Blanket Edge Video:
To learn more about crochet colorwork and different techniques, visit Ways To Colorwork In Crochet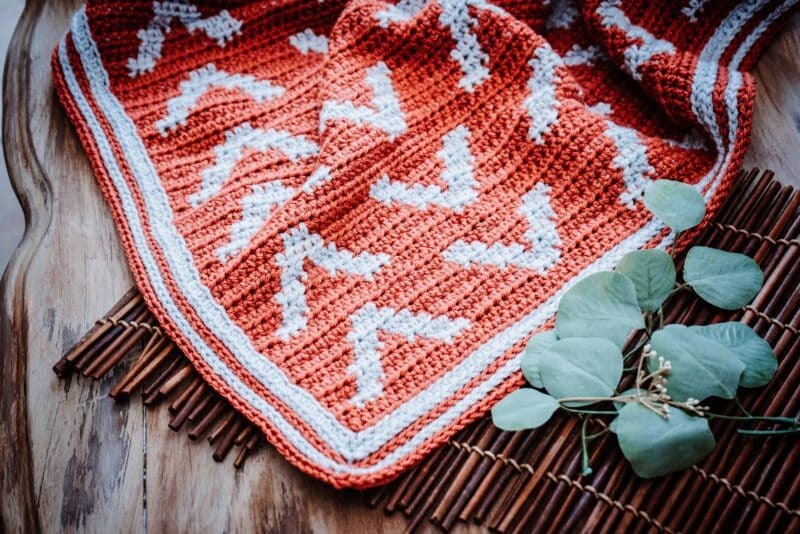 Arrow Crochet Blanket Notes:
This pattern is worked in half double crochet stitches in rows. It can easily be sized by chaining additional width in multiples of 32 and crocheting more rows. Feel free to use the colors in your stash or match your own home decor theme. There is a chart at the end of the pattern to help visually with the color changes. It can also be used to help you plot your own color choices.
The beginning stitch is worked as a stacked single crochet instead of chaining. This counts as a stitch.
More on the Stacked Single Crochet:
Need Help With Colorwork? Check out this post on changing colors: https://brianakdesigns.com/ways-to-colorwork-in-crochet/
Arrow Crochet Blanket Body Pattern:
Row 1(RS): With MC Ch 100, working in the second chain from the hook, hdc in each stitch across, turn. (the stitch count is 99 on every row)
Row 2 (WS): With MC Stsc, hdc across, turn.
Row 3: With MC Stsc, (MC) x 7, (CC) x 3, (MC) x 8, (CC) x 3, (MC) x 7, (CC) x 3, (MC) x 3, turn.
Row 4: With MC Stsc, (MC) x 3, (CC) x 3, (MC) x 5, (CC) x 3, (MC) x 8, (CC) x 5, (MC) x 7, turn.
Row 5: With MC Stsc, (MC) x 5, (CC) x 3, (MC) x 1, (CC) x 3, (MC) x 8, (CC) x 3, (MC) x 3, (CC) x 3, (MC) x 5, turn.
Row 6: With MC Stsc, (MC) x 5, (CC) x 3, (MC) x 1, (CC) x 3, (MC) x 8, (CC) x 3, (MC) x 3, (CC) x 3, (MC) x 5, turn.
Row 7: With MC Stsc, (MC) x 3, (CC) x 3, (MC) x 5, (CC) x 3, (MC) x 8, (CC) x 5, (MC) x 7, turn.
Row 8: With MC Stsc, (MC) x 7, (CC) x 3, (MC) x 8, (CC) x 3, (MC) x 7, (CC) x 3, (MC) x 3, turn.
Repeat Rows 1-8 for 10 more times
Fasten off and weave in ends.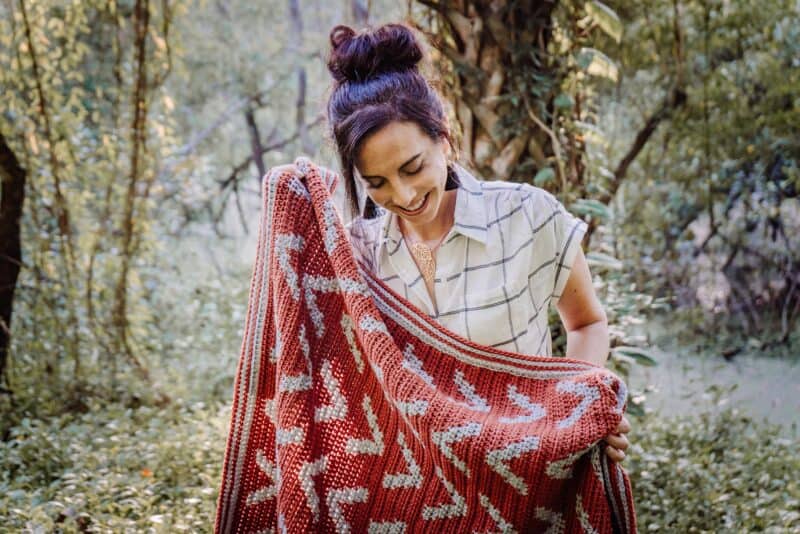 Arrow Crochet Blanket Blanket Edge
Round 1: With CC1 join yarn at the corner of the blanket and sl st around the edge, on corners work a sl st, ch 2, sl st, join.
Round 2: Working in the blo of the slip sts, Stsc, hdc in the third loop until next corner, (hdc, ch 2, hdc) into corner chain space, join.
Switch between CC yarn and MC yarn every other round.
The hdc stitches will always be worked in the third loop for the rest of the blanket edging.
Rounds 3-5: Stsc, hdc in the third loop until next corner, (hdc, ch 2, hdc) into corner chain space, join.
Fasten off and weave in ends. Block blanket to measurements.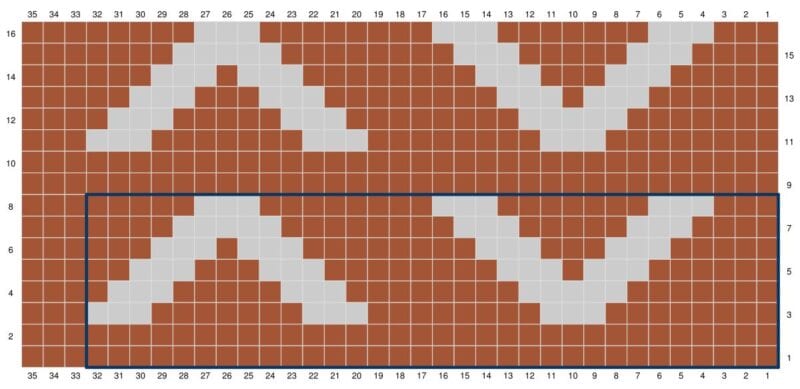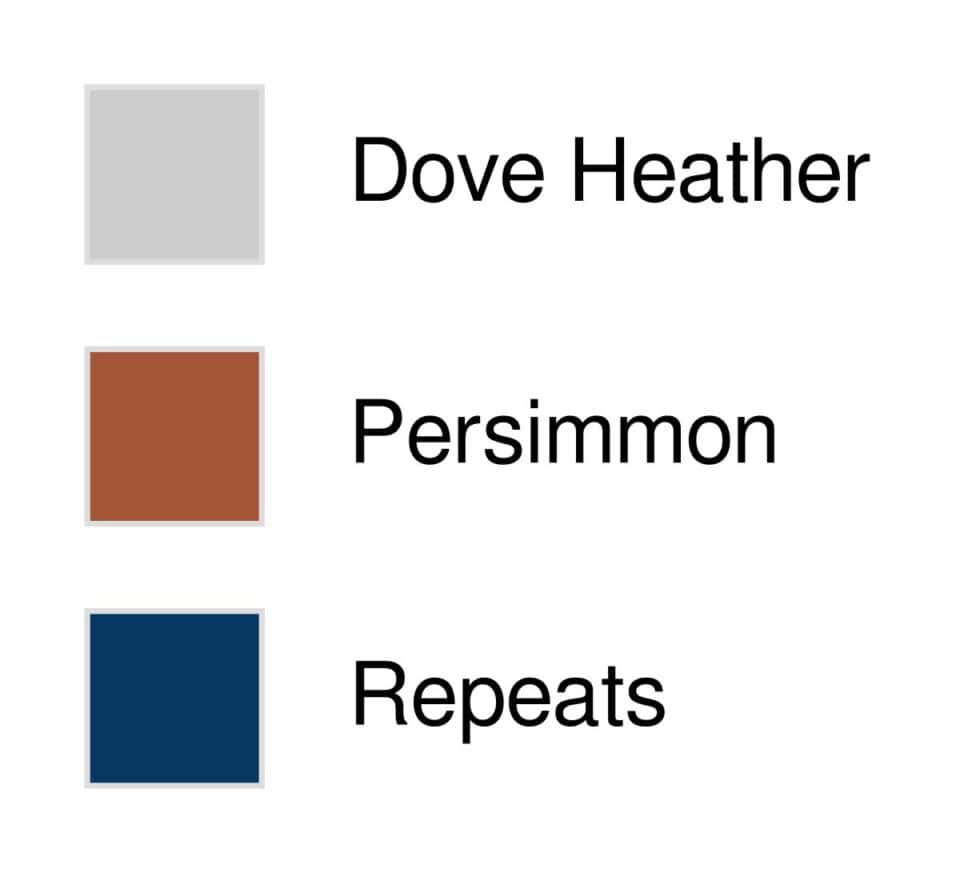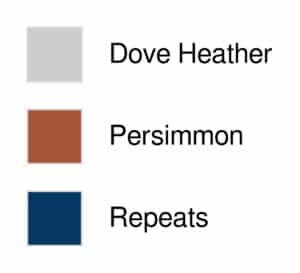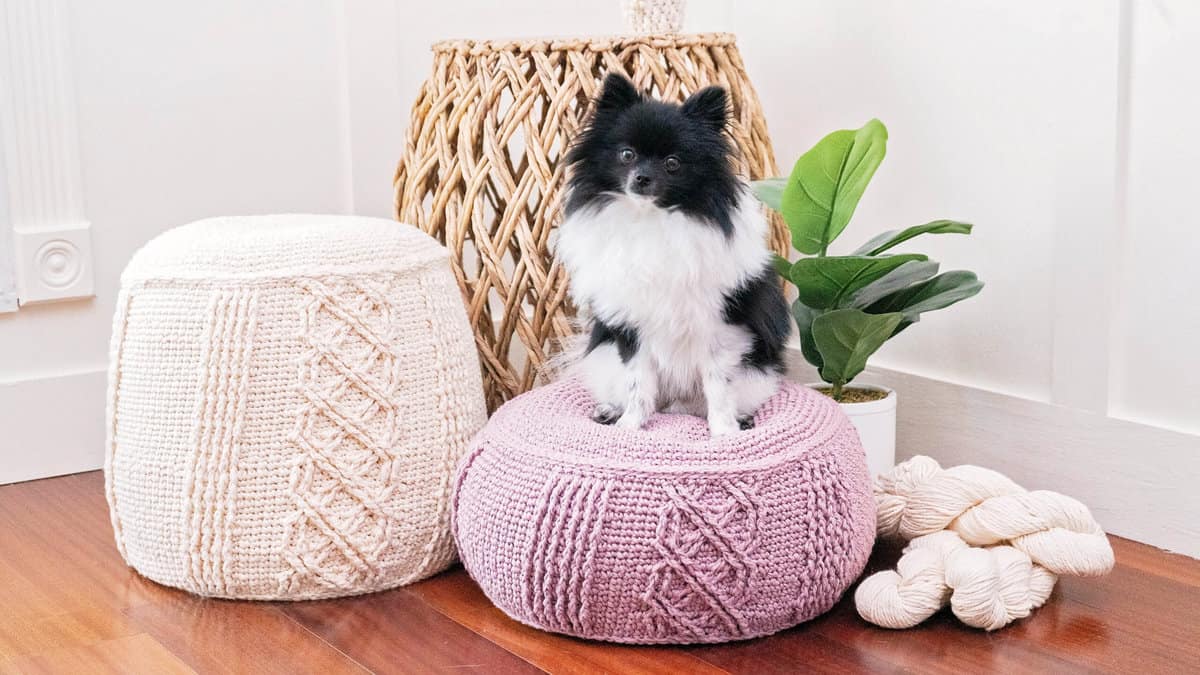 CROCHET & TAG
I hope you have enjoyed making the Arrow Crochet Blanket Pattern!
If you have made this, please share it on social media. Above all, I love to see the projects created with my patterns and also share your beautiful work.
Please use #brianakdesigns or @brianakdesigns
It is much appreciated and adored!
Share Your Project & Share Pictures!
I really hope you enjoyed working on this project. The best way to make a designer smile is to share what you've made! When it comes to free or premium content, I really rely on you to help me keep designing and supporting my family. Here is how you can make my day:
Share your yarn choice, in-progress, or finished projects on Instagram and use the hashtag #brianakdesigns
Link and share your project on Ravelry. It really helps to have inspirational photos for others.
Join the Briana K Designs Community Group on Facebook and share anything crafty.
Don't Lose This Project! If you aren't ready to start it save it on Pinterest by clicking any of the images above.