Cinderella's Knit-Look Crochet Pumpkin Pattern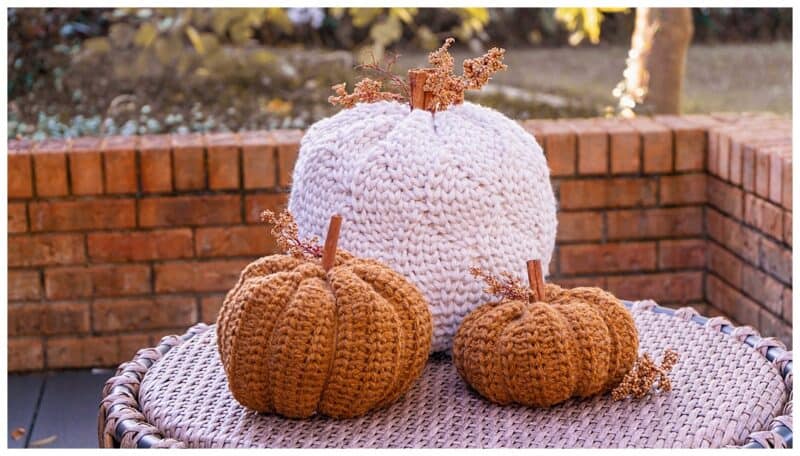 Pattern Hoarder? You are in trouble...
Find the latest fashions and a variety of projects in my shops: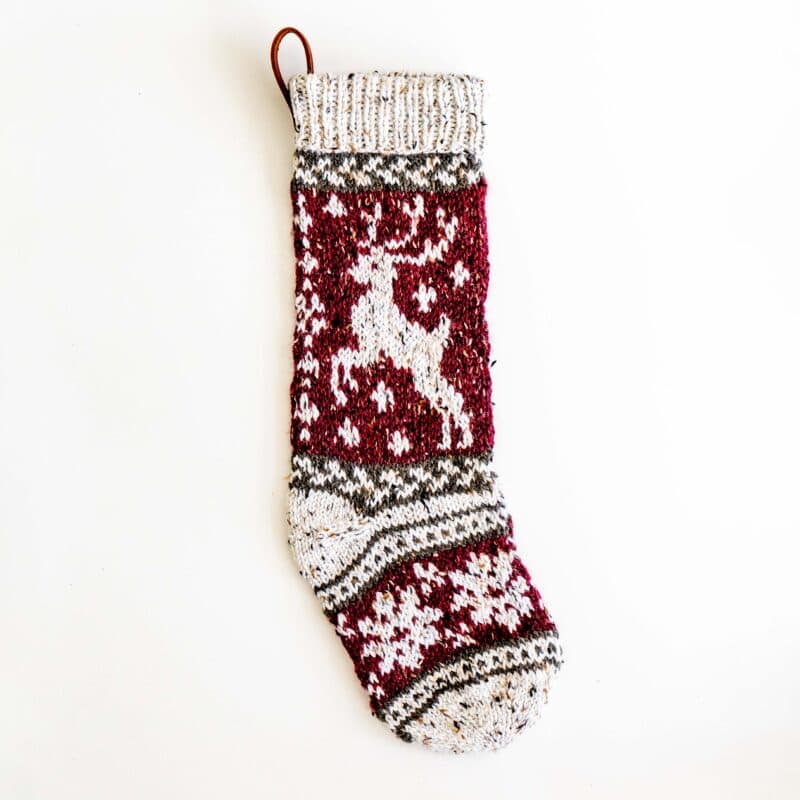 So we may not be turning a pumpkin into a carriage, but with Cinderella's Crochet Pumpkin, we are bringing luxury with these stitches. And the best part? It's a simple stitch repeat in the round with zero tricky short rows.

A knit lace stitch inspires the fabric on this pumpkin. But it's very easy to replicate with stitches you may already know. This pattern is exclusively in the Magical Crochet Stitches Course!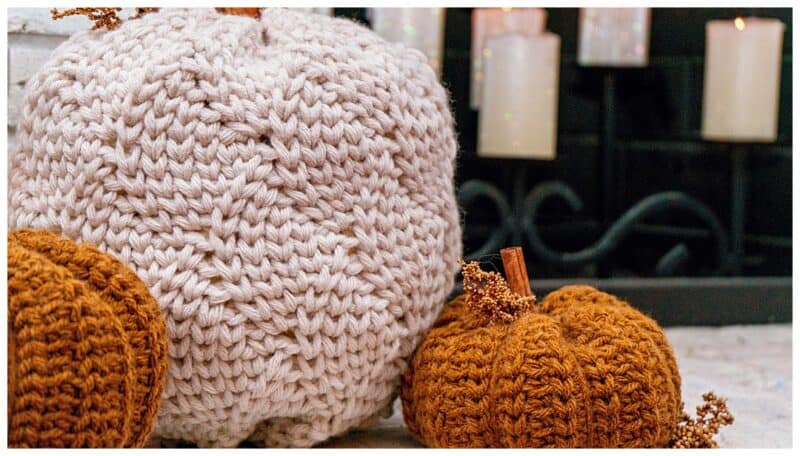 Disclosure: This page may contain affiliate links to cover the cost of publishing my blog and bringing you awesome content. Should you choose to make a purchase, at no additional cost to you, I may earn a small percentage of the sale.
You can now buy a bundle of all the patterns from
the Magical Stitches Course on Etsy; click here!
This Cinderella's Knit-Look Crochet Pumpkin Pattern is now available for purchase outside the Magical Stitches course on Ravelry & Etsy
Unlike Cinderella's pumpkin, this one will stay pretty way past midnight. It's great to pair with the Knit-Purl Crochet Pumpkins, which is also a great way to practice learning the split single crochet stitch.
It is so beautiful how the special combination of these easy crochet stitches creates a swirling fabric.
How are these crochet stitches made?
The stitches for this crocheted pumpkin and all the other patterns in the Magical Crochet Stitches Course are a strategic use of simple stitches you already know. It's nothing tricky, and it can be worked in the round. This means that with a big hook and bulky yarn, the Cinderella's Crochet Pumpkin can be worked up in as little as one evening.
This is a gorgeous home decor crochet piece that can be used for Halloween, Thanksgiving, and fall home decor.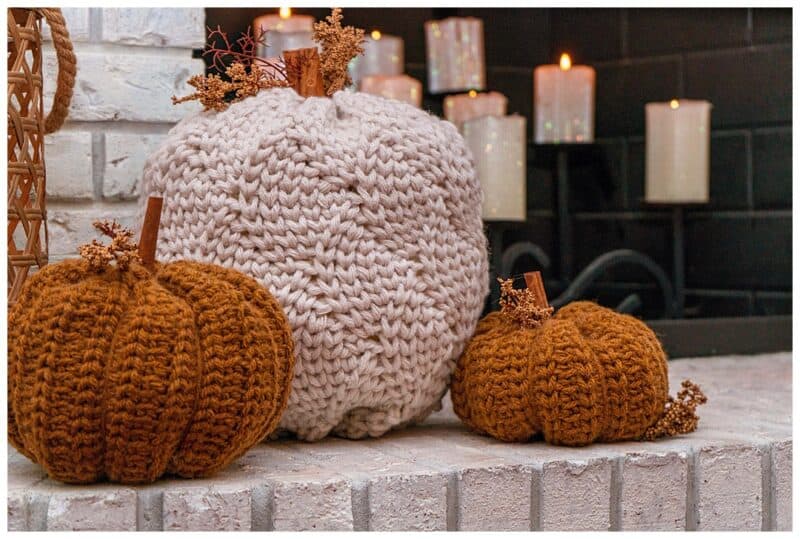 Want even more fall-themed crochet patterns?
Check out the many fall-themed patterns on my blog; here are just a few.
Pumpkin Knit & Crochet Mug Rug
Harvest Crochet Pillow
Hello Pumpkin Crochet Pillow
Pumpkin Hooded Crochet Cowl
Fall Skies & Apple Pies
Cinderella's Crochet Pumpkin Supplies:
Cinderella's Crochet Pumpkin Notes:
Crochet Video Support:
The stitches for this pumpkin are shown in the repeat of the Happily Every After Clutch Body
Special Stitches:
Split Single Crochet (ssc), also known as the waistcoat stitch.
This stitch is worked as single crochet but where the hook is inserted is the only difference. The hook
will be inserted between the 'V' of the stitch.

Insert hook between the legs of the stitch (on the back of the work, the hook should be under the horizontal bar and between the upside-down 'V' shape as well), yarn over, pull up a loop to the height of a single crochet, yarn over, pull through both loops on hook. Keep your hands loose and comfortable. If your hands start to hurt, then the tension of the stitch is too tight. When entering the stitch, pull up the loop a bit more than you normally would; it will give the 'V' more space for the next round and make working the ssc comfortable.

Note on Adjusting:
The instructions are for a larger pumpkin, but this can be adjusted for width and height. The starting chains are in multiples of 6, and the row repeat can be done until the desired size. Create your custom magical pumpkin!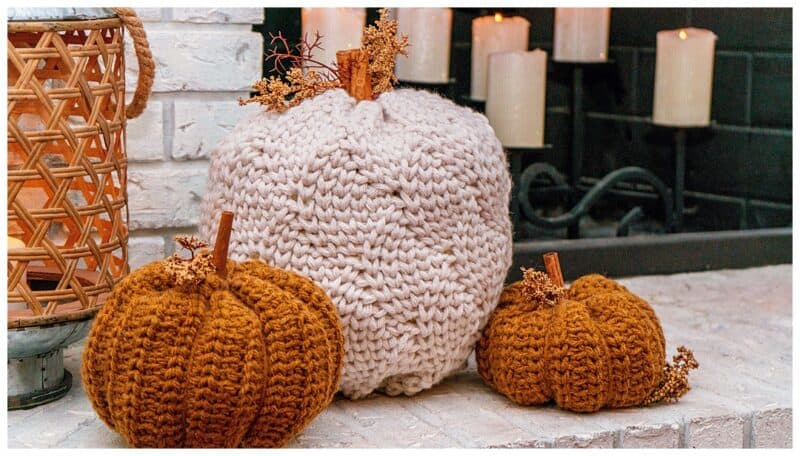 Share Your Project & Share Pictures!
I really hope you enjoyed the Cinderella's Crochet Pumpkin Post and that you are considering joining the Magical Crochet Stitches! The best way to make a designer smile is to share what you've made! When it comes to free or premium content, I really rely on you to help me keep designing and supporting my family. Here is how you can make my day:
Share your yarn choice, in-progress, or finished projects on Instagram and use the hashtag #brianakdesigns
Link and share your project on Ravelry. It really helps to have inspirational photos for others.
Join the Briana K Designs Community Group on Facebook and share anything crafty.
Don't Lose This Project! If you aren't ready to start it save it on Pinterest by clicking any of the images above.