Macchiato Sweater & Beanie Crochet Pattern

I think the Macchiato Sweater & Beanie Crochet Patterns might be one of my all-time favorite sets.
I mean, Mommy and Me sweater and beanie sets are just precious, right? If you are looking for a fall family photo sweater, this is it. How adorable would this crochet sweater be for those Christmas cards? So if you want to crochet a sweater or beanie for this season but are a little nervous, don't worry, I've got you. The Macchiato Sweater & Hat Crochet Patterns come with video tutorials.
---
Where To Purchase My Ad-Free Downloadable PDF's:
---
How To Purchase the Macchiato Patterns:
Adult Macchiato Crochet Sweater Pattern:
Purchase the Adult Pattern on WeCrochet: https://www.crochet.com/macchiato-sweater/g/17929220
Child Crochet Sweater Pattern:
Do I wish I had a little girl to wear this Macchiato Crochet Sweater? Yes, yes, I do, lol. So if you have a little one to crochet a sweater for, your own or someone else, I envy you. However, I did meet an adorable little girl in our neighborhood who was so shy and sweet. So until my sister gives me a niece (hey sis, for real if you are reading this), then I will have to borrow the neighborhood children.
The Adult size crochet pattern is available in size x-small to plus size 5x.
Have you ever wondered what it would be like to snuggle up with a cloud? No more wondering with this soft textured sweater, it's as cozy as it looks. The Macchiato Sweater is worked as a yoke sweater in one piece from the top down. The puff stitch rows in the yoke add a soft wreath like detail. The stitches are reminiscent of the puffy cream in coffee a barista turns into a piece of art.
Macchiato Crochet Sweater Video Tutorial:
And a Macchiato Beanie to Top it Off
Just like I like a full cup of coffee, I felt a Macchiato Beanie in Baby to Adult sizes would top off this set perfectly. Wear it with one pompom or even two! The beanie works up fast so it's a great one for gifts or the marketplace. Learn how to crochet this beanie with the written pattern and video tutorial below.
Macchiato Beanie Video Tutorial:
Supplies for the Macchiato Sweaters and Beanie:
Crochet Hook:
Notions:
Removable stitch marker
Yarn needle to weave in ends
Scissors
Pompom or Make Your Own, Click HERE
Yarn:
Wonderfluff Bulky (5 Weight) in Finley Heather by WeCrochet,
Bulky Weight Yarn
Yardage:
Macchiato Adult Sweater:
X-Small: 825 yds (754m)
Small: 850 yds (137m)
Medium: 950 yds (868m)
Large: 1,125 (1,029m)
1X: 1,225 (1,120m)
2X: 1,350 (1,234m)
3X: 1,475 (1,349m)
4X: 1,600 (1,463m)
5X: 1,800 (1,646m)
Macchiato Child Sweater:
1 Year: 300 yds (275m)
2 Year: 450 yds (411m)
4 Year: 500 yds (457m)
6 Year: 600 yds (548m)
8 Year: 700 yds (640m)
10/12 Years: 800 yds (731m)
14/16 Years: 850 yds (777m)
Macchiato Beanie:
Baby: 80 yds (73 m)
Toddler: 90 yds (82 m)
Child: 100 yds (91 m)
Teen: 115 yds (105 m)
Adult: 125 yds (114 m)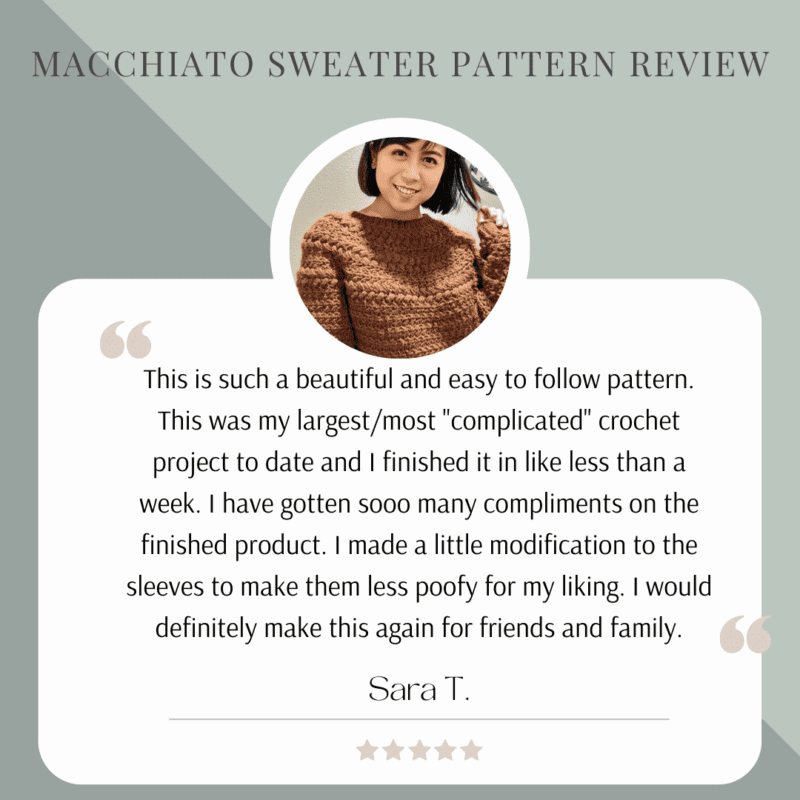 Errata for Macchiato Sweater Size Small
For Rnd 16: Size small stitch count it 186.
For Rnd 17 and 18: Size small work in sts pattern without increasing.
Separate Body and Sleeves:
Rnd 1: Turn and ch 1, work in est st pattern for 48 (49, 58, 65, 72, 76, 82, 87, 93)sts, ch 8 (8, 6, 8, 8, 8, 8, 10, 10) for underarm sleeve, skip 42 (44, 48, 48, 48, 52, 52, 54, 54) sts for arm*; repeat from * to * one more time, join.
Body:
Rnd 1: Turn and ch 1, work in est st pattern 112 (114, 128, 146, 160, 168, 180, 194, 206) around body stitches including the chains under the arms, join.
Rnd 2: Turn and ch 1, work in est st pattern 112 (114, 128, 146, 160, 168, 180, 194, 206) around body stitches, join.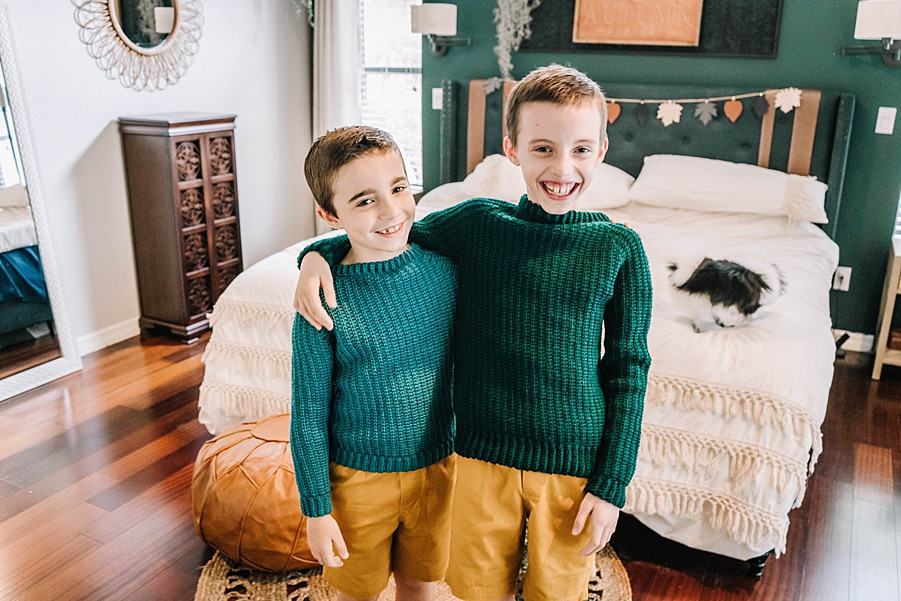 CROCHET & TAG
I hope you have enjoyed making the Macchiato Sweater & Beanie Crochet Pattern!
If you have made this, of course, I would love to see it! Above all, I love to see the projects created with my patterns and also share your beautiful work.
Please use #brianakdesigns or @brianakdesigns

Well That Was Fun! What's Next?