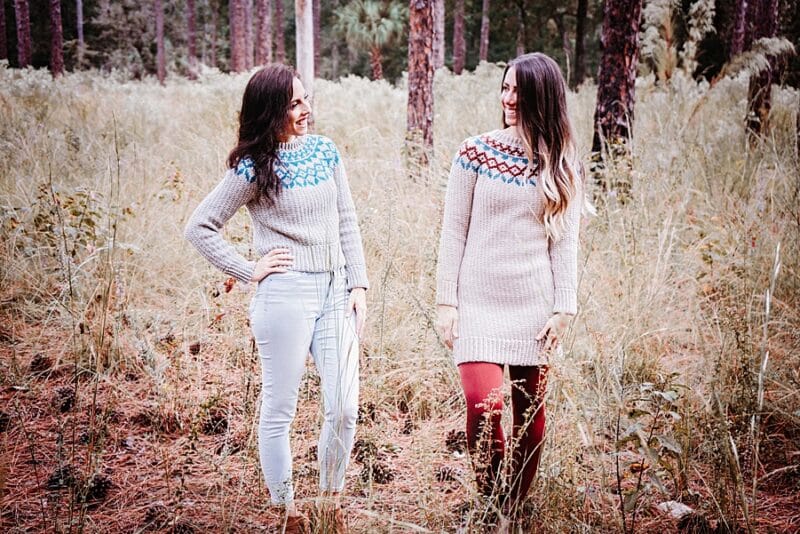 Crochet Arizona Sweater Dress Pattern with Fair Isle Accent: The Reasons Why You'll Love This Piece
When it's cold outside, there's nothing better than a crochet sweater to keep you warm, and even better, a crochet sweater dress. From light to heavy, crocheted sweaters can be worn for any occasion. It is perfect for those chilly fall days and late summer nights. You can use it as a layering piece, or wear it on its own with boots and a pashmina scarf. Plus, it's so versatile and will be your best friend all winter long!
---
Where To Purchase My Ad-Free Downloadable PDF's:
---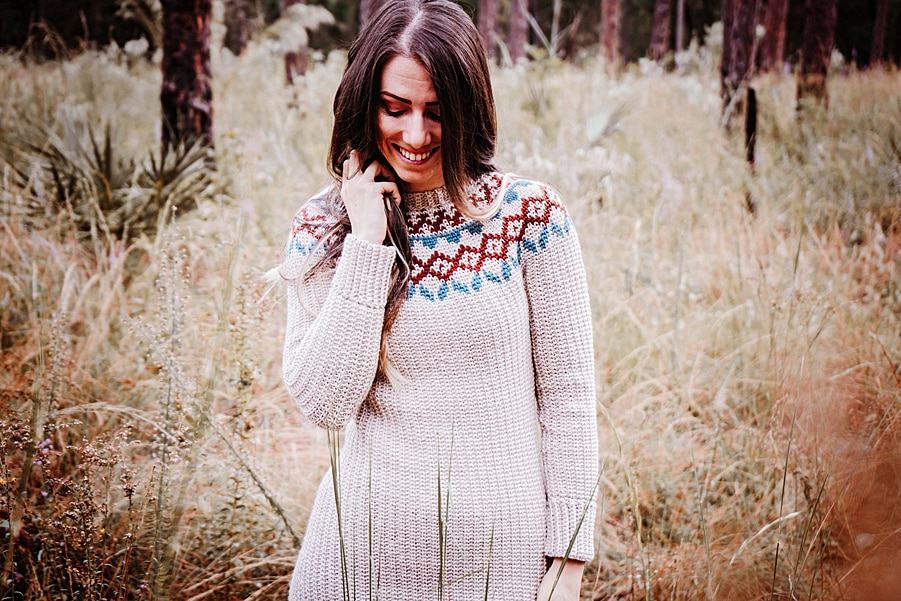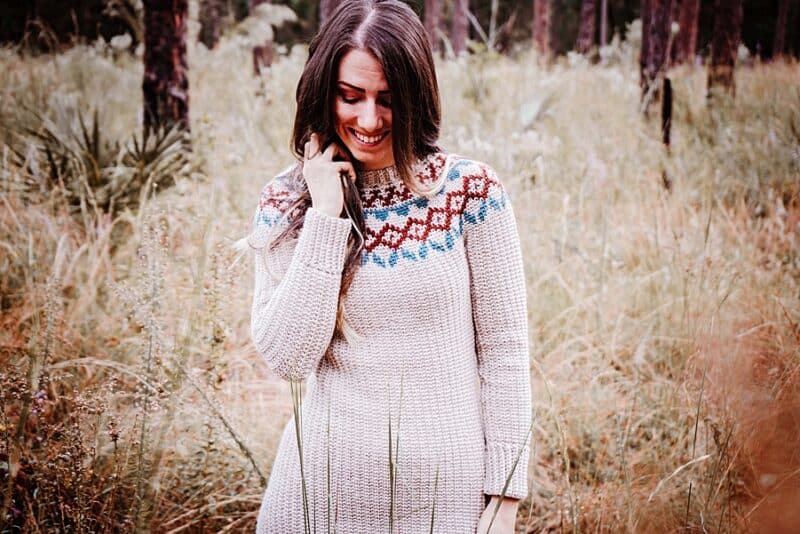 Crochet Dress or Sweater? You choose!
For this pattern, we will make a dress with long sleeves, but it is easily adaptable to be short sleeves as well. Best of all, the crochet sweater dress is worked from top-down, so it's easy to try on as you go, and the length is easy to adjust.
This crochet pattern is easily adapted to a crochet sweater instead of a dress by simply doing fewer body repeats. The colors and shapes from out west inspired the Arizona Sweater Dress Crochet Pattern and its unique style.
Where to Purchase the Pattern:
This pattern is available on Ravelry and Etsy as a pdf download.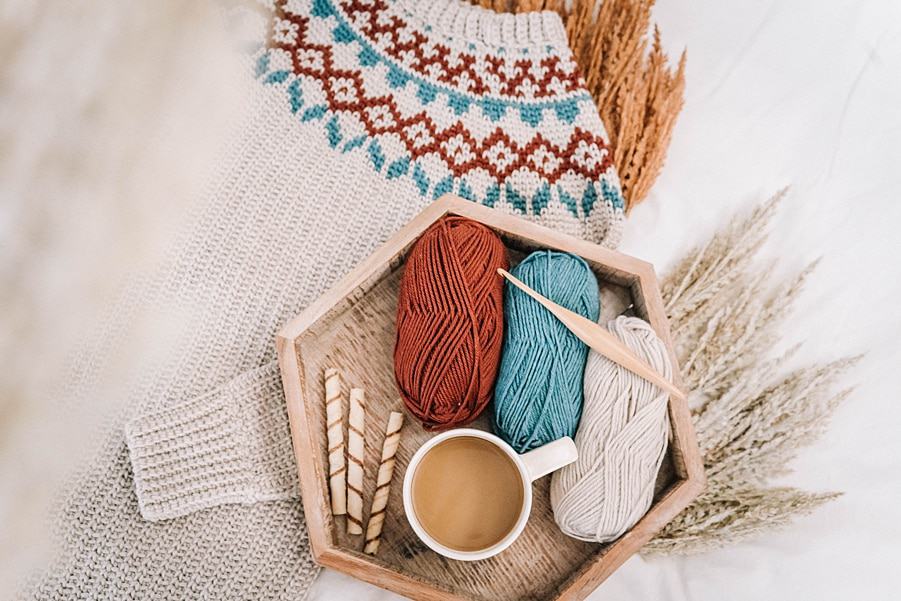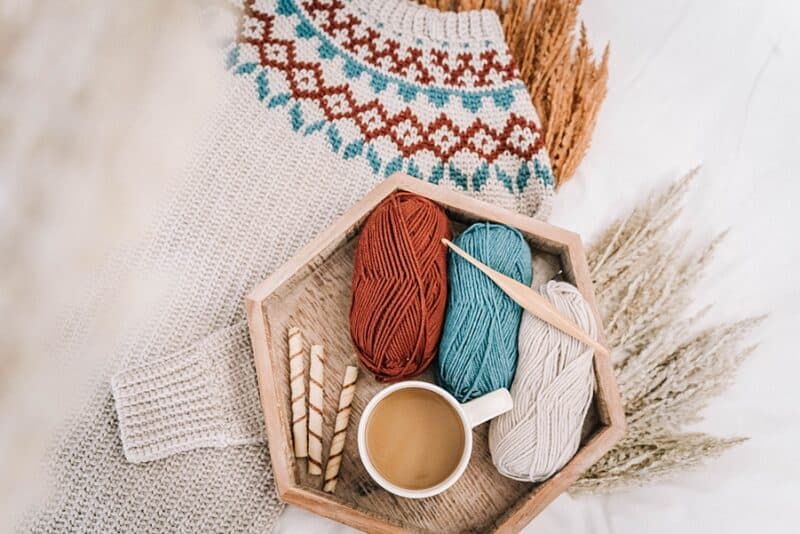 How to chose the right yarn and substitutes:
Yarn is the backbone of any crochet piece. It can make or break your project. As you are looking to buy yarn, there are a few things to keep in mind that will help you make the right decision.
Consider the fiber that's best for you.
The first thing to consider is what weight of yarn should I choose? Pick a yarn that is appropriate for the size and type of project you are working on, but also pick one that has enough yardage for your project. For this project, I used the worsted weight Swish Yarn from WeCrochet.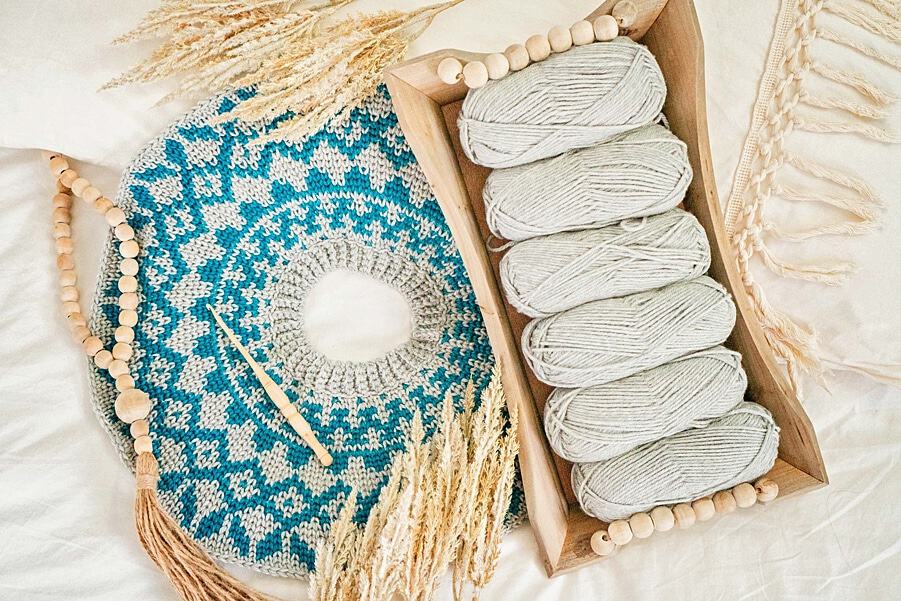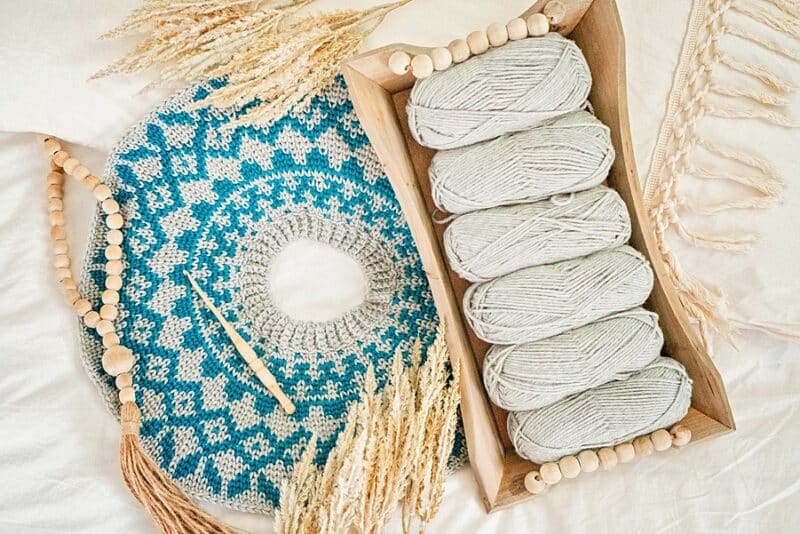 The second thing to consider is fiber content. Why does fiber content matter? Because it will affect the look, feel, drape, and warmth of your finished product. For example, if you're looking for something elegant and drapey then cotton may be a good choice but if you are looking for something cozy then wool or acrylic would be better. Consider what season you will be wearing your crochet sweater dress.
For the cooler months, I love using merino wool. Not only does this fiber offer warmth and insulation, but it also has anti-static properties and transports moisture. Think of it as nature's moisture-wicking technology.
Here is a list of recommended substitutes if you are allergic to wool or would like other options:
Brava Worsted (100% Premium Acrylic, 218 yds, 100g)
Wool of the Andes Worsted (100% Peruvian Highland Wool)
Wool of the Andes Superwash (100% Superwash Wool)
Shine Worsted (60% Pima Cotton, 40% Modal® natural beechwood fiber)
Comfy Color Mist (75% Pima Cotton, 25% Acrylic)
Lion Brand Vanna's Choice (100% Acrylic)
About the Crochet Techniques Used:
The knit-look crochet stitches in this pattern are the Split Single Crochet (ssc) and crocheting single crochet in the back loop only. Both are fun and easy crochet stitches with beautiful results.
This sweater uses fair isle colorwork. What is fair isle crochet? It's a method of carrying the yarn on the back of your work to keep the drape of the fabric flexible and keep the yarn not in use from disrupting the changes in color. Read more about crochet colorwork here.
Want Even More Crochet Colorwork Patterns? Check out these:
Arizona Sweater Dress Crochet Pattern Supplies:
Crochet Hook:
Notions:
Removable stitch markers if needed
Yarn needle to weave in ends
Scissors
Yarn:
WeCrochet Swish Worsted Weight
100% Fine Superwash Merino Wool, 110yds/50g
Colorways:
Nutmeg Heather (Color A)
15 (16, 16, 17, 18) (19, 21, 22, 23) Balls for dress
7 (7, 8, 9, 11) (13, 15, 16, 17) Balls for sweater
Estuary Heather (Color B)
1 Ball for all sizes
Copper (Color C)
1 (1, 1, 1, 1) (2, 2, 2, 2)
Yardage for Sweater Dress (decrease by 25% for sweater):
Extra Small: 1,650yds (1,143m)
Small: 1,725yds (1,188m)
Medium: 1,800yds (1,257m)
Large: 1,900yds (1,325m)
1X: 1,950yds (1,395m)
2X: 2,100yds (1,509m)
3X: 2,300yds (1,646m)
4X: 2,500 (1,783m)
5X: 2,700 (2,011m)
Abbreviations/Stitches:
blo -back loop only
ch -chain
est st pat – established stitch pattern
flo -front loop only
sc – single crochet
sc3tog – single crochet three sts together
ssc – split single crochet
st(s) -stitch(es)
Gauge:
14 sts by 16 rows = 4×4" in ssc sts
Skill Level:
Intermediate
Size/Measurements:
Finished Bust Sizes
Extra Small: 32" (81 cm)
Small: 36" (91 cm)
Medium: 40" (102 cm)
Large: 44" (112 cm)
1X: 48" (122 cm)
2X: 52" (132 cm)
3X: 56" (142 cm)
*This garment has approx.
4" (10 cm) of ease and is a fitted garment. It's best to go by your bust size as more or less stitches can be added for the body and hips.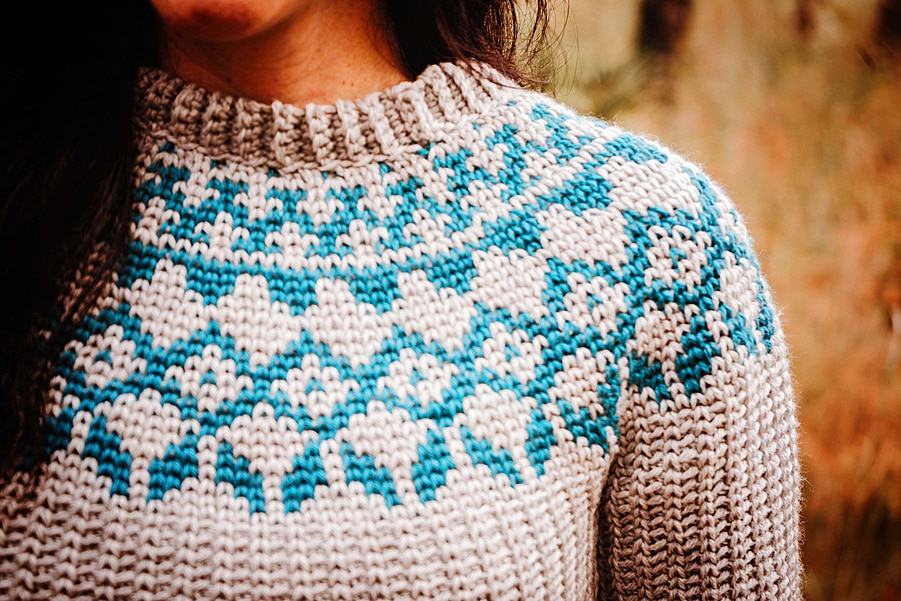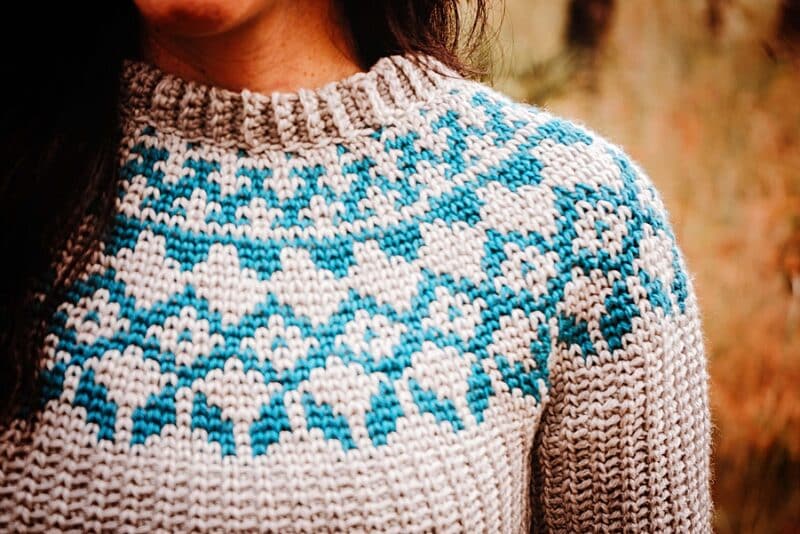 Arizona Sweater Dress Notes:
Sizes are written as: xs (s, m, l, 1x) (2x, 3x, 4x, 5x) and measurements include 4 inches of ease. There are two types of colorwork charts to work from, one with sample colors and the others with letters so you can fill in your colors of choice with pencils or crayons.
Errata:
For sizes (2x, 4x, 5x) increase (2, 18, 18) sts evenly,
blo sc 1, ssc 1; repeat from * to * around.
Yardage needed for a sweater:
1,250yds (1,300; 1,375; 1,450; 1,525) (1,650; 1,800; 1,950; 2,200)
Constructions for the sweater or dress:
This sweater dress is worked in a top-down seamless yoke style with fair isle colorwork. The body and length of the sweater are worked continuously without joining. It is important to place a stitch marker at the beginning of the round to keep track of rounds.
When doing the colorwork the yarn will be carried along the back in the fair isle style. Try to not carry a color for more than 3 stitches so your floats aren't too long. You can catch/trap the yarn behind a stitch to keep the floats consistent. To read more about colorwork please visit: https://brianakdesigns.com/ways-to-colorwork-in-crochet/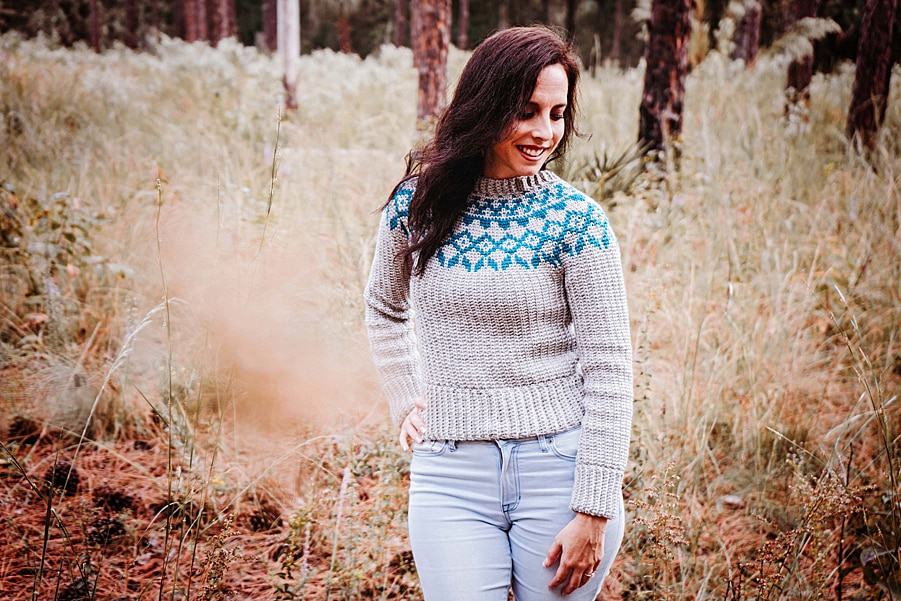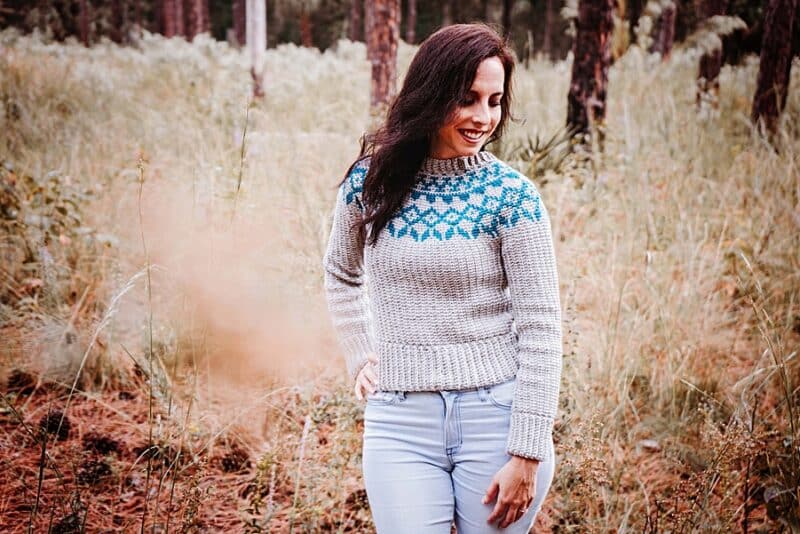 Special Stitches:
Split Single Crochet (ssc), also known as the waistcoat stitch: https://brianakdesigns.com/split-single-crochet-round-flat/
Increasing Colorwork Part of Yoke: When the pattern says to 'increase Color', place 2 ssc into the next stitch. The chart is read from bottom-up and each round from right to left.
Increasing Body: When the pattern says to increase x-amount of stitches around, increase by two stitches at once by placing 3 sc sts into a stitch in the blo or flo stitch pattern (blo sc, flo sc, blo sc) into one stitch. This will help keep the stitch pattern consistent.
Decreasing to Shape: If a fitted sweater is desired, decrease around the waist area by sc3tog on each side of the garment as follows: insert hook into the next ssc, yo and pull a loop, skip the next blo sc sts, insert hook into the next ssc, yo, pull up a loop, yarn over and pull through all of the loops on the hook.
Arizona Sweater Dress Crochet Pattern Video:
This years family photos & tester photos:
I just have to mention how proud I am of this design. I've always wanted to make something I would love to wear in family photos and the right design finally came along. I hope you love this pattern as much as I do.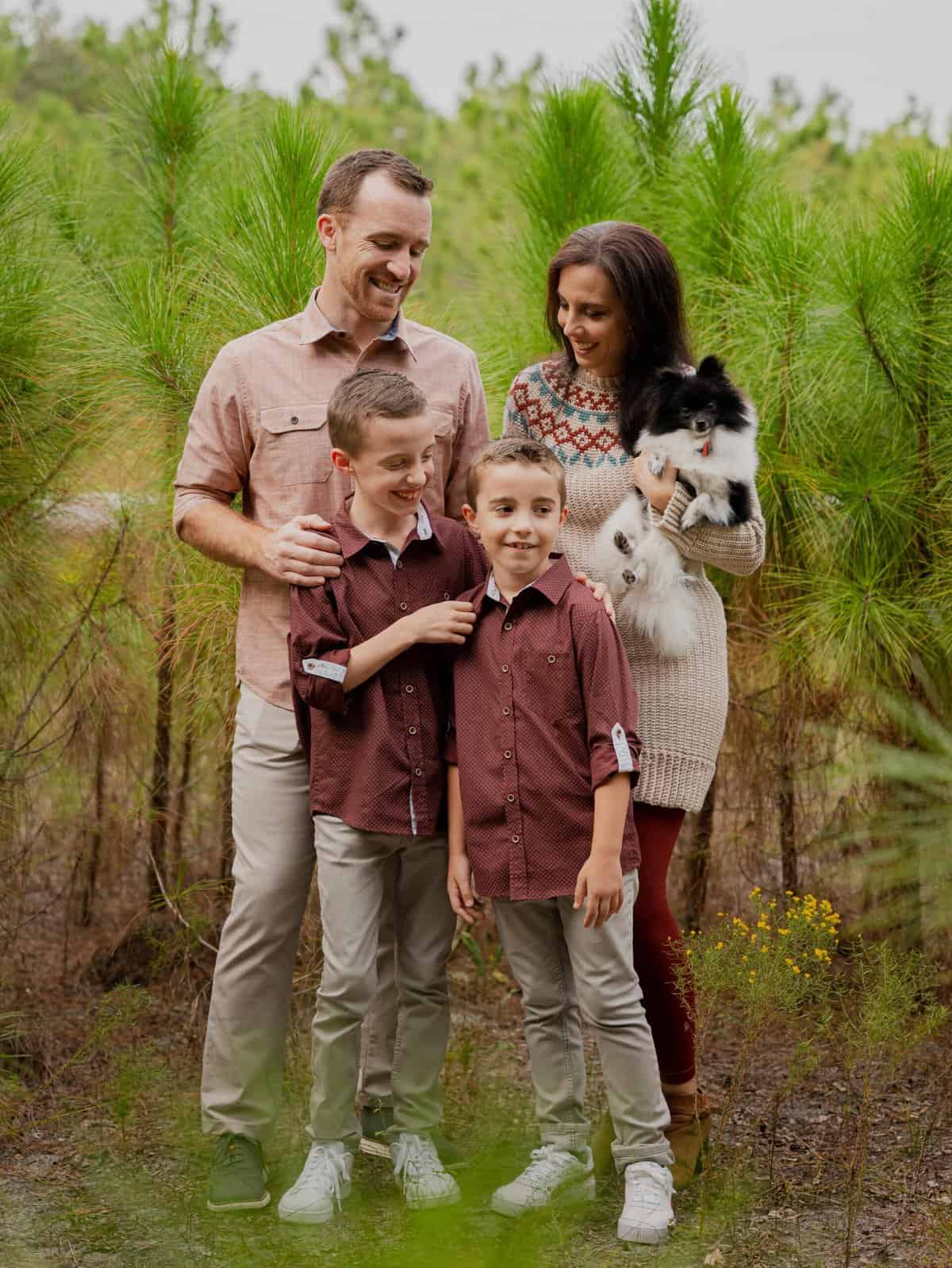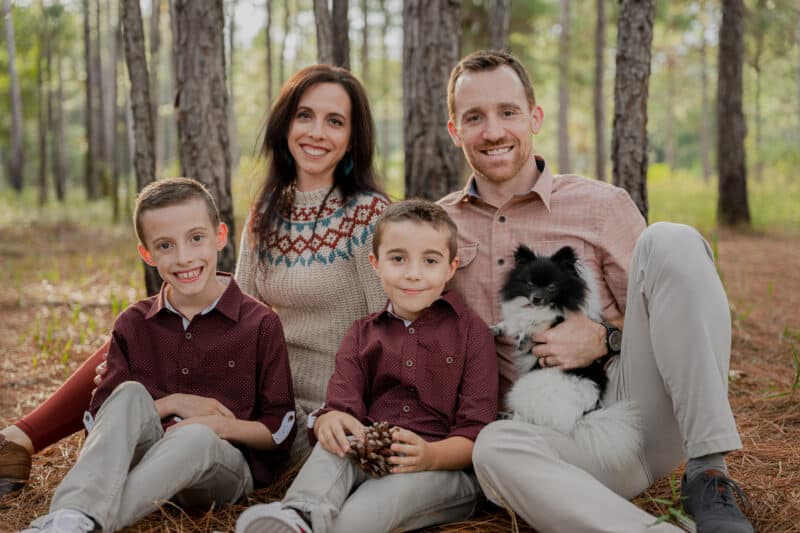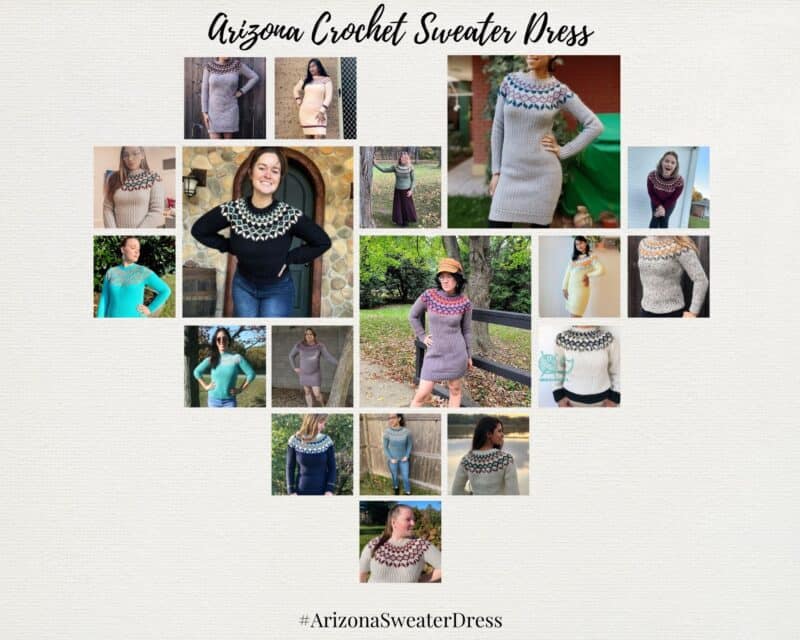 CROCHET & TAG
I hope you have enjoyed making the Arizona Sweater Dress Crochet Pattern!
If you have made this, please share it on social media. Above all, I love to see the projects created with my patterns and also share your beautiful work.
Please use #brianakdesigns or @brianakdesigns
It is much appreciated and adored!
Share Your Project & Share Pictures!
I really hope you enjoyed working on this project. The best way to make a designer smile is to share what you've made! When it comes to free or premium content, I really rely on you to help me keep designing and supporting my family. Here is how you can make my day:
Share your yarn choice, in-progress, or finished projects on Instagram and use the hashtag #brianakdesigns
Link and share your project on Ravelry. It really helps to have inspirational photos for others.
Join the Briana K Designs Community Group on Facebook and share anything crafty.
Don't Lose This Project! If you aren't ready to start it save it on Pinterest by clicking any of the images above.