Explore Exciting Crochet Colorwork with the Gorgeous Pine Sweater Pattern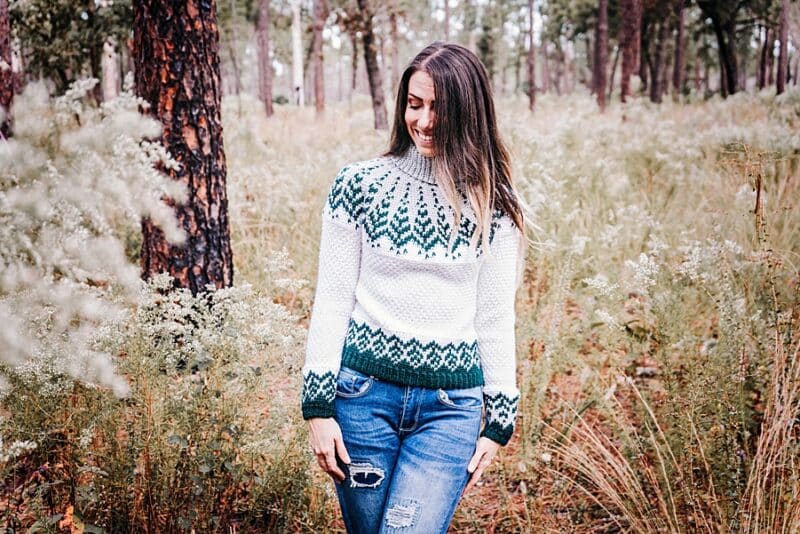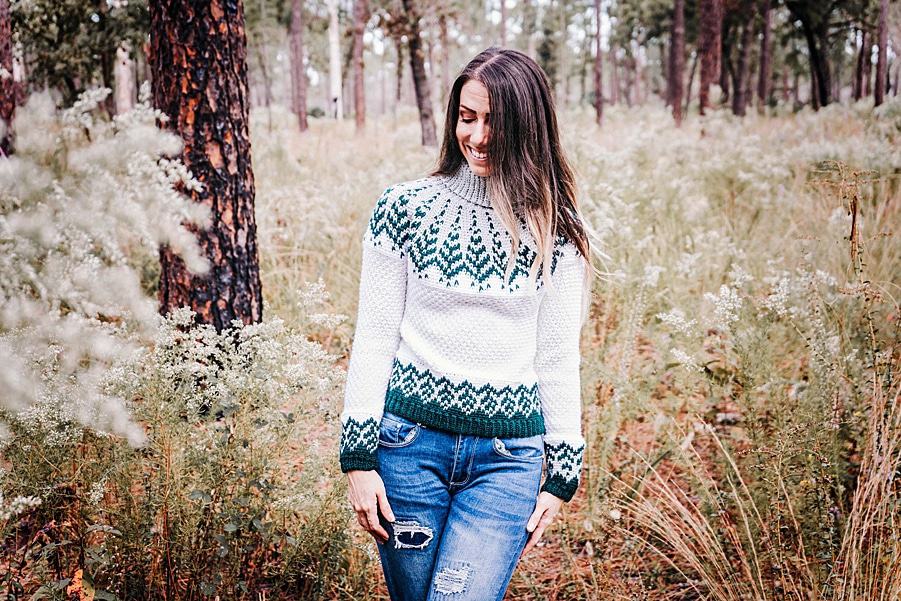 Did you think this was a knit sweater pattern? The Pine Crochet Sweater Pattern is worked entirely with crochet stitches. This top-down, try it on as you go, crochet sweater is entertaining to work up and wear. The modern crochet stitches create a wardrobe piece you will want to wear in fall and winter.
This pattern includes a video tutorial to guide you through the important steps of the Pine Crochet Sweater Pattern. Scroll down to the bottom of this post for the video.
---
Where To Purchase My Ad-Free Downloadable PDF's:
---
Can't Get Enough Crochet Colorwork? Check out these crochet patterns:
About the Yarn & Substitutes:
For the most part, wool is always my first choice for crochet colorwork. Fair Isle crochet takes some time to work up, so I want the best outcome possible. When using wool, it has a memory to each stitch and holds best. It's like getting that really shart look to each pixel of an image.
For the sweater in the YouTube video, I used Wool of the Andes Superwash. It's a fantastic wool yarn for colorwork at a great price. And with a large variety of color choices, it's easy to create your wardrobe palette.
I was a bit shocked at how well Brava Worsted, and acrylic yarn, also worked for this pattern. the colors I chose really popped.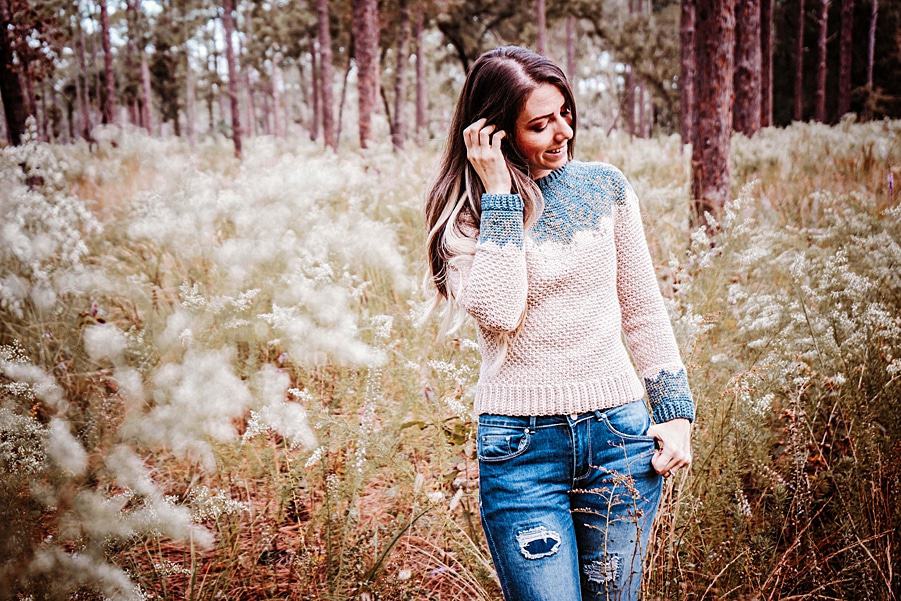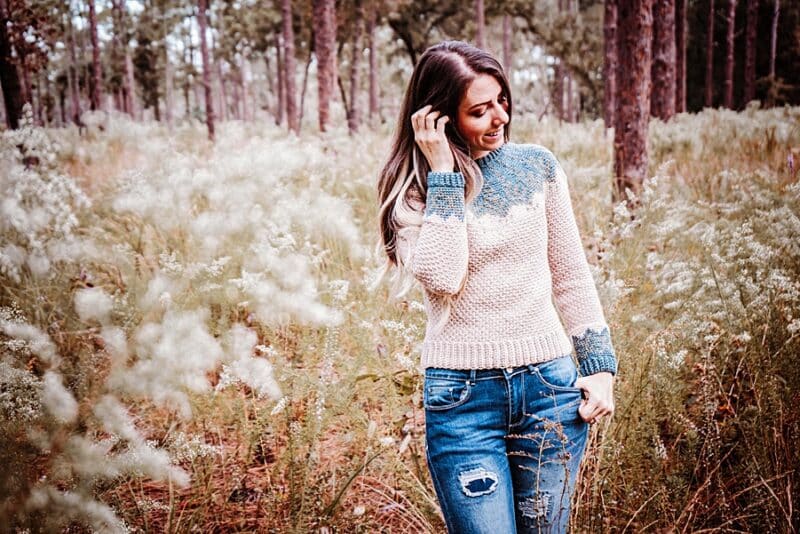 About the Techniques Used:
For this sweater, a crocheter will need to know how to work in the round. The stitches used in this pattern are variations of the single crochet stitch. The bottom texture of this sweater is switching between the back loop only and the front loop only crochet stitches.
The knit-look stitch is the Split Single Crochet Stitch. When working this stitch it's important to pull up the second loop on your hook higher than you would with regular single crochet. Getting the front 'V' some space helps when working it on the next round.
Other Colorwork Patterns You Might Enjoy:
The Traveler Crochet Sweater
Fair Isle Crochet Hat
Bee Fingerless Mittens
Pine Crochet Sweater Pattern Supplies:
Crochet Hook:
H (5.0 mm) Crochet Hook, I (5.5mm) for Slip Stitch Ribbing
Notions:
Removable stitch markers if needed
Yarn needle to weave in ends
Scissors
Yarn:
WeCrochet Wool of the Andes Superwash Worsted Weight, 100% Peruvian Highland Wool, 110 yds/50g in Colorways:
Cadet (Color A)
2 (2, 2, 2, 3) (3, 3, 3, 3) Balls
Pampas Heather (Color B)
2 (2, 2, 2, 3) (3, 3, 3, 3) Balls
Oyster Heather (Color C)
7 (7, 8, 9, 11) (13, 15, 16, 17) Balls
Suggested Substitute: Brava Worsted
Image with Dark Green Colorwork are: Hunter, White, & Dove Heather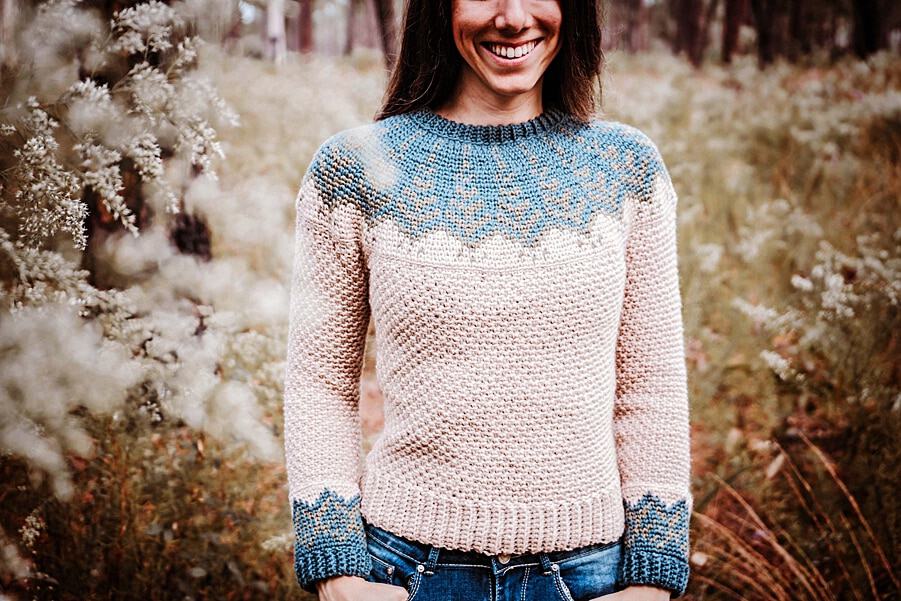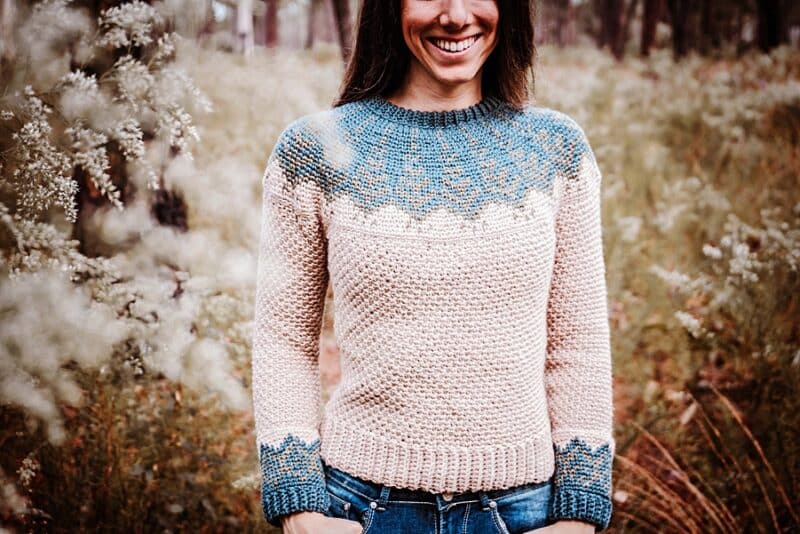 Yardage:
Extra Small: 1,250 yds (1,143m)
Small: 1,300 yds (1,188m)
Medium: 1,375 yds (1,257m)
Large: 1,450 yds (1,325m)
1X: 1,525 yds (1,395m)
2X: 1,650 yds (1,509m)
3X: 1,800 yds (1,646m)
4X: 1,950 yds (1,783m)
5X: 2,200 yds (2,011m)
Abbreviations/Stitches:
blo - back loop only
ch - chain
est st pat - established stitch pattern
flo - front loop only
sc - single crochet
sc3tog - single crochet three sts together
ssc - split single crochet
st(s) - stitch(es)
Gauge:
14 sts by 16 rows = 4x4" in ssc sts
14 sts by 15 rows = 4x4" in est st pat
Skill Level:
Intermediate
Size/Measurements:
Finished Bust Sizes
Extra Small: 32" (81 cm)
Small: 36" (91 cm)
Medium: 40" (102 cm)
Large: 44" (112 cm)
1X: 48" (122 cm)
2X: 52" (132 cm)
3X: 56" (142 cm)
*This garment has approx. 4" (10 cm) of ease.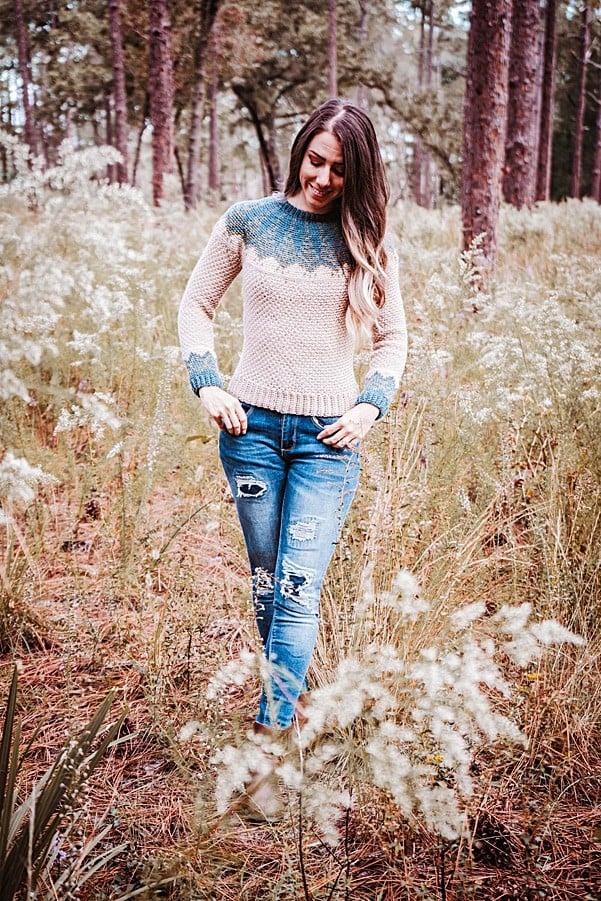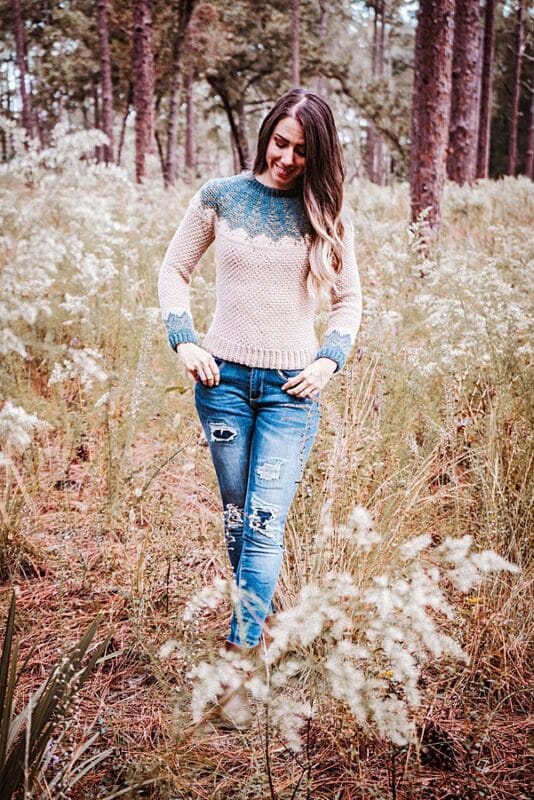 Pine Crochet Sweater Pattern Notes:
Sizes are written as: xs (s, m, l, 1x) (2x, 3x, 4x, 5x) and measurements include 4 inches of ease. There are two types of colorwork charts to work from, one with sample colors and the others with letters so you can fill in your colors of choice with pencils or crayons.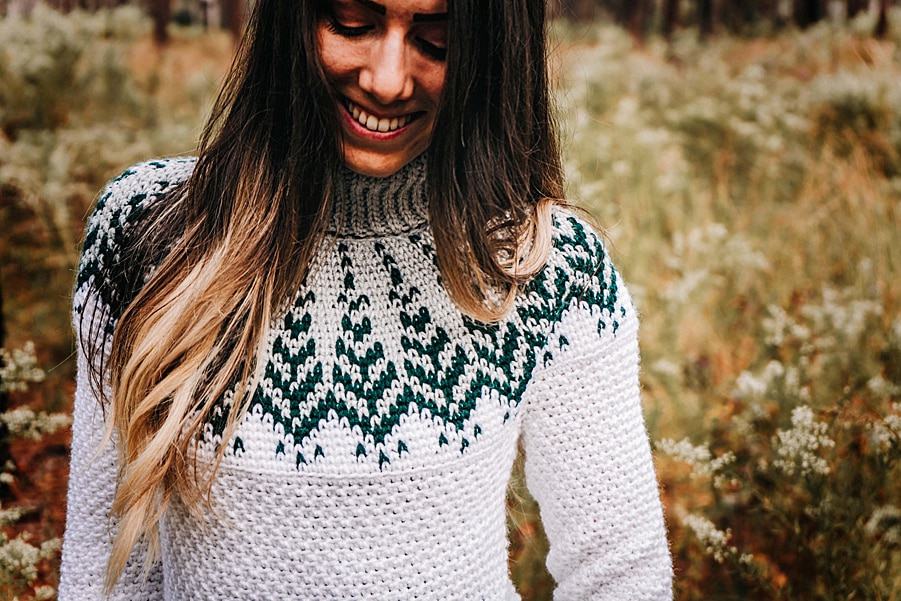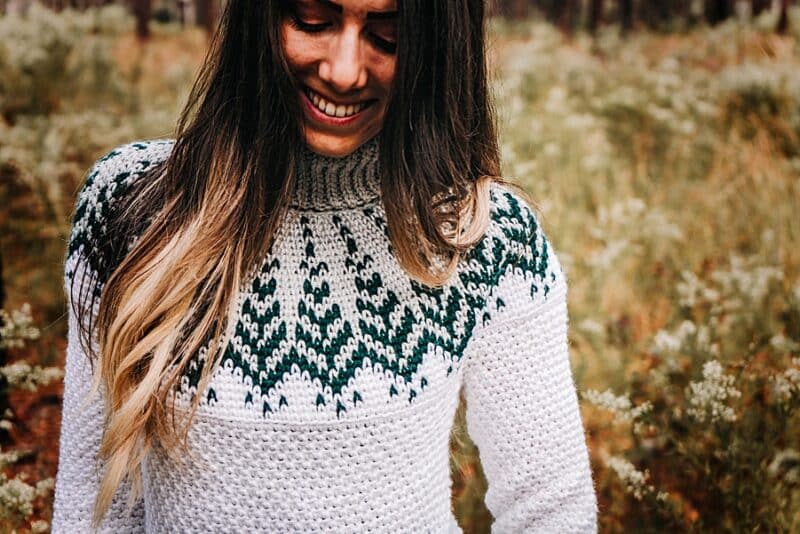 This sweater is worked in a top-down seamless yoke style with fair isle colorwork. The body of the sweater is worked continuously without joining. It is important to place a stitch marker at the beginning of the round to keep track of rounds.
When doing the colorwork the yarn will be carried along the back in the fair isle style. Try to not carry a color for more than 3 stitches so your floats aren't too long. You can catch/trap the yarn behind a stitch to keep the floats consistent. To read more about colorwork please visit: https://brianakdesigns.com/ways-to-colorwork-in-crochet/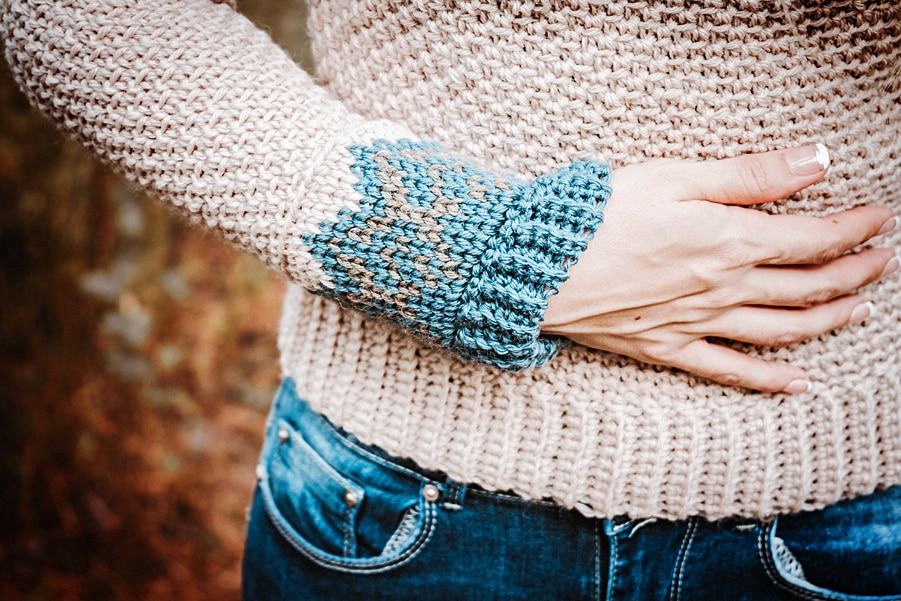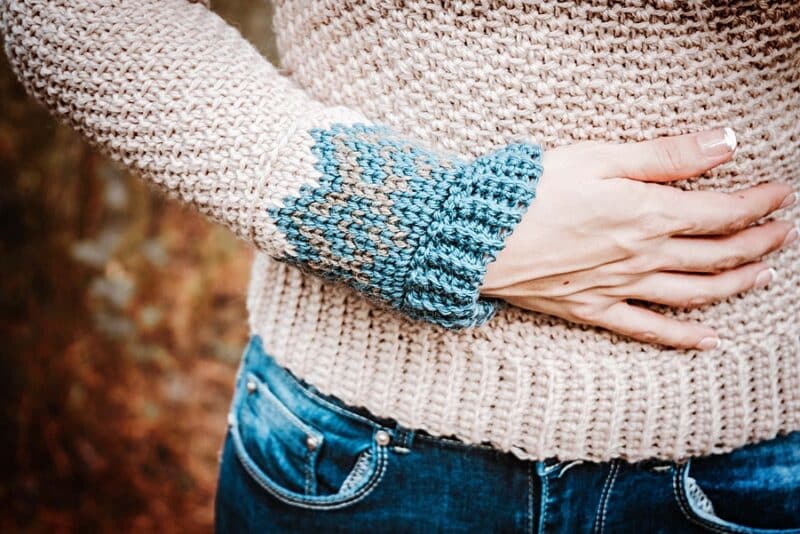 Special Stitches:
Split Single Crochet (ssc), also known as the waistcoat stitch: Insert hook between the legs of the stitch (on the back of work the hook should be under the horizontal bar and between the upside-down 'V' shape as well), yarn over, pull up a loop to the height of a single crochet, yarn over, pull through both loops on hook. Tip: Keep a loose tension so the stitches are easily worked. https://brianakdesigns.com/split-single-crochet-round-flat/
Increasing Colorwork Part of Yoke: When the pattern says to 'increase Color', place 2 ssc into the next stitch. The chart is read from bottom-up and each round from right to left.
Increasing Body: When the pattern says to increase x-amount of stitches around, increase by two stitches at once by placing 3 sc sts into a stitch in the blo or flo stitch pattern (blo sc 1, flo sc 1, blo sc) into one stitch. This will help keep the stitch pattern consistent.
Decreasing to Shape: If a fitted sweater is desired, decrease around the waist area by sc3tog on each side in the flo or blo stitch pattern. Invisible sc3tog: insert hook into the front loop of the next 3 sts, yo and pull a loop through all three front loops, yo and pull through final two loops.
Pine Crochet Sweater Pattern Video: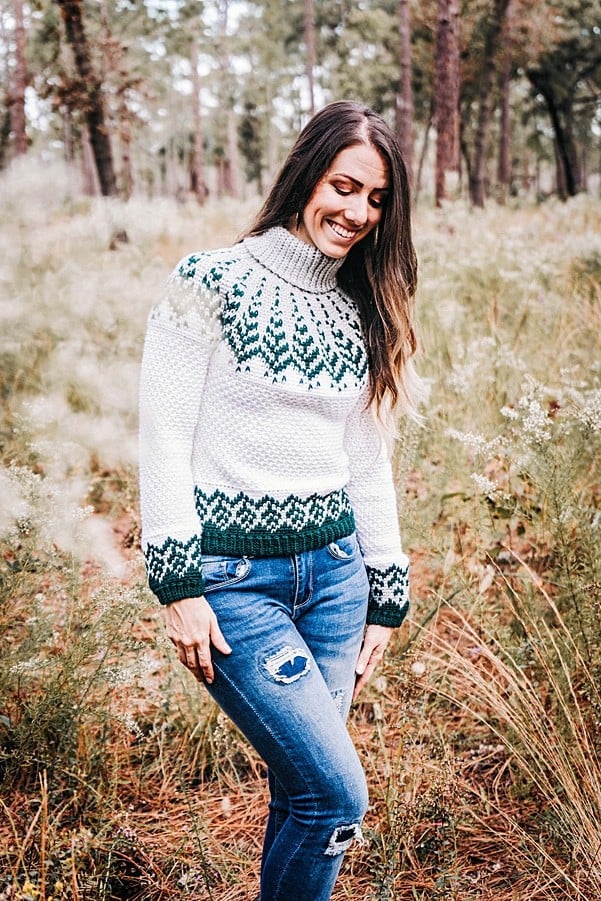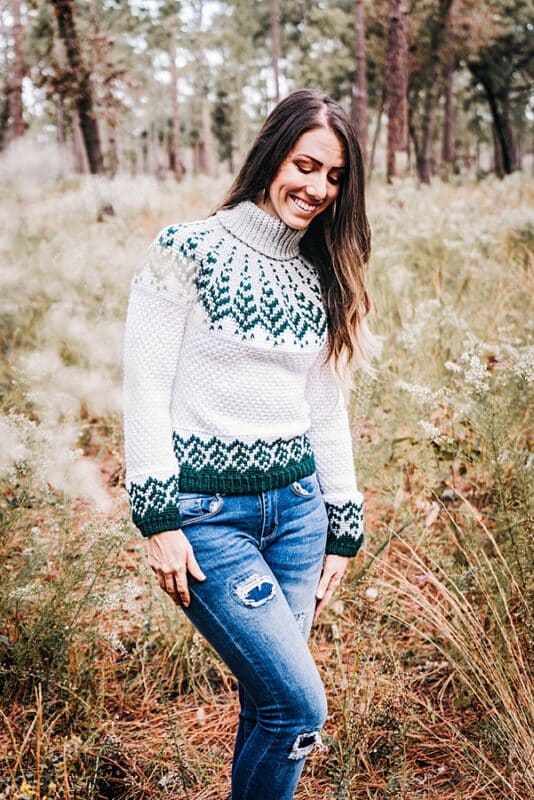 CROCHET & TAG
I hope you have enjoyed making the Pattern!
If you have made this, please share it on social media. Above all, I love to see the projects created with my patterns and also share your beautiful work.
Please use #brianakdesigns or @brianakdesigns
It is much appreciated and adored!
Well That Was Fun! What's Next?