It's been far too long since I've released a newborn knit pattern and the Blooming Knit Romper & Bonnet Pattern is a perfect addition for any baby knit wardrobe.
One of the best things about this pattern? The value.
As I advance my skills as a pattern designer I also get more comfortable offering more sizes. This one is size newborn to 3T. Like yes!
---
Where To Purchase My Ad-Free Downloadable PDF's:
---
The days of me holding babies often seem to be fading away. It seemed almost all of my friends were having babies, and there were plenty of snuggles to go around.
It's not a fun sign of aging when you realize you and your friends are creeping out of those baby years. While there are a few who are expanding their family, and we all rush to see their little one, of course.
I know in the coming years I'll get another niece or nephew, but for now, I'll just have to wait. As for now, I take the opportunity to knit a baby romper or bonnet when I get an invite to a baby shower.
As some of you may know, I spent some time in the newborn photography industry. I love it. Dressing up babies all morning, it cute rompers, and bonnets is the best.
But to not have two careers and maintain a flexible schedule, so I choose to design full time.
Who knows what the future will bring in terms of newborn photography, but I'm so fond of the memories and friendships I made during that time.
And I'm lucky enough to have fantastic photographer friends who still get to welcome new little ones into the studio.
This pattern is such a fun knit and a special treat for those knitters who prefer to knit flat and not in the round.
One of the features is the knit leaf cable design on the front. It is simply fun to knit and adds a construction similar to a blooming plant.
Perhaps you will enjoy this latest knit and continue to follow along for more!
About This Yarn
I created the Blooming Knit Romper and Bonnet pattern several times with different DK3 weight yarns.
Each time I've knit this romper and bonnet, I've loved the results. Match gauge, so the sizing is correct and use your favorite DK yarn weight. Anything that will look great on a baby will work.


Disclosure: To cover the cost of publishing my blog and bringing you awesome content, this page may contain affiliate links. Should you choose to make a purchase, at no additional cost to you, I may earn a small percentage of the sale.
Supplies for the Blooming Romper & Bonnet
• Size US 6 (4.0 mm) needles, recommended 24″ circulars
• Removable stitch markers if needed
• Blocking board with blocking pins
• Yarn needle
• 8 buttons
• Madelinetosh Tosh DK
dk weight weight yarn
Yarn substitutions (check gauge):
• Cascade 220 Superwash Merino
• Fyberspates Vivacious DK
• Malabrigo Rios
• SweetGeorgia Superwash DK
Yardage:
0-3 Months: 140 yds (256m)
3-6 months: 180 yds (283m)
6-9 Months: 220 yds (201m)
12 months: 250 yds (320m)
18 Month: 280 yds (366m)
2T: 310 yds (284m)
3T: 340 yds (311m)
Many of the supplies can be found at the affiliate links below:
Measurements:
0-3 Month, 3-6 Month, 6-9 Month, 18 Month, 12 Month, 2T, 3T
Sizing diagram in the pattern.
Abbreviations:
• k- knit
• k2tog – knit two stitches together
• m1- make one
• p – purl
• rep – repeat
• RS – right side
• sl – slip
• s2pp – slip slip purl pass
• wyif – with yarn in front
• WS – wrong side
• yo – yarn over
Skill Level:
• Advanced Beginner/Intermediate
Gauge:
• 20 sts and 29 rows = 4" (10 cm) in Stockinette st
Notes:
• The Blooming Knit Romper is worked as once piece starting with the front bib, then the crotch area is formed, the back body is next, ending with the straps and top back.
• When working a garter stitch edge slip the last stitch in each row. When starting the next row turn your work clockwise, the working yarn will wrap around last stitch creating a nice edge.
• Knit Through Back Loop (ktbl) – Knit through the back loop of the stitch knitwise.
• ssk improved: Slip one stitch as if to knit, slip the next stitch as if to purl, knit the two together through the back loops. Done this way will help it lay a bit flatter.
• Make 1 Left (m1l) – pick up the bar between the stitch you knit and the one you're about to knit, bringing the needle from front to back. Knit into the back of the stitch.
• Make 1 Right (m1r) – pick up the bar between the last stitch you knit and the one you're about to knit, bringing the needle from the back to the front. Knit into the front of the stitch.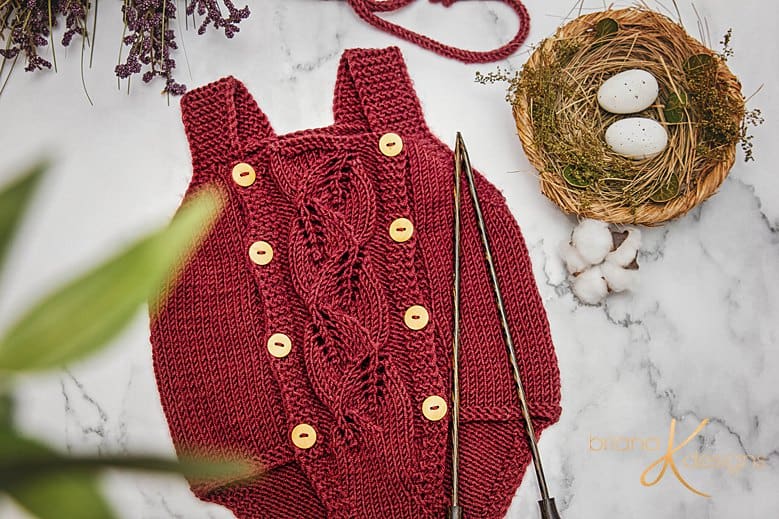 Crochet & Tag:
I hope you have enjoyed making the Blooming Knit Romper & Bonnet!
If you have made this, please share it on social media. Above all I love to see the projects created with my patterns and also share your beautiful work.

Please use #brianakdesigns or @brianakdesigns
It is much appreciated and adored!


Share Your Project & Share Pictures!
I really hope you enjoyed working on this project. The best way to make a designer smile is to share what you've made! When it comes to free or premium content, I really rely on you to help me keep designing and supporting my family. Here is how you can make my day:
Share your yarn choice, in-progress, or finished projects on Instagram and use the hashtag #brianakdesigns
Link and share your project on Ravelry. It really helps to have inspirational photos for others.
Join the Briana K Designs Community Group on Facebook and share anything crafty.
Don't Lose This Project! If you aren't ready to start it save it on Pinterest by clicking any of the images above.