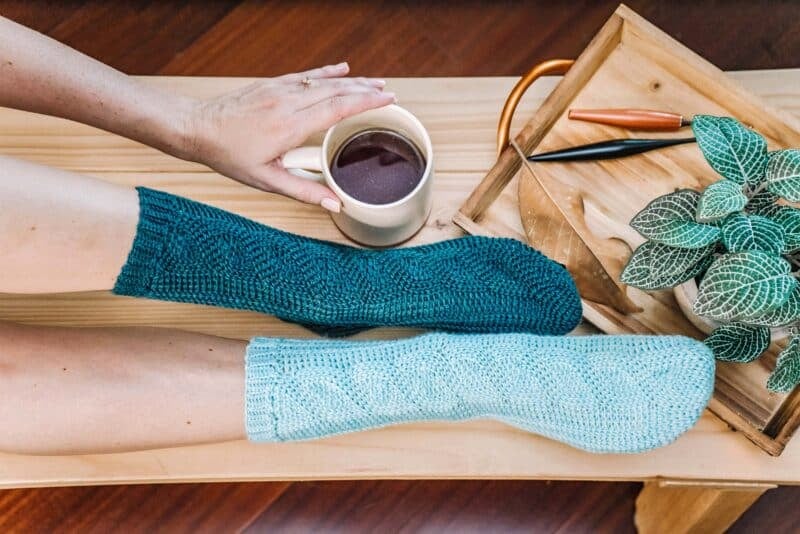 The All Cabled Up Crochet Sock is made with simple knit look-alike stitches that give it a mock cable appearance. This pattern uses a different cable pattern than the previous Royal Antler Mock Cable Crochet Bag.
Are Crochet Socks Comfortable?
And one of the really amazing things about the All Cabled Up Crochet Sock is that you will create a fabric you see how to crochet socks you can wear in a shoe! There aren't any high ridges or stitches that make the sock uncomfortable. This is something that, up until now, has been hard to achieve with standard crochet techniques.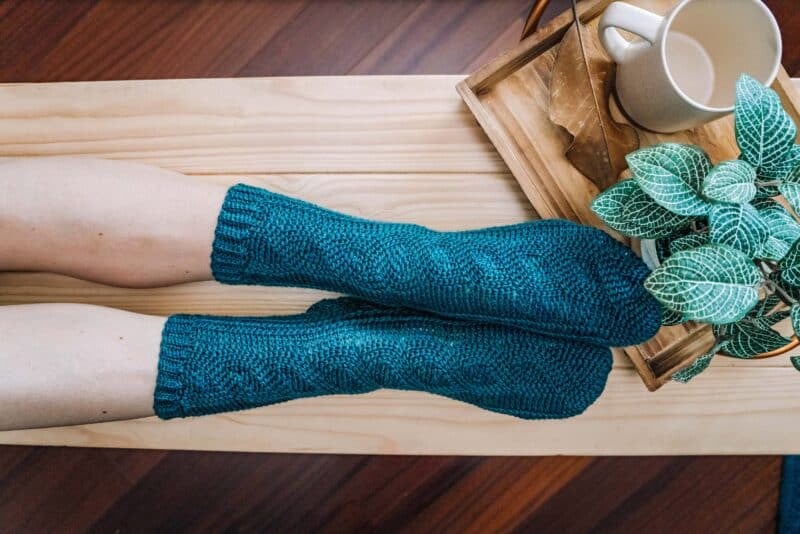 This mock cable crochet sock is part of the Magical Crochet Stitches Course. And don't worry, this is nothing tricky! All the instructions to customize your crochet sock patterns to your foot are included in the pattern.
The Magical Crochet Stitches Course will teach you to:
Go Beyond the Split Single Crochet Stitch.
Create Mock Knit-Look Cables in Crochet.
Confidently Steek Your Fabric & Block.
Transform Fabric To New Levels.
Strategic & Intentional Increasing & Decreasing.
Enjoy Learning On Your Own Time.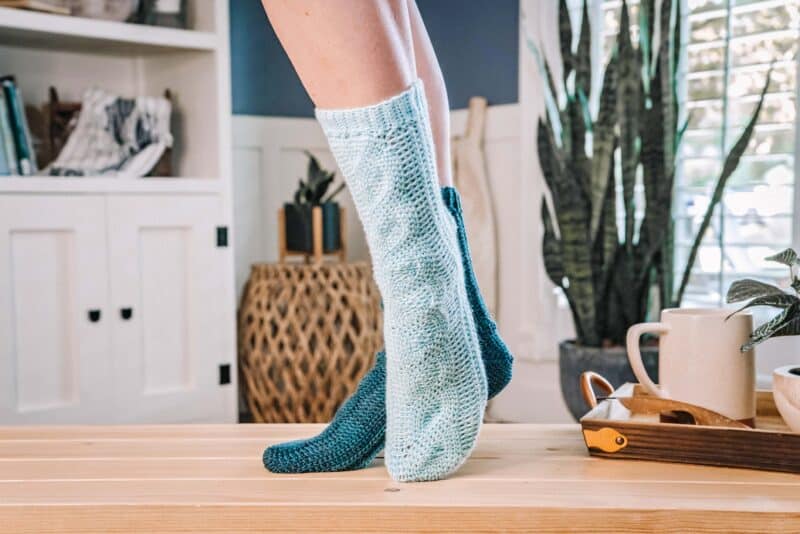 I would recommend other crochet patterns in the Magical Stitches Courses if you love the All Cabled Up Crochet Socks.
Royal Antler Crochet Mock Cable Bag
Happily Ever After Crochet Clutch
If The Shoe Fits Crochet Pouf
Journey Under The Sea Crochet Bag
And if this got you addicted to free crochet sock patterns, I have other fun sock projects to try like the Woodland Walker Crochet Socks Free Pattern or the Vine Colorwork Crochet Sock – Free Pattern.
Roundup! Checkout these knit and crochet sock patterns!
Conquer Toe Up Crochet & Knit Socks With These Terrific Patterns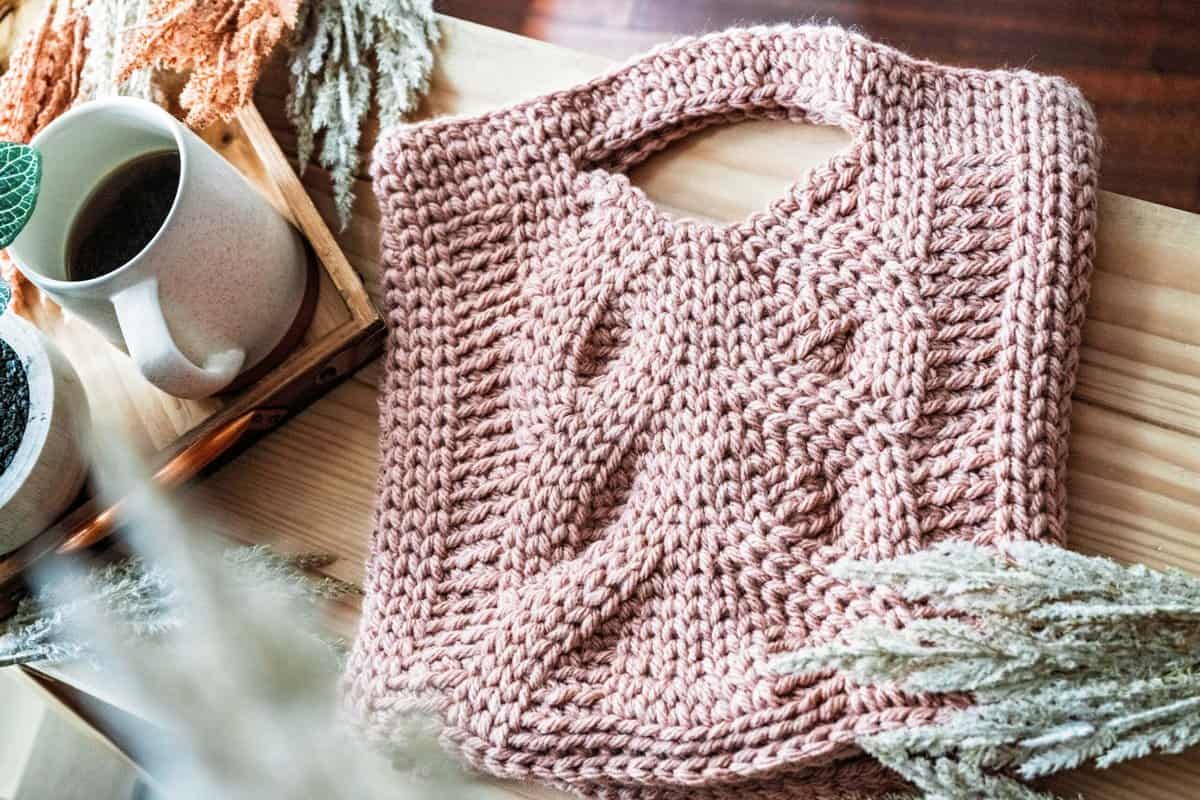 How Do I Customize My Pattern?
This mock cable crochet sock is part of the Magical Crochet Stitches Course. If you want more information on how to crochet cable socks or customize patterns for different sizes, don't worry – all the instructions and sock sizing charts are included in the pattern.
This crochet course provides detailed tutorials on adjusting the width and lengths for any size foot. Plus, there are plenty of tips and tricks that help create a unique mock cable design found on this sock. So not only do you get a fashionable pair of socks but also something one-of-a-kind too!
All Cabled Up In Sunshine Socks Video Introduction:
What Makes This Crochet Sock Unique?
Along with making these cozy and stylish socks, you'll also be able to learn more about the wonders of crochet in a new way. You'll explore different types of yarn in the Magical Crochet Collection and hook sizes and practice shaping and construction techniques like working in the round and seeking crochet.
With these skills under your belt, you can move on from making socks and apply them to other projects like bags, hats and home decor!
You don't need to know how to knit or crochet cables—this pattern is even easier than that! The mock cable look creates an interesting texture and shape which looks great as part of any outfit.
All Cabled Up Crochet Sock Supplies:
Disclosure: This website may contain affiliate links to cover the cost of publishing my blog and bringing you excellent content. Should you choose to make a purchase, at no additional cost to you, I may earn a small percentage of the sale. Thank you for your support.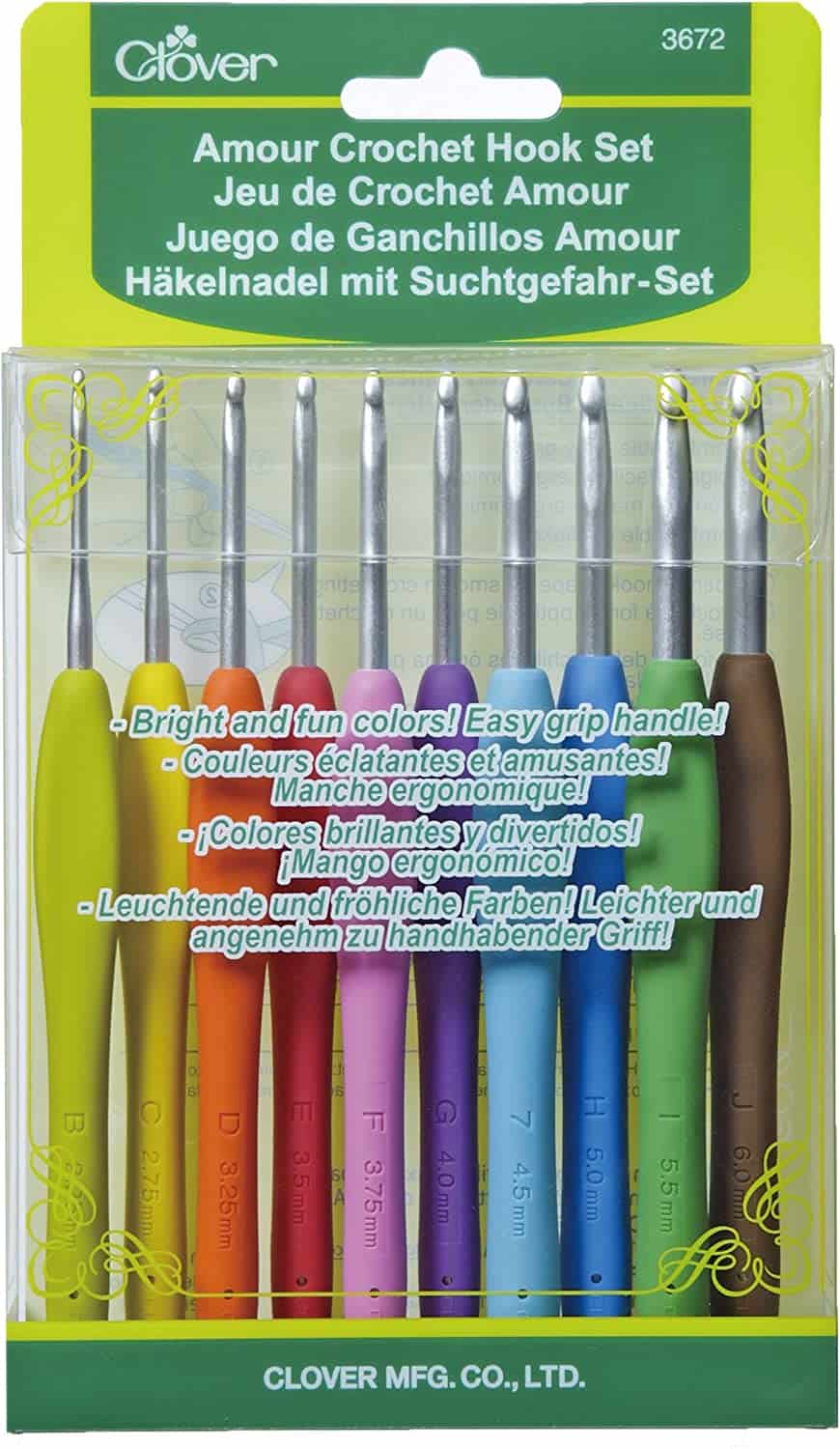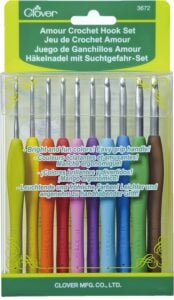 Crochet Hook:
Notions:
2 Removable stitch markers
Yarn needle to weave in ends
Scissors
Yarn:
WeCrochet Stroll Fingering Weight Yarn,
75% Fine Superwash Merino Wool, 25% Nylon, 231 yds/500g. Colorways in images: Rainforest Heather & Wonderland Heather. Or a substitute sock yarn will do as long as the crochet gauge for that weight yarn is met.
Crochet Sock Yardage:
Mid Calf Socks 375yds/343m) – 1 Hank
Over the Knee Socks (775yds/709m) – 2 Hanks
Abbreviations/Stitches:
blo – back loop only
ch – chain
est st pat – established stitch pattern
rnd – round
sc – single crochet
ssc – split single crochet
sl st – slip stitch
st(s) – stitch(es)
Gauge:
20 sts x 25 rows = 4×4 inches in established stitch pattern, see notes. The stitches per inch is 5.
Skill Level:
Intermediate
All Cables Up In Sunshine Crochet Socks Notes:
Since this is worked continuously, placing a stitch marker on the first stitch of each row is helpful.
These crochet socks use a fun stitch combination and are worked from toe-up. The heel is an 'afterthought heel' where we create an opening for the heel area and come back to work the heel last.
Measurements:
This sock is best crocheted for a custom fit to your foot. This sock can be tried on and adjusted as
you go.
Socks are made in women's sizes for the instructions. There is also a crochet schematic for referencing sock lengths for different sizes.
For more information on sock fit, visit How To Size Crochet Socks blog post.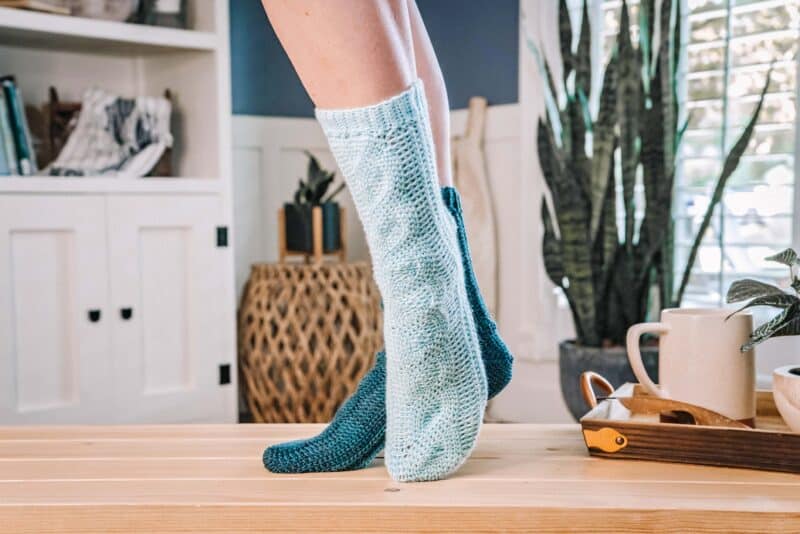 Special Stitches:
Split Single Crochet (ssc): also known as the waistcoat stitch. This stitch is worked as single crochet but where the hook is inserted is the only difference. The hook will be inserted between the 'V' of the stitch.

Insert hook between the legs of the stitch (on the back of work the hook should be under the horizontal bar and between the upside-down 'V' shape as well), yarn over, pull up a loop to the height of a single crochet, yarn over, pull through both loops on hook. Keep your hands loose and comfortable. If your hands are starting to hurt, then the tension of the stitch is too tight. When entering the stitch, pull up the loop a bit more than you normally would; it will give the 'V' more space for the next round and make working the ssc comfortable.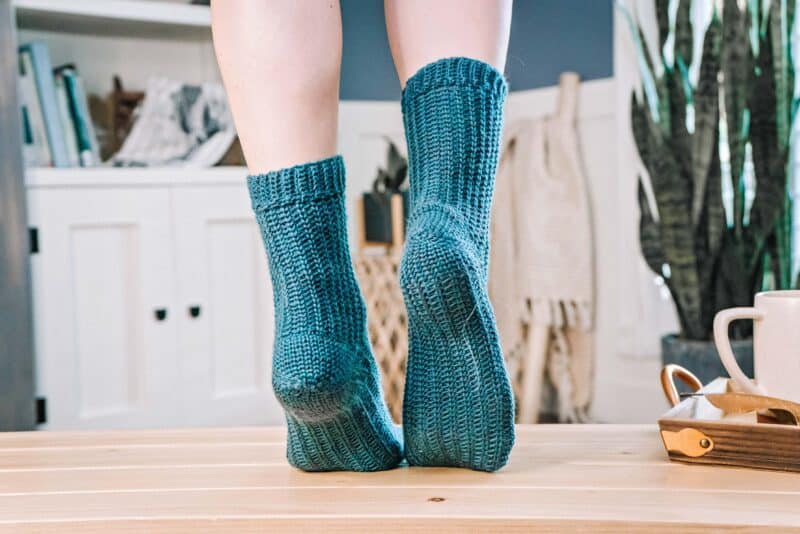 The All Cabled Up Crochet Sock is a crochet pattern perfect for crocheters at all skill levels who want to make something special that they can wear proudly.
Not only will you create a beautiful pair of mock cable crochet socks, but you'll also learn valuable skills that can be applied to other projects! So don't miss out on this wonderful opportunity – join today and get ready to make your own personalized pair of cozy crochet socks. Happy Crafting!
---

CROCHET & TAG
I hope you have enjoyed making the All Cabled Up Crochet Sock Pattern! Before you head on out, I just wanted to mention a knit pattern if you prefer needles. Read all about the Free Knit Beginner Felici Sock Pattern for Cozy Toes.
If you have made this, please share it on social media. Above all, I love to see the projects created with my crocet patterns and also share your beautiful work.
Share Your Project & Share Pictures!
I really hope you enjoyed working on this project. The best way to make a designer smile is to share what you've made! When it comes to free or premium content, I really rely on you to help me keep designing and supporting my family. Here is how you can make my day:
Share your yarn choice, in-progress, or finished projects on Instagram and use the hashtag #brianakdesigns
Link and share your project on Ravelry. It really helps to have inspirational photos for others.
Join the Briana K Designs Community Group on Facebook and share anything crafty.
Don't Lose This Project! If you aren't ready to start it save it on Pinterest by clicking any of the images above.