Crochet Christmas Stockings for Holiday Joy!
There are so many wonderful Christmas stockings to crochet. Personally, I knit and crochet new ones every year, even though our family has plenty of them. (You can read more about that in the post about my Polka Dot Crochet Christmas Stocking Free Pattern, which you'll find below.) If you also love to craft handmade stockings, then perhaps you'll enjoy this roundup. It includes the ones I've designed, as well as some others than I think you might like.
Briana K Designs Christmas Stockings
I've designed both stockings for both knitters and crocheters. In fact, some of them are matching. Here are my designs for stockings to crochet: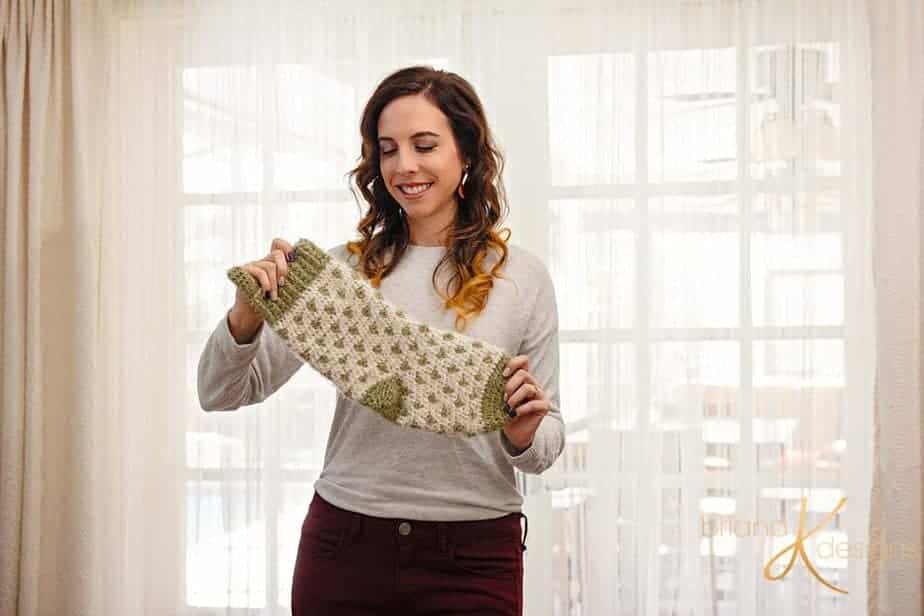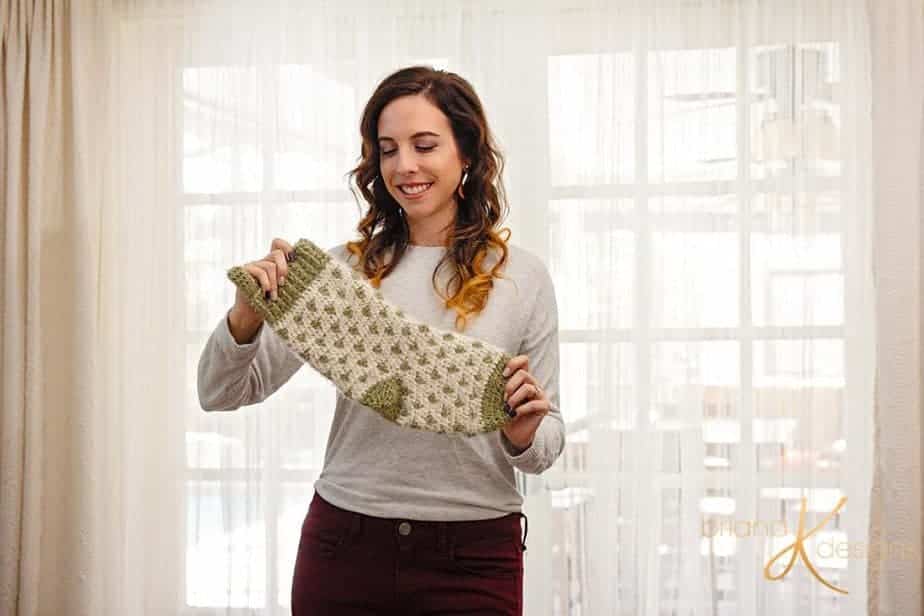 This is the post you should read if you're interested in my family traditions, which include handmade stockings. Furthermore, this is one of the crochet patterns that has a matching knit stocking pattern. Make one or both. The crochet pattern uses crochet cluster stitches to make three-dimensional polka dots. I also have a polka dot winter beanie crochet pattern you might enjoy making to match.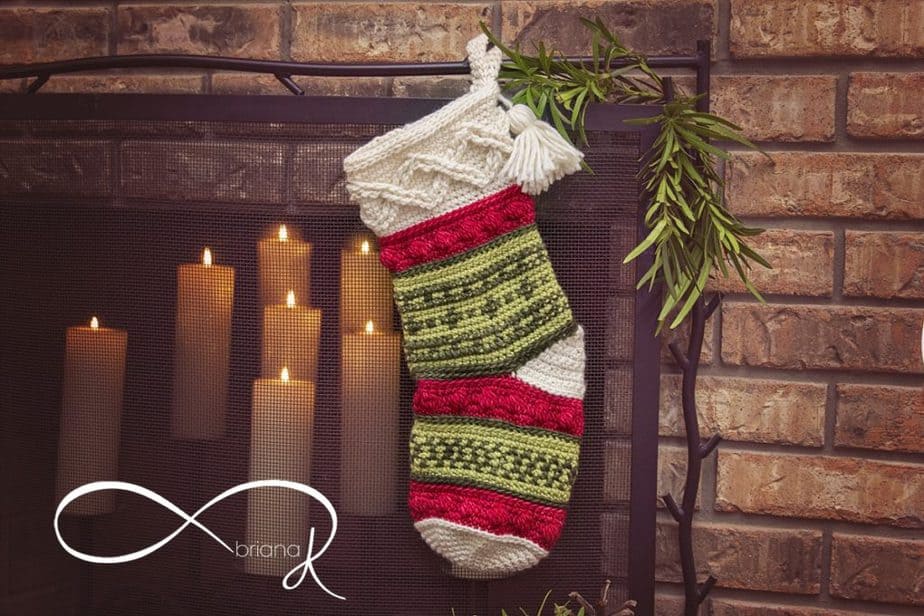 I have a technique called Infinity Crochet that I use to create really interesting cable textures. This particular patterns uses that technique along the top of the stocking as a design detail. This has a vintage-inspired look that makes great Christmas crochet stockings if you want to create heirloom pieces.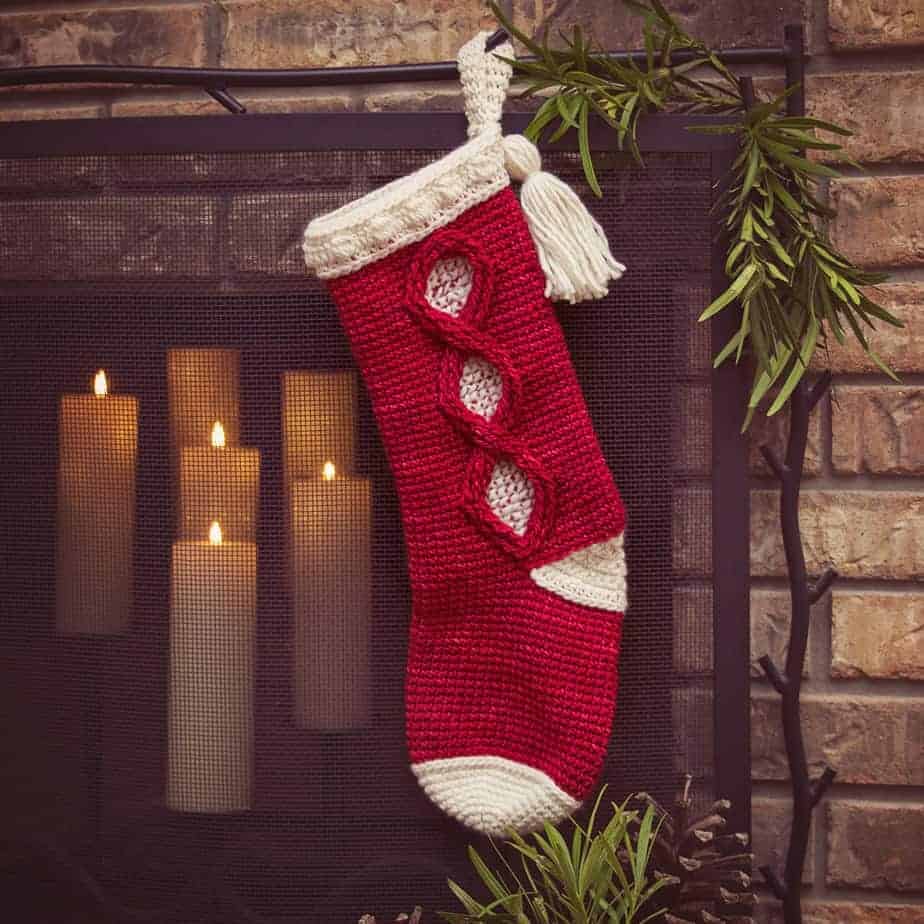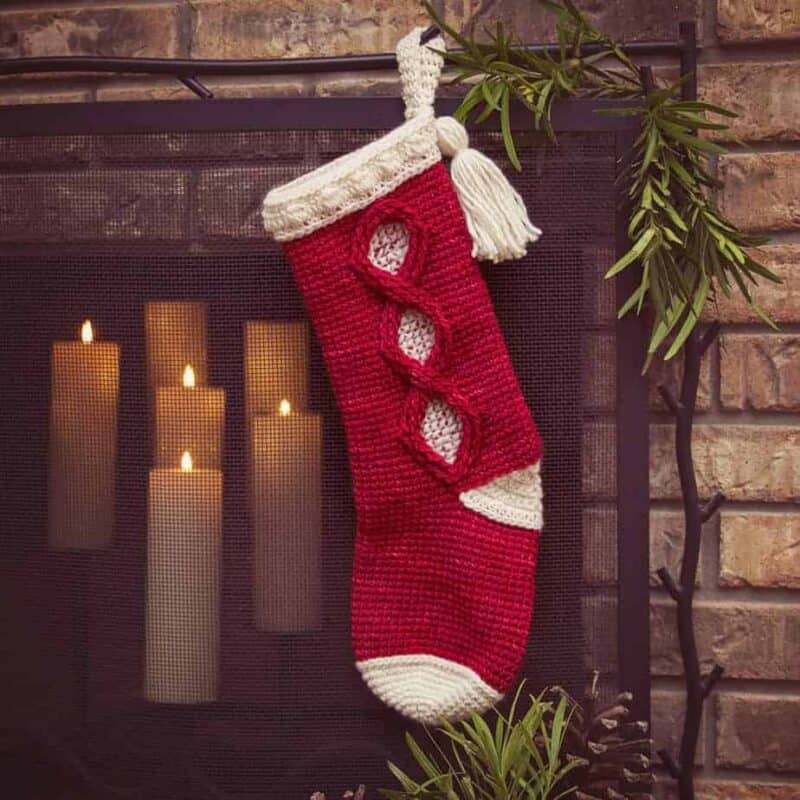 This is another crochet holiday stocking pattern that uses the Infinity cable crochet technique. However, this one uses the design on the body of the stocking. You can always mix and match different patterns; not all of your stockings have to look identical.
This crochet Christmas stocking pattern would actually mix-and-match well with the one above. In this case, I created the design using surface crochet stitches. There are so many fun crochet techniques that you can use when making decor! You can also use this same design in interesting ways on accessories; check out my Coppola Mittens, Beanie, and Scarf Matching Crochet Patterns.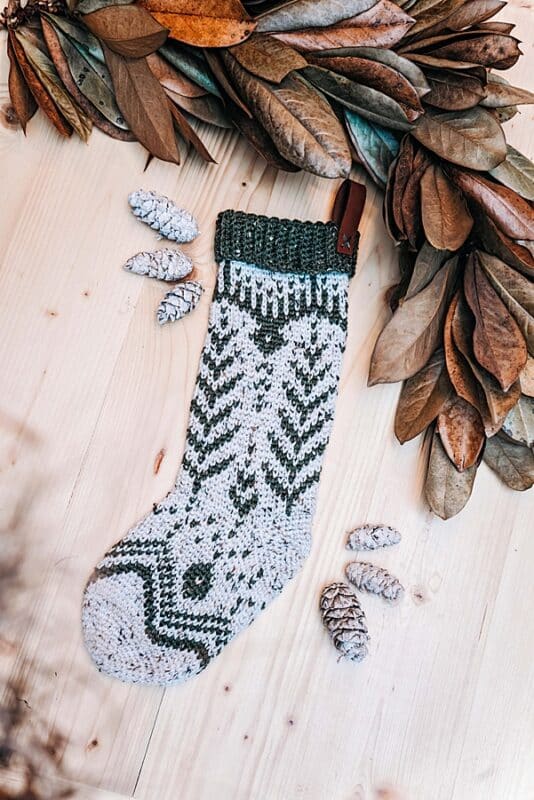 I did a Christmas in July project with Marly over at Marly Bird this year. She made a knit stocking, and I made a crochet stocking. This is that crochet stocking pattern. It's a Fair Isle style design but worked in crochet instead of knitting. The knit Christmas stocking version is over on Marly Bird's website.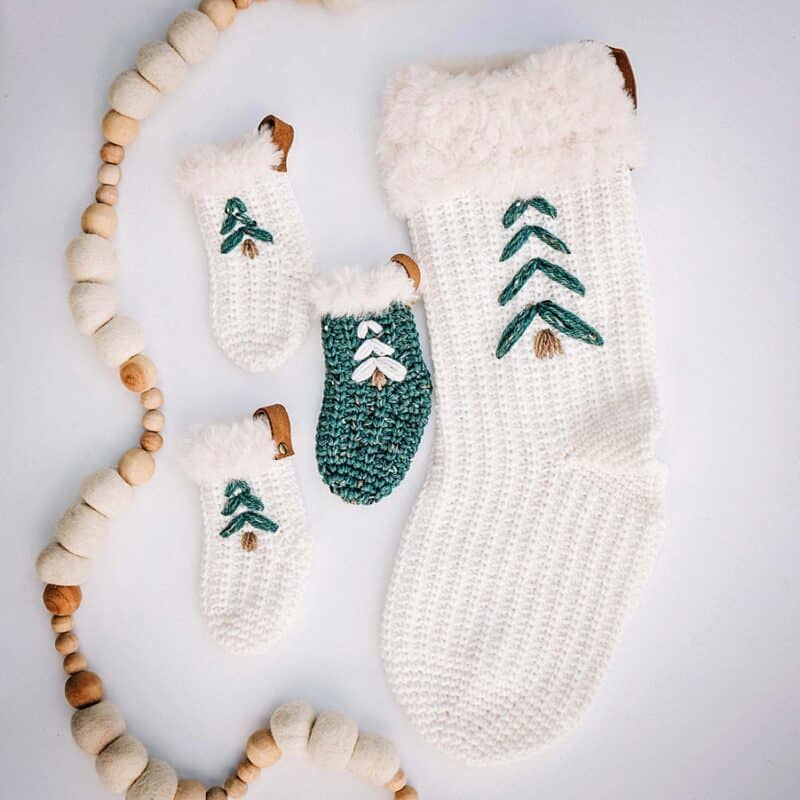 My newest free pattern offers several Christmas stockings to crochet. There's a full size stocking. Then there is also a matching crochet pattern for a Christmas stocking designed to hold a gift card. These littler crochet stockings also work well strung together into a Christmas garland. Have fun with these Christmas crochet patterns!
Disclosure: This post contains affiliate links. I receive commission on sales from those links. Your price doesn't change. This is one of the things that allows me to keep offering free content to you here. Thank you for your support.
Other Designers' Christmas Stockings to Crochet
I mentioned my collaboration with Marly Bird above. You also might enjoy some of her other holiday crochet stockings. And here are some additional stockings I think you might like: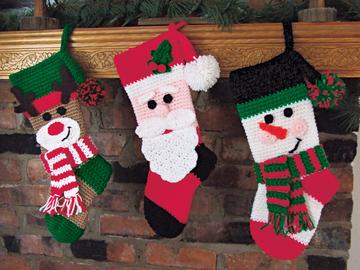 This is a crochet kit with patterns for reindeer, Santa, and snowman designs. I love how three dimensional they are. The kit comes with yarn to complete the designs.
This is another Mary Maxim crochet kit. It uses their Starlette sparkling yarn, which adds festivity to the design. Plus, look at that texture on those stockings!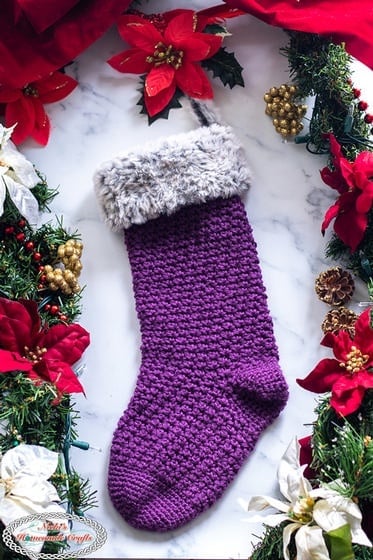 This design by Nicole Riley is available through WeCrochet. It uses faux fur at the top, which creates a nice classic Christmas stocking look. However, it also uses bold purple yarn for something a bit more unique.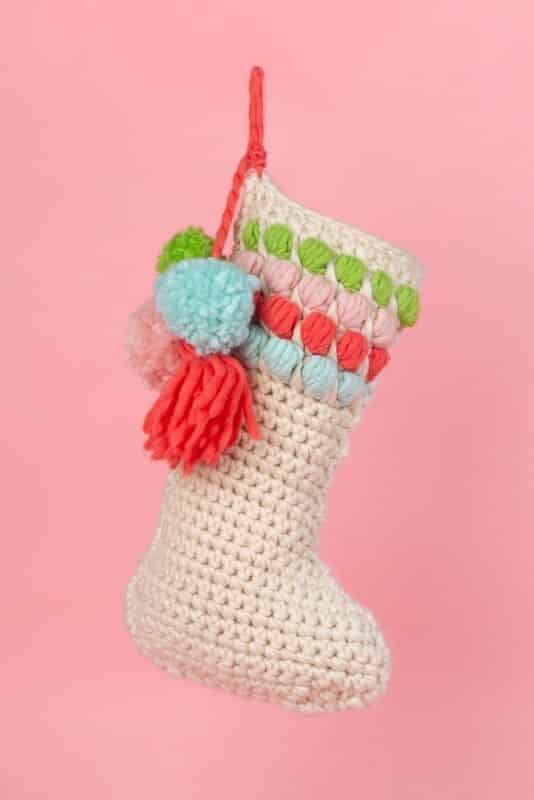 Also available through WeCrochet, this free Christmas stocking pattern by Chrisandra Skipper uses fun pops of color against a white background for a super fun design. The colors are used on textured stitches as well as on big pom poms.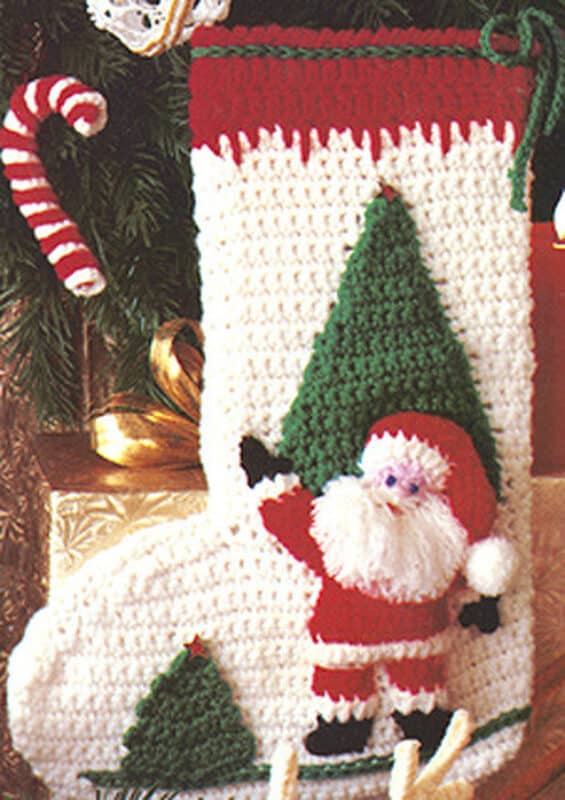 This is a pattern download set. You get the Santa crochet pattern pictured here, as well as one for a snowman design and a Pixie stocking. These have a retro feel that's really fun with its designs and dimensionality.
Stockings aren't the only things I've designed for the holidays, of course. Check out all of my crochet Christmas patterns.

Well That Was Fun! What's Next?