Looking for the KNIT Version? Click HERE.
Do you have a family tradition?
One of my son's teachers asked this question and I actually had to pause. We don't do elf on the shelf, we sometimes get to make and decorate cookies, but it doesn't happen every year.
And then my husband reminded me we have lots of traditions. The main one being all the stocking I make each year. He feels like it's become a tradition for me to add a new handmade stocking even though there is no more room by the fire.
I told him it's going to keep happening so he better start putting some nails in the walls for future years lol.
By far I think our children will always see Lego Christmas Village as their tradition.
It all began years ago, but the real story was even before that. Roll the memories back to my college days. The first Christmas my husband and I were dating we found ourselves at a craft store. I mean, he knew from the start who he was dating and that regular craft store trips were part of the deal haha.
As we were walking the isles he saw the porcelain winter houses and said someday he wanted to do that. I responded with an 'Excuse me, grandma? Ummm, no. You better go find a new girlfriend.'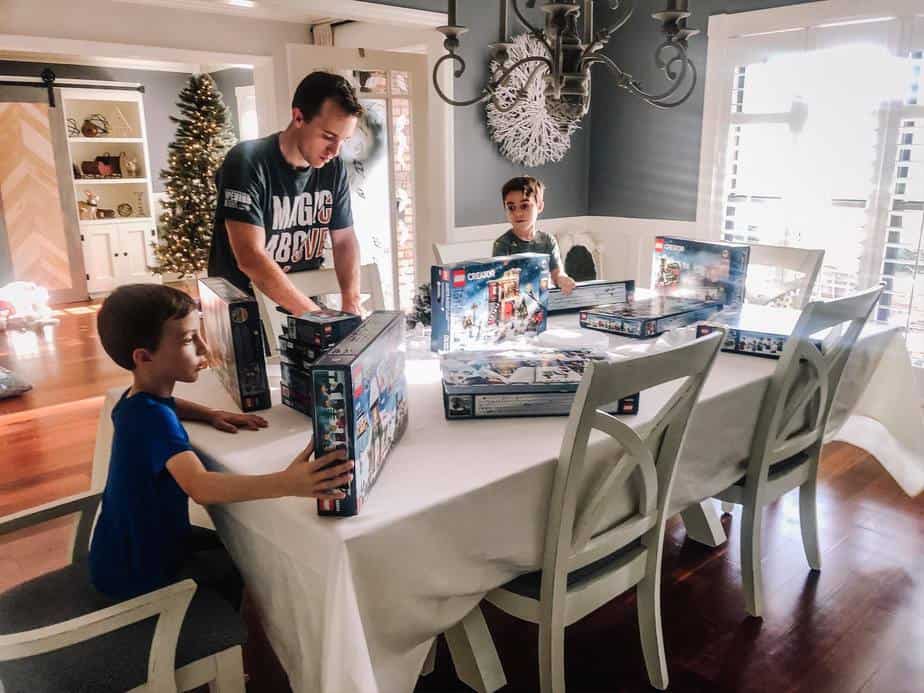 The next thing we knew an older lady was giggling as she listened to our argument of why I was not on board with a glass village. I was a nanny at the time to anything breakable was my worst nightmare, it doesn't work with children.
I also argued it's just a dust collector and I already had too many gifts people thought I would like that became dust collectors.
I think he was just shocked I wasn't on board. I mean, it was the craft store and I should like anything and everything there, right?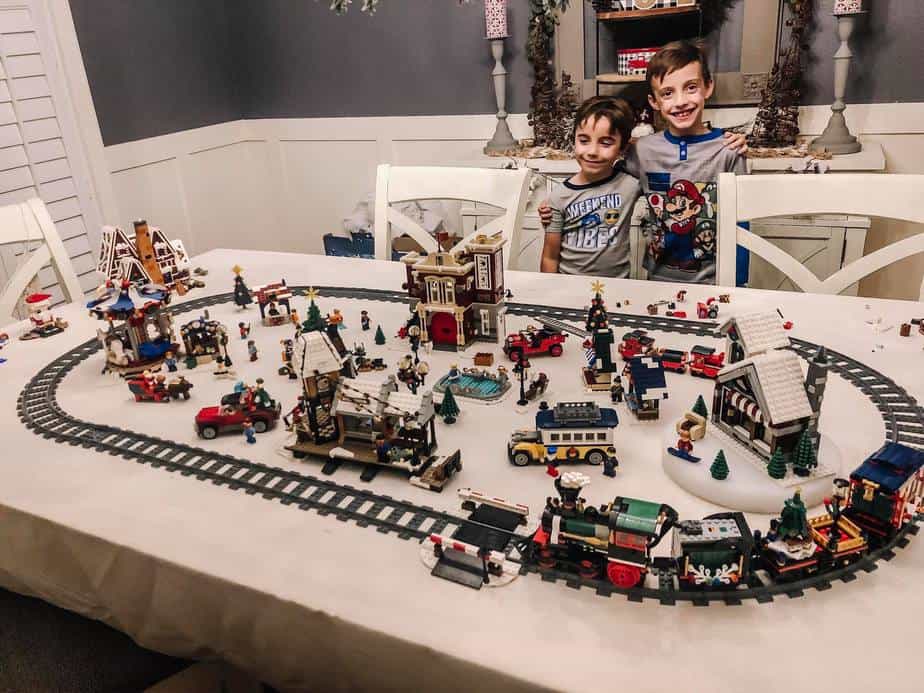 Fast forward to the year we had our son and visited Disney Springs to see the holiday decor. And then we wandered into the Lego store and he saw the set of his dreams. A winter holiday village but in Legos. And instantly I knew this was my future.
He was so excited and I was cool with it. So each year since we take the kids down to Disney Springs and get the newest edition in the set. It's become one of the best traditions the whole family enjoys. It's unique and special and my boys think the whole thing rocks. While I tend to sit back, enjoy the view, and snack with wine while everyone else builds, I've been known to help put a few things together. Better than the glass you can't play with.
Whatever your traditions are, enjoy every single moment. I already feel like each season goes by too fast, and the traditions help us slow down and remember to take time to enjoy those we love. I think that's why traditions are important, even if it's just building Legos.
I get a lot of questions when I tell people this has become our tradition. It is hard to come across previous sets, however, it's never too late to start building. Lego has released a train twice now (we weren't collecting yet when the did the first one). And it never disappoints.
So you do not need to go to a Lego store, it can be found on Amazon, but it is important to get it while it's there. Once it's gone it's gone and difficult to find ever again.


Are you ready to jump right in? Before you get started, take a moment to jump on over to this post to not only learn about the different ways to do crochet color-work but also for a freebie! The printable Sheep Yarn Bobbins are super helpful and also cute. You can even cut them out on a cutting machine!
Gauge:
• 16 sts and 9 rows = 4" (10 cm)
in background fabric pattern

Measurements:
• Length: 16" (41 cm)
• Width: 6" (15 cm)
Abbreviations:
• ch – chain
• Cluster Stitch*
• hdc – half double crochet
• hdc2tog – half double crochet two together
• MR – Magic Ring (Magic Circle)
• st(s) – stitch(es)
• yo – yarn over

Skill Level:
• Advanced Beginner
-The bobble stocking is worked in the round, from toe to top. The bobbles are worked in a second color, but the stocking can also be worked in one solid color.
-The Chain 2 at the beginning of the round does not count as a stitch.
-Using the hook over, versus yarn over, method will lessen a traveling seam. 
BLO– work stitch in the back loop only
Half Double Crochet– Yo, insert hook into stitch, yo and draw up a loop, yarn over and draw through all three loops on hook.
Cluster Stitch– Yo, insert hook into stitch, yo, pull up a loop, yo, draw yarn through two loops on the hook; repeat * three times (5 loops on hook), yo and draw yarn through 5 loops on hook.
Magic Ring (Magic Circle)– https://brianakdesigns.com/magic-crochet-circle-ring/
| | | |
| --- | --- | --- |
| Round | Description | Stitch Count |
| 1 | With Ivy color yarn, hdc 8 inside MR, join. | 8 |
| 2 | Ch 2, 2hdc in each stitch around, join. | 16 |
| 3 | Ch 2, *2hdc in first, hdc 1; repeat * around, join. | 24 |
| 4 | Ch 2, *2hdc in first, hdc 2; repeat * around, join. | 32 |
| 5 | Ch 2, *2hdc in first, hdc 3; repeat * around, join. | 40 |
| 6 | Ch 2, hdc in each stitch around, join. | 40 |
| | | |
| --- | --- | --- |
| Round | Description | Stitch Count |
| 7 | With Pearl Color Yarn, ch 2, hdc in each stitch around, join. | 40 |
| 8 | Ch 2, *with Pearl Color Yarn, hdc 3, with Ivy Color Yarn, cluster 1; repeat * around, join. | 40 |
| 9 | With Pearl Color Yarn, ch 2, hdc in each stitch around, join. | 40 |
| 10 | Ch 2, *with Pearl Color Yarn, hdc 2, with Ivy Color Yarn, cluster 1, with Pearl Color Yarn, hdc 1; repeat * around, join. | 40 |
| 11 | With Pearl Color Yarn, ch 2, hdc in each stitch around, join. | 40 |
| 12 | Ch 2, *with Pearl Color Yarn, hdc 1, with Ivy Color Yarn, cluster 1, with Pearl  Color Yarn, hdc 2; repeat * around, join. | 40 |
| 13 | With Pearl Color Yarn, ch 2, hdc in each stitch around, join. | 40 |
| 14 | Ch 2, *, with Ivy Color Yarn, cluster 1, with Pearl Color Yarn, hdc 3; repeat * around, join. | 40 |
| 15 | With Pearl Color Yarn, ch 2, hdc in each stitch around, join. | 40 |
| 16 | Ch 2, *with Pearl Color Yarn, hdc 3, with Ivy Color Yarn, cluster 1; repeat * around, join. | 40 |
| 17 | With Pearl Color Yarn, ch 2, hdc in each stitch around, join. | 40 |
| 18 | Ch 2, *with Pearl Color Yarn, hdc 2, with Ivy Color Yarn, cluster 1, with Pearl Color Yarn, hdc 1; repeat * around, join. | 40 |
| 19 | Ch 2, * with Pearl Color Yarn, foundation hdc 18, skip 18 stitches, hdc 22, join. | 40 |
| 20-26 | Repeat rows 12-18 | 40 |
| 27-33 | Repeat rows 11-17 | 40 |
| 34 | With Ivy Color Yarn ch 2, hdc in each stitch around, join. | 40 |
| 35-40 | Ch 2, *FPhdc in first, BPhdc in next; repeat * around, join. | 40 |
| | | |
| --- | --- | --- |
| Round | Description | Stitch Count |
| 1 | With Ivy Color Yarn, attach with a slip stitch to one corner of the heel and ch 2, *hdc2tog, hdc 4; repeat * around heel stitches (see image), join. | 30 |
| 2 | Ch 2, *hdc2tog, hdc 3; repeat * around heel stitches (see image), join. | 24 |
| 3 | Ch 2, *hdc2tog, hdc 2; repeat * around heel stitches (see image), join. | 18 |
| 4 | Ch 2, *hdc2tog, hdc 1; repeat * around heel stitches (see image), join. | 12 |
| | Fasten off, Using a tapestry need sew up remaining hole on heel and any holes on the corners of heel. Weave in all ends. | |
Round

Description

Stitch Count

1

With Ivy Color Yarn ch 6, join.

6

2-18

Working continuously without joining, sc in each stitch around.

Fasten off and sew tab to top heel side of socking, hang and enjoy!

6