Baby Boxer Crochet Pattern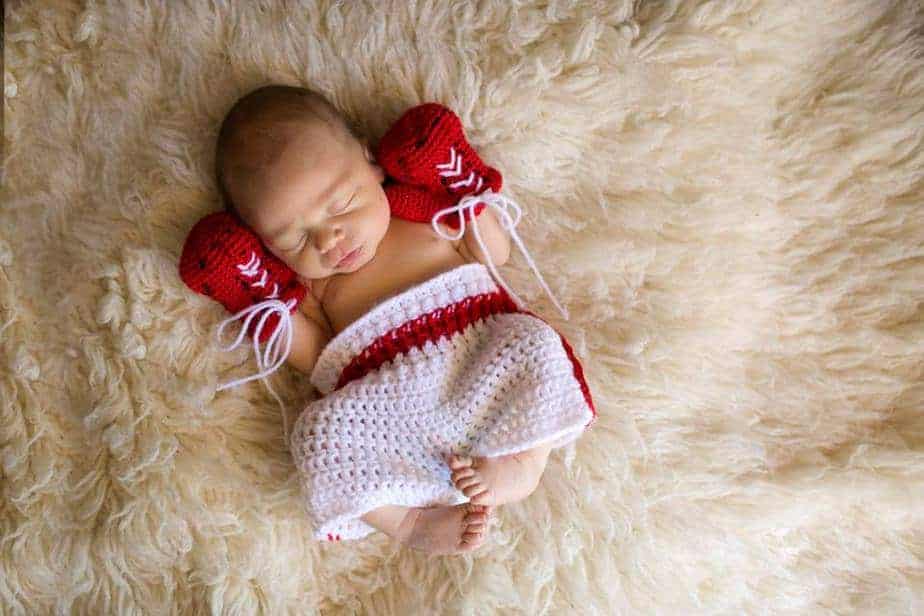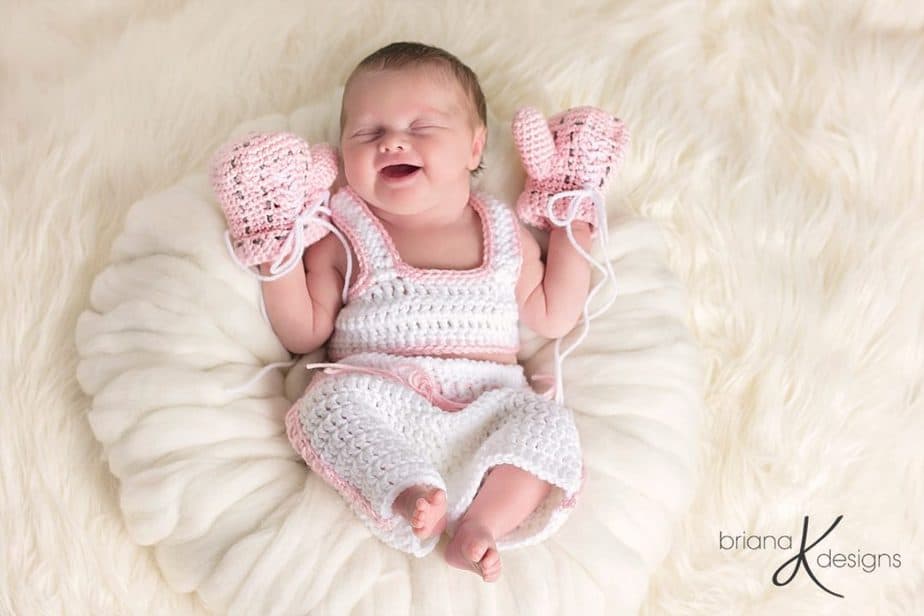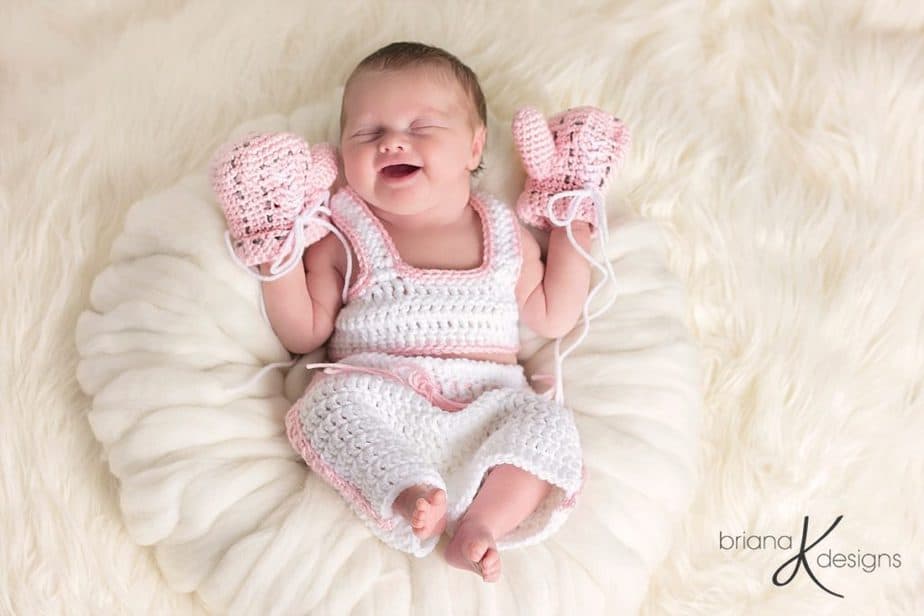 This baby boxer crochet pattern is a great outfit for those little fighters! This pattern includes instructions for the shorts and gloves.
Baby Boxer – Knit
Boxing Baby Shoes
I want to share the story behind this very first pattern I published:
A few weeks after having my second child, a local photographer contacted me, asking for a favor. She had heard the story of a little boy who was born with fluid on his brain. The doctors had decided to wait on operating but sent baby Aiden home to observe over the next few weeks.
---
Where To Purchase My Ad-Free Downloadable PDF's:
---
Not sure what was going to happen over the next few days, the photographer wanted to schedule a session for the very next day and was asking me to make a particular outfit. As a mom with my own newborn at home, and low on sleep, it would have been easy to say no; however, I felt this was a critical situation where my skills were needed. I searched the web for just the right outfit and couldn't find anything that stood out to me. So, I grabbed some yarn, paper, and pencil, and after some time, I looked at my finished product.
My very first pattern design was the crochet baby boxer outfit. I finished it moments before the photography session and was honored to spend time with Aiden and his mother.
After the image was posted on social media, I began receiving requests for the outfit from other parents who also had little fighters. I can't tell you how many outfits I ended up making before quickly finding out I was not physically capable of keeping up with the requests. Not wanting to let customers down, and I knew there was a big crochet community full of love that could make them.
So I typed up my very first pattern, the baby boxer outfit, and published it. The response and support from the crochet community were overwhelming. I was touched by the number of people all over the world, making this pattern.
Since then, I've learned so much and continue to challenge myself creatively and technically. I'm always learning and feeling inspired by the crochet and knit community. That community is a big part of my heart.
I'm also happy to report baby Aiden has defied the odds and continues to grow and strive. I love watching him on Facebook and seeing all his cute little smiles. They warm my heart.

With love,
Briana
Supplies:
Crochet Hooks:
Preemie 3.5 mm (E)
Newborn 4.0 mm (G)
3-6 Months 5.5 (I)
5.0 mm Hook (H)
Sewing Needle
Stitch Marker
Batting or Tissue Paper to stuff inside top of boxing gloves if desired to hold shape.
Yarn:
WeCrochet Brava Worsted Premium Acrylic in Red, White and Black
Skill Level
Advanced Beginner / Intermediate

Gauges:
H Hook: 3in x 3in Swatch = 10 DC Stitches x 5 Rows
G Hook: 2in x 2in Swatch = 10 SC Stitches x 10 Rows
Abbreviations
Ch- Chain
St- Stitch
SC- Single Crochet
SC2tog- Single Crochet 2 Together
DC- Double Crochet
Sl St- Slip Stitch
MC- Magic Circle
FPDC- Front Post Double Crochet
BPDC- Back Post Double Crochet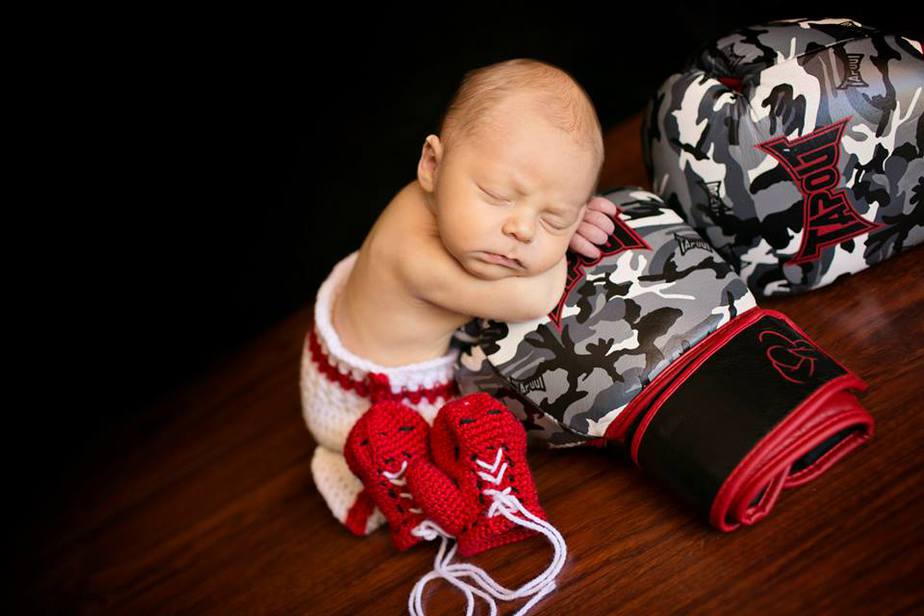 Top 10 Crochet Baby Outfit Patterns
CROCHET & TAG
I hope you have enjoyed making the Baby Boxer Crochet Pattern!
If you have made this, please share it on social media. Above all, I love to see the projects created with my patterns and also share your beautiful work.
Please use #brianakdesigns or @brianakdesigns
It is much appreciated and adored!
Well That Was Fun! What's Next?