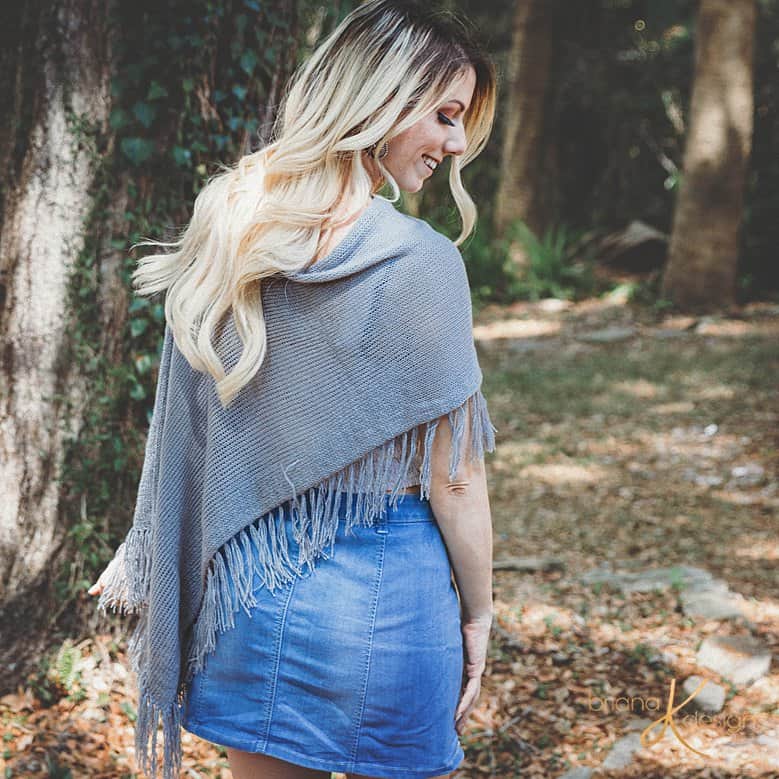 Is this your first time knitting a beginner lace knit poncho with a lightweight yarn? Or are you an expert? This pattern has a beautiful simplistic stitch for a beautiful drape and wearable poncho.
This knit pattern uses the knit stitch, often referred to as stockinette to create a basic fabric garment.
If you have a knitting machine, this can quickly be worked up within an hour.
---
Where To Purchase My Ad-Free Downloadable PDF's:
---
Looking for the Crochet Version?
Click HERE >>>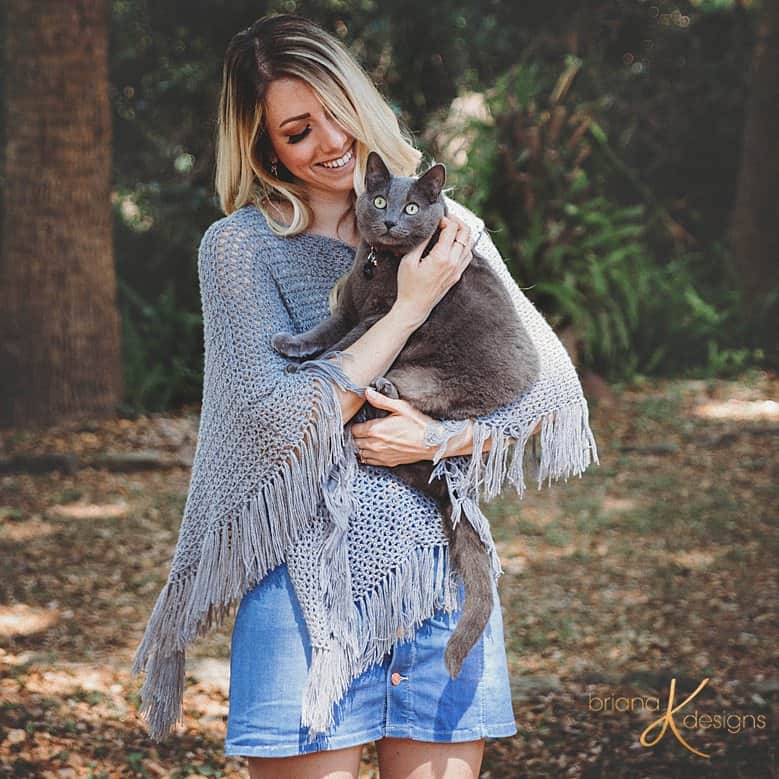 Simple Knit Poncho
Sometimes using a simplistic stitch repeat can not only be relaxing but have a beautiful effect. This poncho uses the knit and purl stitch in rows and I was so impressed with how it turned out in the Lion Brand Amazing Lace Yarn.
I could see this in a white for a bride. Or even in a shade of pink for bridesmaid in a spring wedding. The beginner lace knit poncho so light and airy with softness to the max.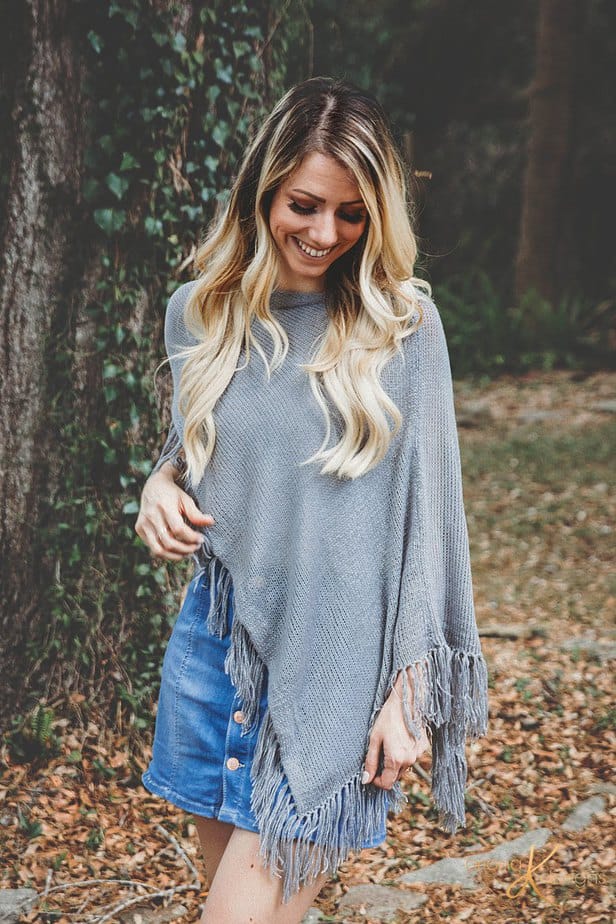 Can the Knit Shawl be Resized?
I often get asked how difficult it is to resize specific patterns. This one is not difficult at all! Because of the simple construction and pattern repeat, it would be easy to make this larger or smaller.
This poncho construction is a rectangle with one seam. Super easy and quick! Sizing can be done by either adding or subtracting the beginning cast on and then following the instructions.
And to adjust the length, all one has to do is stop and bind off when the desired length is knitted.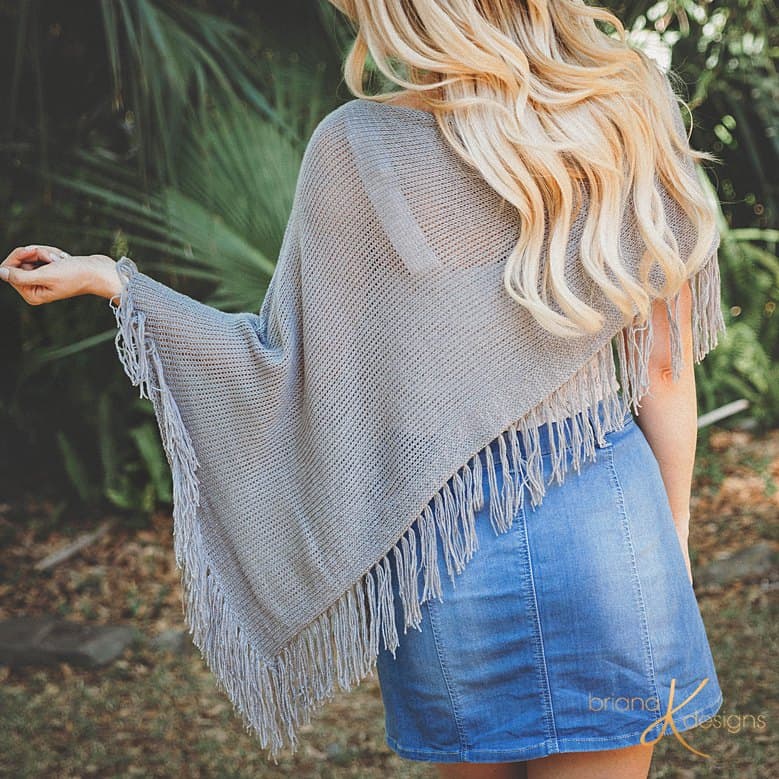 This can also be worn in several ways simply by shifting the placement on the body. Personally I love the diagonal look by having the longer side placed to one side of the body.
A triangle effect happens when the longer side is worn on the front. So versatile in looks!
And with the lightweight it's easy to take places in a bag and then use when the evening chill starts to set in.
This can be a casual or an evening out fashion accessory.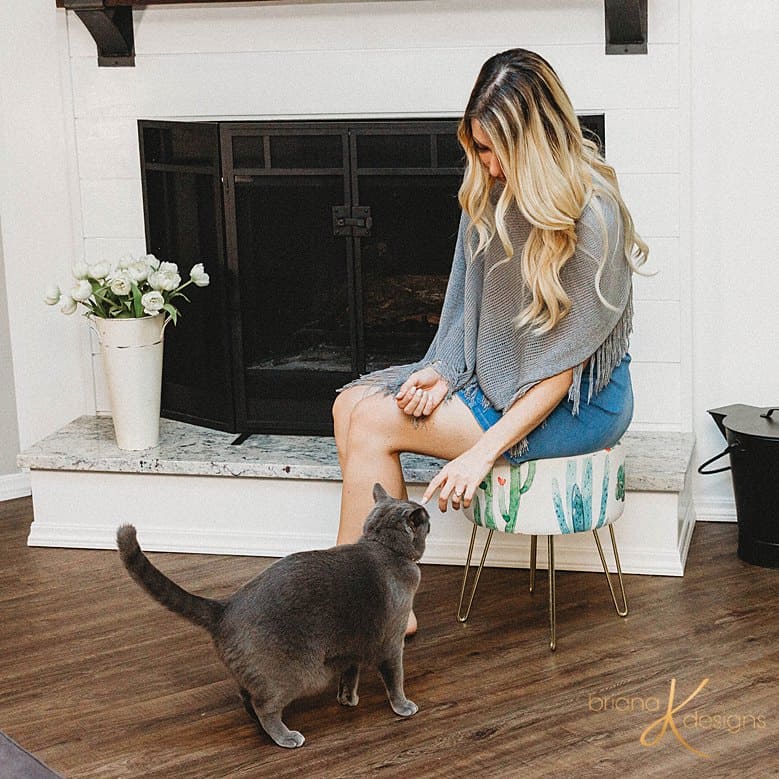 Disclosure: To cover the cost of publishing my blog and bringing you awesome content, this page may contain affiliate links. Should you choose to make a purchase, at no additional cost to you, I may earn a small percentage of the sale.
Supplies:
Notes: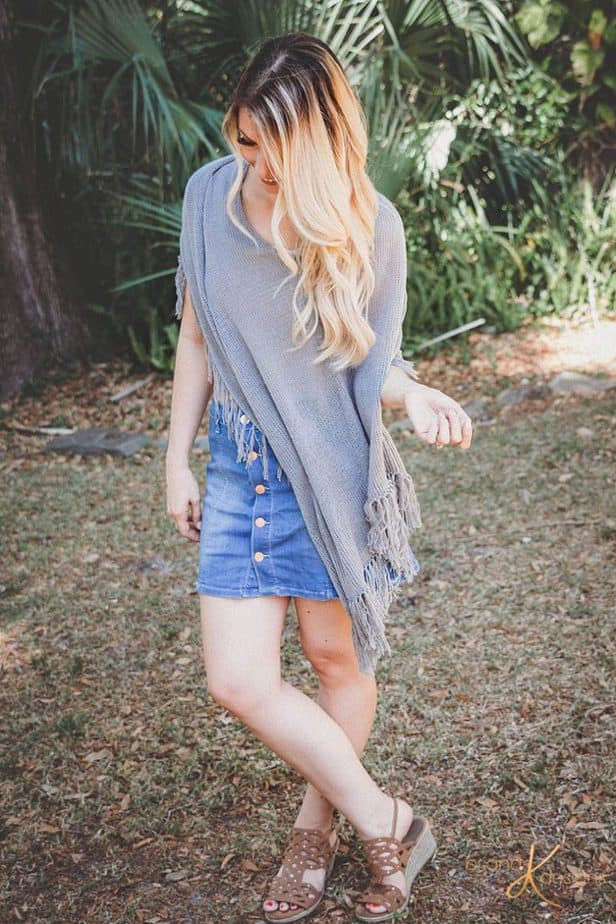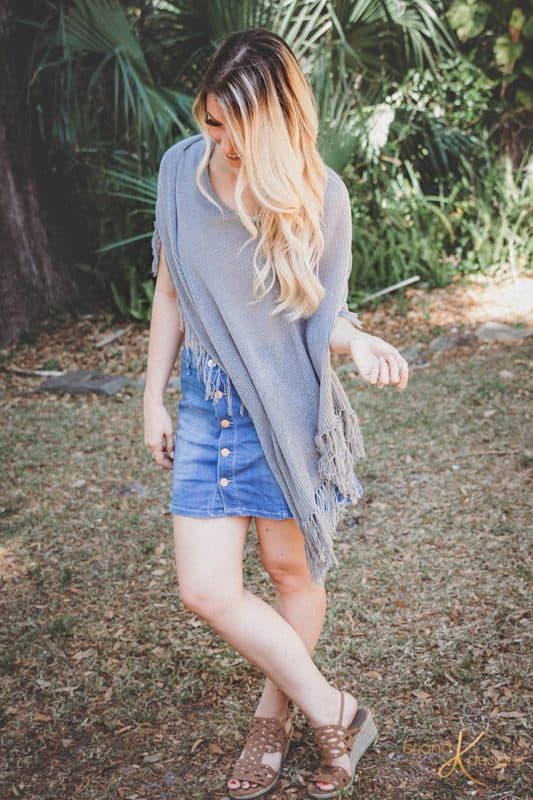 Notes:
Don't shy away from using a lace yarn and enjoy working up a light, airy, and wearable summer poncho.
– This pattern is worked in rows until the desired length is achieved. It can easily be adjusted to different sizes by working more stitches on the first row for the width and also crocheting additional length.
Double Crochet V-Stitch Video: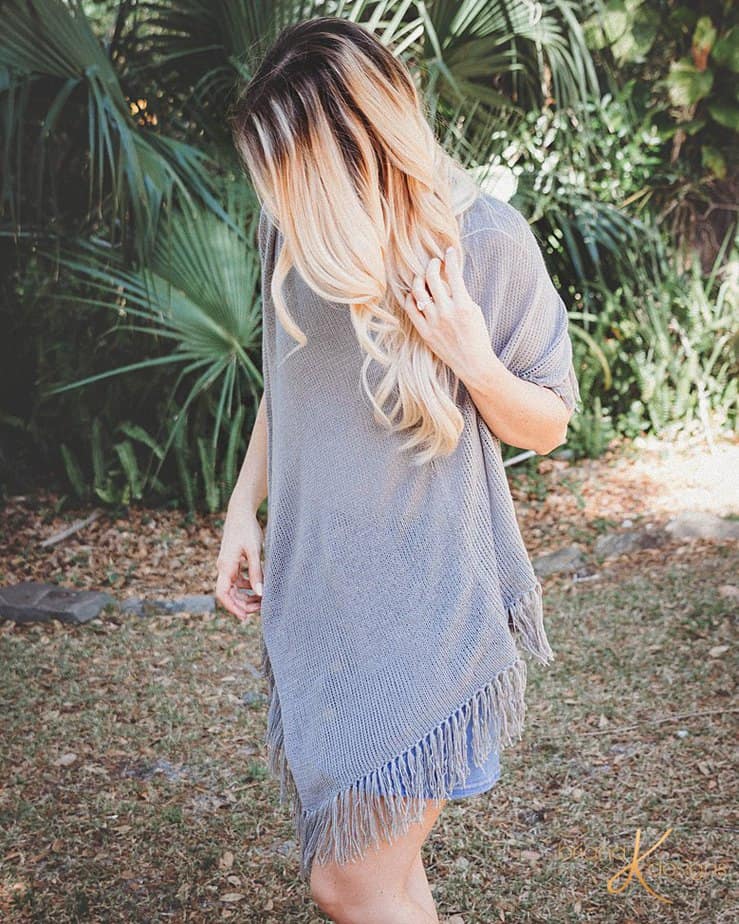 Knit Lace Poncho Pattern:
| | | |
| --- | --- | --- |
| Row | Description | Stitch Count |
| 1 | Cast on 72 stitches.To change the width of the poncho either cast on more or less. | 72 |
| 2 (RS) | Knit | 72 |
| 3 (WS) | Purl | 72 |
| 4 | Repeat rows 2-3 until piece measures approx. 60 inches in length (approx. 405 rows). Bind off on a right side row knitwise.Add or remove rows if adjust the sizing. Fasten off and weave in ends. | 72 |
How to Seam the Knit Poncho:
Fold the poncho in half lengthwise. With a yarn needle and yarn, seam the top edge with the mattress stitch, leaving approx. 1/3 of the edge open for your head to fit through. The fringe will be placed on the remaining open edges.
Shown on crochet version below, but the same concept for the knit version.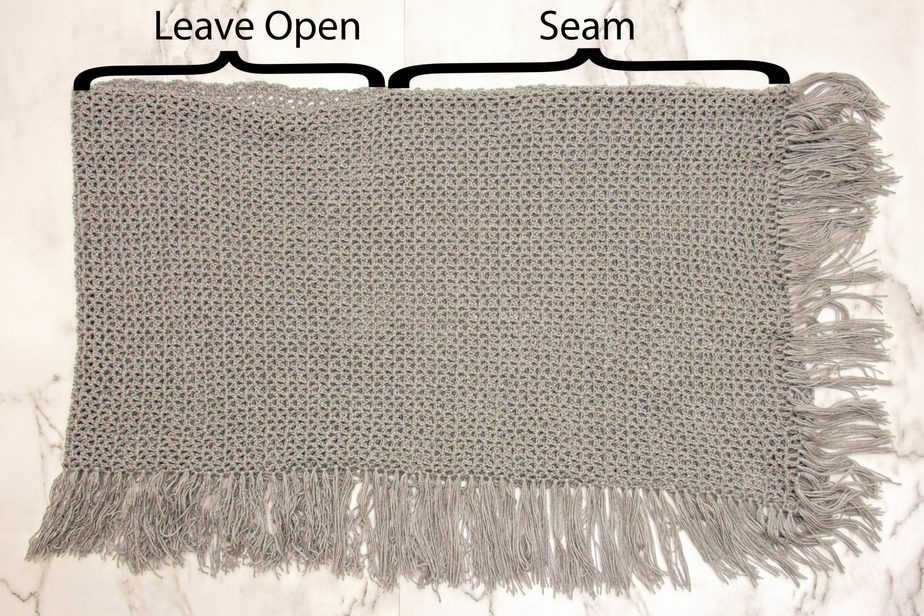 How to Attach Fringe:
When cutting the fringe, wrap the yarn around a card (I used my sister's wedding announcement lol) or length of a cell phone and cut once to save time.
To attach the fringe on the edges we will be using a larks head knot.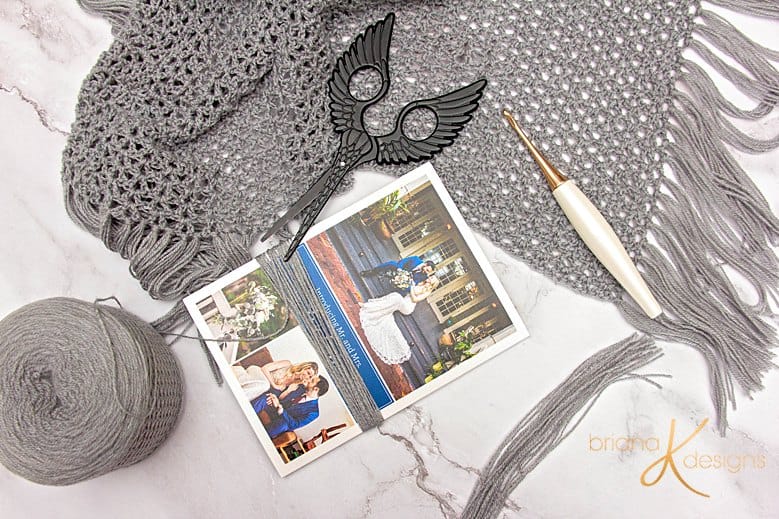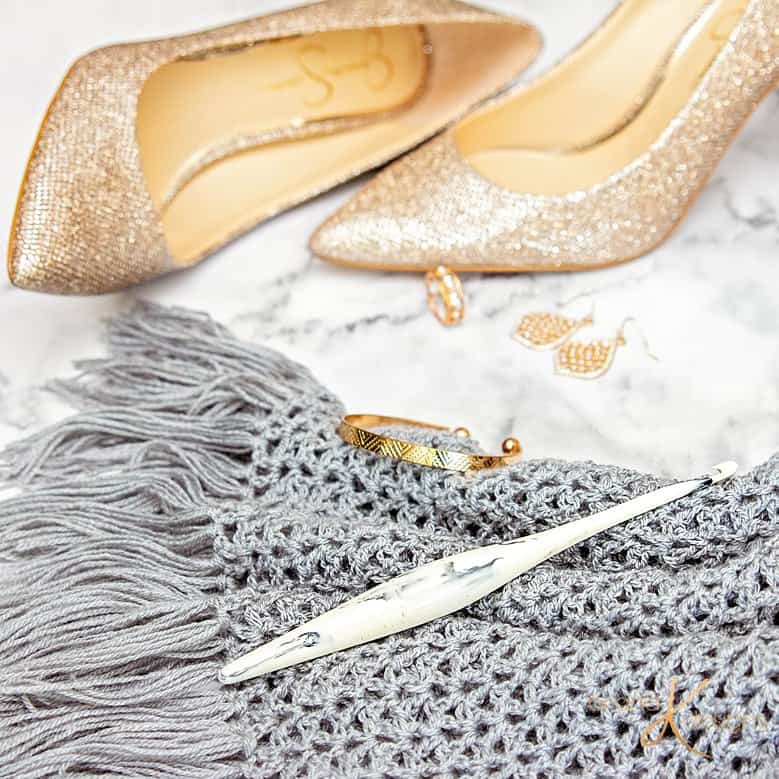 Knit & Tag
I hope you have enjoyed making the Beginner Lace Knit Poncho Pattern!
If you have made this, please share it on social media. Above all I love to see the projects created with my patterns and also share your beautiful work.
Please use #brianakdesigns or @brianakdesigns
It is much appreciated and adored!