Before we get into the Chateau Knit Cowl, I just want to say hello again, my crafty friends! Today I want to talk to you about my friends. The more I learn about business, the more I realize how the support of those around you leads to success.
---
Where To Purchase My Ad-Free Downloadable PDF's:
---
A few years back, I asked a beautiful friend of mine if she would model a few items for me. She didn't even hesitate and said yes. In addition, she is so amazing and has been a constant cheerleader ever since I started this small business.
I have also been able to photograph her little ones in my items as well. Best friends are awesome.
Who loves awesome friends?
This week in the spirit of friendship, I'm now offering the Chateau Knit Cowl for FREE on this blog post. It's my way of giving back to all those who have helped me along the way, and also meet a few new friends if this is your first time to my blog, welcome! And stick around because we have some fun stuff here.
If you have been to my blog before, here is a huge virtual hug for coming back again. Because it means a lot to me when you click on over and enjoy the crafty things.
And if you haven't' noticed yet, I have a couple of furry friends at my house. They often make appearances in my images, and it's not a planned thing. Most of the time, when I do my photoshoots, the kids are at school, and that's when the animal will follow me around since their other playmates are missing.
I'll merely be doing my thing and sometimes not even notice they walked into the shot. I think my dog, Rocket, was begging me to play with him on this particular day.
One more thing..
And then I'll get down to the directions so you can whip up your own. I design this so it not only can be worn around the neck but pulled up around your head for extra warmth. It becomes a makeshift hood to keep your hair protected from rain or snow and also help against any stormy winds.
While it's always sunny here in Florida, I remember needing to bundle up against the cold when I lived in Idaho. So now onto the pattern! Grab your favorite drink and kick up your feet. The Chateau Knit Cowl Pattern is a relaxing repeat of texture and a great pattern project for on the go as well.
Want to create a beautiful blanket in various sizes with the Alpine Stitch? Head over to Alpine Stitch Textured Baby Crochet Blanket Free Pattern.


Disclosure: To cover the cost of publishing my blog and bringing you awesome content, this page may contain affiliate links. Should you choose to make a purchase, at no additional cost to you, I may earn a small percentage of the sale.
Supplies for the Chateau Knit Cowl:
• US 8 (5mm) 24" circular needles or dpns
• Stitch Marker
• Measuring Tape
• Yarn Needle
• Scissors
Yarn:
• Malabrigo Worsted (shown in color Tuareg) 2 Skeins
Yardage:
• Approx. Yards [ meters] if crocheting back as well.
If gauge is met, other yarns of the same weight can be substituted:
Manos Del Uruguay Maxima
Valley Yarns BFL Worsted
Knit Picks Preciosa Worsted
Cascade Yarns Boliviana
Gauge:
• 4×4 inches = 24 rows x 17 stitches in pattern
Measurements:
• 19 inches long by 15 inches wide when laid flat
Abbreviations:
• k- knit
• p- purl
Skill Level:
• Easy/Beginner
Many of the supplies can be found at the affiliate links below:
Notes:
The Chateau Cowl is cast on at the bottom and worked to the top with a knit edge that curls. The simple design, with a touch of texture, is a great winter or spring accessory. And also, the length is long enough to pull on top of the head in colder weather for extra warmth.


Instructions for the Chateau Knit Cowl:
Round
Description
Stitch Count
Cast on
Long Tail or Cable Cast on 126, place stitch marker, join being careful to not twist stitches before joining, and work in the round
126
1-4
*k4, p2; repeat * around
126
5-8
*k2, p2, k2; repeat * around
126
9-12
*p2, k4; repeat * around
126
Repeat rounds 1-12 until piece measures 17 ½ inches
126
Top Edge
1-8
knit
126
Finishing
Bind off. I recommend trying the SC Bind Off method if you have a crochet hook around.
There is a video below or on YouTube:
https://www.youtube.com/watch?v=0bAAmeeTgZk
Fasten off and weave in ends. Block to open up stitch patterns and reduce curling.
126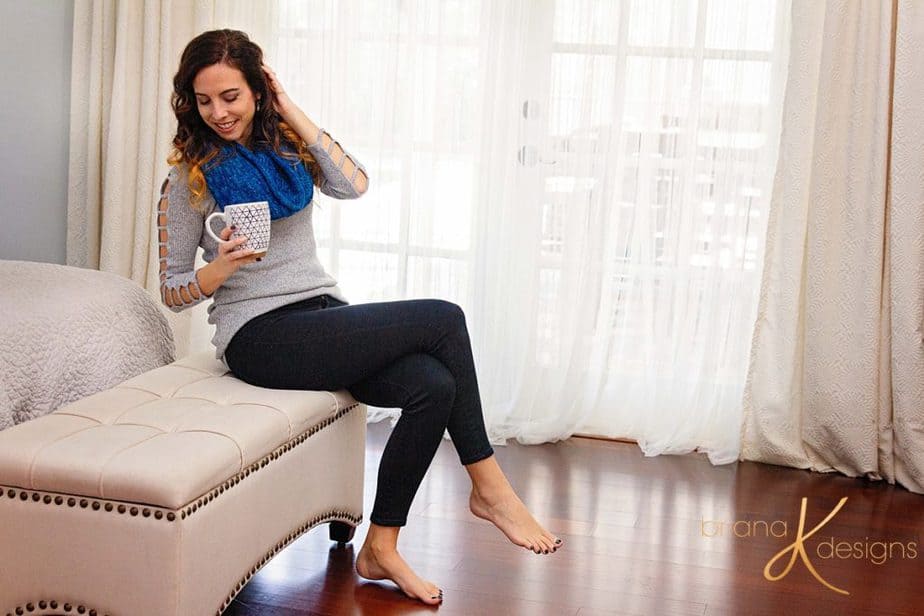 Crochet & Tag
In conclusion, I hope you have enjoyed making the Chateau Knit Cowl Pattern!
If you have made this, please share it on social media. Above all, I love to see the projects created with my patterns and also share your beautiful work.
Please use #brianakdesigns or @brianakdesigns
It is much appreciated and adored!