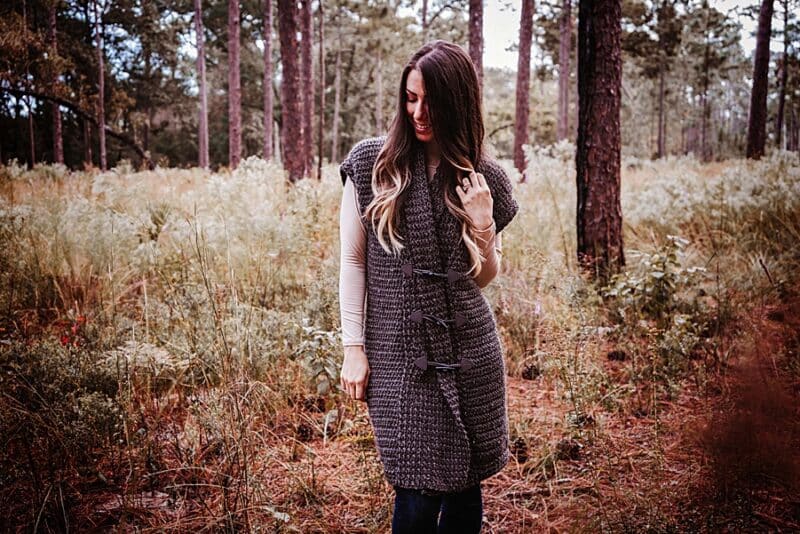 How to Crochet a Cardigan for Beginners
The Whimsical Crochet Cardigan Pattern is perfect if this is your first attempt, or you are an experienced crocheter. The simplistic stitches and construction make it a breeze to work up, especially with the visuals of a video tutorial.
---
Where To Purchase My Ad-Free Downloadable PDF's:
---
You can purchase the Whimsical Cardigan Dress Pattern on WeCrochet.
Whimsical Crochet Cardigan Dress Video Tutorial
How To Style A Crochet Cardigan
Crochet cardigans can add a pop of color to an outfit, add warmth when the weather is cold, and provide protection from wind or rain. They can tie together an outfit with a complementary color or be dressy enough to wear with formal attire. Crochet cardigans also add some glam to your wardrobe in an instant.
Crochet cardigans are excellent for this time of year. They are versatile and can be styled for every occasion.
Winter might be cold, but that doesn't mean it can't be magical. Style the Whimsical Cardigan a variety of ways to show off your skills and figure.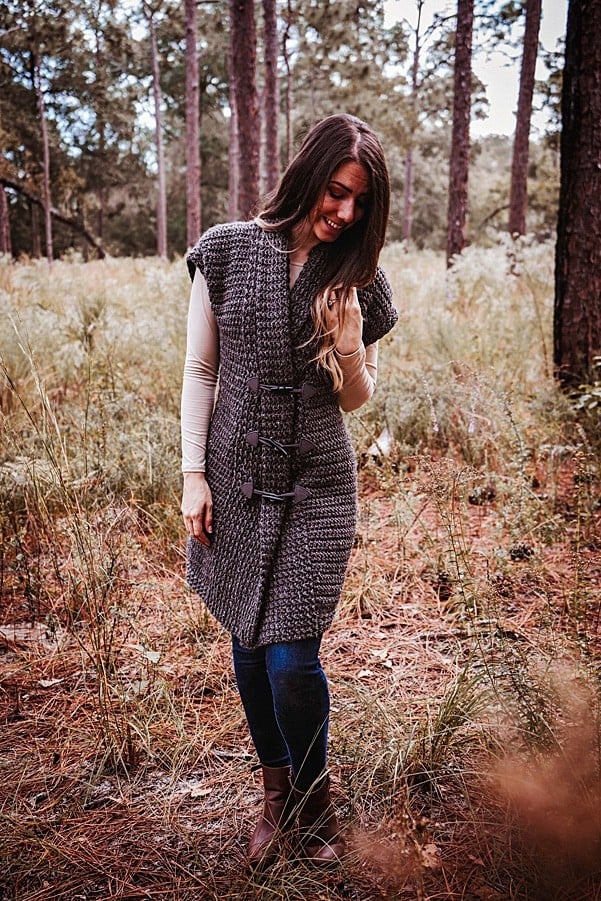 Crochet Cardigan For the Office
Pair your cardigan dress with a pair of tights, long sleeve top, and heels. Not feeling like trekking through the snow with heels? A pair of ankle boots will be useful for those slick sidewalks and still be in style. Throw on a pair of neutral earrings and you are ready for your next Zoom call.
Wear A Cardigan On the Move
Meeting up with the girls for coffee? Grab those skinny jeans, pull on those high boots, and grab that leather bag. For something even more casual, grab the Uggs or even a pair of loafers.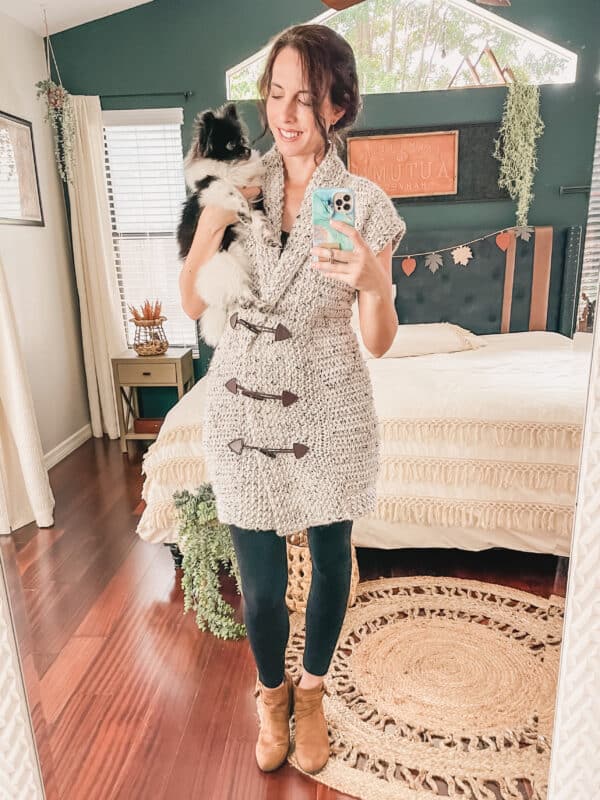 A Crochet Cardigan for Lounging
Binging that new murder show? This calls for the leggings. It's easy to wear with the Whimsical Crochet Cardigan and it will feel like you are wrapped in a warm blanket when you reach for that ice cream treat. No need to keep your hair down, pull it up and let the textured trim be the show.
Dress Up With a Cardigan for Date Night
For date night, you really can't go wrong with tights, leggings, or jeans. Throw a pop of color by layering a light silk scarf. Since the Whimsical Cardigan Dress is all about the neutrals and textures, feel free to go bold with big earrings or a chunky necklace. Layer over a light sweater if it's extra chilly. And for a mild winter, go for shorts and show off those legs.
How To Customize A Crochet Cardigan
The construction of the Whimsical Cardigan Dress allows for some customizing, let's go through making this the perfect winter garment for you.
Crochet A Thicker Front Trim
If you've created the trim, and don't feel like it's enough, keep adding more rows. Or if you want to wear this open on the front, less trim will decrease that overlap.
Wear As A Cardigan or Duster
Can this be worn as a cardigan? Yes! Leave off the toggles and it's simply a cute, open-front, cardigan. You can even use a belt to add a little style.
Wear As A Dress or Short Cardigan
Want this a bit longer? Or shorter? Before splitting for the arms, hold up the garment around your body and see how you like the length. Add more rows for more length or do fewer rows for a shorter length. Remember, there will be a trim on the bottom, but that can also be adjusted. The trim is where you will really fine-tune your custom length.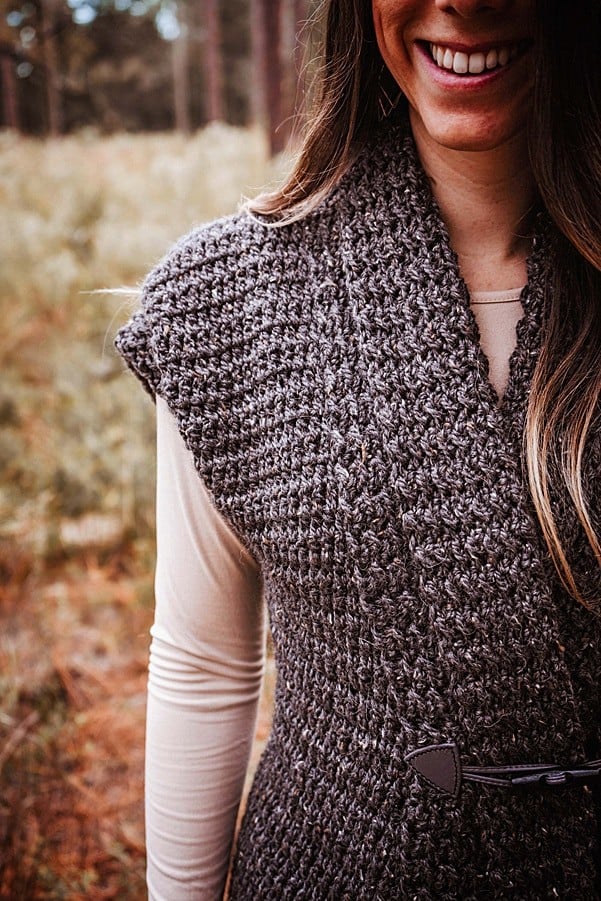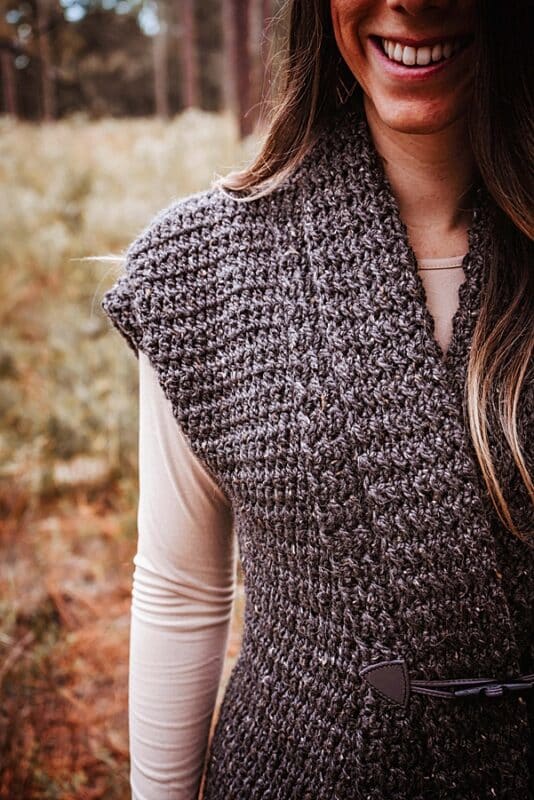 How to Adjust the Cardigan Sleeve Length
Want sleeves? Slip stitch around the sleeve opening as instructed, but then work the Ehdc between the stitches for the main part of the arms. Decrease stitches as you work the sleeve to taper towards the wrist. Then top off your wrist with the same stitch as used for the front trim.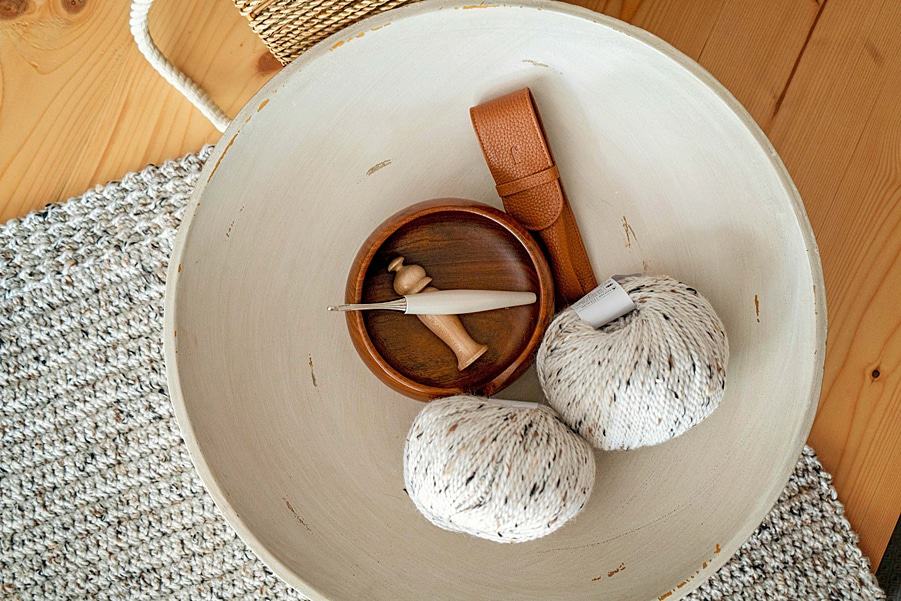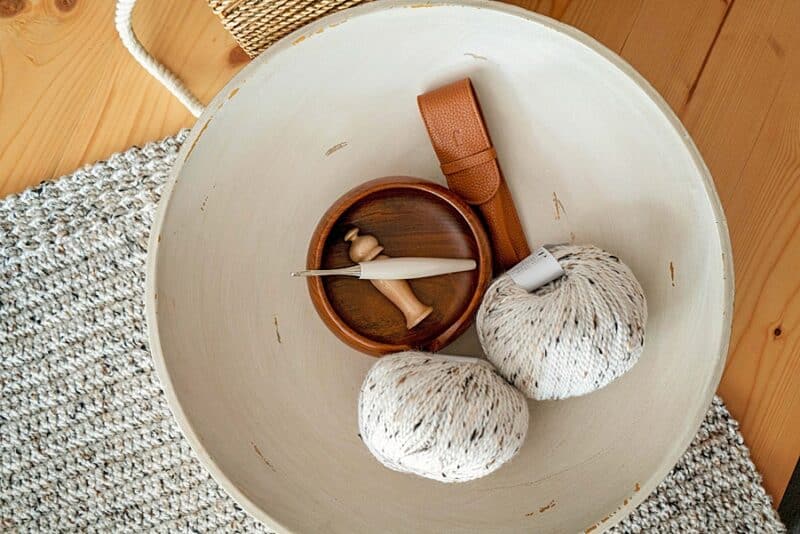 Disclosure: This website may contain affiliate links to cover the cost of publishing my blog and bringing you excellent content. Should you choose to make a purchase, at no additional cost to you, I may earn a small percentage of the sale. Thank you for your support.
About the Yarn & Substitutes:
This crochet cardigan pattern uses City Tweed Aran Yarn from WeCrochet.
It's one of the prettiest yarns on the market and does all the fancy texture for you. Let the tweed and luxurious fibers do the talking. No need for anything fancy, this yarn takes care of the cozy and classic style.
Here are yarn suggestions for substitutes:
Simply Alpaca Aran, 100% Superfine Alpaca (246 yds/100g)
Bare Andes del Campo, 100% Highland Wool (164 yds/100g)
Snuggle Puff, 70% Pima Cotton, 30% Nylon (142 yds/50g)
About the Techniques Used:
The unique, double-sided, texture in the pattern is created by working the Extended Half Double Crochet Between Stitches. This is a fun stitch to learn and use. If you want to practice this stitch I have two free patterns on the blog that use this pretty texture:
Ehdc Between Stitches Free Crochet Beanie Hat Pattern
Extended Half Double Crochet Between Stitches Pattern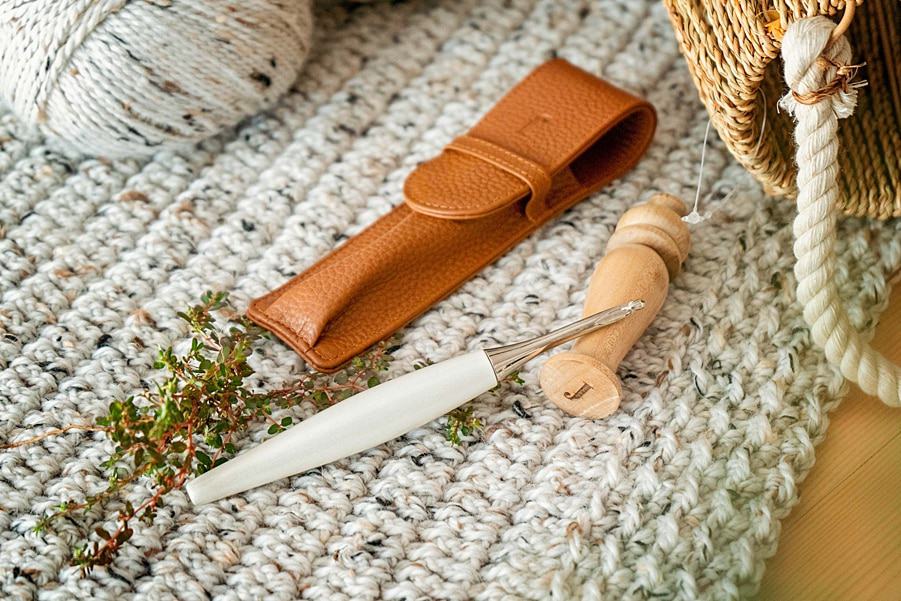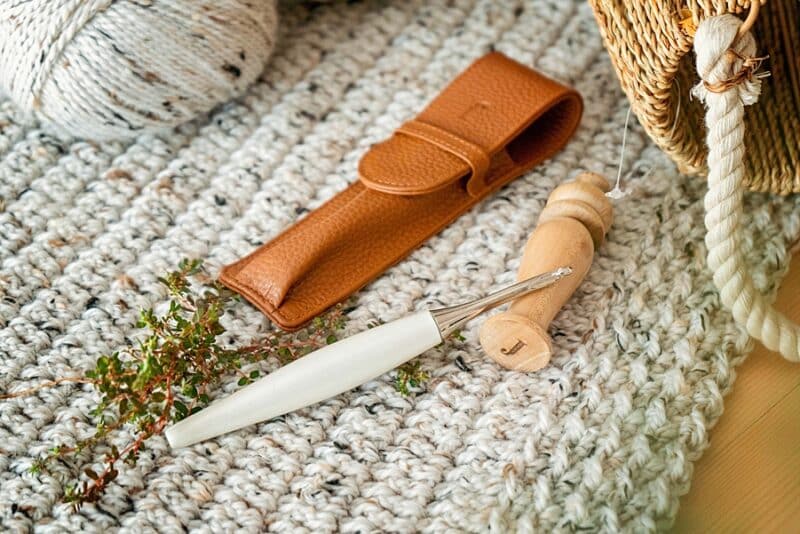 Ehdc Between Stitches Video Tutorial
What you will need to crochet the cardigan dress:
Crochet Hook:
Notions:
Removable stitch markers if needed
Yarn needle to weave in ends
Scissors
Front Fastener/Closure Toggles (3)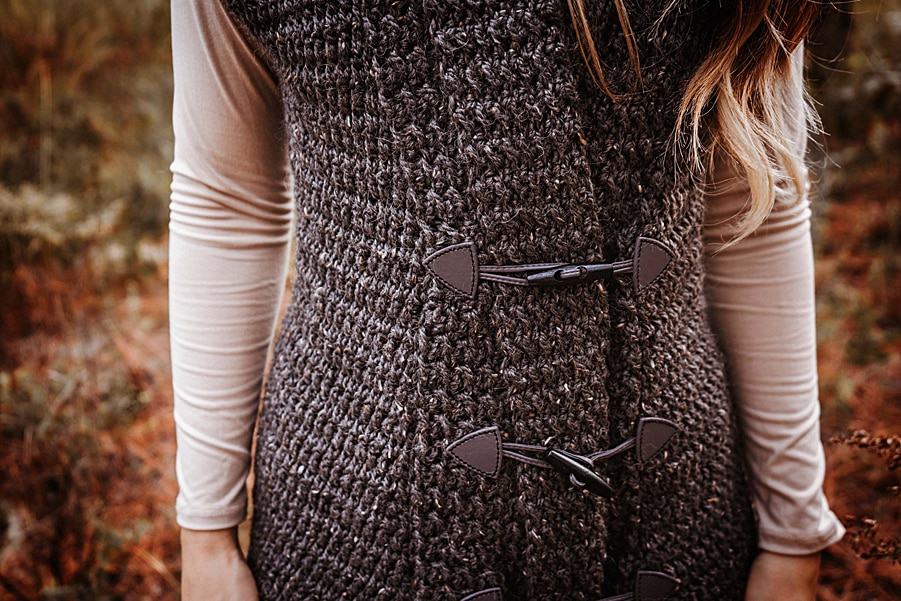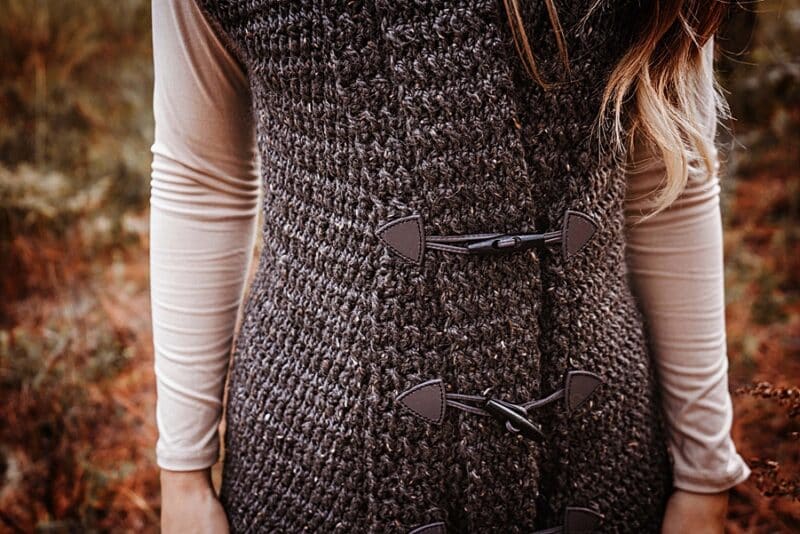 Yarn:
WeCrochet City Tweed (Aran/HW Weight, 55% Merino Wool, 25% Superfine Alpaca, 20% Donegal Tweed, 164 yds/150 m, 100 g)
Colorways Shown: Snowbank or Obsidian
9 (10, 10, 11, 11) (12, 13, 14, 15) balls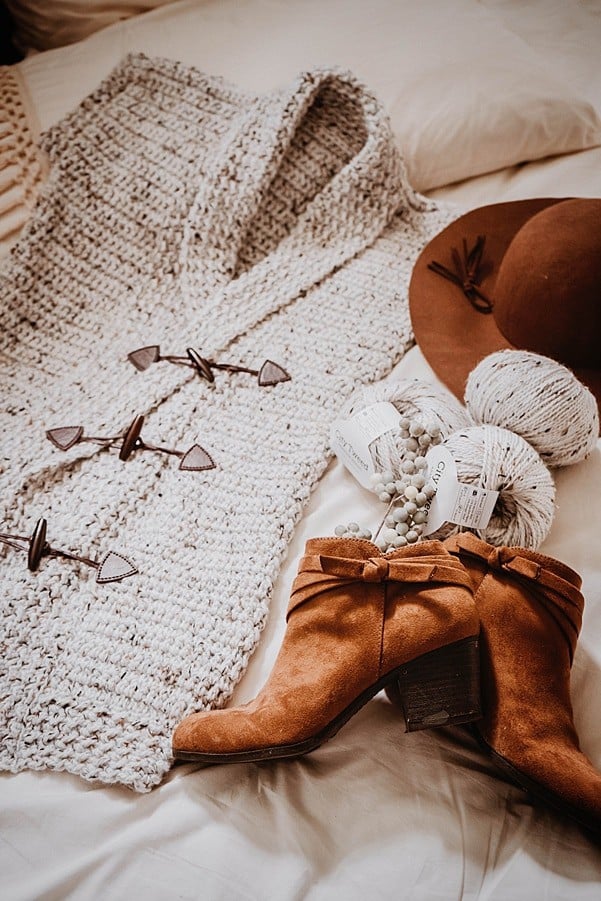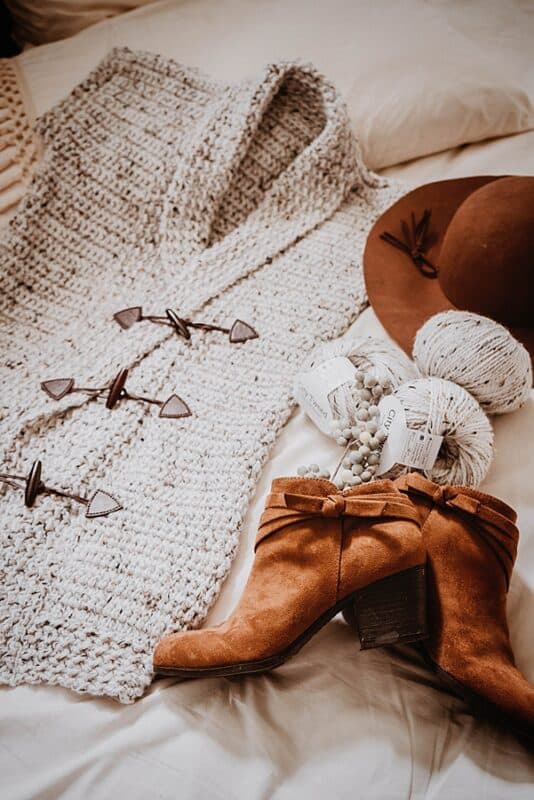 Yardage:
XSmall: 1,450 yds (1,325 m)
Small: 1,500 yds (1,372 m)
Medium: 1,550 yds (1,417 m)
Large: 1,650 yds (1,509 m)
1X: 1,800 yds (1,646 m)
2X: 1,950 yds (1,783 m)
3X: 2,100 yds (1,920 m)
4X: 2,250 yds (2,057 m)
5X: 2,400 yds (2,195 m)
Abbreviations/Stitches:
blo – back loop only
ch – chain
ehdc – extended half double crochet
sc – single crochet
sc3tog – single crochet 3 sts together
sl st – slip stitch
Stsc – stacked single crochet
st(s) -stitch(es)
Gauge:
11 sts by 8 rows = 4" square in ehdc between stitches
Skill Level:
Easy/Beginner
Size/Measurements:
Finished Bust Sizes
XSmall: 38" (96 cm)
Small: 40" (102 cm)
Medium: 44" (112 cm)
Large: 48" (122 cm)
1X: 52" (132 cm)
2X: 56" (142 cm)
3X: 60" (152 cm)
4X: 64" (163 cm)
5X: 67.5" (171 cm)
This garment has 8-10 inches of ease.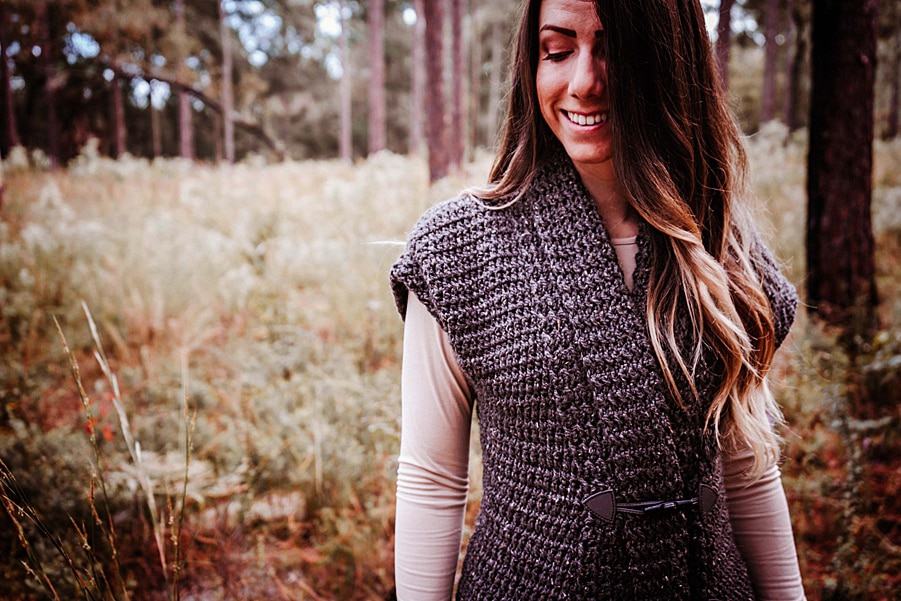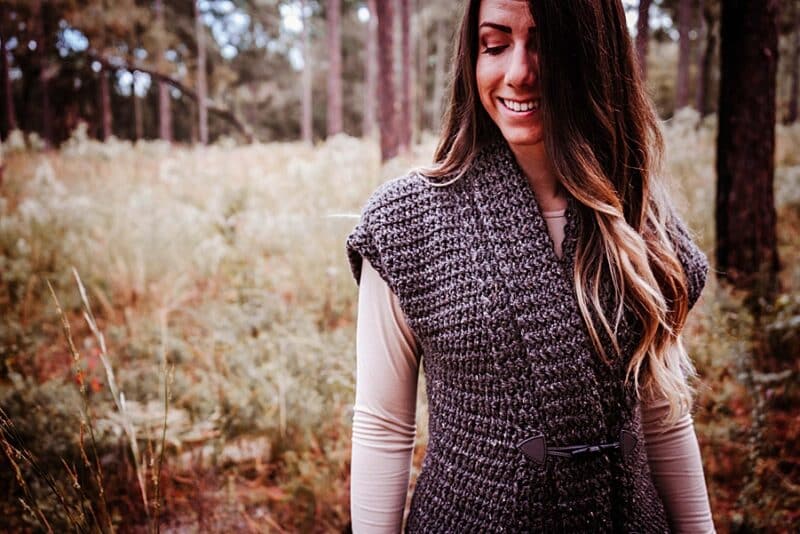 Crochet Cardigan Notes:
The Whimsical Crochet Dress is worked in rows starting from the bottom to the underarm. It's then split into three panels for the front right, back, and front left. The shoulders are seamed and then a bottom trim is added. The front trim is then worked around the front opening. The same trim is used around the arms for a pop of texture. Last, toggles are sewn on for a finishing touch.
You can purchase the Whimsical Cardigan Dress Pattern on WeCrochet.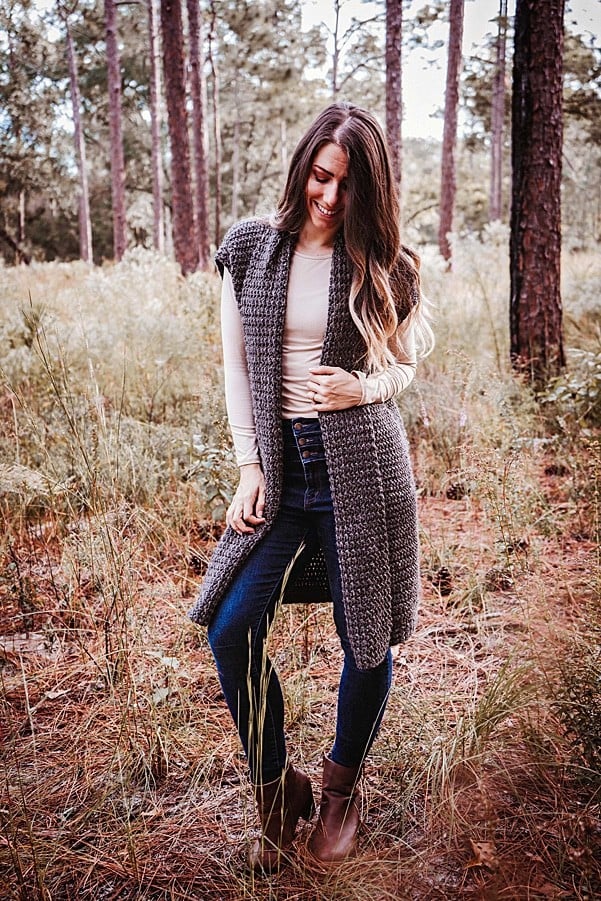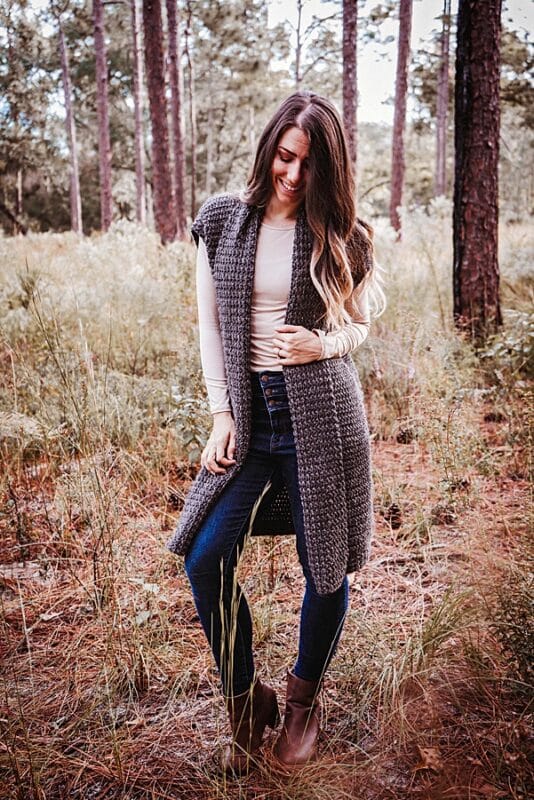 CROCHET & TAG
I hope you have enjoyed making the Whimsical Crochet Cardigan Dress Pattern!
If you have made this, please share it on social media. Above all, I love to see the projects created with my patterns and also share your beautiful work.
Please use #brianakdesigns or @brianakdesigns
It is much appreciated and adored!
Share Your Project & Share Pictures!
I really hope you enjoyed working on this project. The best way to make a designer smile is to share what you've made! When it comes to free or premium content, I really rely on you to help me keep designing and supporting my family. Here is how you can make my day:
Share your yarn choice, in-progress, or finished projects on Instagram and use the hashtag #brianakdesigns
Link and share your project on Ravelry. It really helps to have inspirational photos for others.
Join the Briana K Designs Community Group on Facebook and share anything crafty.
Don't Lose This Project! If you aren't ready to start it save it on Pinterest by clicking any of the images above.