Wrapping your toes and heels and ankles up in the soft luxury of perfect yarn is a treat. And it's a treat that you deserve to enjoy every single day! Luckily, since you know how to knit and/or crochet, you can easily create these socks for yourself. This roundup of knit and crochet socks patterns will get you started.
How to Get The Exact Right Fit for Crochet Socks
Before we dig into the knit and crochet socks patterns, though, I want to make sure that you get a chance to check out my new guide to customizing crochet socks so that they perfectly fit your feet.
Everyone's feet are a little bit different right? When you go to the store to buy socks, you might notice that there's one basic sock size for a huge range of shoe sizes. And that's okay. It works. However, when you make your own socks, you can customize them to exactly fit your feet. You can make them unique to your true foot size. In addition to yarn choice, this ideal fit is what makes handmade socks truly special.
Therefore, make sure that you bookmark the guide above so that you can refer back to it. Of course, each pattern has specific instructions and sizing information. However, you can always supplement that with the additional information in the guide.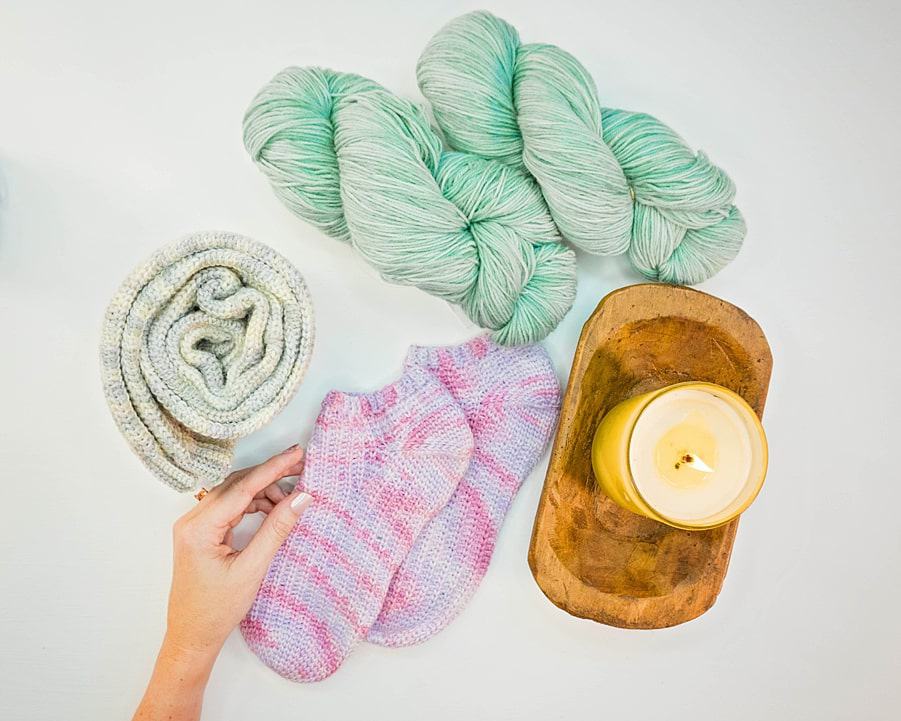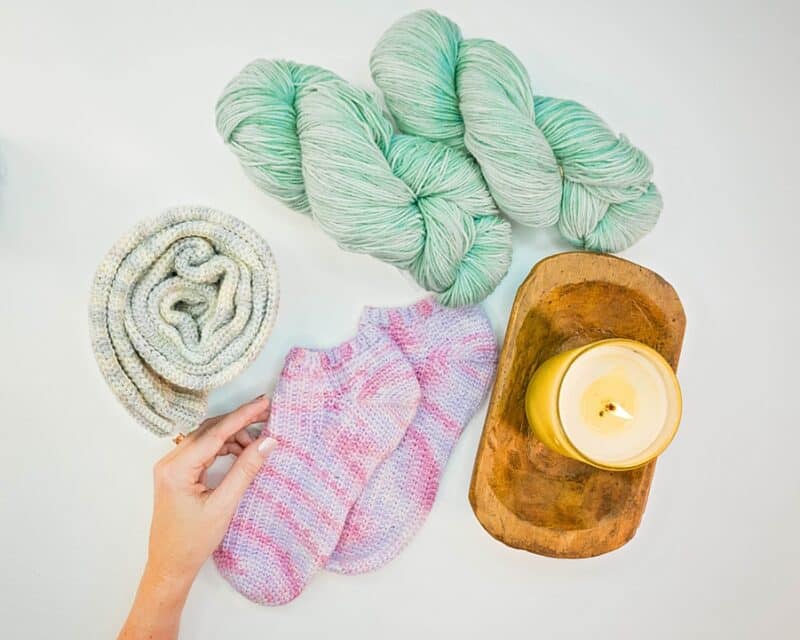 Is It Hard to Knit or Crochet Socks?
Socks are one of those things that some crafters avoid for years. Others jump right in because it's the pinnacle of projects and they want to scale that peak. So, does that mean that it's hard to knit or crochet socks? Not at all. It's just about learning as you go.
Choosing The Right Yarn Weight
Most knit and crochet socks are worked with sock weight or fingering weight yarn. That lightweight but cozy yarn is perfect for a good comfy sock that's not too bulky. However, if you're new to crafting socks, you might choose a slipper sock pattern to begin. This will teach you about shaping your sock while allowing you to work with a thicker yarn that might be easier as you're starting out.
Exploring Techniques
Socks can be made a variety of different ways. There are top-down socks and toe-up socks as well as some other variations. If you find yourself getting stuck with any of these knit and crochet socks patterns, explore another approach until you find what works best for you.
Here is a great roundup of toe up socks, Conquer Toe Up Crochet & Knit Socks With These Terrific Patterns
Are Crochet Socks As Nice as Knit Socks?
Historically, across the arc of crafting, people would typically knit socks. While crafters certainly crocheted socks sometimes, particularly chunky slipper socks and stocking, it simply wasn't as common to crochet them. There was this myth that knitting makes nice socks while crochet doesn't. And it's just that, a myth.
Today there are so many terrific crochet socks patterns. They use beautiful yarn and the right stitches to create socks that are sleek and soft and fit nicely in your shoes and look beautiful on your feet. If you love to knit, and you want to knit socks, that's wonderful. However, if you are a crocheter, you can still knit socks that are also just as wonderful. Myth dispelled.
Disclosure: This website may contain affiliate links to cover the cost of publishing my blog and bringing you excellent content. Should you choose to make a purchase, at no additional cost to you, I may earn a small percentage of the sale. Thank you for your support.
My Most Popular Knit and Crochet Socks Patterns: Felici
My Felici socks patterns is one of my most popular patterns ever. I've made these socks in both knit and crochet versions. They're very similar. However, the crochet socks pattern is particularly popular. I think that it's because it's a beginner-level pattern that shows you how you can crochet socks that stand up against any knit sock pattern in terms of both beauty and comfort.
I've designed this cute, colorful crochet socks pattern to be a pattern that makes it easy for you to learn how to crochet socks. It's a beginner-friendly design that includes a video tutorial to help you along the way. The pattern uses a self-striping sock weight yarn called Felici that has fabulous colorways to choose from. The yarn does all of the color work for you so that you can focus on learning how to crochet socks. Combine this beginner pattern with the aforementioned guide to customizing sock fit and you're going to love these!
As mentioned, this pattern comes in a knit version as well. It's a simple beginner knit pattern that also comes with a video tutorial. So whether you knit or crochet or both, you can make the Felici socks!
Other Crochet Socks Patterns
Here are some of the other crochet socks patterns that you might enjoy working with.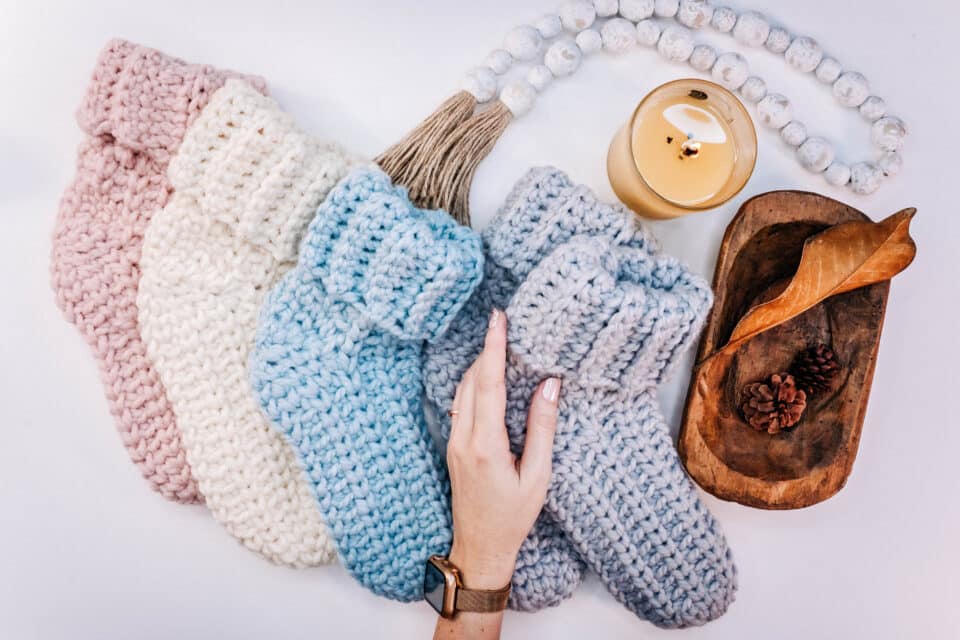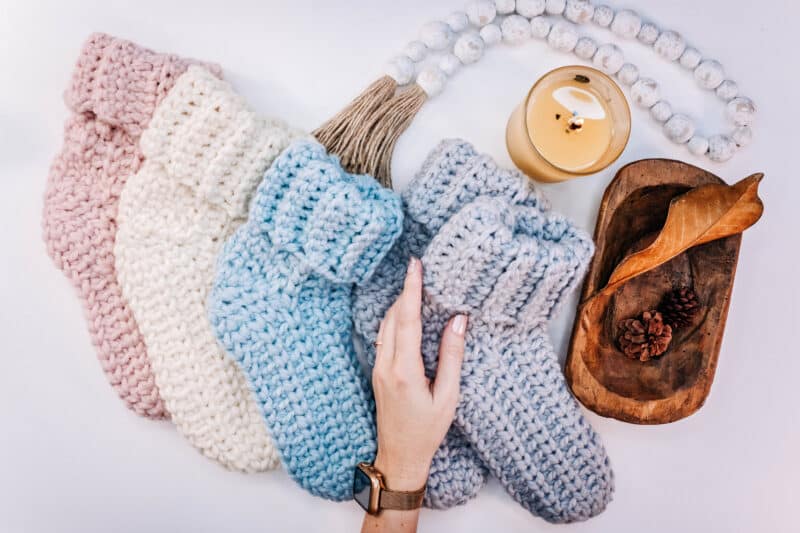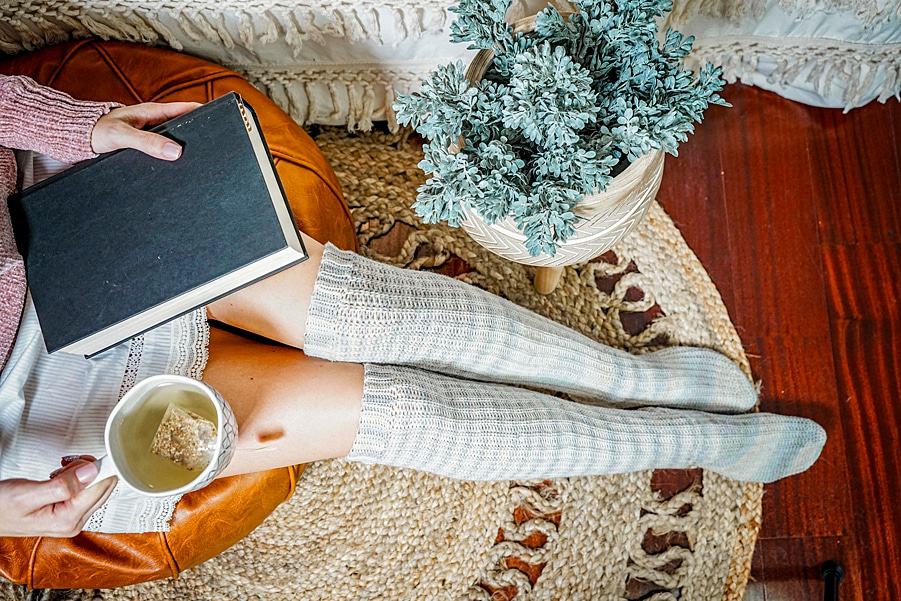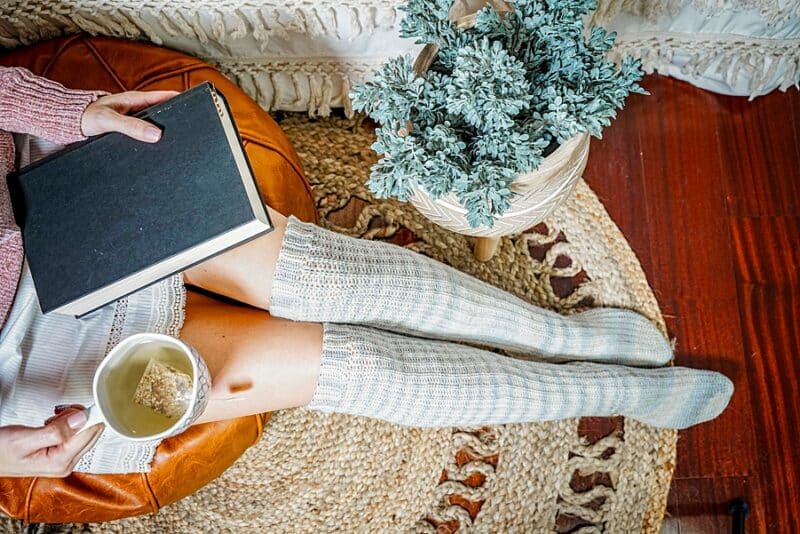 If you want to start off with chunky yarn socks then this design is for you. They have a knit-like look but they're all crochet. And, as you can see, bulky yarn doesn't mean awkwardly bulky socks. Just comfy ones!
HeartHookHome over on Etsy designed these crochet socks using a version of the herringbone crochet stitch, which I love. These are toe-up crochet socks available inn five adult sizes.
Mon Petit Violin designed these comfy crochet socks that have terrific texture. they use sock yarn and surprisingly simple crochet stitches.
Snowdrop Crochet's Jack and Jill pattern uses super simple crochet stitches to create socks designed to fit comfortably inside of boots. This includes a video tutorial and is designed for beginners.
Lakeside Loops' crochet socks pattern uses the beautiful squishy texture of the waffle stitch. This one comes in eleven different sizes so you can make pairs for everyone in the family (and everyone else that you know!)
If you want to crochet socks and you love being cozy, then make sure to check this out:
Three of us designers have come together to create an ebook and CAL of crochet coziness. For my part, I'm debuting new crochet socks. Check it out right now.
Other Knit Socks Patterns
Here are some of the other knit socks patterns that you might want to check out.
I designed these knit socks for people who prefer to knit in rows instead of in rounds. When knitting socks, you typically work in the round on double pointed needles. However, some people don't enjoy that or simply aren't at that stage of knitting, yet. You should still be able to knit socks anyway! So, you'll knit these flat then seam them together. The cable detail shows the beauty of your knitting technique and the result is cute cozy socks.
Etsy's Summerleedesignco shows that you can knit socks with worsted weight yarn and they can still feel absolutely wearable. This is an easy beginner-level knit socks pattern.
In fact, you can even knit cute socks with bulky weight yarn! These tube socks by bromefield use that. These are the kind of socks that you want to wear around the house all winter long.
NorthernKnitsAndPurl was inspired by seeing the Sitka Spruce while walking through the forests of British Columbia. If that doesn't make you want to knit these socks, their plush comfort will.
You Might Also Enjoy:
In addition to these knit and crochet socks patterns, you might also enjoy:
Share Your Project & Share Pictures!
I really hope you enjoyed working on this project. The best way to make a designer smile is to share what you've made! When it comes to free or premium content, I really rely on you to help me keep designing and supporting my family. Here is how you can make my day:
Share your yarn choice, in-progress, or finished projects on Instagram and use the hashtag #brianakdesigns
Link and share your project on Ravelry. It really helps to have inspirational photos for others.
Join the Briana K Designs Community Group on Facebook and share anything crafty.
Don't Lose This Project! If you aren't ready to start it save it on Pinterest by clicking any of the images above.