Everyone's talking about Christmas presents to make but that's not the only thing going on at this time of year. In many places, the biggest thing on people's minds right now is IT IS COLD. Of course, knit and crochet accessories, clothing, and blankets are perfect for dealing with the cold. But here's an item that you might not have yet that can bring surprising warmth to your daily life: crochet steering wheel cover patterns!
What Is A Crochet Steering Wheel Cover Pattern?
Immediately when I think of crochet wheel covers, I think of those cute designs that go on the spare tire on the back of cars. They always brighten the day when you see one tooling down the street, don't they? They're colorful and cute. And there are some great crochet wheel cover patterns for those tires.
However, a crochet steering wheel cover pattern is different. It's a cute cozy cover that slips right over the steering wheel of the car. Have you ever gotten into a cold car and touched the steering wheel only to yank back in surprise at how cold it is? No more problem with that once you've added a cozy crochet cover to it. (And actually, it's good for hot places in the summer, too, so you don't burn your hands on the steering wheel after your car has been sitting out in the sun!)
Of course, this also adds personality and fun to your car. You can make the cover in colors that make you smile. Driving is stressful. Little things like this can reduce that stress!
What Size is a Crochet Steering Wheel Pattern?
Each of the patterns below varies slightly in size. Many fit steering wheels that are 47″ or 48″ round. However, some go up to sizes as large as 55″ around. According to the Steering Wheel Cover Blog, steering wheels range in circumference from 43″ – 54″. They vary in diameter from 14″ – 17.5″.
Disclosure: This website may contain affiliate links to cover the cost of publishing my blog and bringing you excellent content. Should you choose to make a purchase, at no additional cost to you, I may earn a small percentage of the sale. Thank you for your support.
Crochet Steering Wheel Cover Patterns
Here are some of the best crochet steering wheel cover patterns I've spotted over on Etsy recently: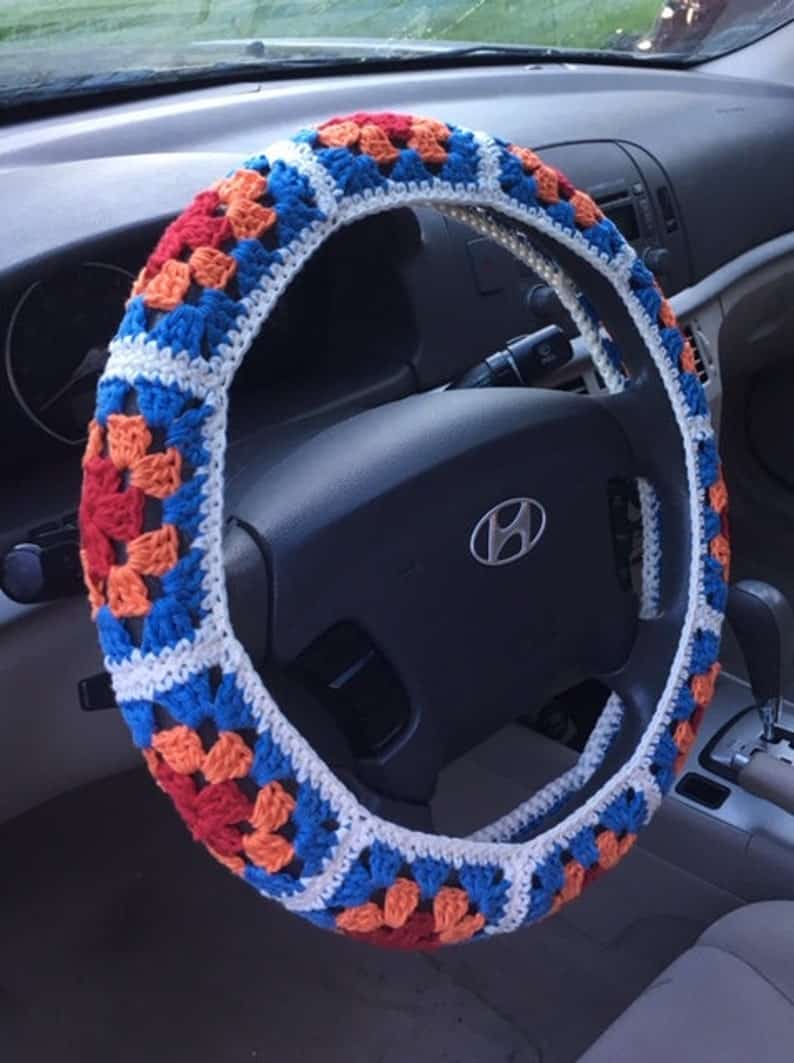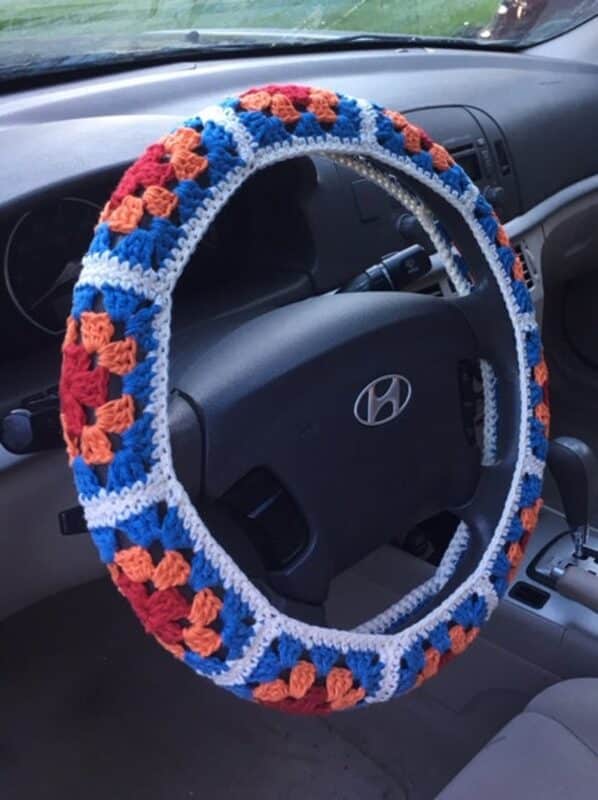 Variations on the granny square are a popular choice when it comes to crochet steering wheel cover patterns. This one by Hands of Zeal is an excellent example of how to make one.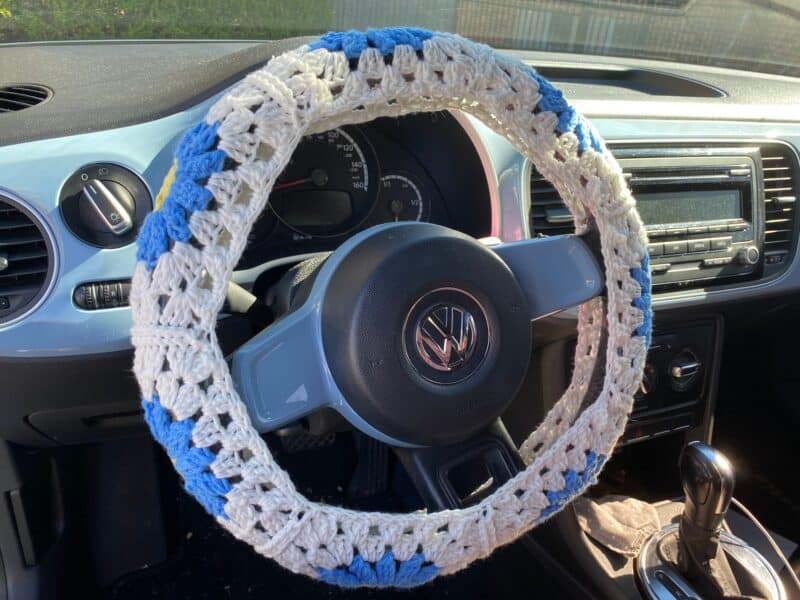 There are, of course, so many different ways to crochet a granny square. The floral center is a popular variation. And what a great way to dress up your car's interior. This is from Etsy's CrochetFabulous.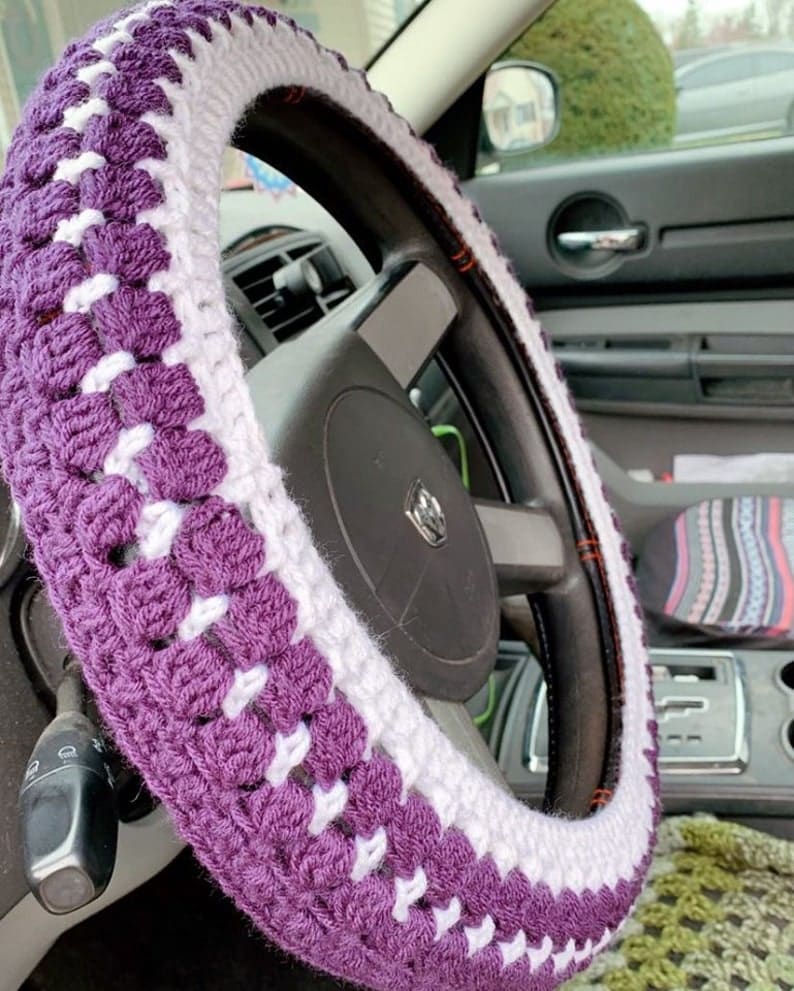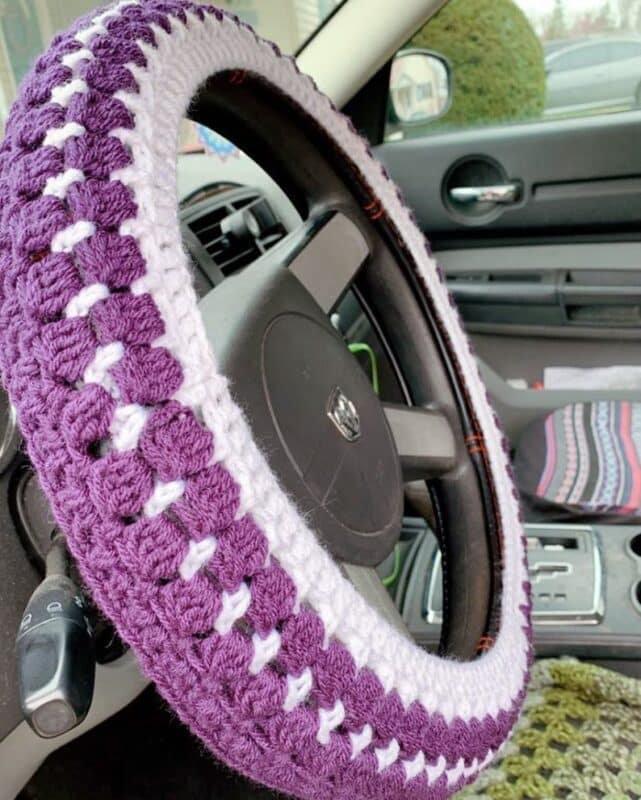 The granny stitch, rather than the granny square, is another great simple crochet stitch pattern for steering wheel covers. This design is from Lady Eli Crochet.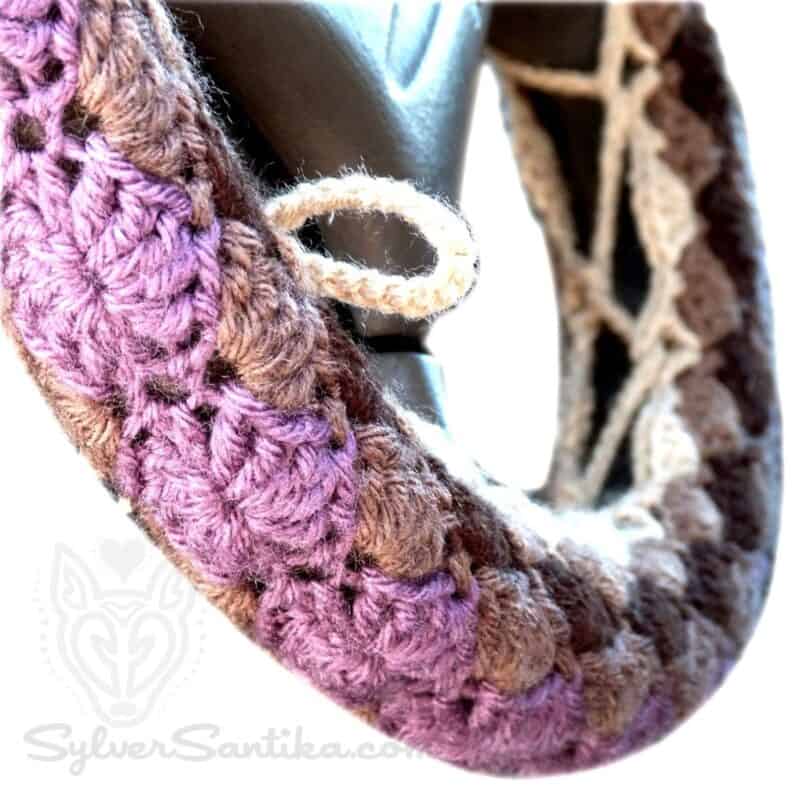 This is designed for a standard-sized steering wheel. The combination of shell stitches, colors, and lacy ties makes for a cozy design that you can work in whatever colors suit your car's design.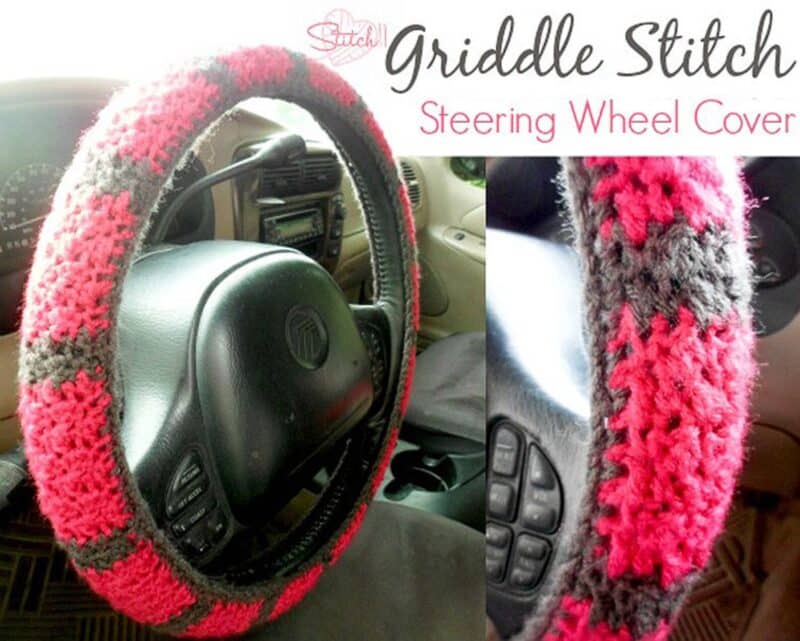 Like with many small accessories, you can easily practice many different types of crochet stitches for this type of project. Stitch11Crochet uses the griddle stitch here.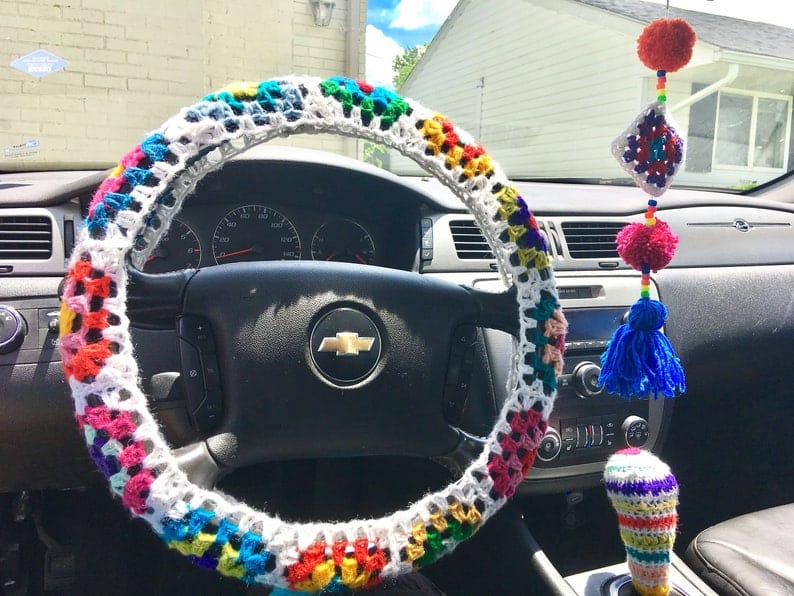 This is a colorful crochet steering wheel cover pattern. This design is by The ScarvinArtist who also sells boho chic crochet patterns for car gear shift cozies and headrest covers.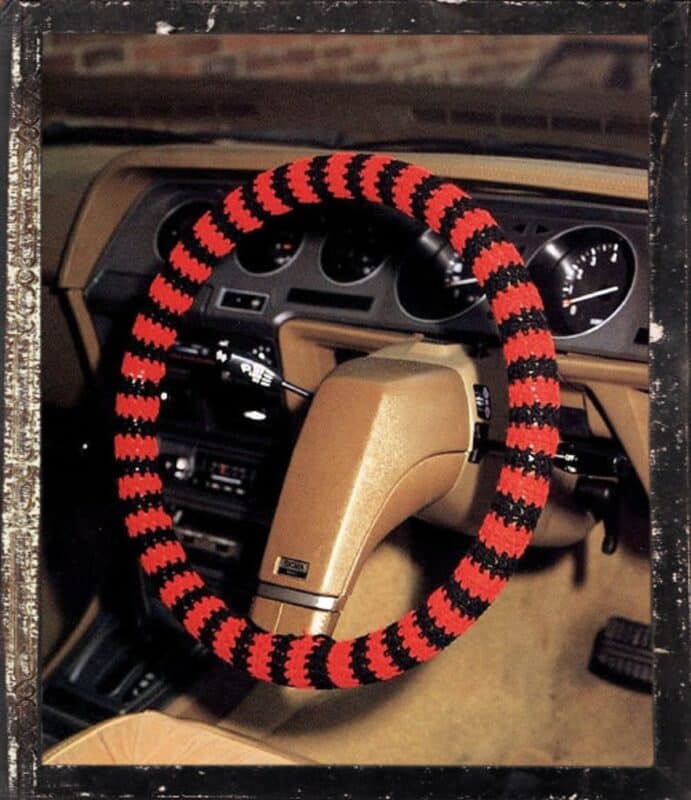 This idea isn't new at all. SnuzzleBabies shares this vintage pattern for an older car.
Video Tutorials!
I also found a few video tutorials for learning how to make these cute crochet car accessories. These give you lots of tips about creating the right size, attaching the cover to your steering wheel, etc.
You Might Also Enjoy:
Share Your Project & Share Pictures!
I really hope you enjoyed working on this project. The best way to make a designer smile is to share what you've made! When it comes to free or premium content, I really rely on you to help me keep designing and supporting my family. Here is how you can make my day:
Share your yarn choice, in-progress, or finished projects on Instagram and use the hashtag #brianakdesigns
Link and share your project on Ravelry. It really helps to have inspirational photos for others.
Join the Briana K Designs Community Group on Facebook and share anything crafty.
Don't Lose This Project! If you aren't ready to start it save it on Pinterest by clicking any of the images above.