How To Crochet A Christmas Ornament
Creating handmade home decor for the holidays can really bring warmth into the season. And if you have some scrap or leftover yarn, crocheting an ornament is a great way to create something unique. Keep on reading to learn how to quickly make this crochet ornament, plus this pattern this also includes a video tutorial!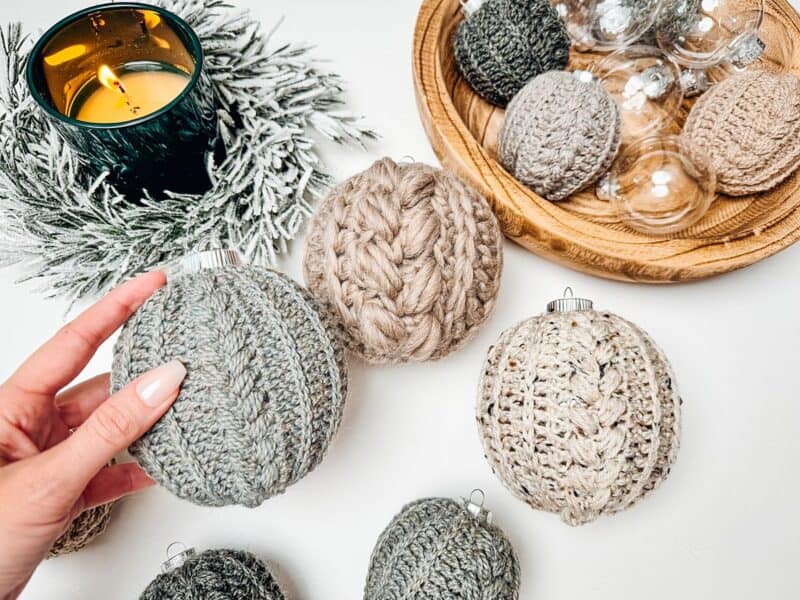 Get festive with these adorable crochet baubles! Perfect for decorating your own home or giving as thoughtful Christmas gifts. Attach them to a bottle of your favorite spirits or pair them with a gift card for teachers. Spread the holiday cheer with these charming creations!
What you'll love about these crocheted Christmas ornaments.
Autumn Wheat Ornament- Free Crochet Pattern
Save the Crochet Pattern on Ravelry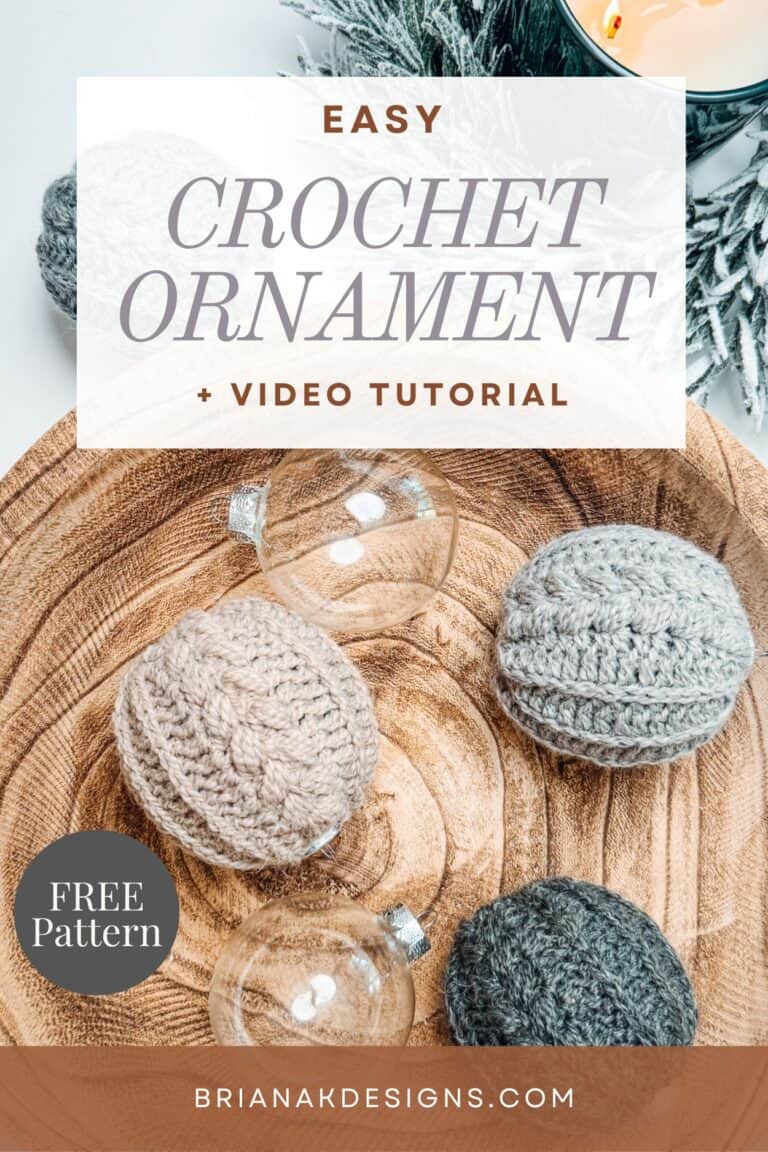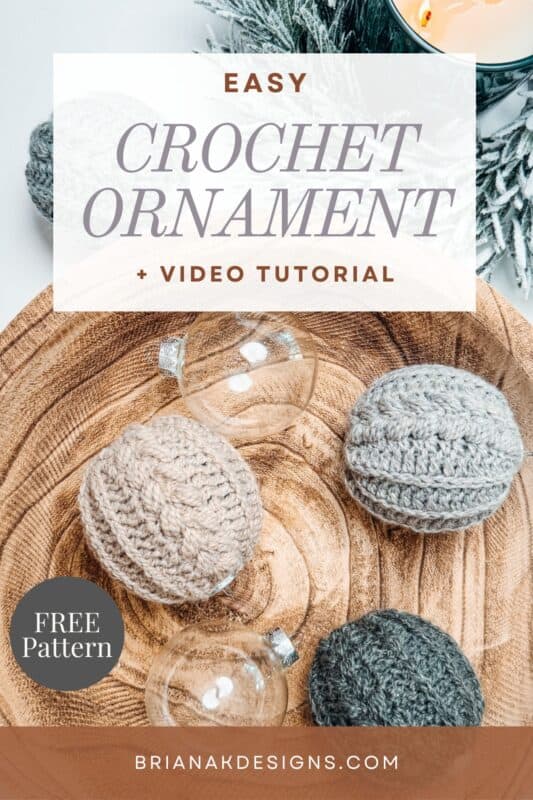 How easy is it to crochet this ornament?
This bauble ornament is crocheted flat, which means this is beginner friendly.
Once you've made your rectangle, we will join the edges with a slip stitch. Last, we will place the plastic ornament into the crocheted piece and close the top & bottom.
This is a great project for diving into your stash and making gifts.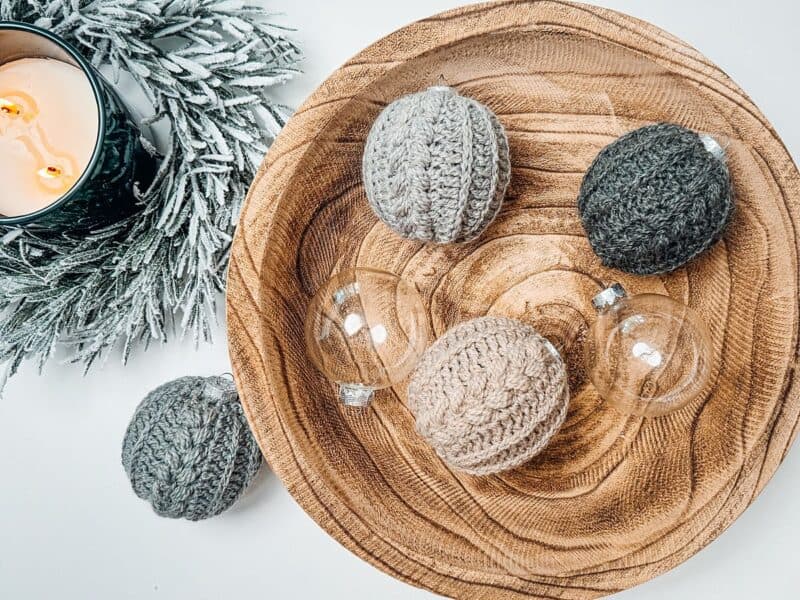 Get the Autumn Wheat Pattern Collection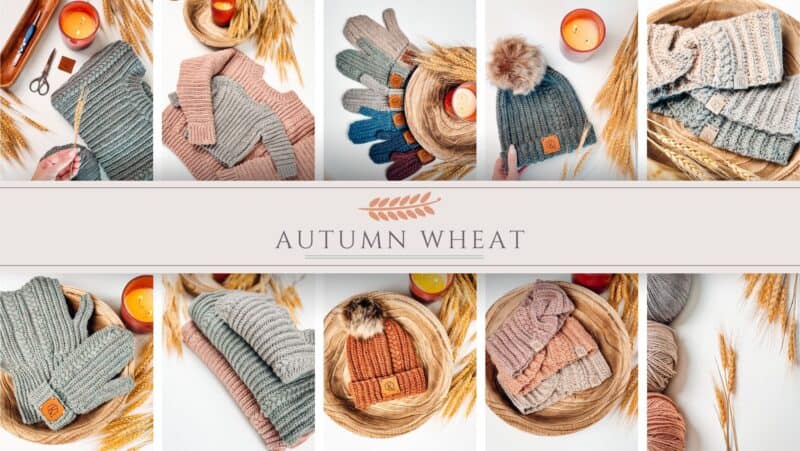 If you want to learn how to create these ornaments with any yarn or plastic ornament base, grab the paid pattern for the extra bonus guide. Or get the whole collection!
Join in on the crochet along happening now! Either view this pattern right here on the blog, or grab the individual pattern on Ravelry or Etsy. Or you can purchase the entire Autumn Wheat Collection.
Crochet Supplies You Will Need For the Christmas Ornament
Yarn
WeCrochet Upcycle Worsted
Yarn Weight: Worsted Weight Yarn
33% Alpaca, 34% Wool, 33% Acrylic, 219yds/100g. Colorway Shown: Sage
Yarn Quantities
30 yds for 2.64 inch ornament
Less than 1 ball for all sizes
A Note On The Yarn & Substitutes
Please note, other weights can work as WeCrochet Upcycle varies per ball and tends to be on the thinner side, be sure to check gauge. OR get the guide with the ad-free pdf to learn how to crochet this bauble with any weight yarn.
Yarn Substitutions
Heatherly Sport (shown in images) - 80% Acrylic, 20% Merino Wool, 328yds/100g
Brava Worsted - 100% Premium Acrylic, 218yds/100g
Mighty Stitch - 80% Acrylic/20% Superwash Wool, 208yds/100g
Swish DK - 100% Fine Superwash Merino Wool, 110yds/50g
Crochet Hook
Size G (4.0mm) Crochet Hook, or hook to obtain gauge.
Notions
Scissors
Yarn Needle
Removable Stitch Marker
2.64 in plastic ornament
Oval Ornaments
Skill Level
Advanced Beginner
Sizing
This pattern is written for a 2.64 inch ornament.
When substituting yarns & ornament sizes, it will change the total yardage.
Abbreviations
ch - chain
blo - back loop only
flo - front loop only
hdc - half double crochet
sc - single crochet
sl st - slip stitch
st(s) - stitch(es)
Special Crochet Stitches
Half Double Crochet In The Third Loop: What's really cool about half double crochet is that there's a third loop on the back of your stitch. If you work hdc into the third loop, you get a totally different, knit-like fabric.
For this pattern, we are going to be working in rows, which means we will work on the row below in the third loop on the front of our work. Need a visual? Watch the video tutorial of this stitch.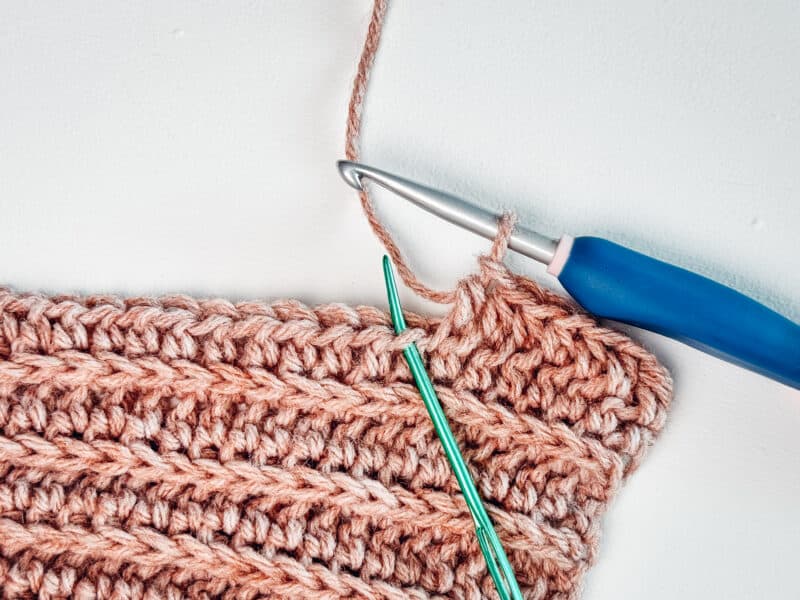 Puff Stitch: Yarn over and insert your hook into the stitch/space. Yarn over again and pull up a long loop. (Yarn over and insert your hook into the same stitch/space. Yarn over again and pull up a long loop) two more times (7 loops on the hook). Yarn over and pull through the first 6 loops, yarn over and pull through remaining loops.
Gauge
17 sts and 11 rows = 4" by 4" in half double crochet worked in the third loop, blocked.
How to Crochet A Gauge Swatch
Working a gauge swatch will let you know if you will have the correct sizing for this pattern. A gauge swatch helps you practice the stitches used in this project and improve your stitch work for a flawless look.
Are you struggling to match gauge? Check out the blog post on What is Crochet Gauge and How To Fix It

Gauge Swatch Instructions:
Row 1: Ch 21, hdc in the 2nd ch from the hook and in the remaining sts across, turn.
Row 2: Ch 1 (does not count as a st), hdc in the third loop in each st across, turn.
Repeat Row 2 until there are 14 rows. Measure your swatch and adjust as needed.
Notes for the
The yarn suggested in this pattern can vary in thickness depending on the color. It's very important to keep checking gauge to make sure the sizing is correct.
A ch 1 at the beginning of a row is not counted as a stitch.
Using a stitch marker at the beginning of each row is recommended.
Work the first row of chains in the back humps.
This Pattern Uses Standard US Terminology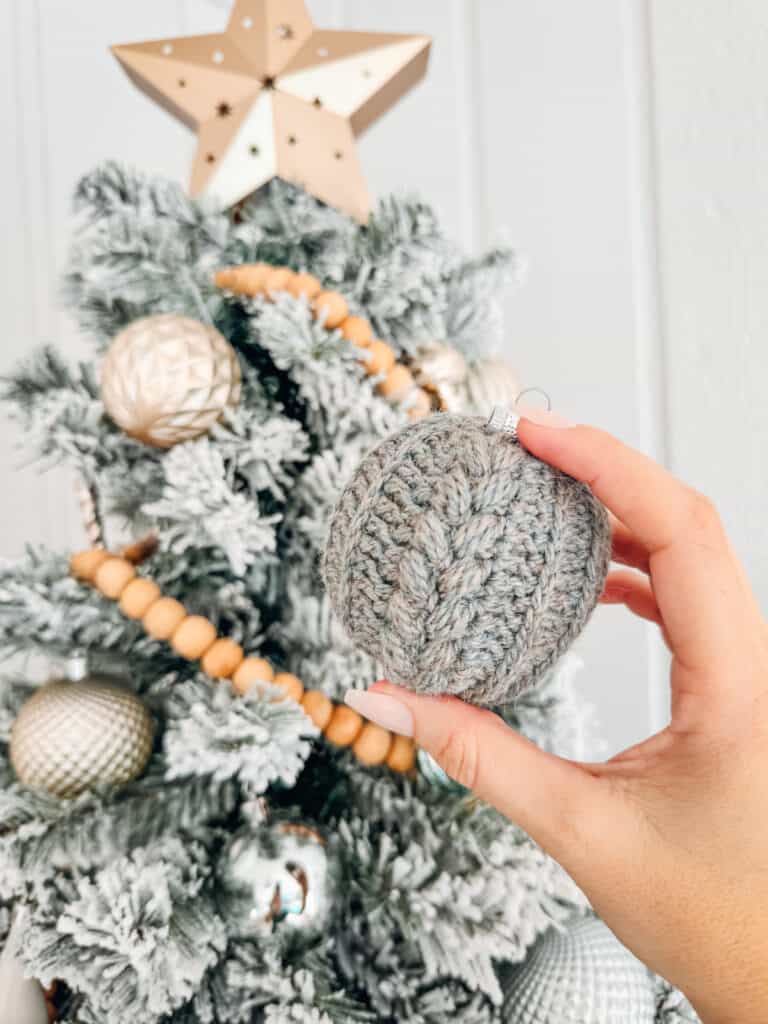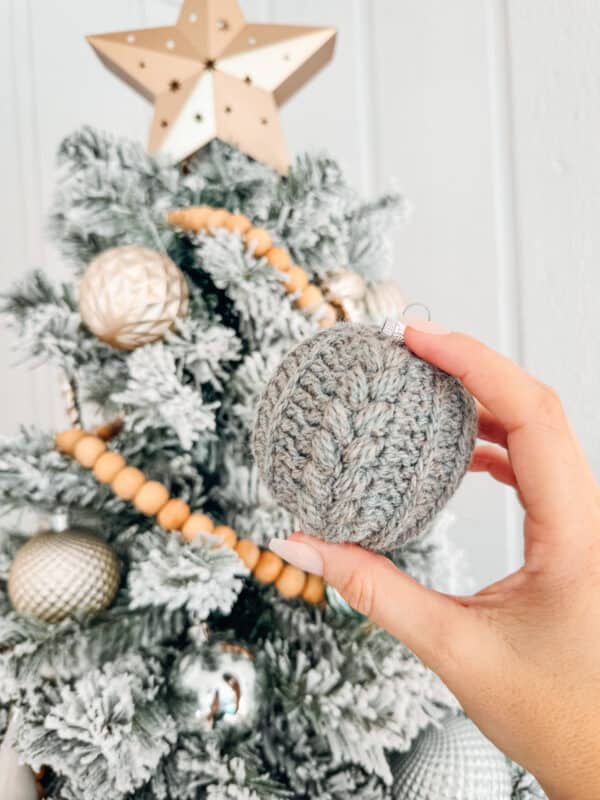 Crochet Bauble Video Tutorial:
Watch how easy and fast this crochet ornament can be worked up.
How To Crochet An Ornament
To Unlock Exclusive Subscriber Content click the Box below and join for free! Grow will pop up so you can subscribe to my Blog. Enter your email and create a password. Every time you see Exclusive Content on my Blog, log in to your account!
Crocheting The Bauble
Row 1: Leaving a long tail, ch 19, sc in the 2nd ch from the hook, hdc 16, sc in the last, turn. | 18 sts

Rows 2-12: Ch 1 (does not count as a stitch here or throughout), blo sc in the first st, third loop hdc until the last st, blo sc in the last, turn.

Rows 13-14: Ch 1, blo sc in the first st, [skip the next st, sc in next, work a puff st into the skipped st] work until the last st, blo sc in the last, turn.

Row 15: Ch 1, sc in the first st, hdc until the last st, sc in the last, turn.

Rows 16- 26: Ch 1, blo sc in the first st, third loop hdc until the last st, blo sc in the last, turn.
Once all the rows are completed, hold your fabric around the ornament to check the fit. Adust with more or fewer rows if needed.
Join The Kindest Community
Join our vibrant community of crafters on Facebook today. Whether you enjoy crafting with others or simply have burning questions, we've got you covered - join us now!
Joining The Ornament
Place the desired side facing you and fold in the sides of the fabric to seam.
With your crochet hook, insert your hook into the blo of the first stitch, and then also through the loop on the starting row, sl st together.
Next, insert your hook through the third loop of the side closest to you and then through the loop from the first row, and sl st together. Repeat this for each stitch across the row until the last st. Sl st the last sc sts together through the back loops.
Fasten off leaving a long tail.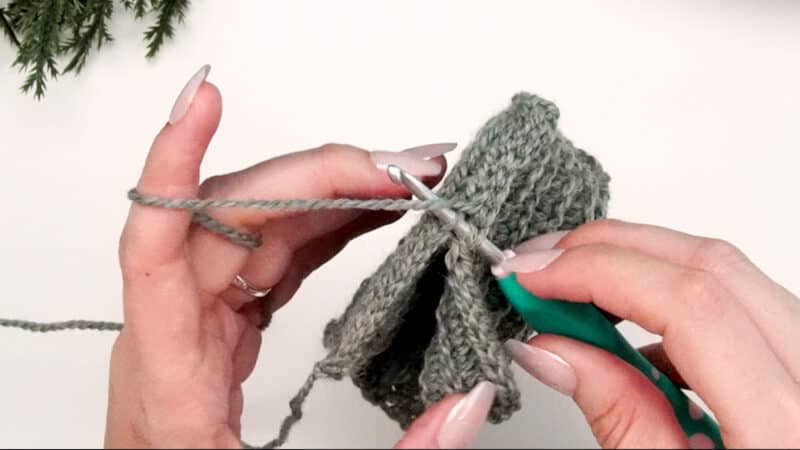 Since both tail ends are on the same side, we need to grab our tapestry needle and weave one end to the other side in order to close both the top and bottom openings.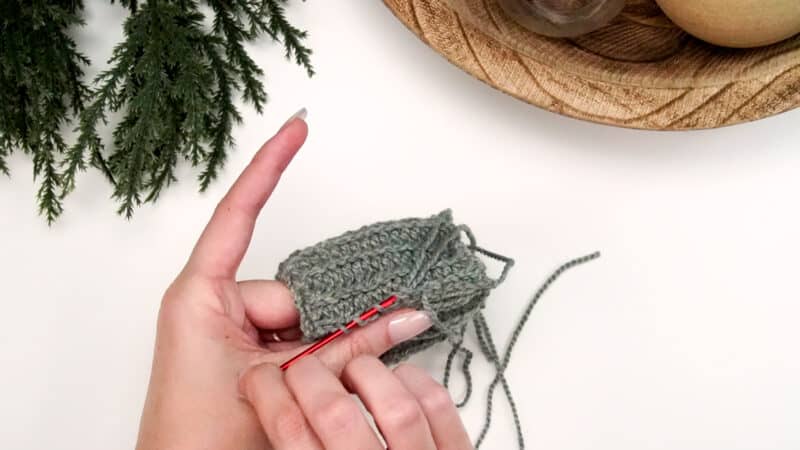 Quick Tip
Does it matter to you which way the puff stiches are on the ornament? Do you want them slanting up or down? Decide if you have a preference before closing the openings.
Closing Each End
Now, we will place the plastic ornament inside the crocheted sleeve and seam the top and bottoms closed.

With a tapestry needle, weave a yarn end through the edge of the crocheted piece, looping the yarn through every two rows. Pull tight to close, weave in the end and and fasten off, repeat on other side.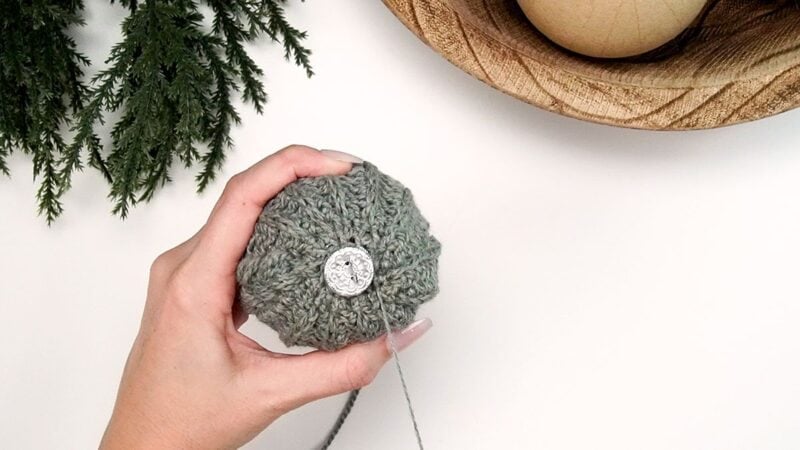 Finishing The Easy Ornament
Weave in any ends, give this ornament as a gift or hang it on your tree and enjoy!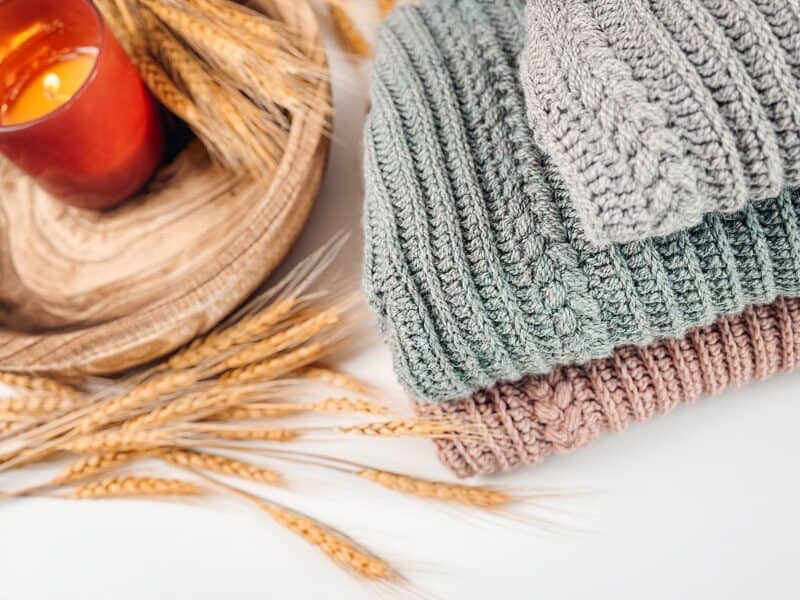 Gift Ideas for Your Holiday Ornament
You could gift your handmade ornament to family members, friends, co-workers, or even strangers in the community. You could also donate it to a charity or give it as a gift to someone in need. There are endless possibilities to touch someone's heart with your handmade gift.
Well That Was Fun! What's Next?