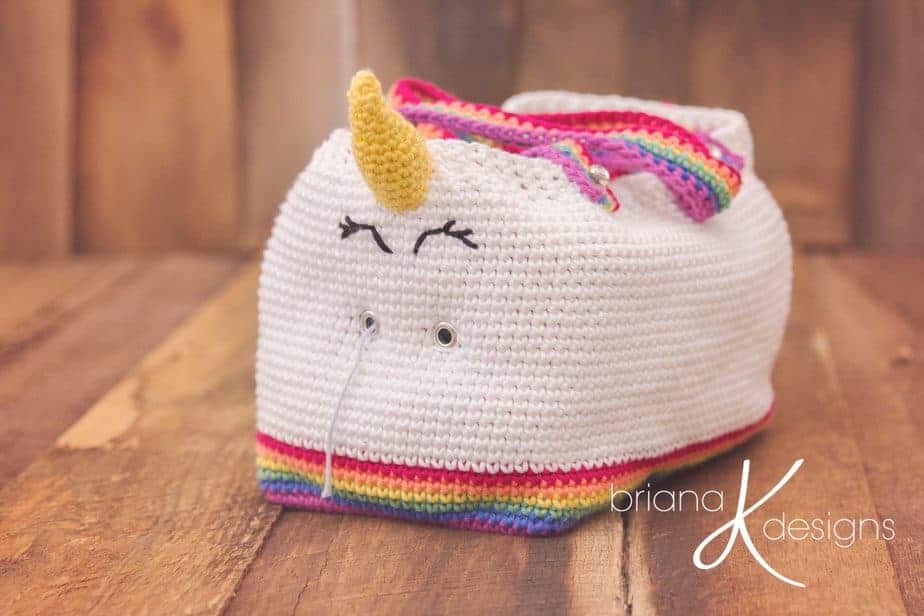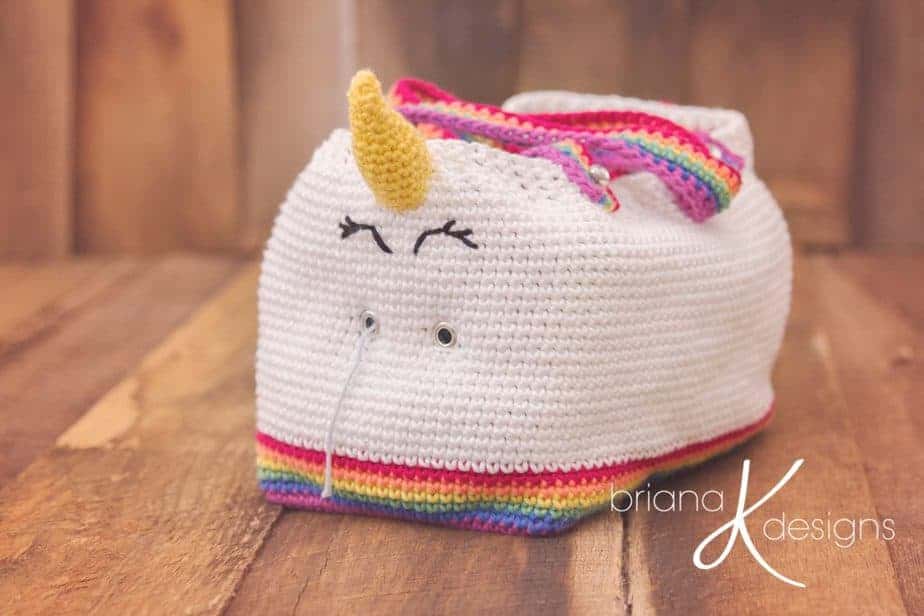 The Unicorn Farts Crochet Project Bag is one of my favorite bags. 🦄

Why would I know this crochet project bag Unicorn Farts? Well, because it farts out your yarn in a unique way! Both the nostrils and eh-hem, the other end, have grommets to help keep your yarn organized and less tangled. This is a super functional bag but it's also silly, and fun. We all need more of that in our lives these days!
And who doesn't need a little rainbow in their life, right? This bag is basically a cute project sidekick.
---
Where To Purchase My Ad-Free Downloadable PDF's:
---
What Is a Crochet Project Bag?
You can use almost any bag as a crochet project bag. The idea is that you store your yarn and supplies in the bag so that you can take a project with you on the go. However, some bags are better than others. In particular, I prefer bags that help keep the yarn balls separated from each other in a way that they don't tangle. That's why I added the grommets to this crochet project bag design. I wanted you to easily be able to pull your yarn out, without opening the bag, and never have to worry about it getting tangled up as you craft. I want your crafting life to feel easy and fun … all unicorns, rainbows, and a little bit of silliness!
Unicorn Farts Crochet Project Bag Supplies:
Here are the things that you need in order to complete this project:
Tapestry (yarn) Needle
Scissors
¾ yard cotton or non-stretchy fabric
4 Diamond Buttons (7/16 inch/ 11mm)
Large Eyelet Kit ¼ inch (6.35mm)- 4 grommets needed
Extra-Large Eyelet Kit 7/16 inch (1.1cm)- 4 grommets needed
Eyelets/Grommets: Large & Extra Large
Yarn Details:
Hobby Lobby I Love This Cotton:
Color A: Hot Orchid/Purple (1 skein)
Color B: Royalty/Blue (1 skein)
Color C: Apple Green (1 skein)
Color D: Curry/Yellow (1 skein)
Color E: Mango/Orange (1 skein)
Color F: Rose Bud/Red (1 skein)
Color G: White Sparkle (2 skeins)
Color H: Black (small amount)
Possible Yarn Substitutes (always check gauge):
Lily Sugar'n Cream
Red Heart Creme de la Creme Yarn
Bernat Handicrafter Cotton Yarn
Yarn Bee Down to Earth
Knit Picks Dishie Yarn
Abbreviations / Stitches:
sl st- Slip Stitch
ch- Chain
sc- Single Crochet
fpsc- Front Post Single Crochet
bpsc- Back Post Single Crochet
Gauge: 4 x4 inches
Single Crochet: 18 rows x 18 stitches
Skill Level: Intermediate
Yardage & Measurements:
Yardage: approx. 450 yards
Bag Measurements in inches:
Folded in half and laid flat:
Height: 11 inches, Width: 15 ½ inches

Get The Pattern
You will find this crochet project bag pattern for sale on Ravelry.
CROCHET & TAG
I hope you have enjoyed making the Unicorn Farts Crochet Bag Pattern!
If you have made this, please share it on social media. Above all I love to see the projects created with my patterns and also share your beautiful work.
Please use #brianakdesigns or @brianakdesigns
It is much appreciated and adored!
THIS IS A PDF FILE. Adobe is required to read this pattern. It can be downloaded for free at www.adobe.com
Share Your Project & Share Pictures!
I really hope you enjoyed working on this project. The best way to make a designer smile is to share what you've made! When it comes to free or premium content, I really rely on you to help me keep designing and supporting my family. Here is how you can make my day:
Share your yarn choice, in-progress, or finished projects on Instagram and use the hashtag #brianakdesigns
Link and share your project on Ravelry. It really helps to have inspirational photos for others.
Join the Briana K Designs Community Group on Facebook and share anything crafty.
Don't Lose This Project! If you aren't ready to start it save it on Pinterest by clicking any of the images above.
YOU MIGHT ALSO ENJOY:
I love designing knit and crochet unicorn patterns. If you like them as well, then you might also enjoy: