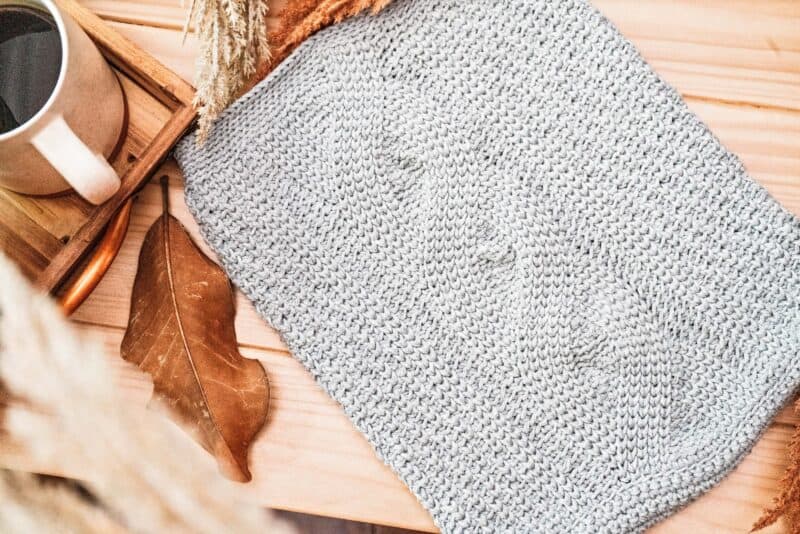 Pattern Hoarder? You are in trouble…
Find the latest fashions and a variety of projects in my shops: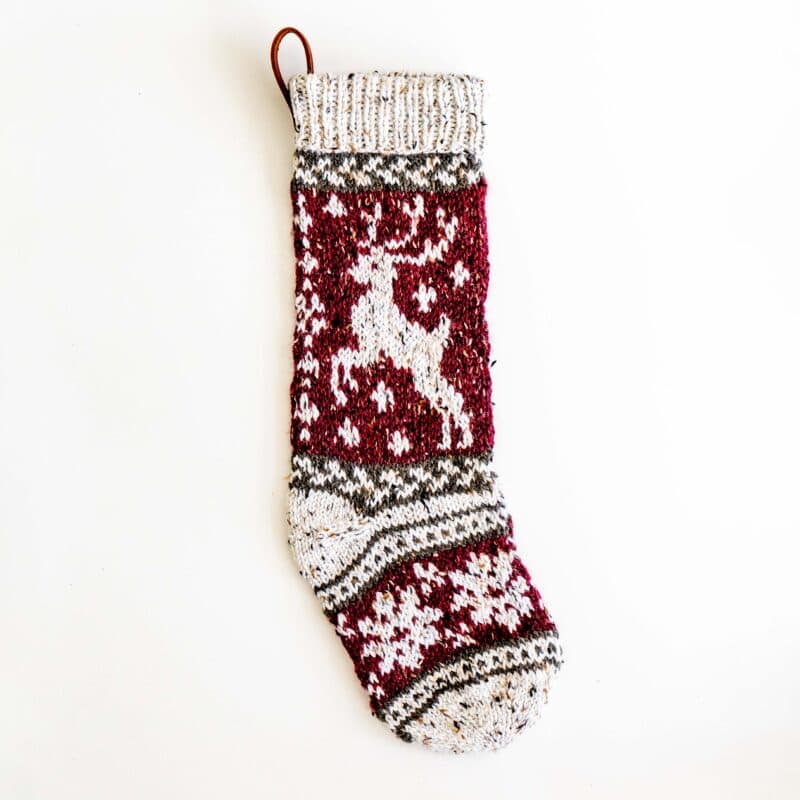 How do you create a mock knit cable look with a crochet hook?
With a bold center mock cable, and gorgeous textured sides, this is not only fun to create but also to use. The simple stitches in this pattern are used uniquely to create a mock knit cable look as a knit seed stitch pattern. It's quickly become a favorite fabric with it's simple repeats and gorgeous crochet texture. And it's part of the Magical Crochet Stitches Course!
The Swirls On The Water Bag is seamless and worked from bottom to top. The bottom of the bag is created in rows and flat, then the rest of the back is worked in continuous rounds.
This crochet bag pattern has written and video tutorials to guide you through each important step.
You can now buy a bundle of all the patterns from
the Magical Stitches Course on Etsy, Click here!
This Swirls on the Water Crochet Bag pattern is now available for purchase outside the Magical Stitches course on Ravelry & Etsy
What are Magical Crochet Stitches?
Get the knit look with the crochet hook! This method strategically uses crochet stitches in unique increases and decreases, resulting in a knit-look mimic.
This is still a crochet fabric, however! It's unique on its own and can't be duplicated in the same way in knit. The fabric created for the Swirls on the Water Crochet Bag has the ability to look lace but still creates a dense and sturdy fabric for a bag.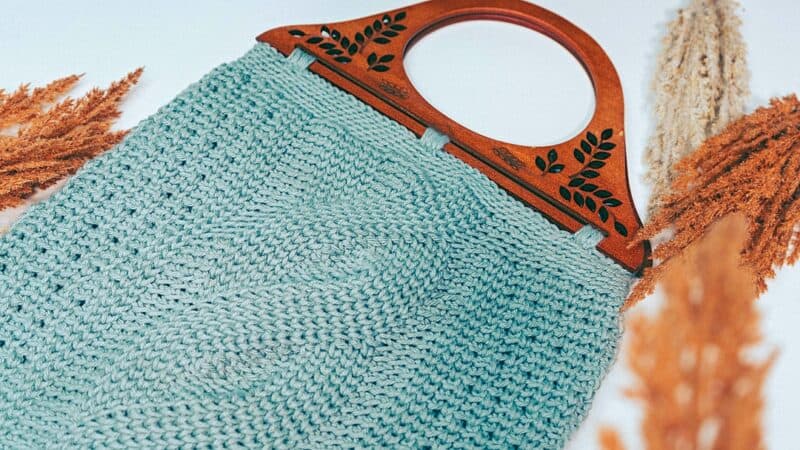 Are there more magical stitch patterns?
Yes! And even more on the way. I am addicted to this new method, and the swatches are taking over my house. Check out all the patterns in the Magical Stitches Course:
Royal Antler Crochet Bag
Journey Under The Sea Crochet Bag
All Cabled Up In Sunshine Crochet Socks
Happily Ever After Crochet Clutch
If The Slipper Fits Crochet Pouf
Enchanted Crochet Hat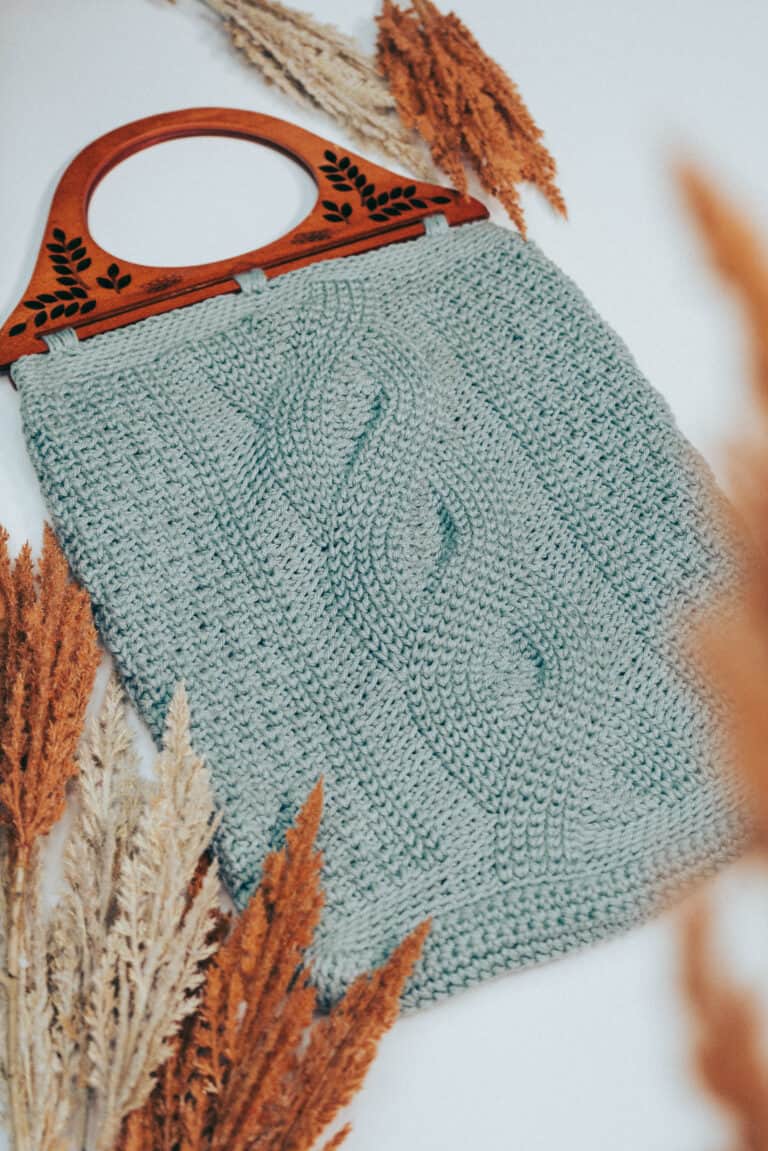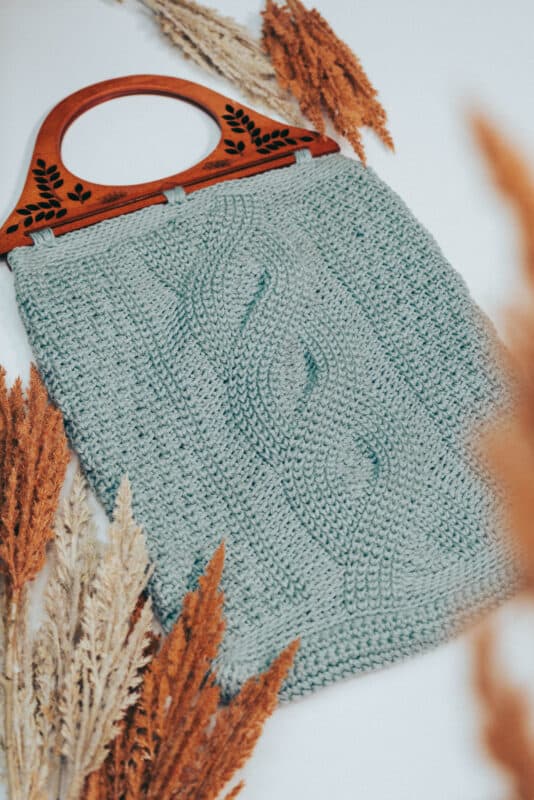 Why You Should Use Cotton Yarn & Possible Substitutes:
When making crochet bags, it's important to use a yarn that will hold up to the intended use. This is why cotton yarn is the best option, as it has little stretch and creates a firm fabric. This will reduce any stretching over time as the bag is used to carry objects.
I love using WeCrochet Dishie Yarn because it's softer than most cotton yarns, but still a strong cotton. Here are some other substitutes I recommend:
Lily Sugar'n Cream Worsted
Premiere Home Cotton Yarn
Cascade Yarns Nifty Cotton
Swirls on the Water Crochet Bag Supplies:
Crochet Hook: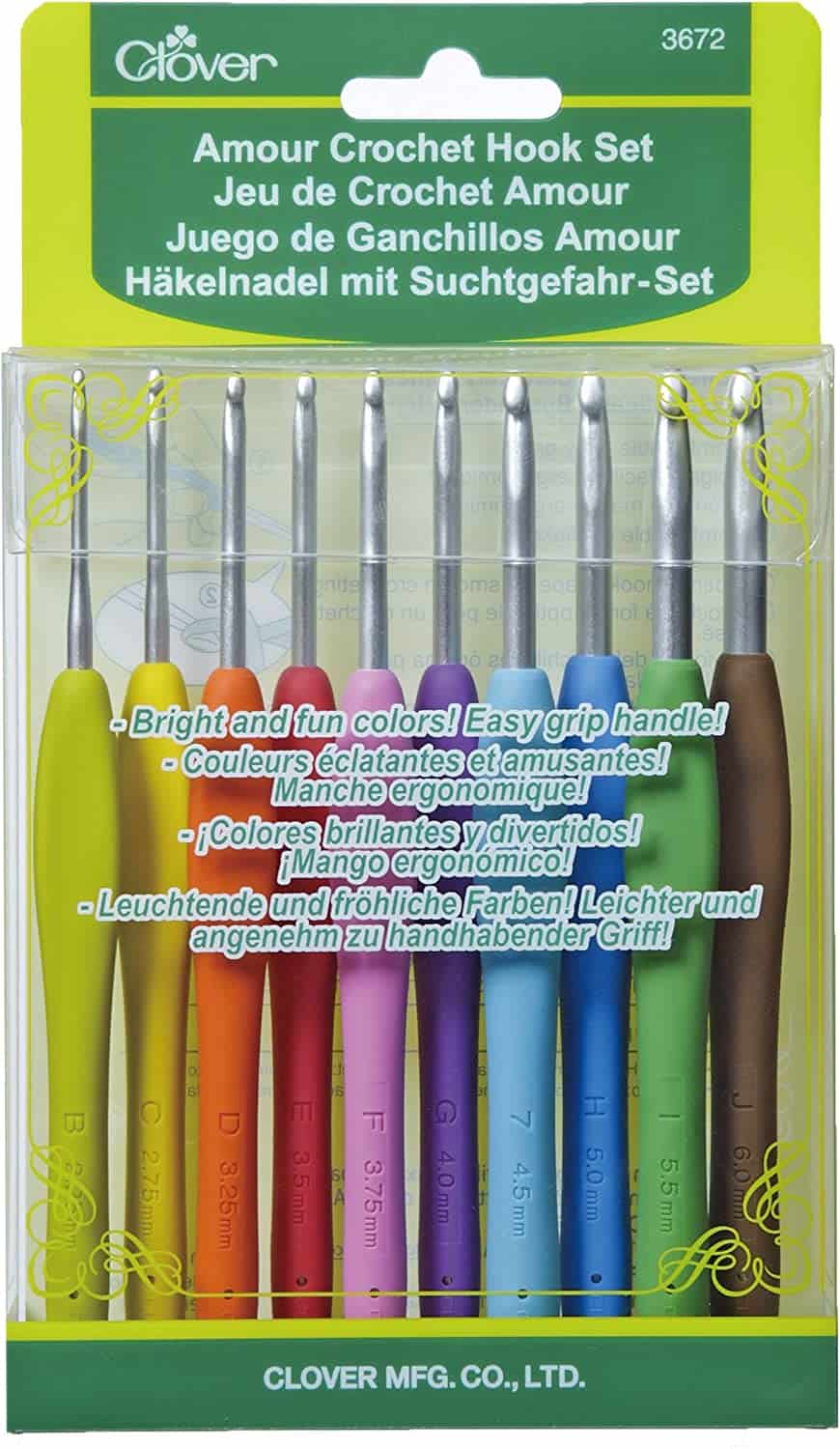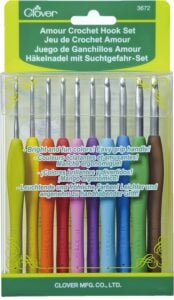 Notions:
Removable stitch markers if needed
Yarn needle to weave in ends
Scissors
Bag Handle – Wood
Bag Handle – Leather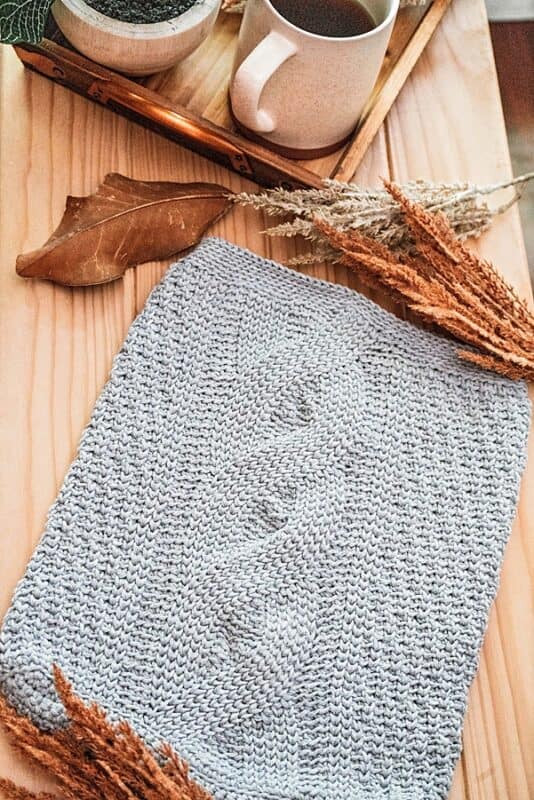 Yarn & Yardage:
WeCrochet Dishie
100% Cotton, 190yds/100g
Colorway: Inlet (2 balls, 380 yds)
Abbreviations/Stitches:
blo – back loop only
ch – chain
rnd- round
sc – single crochet
ssc – split single crochet
sl st – slip stitch
st(s) – stitch(es)
Gauge:
16 sts x 18 rows = 4×4 inches in body stitch pattern ssc
Skill Level:
Intermediate
Size/Measurements:
Laid Flat:
14 inches tall by 11 inches wide laid flat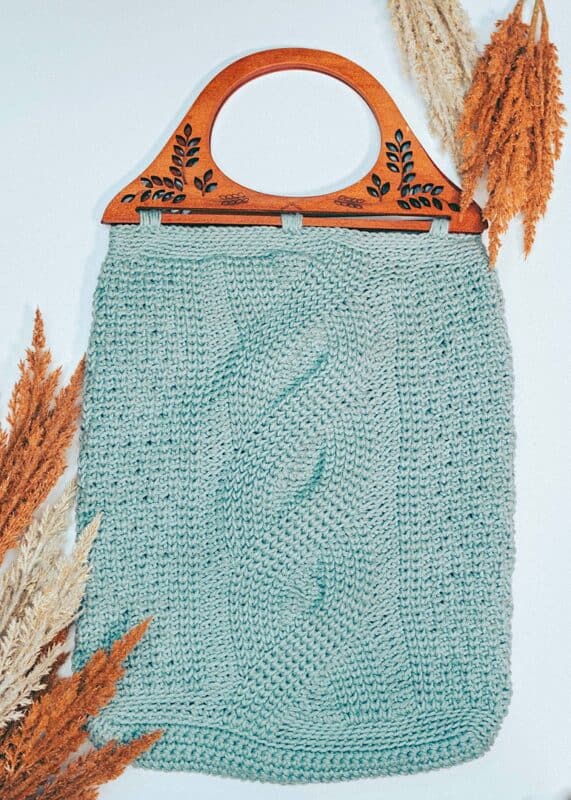 Special Stitches:
Split Single Crochet (ssc): This stitch is also known as the waistcoat stitch. This stitch is worked as single crochet but where the hook is inserted is the only difference. The hook will be inserted between the 'V' of the stitch.
Insert hook between the legs of the stitch (on the back of work, the hook should be under the horizontal bar and between the upside-down 'V' shape as well), yarn over, pull up a loop to the height of a single crochet, yarn over, pull through both loops on hook. Keep your hands loose and comfortable. If your hands start to hurt, then the tension of the stitch is too tight. When entering the stitch, pull up the loop a bit more than you normally would, it will give the 'V' more space for the next round and make working the ssc comfortable. Video tutorial: https://brianakdesigns.com/split-stitch-mania/
The charts will be worked from right to left for each round and repeated until the end of the round. Since this bag pattern is worked continuously for the body, use a stitch marker to keep track of the first stitch of each round.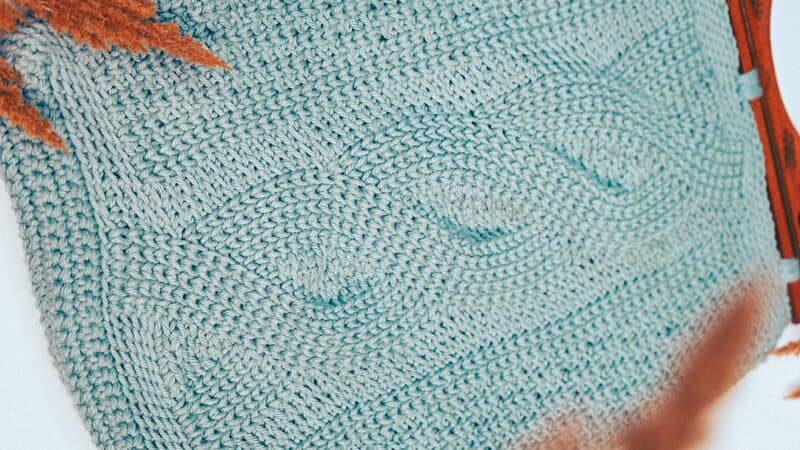 CROCHET & TAG
I hope you have enjoyed making the Swirls on the Water Crochet Bag Pattern!
If you have made this, please share it on social media. Above all, I love to see the projects created with my patterns and also share your beautiful work.
Please use #brianakdesigns or @brianakdesigns
It is much appreciated and adored!
Share Your Project & Share Pictures!
I really hope you enjoyed working on this project. The best way to make a designer smile is to share what you've made! When it comes to free or premium content, I really rely on you to help me keep designing and supporting my family. Here is how you can make my day:
Share your yarn choice, in-progress, or finished projects on Instagram and use the hashtag #brianakdesigns
Link and share your project on Ravelry. It really helps to have inspirational photos for others.
Join the Briana K Designs Community Group on Facebook and share anything crafty.
Don't Lose This Project! If you aren't ready to start it save it on Pinterest by clicking any of the images above.