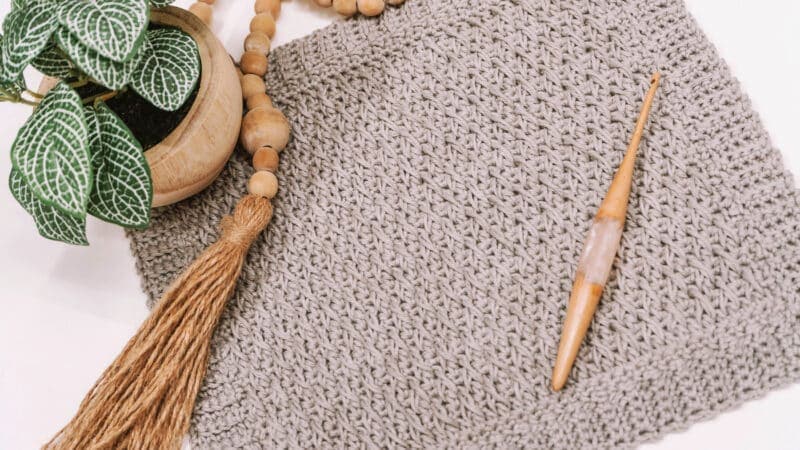 If you want to learn new special stitches that are unique, then the Alpine crochet stitch is an excellent choice. This crochet technique combines single crochet, and double crochet rows with front post double crochet rows to create a textured pattern reminiscent of mountains.
The effect of this lovely stitch creates a stunningly intricate texture on any garment or blanket created with it. You can use this crochet stitch to crochet a spectacular washcloth with the free crochet pattern below or a crochet blanket that everyone will admire.
The artistic possibilities with crochet texture stitches combined with color-blocking make crochet blankets unique and eye-catching. If you want to add texture and color to your crochet projects, the alpine crochet stitches are the way to go. The alpine crochet stitch is a great first stitch to learn for the adventurous beginner crocheter who wants to take their skills to the next level.
For a pdf format of this pattern that you can download and enjoy, visit the links below.
---
Where To Purchase My Ad-Free Downloadable PDF's:
---
What is the best yarn for crocheting washcloths?
The free washcloth pattern that uses the alpine crochet textured stitch is versatile and can be customized with different yarns to create the perfect washcloth.
Worsted weight cotton yarn is a popular choice among experienced crocheters for durable, absorbent washcloths. Plus, the cotton yarn has a beautiful stitch definition.
I love working with WeCrochet Dishie because of the fantastic texture and color choices, which can be harder to find in cotton yarn. Dishie also comes in large Cones to get a lot of yardage at once. And also check out the cool color combinations of the Dishie Value Packs.

Other yarn lines that work great for practicing the alpine stitch and making a washcloth are Premiere Home Cotton Yarn or Sugar'n Cream Cotton.
Bulky yarns, such as chunky or super bulky varieties, can also be used, which will result in a larger and softer washcloth. Experimenting with different yarns and color combinations can create the perfect washcloth for your needs!
If you're feeling adventurous, you can also explore using alternative fibers like bamboo or linen-blend yarn to create beautiful washcloths with a unique touch.
Whatever yarn you decide to use, the free alpine stitch washcloth pattern will make it easy to get creative with your crochet project. So grab some yarn and get crafting!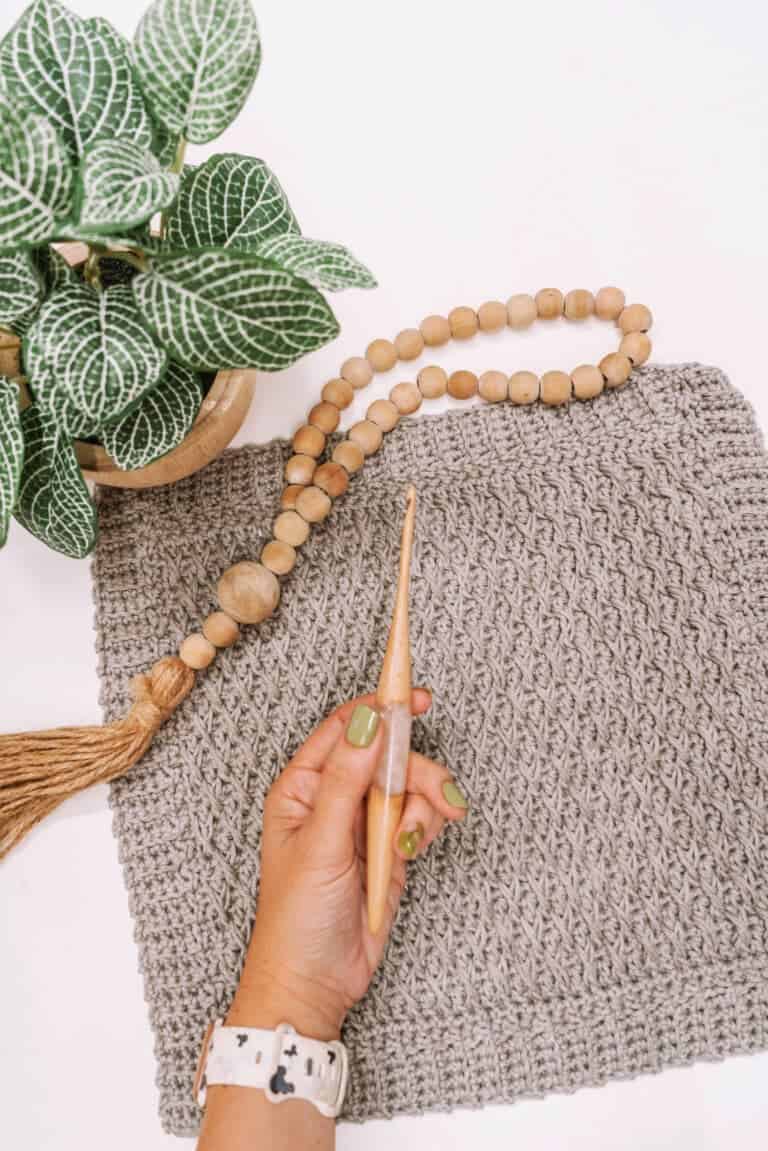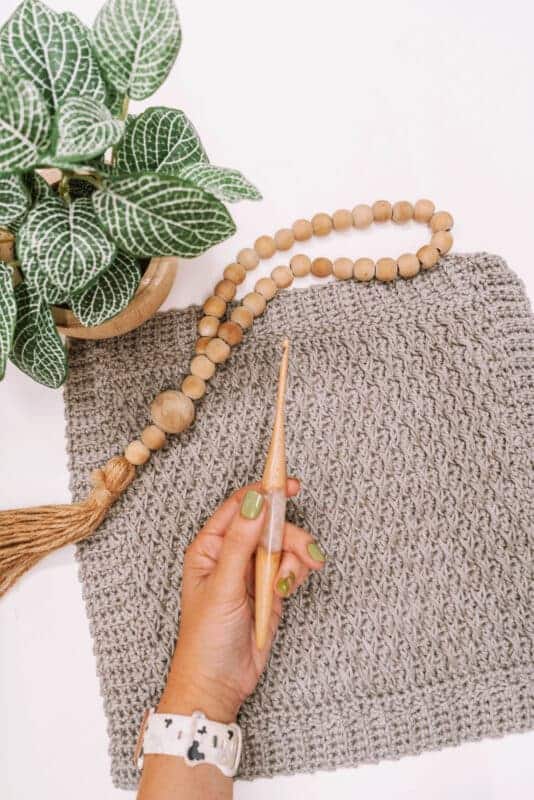 When it comes to crochet projects, the crochet washcloth is a classic for beginners and experts alike. Not only is it ideal for mastering crochet basics like single crochet, post double crochets, and more, but it's also the perfect canvas for mastering new techniques that you can use in other crochet projects.
Check out some of my patterns for inspiration!
Chateau Knit Cowl
Campside Cardi Easy Free Knit-Look Crochet Pattern
Happily Ever After Crochet Clutch Pattern
Coffee Cozy Crochet & Knit Pattern
Super Cute Poppy Crochet Hat Pattern For All Ages
How to Crochet Herringbone Stitch
Knit and Crochet Honeycomb Stitch Patterns
Disclosure: This website may contain affiliate links to cover the cost of publishing my blog and bringing you excellent content. Should you choose to make a purchase, at no additional cost to you, I may earn a small percentage of the sale. Thank you for your support.
What You Will Need to Learn the Crochet Alpine Stitch
Crochet Hook:
Notions:
Removable stitch markers if needed
Yarn needle to weave in ends
Scissors
Yarn:
WeCrochet Dishie
100% Cotton Yarn, Worsted Weight Yarn, 190 yards per 100 grams
Care: Machine Wash Cold /Tumble Dry Low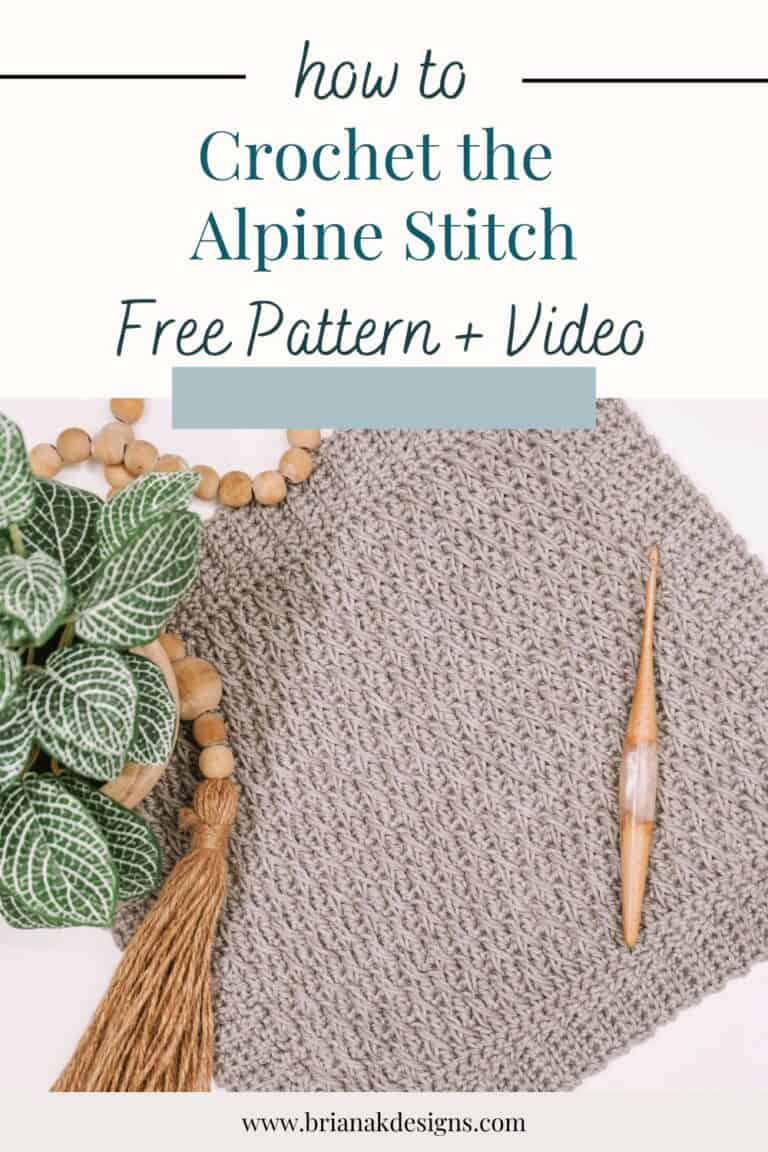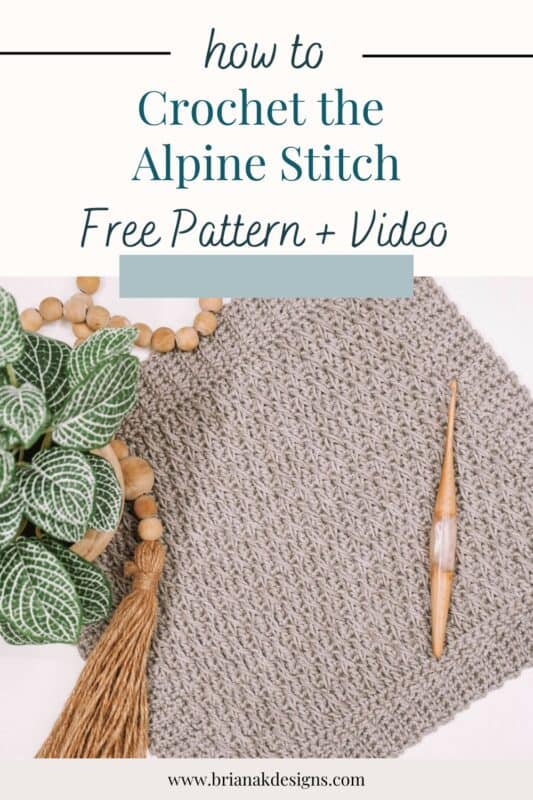 Yardage:
205 yards with border (2 balls)
Abbreviations/Stitches:
blo – back loop only
ch – chain
dc – double crochet
Fpdc – front post double crochet
sl st – slip stitch
st(s) – stitch(es)
Stsc – stacked single crochet
Gauge:
Gauge is not critical for this project.
Measurements/Sizes:
Washcloth finishing size with ribbing is 13 inches x 12 1/2 inches
Skill Level:
Beginner Crochet
Alpine Stitch Notes:
It's not necessary to have a starting chain on the single crochet rows for the body of the alpine stitch or on the ribbing border. It can be added or omitted and won't make much of a visual difference.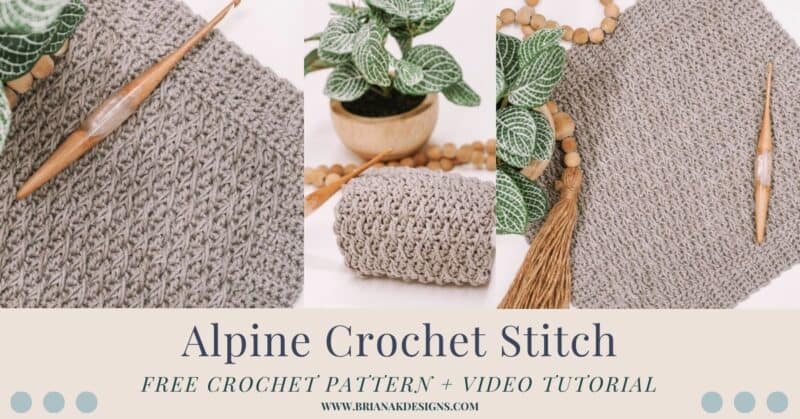 Special Stitches:
While the Alpine Stitch is worked in the same way as a front post double crochet stitch, but for one significant difference, that's important to note. There is a photo tutorial, as well as a video tutorial, of this step below.
Tip for Alpine double crochet stitch height: When working the front post double crochet stitches, we will need to adjust to create more height so the fabric lays flat.
Yarn over and insert hook from front to back to front around the post of the next stitch, yarn over and pull up the loops to the hight of the current row (this is where the adjustment is important, it must be pulled up higher than a normal post stitch, yarn over and pull through two loops, yarn over and pull through the remaining loops on the hook.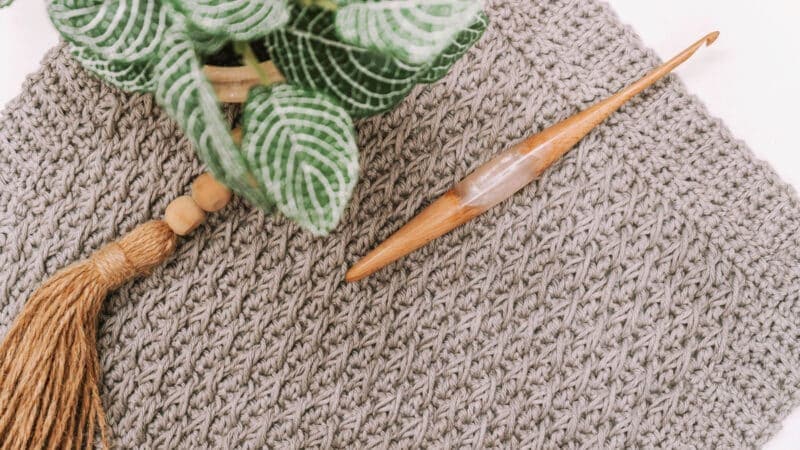 Video Tutorial to Crochet the Alpine Stitch:
Pattern Instructions for an Alpine Stitch Washcloth:
Row 1 (wrong side): Ch 40 for your starting chain. Starting in the first chain sc in each sts across, turn. (As an alternate, this first row can be done as a foundation single crochet)

Row 2 (right side): Stsc in first, dc in each stitch across, turn.

Row 3: Sc in each sts across, turn.

Row 4: Stsc in the first st, *Fpdc around the dc sts from the previous dc row, dc in next st*; repeat from * to * until the last stitch, dc in the last stitch, turn.
Special Note: When working the front post stitches on the right side rows, bring the stitch up to the same height of your row (the hight of regular double crochets also worked on this row) before doing the last yarn over, see the photo tutorial below. This creates the first Alpine Stitch Row.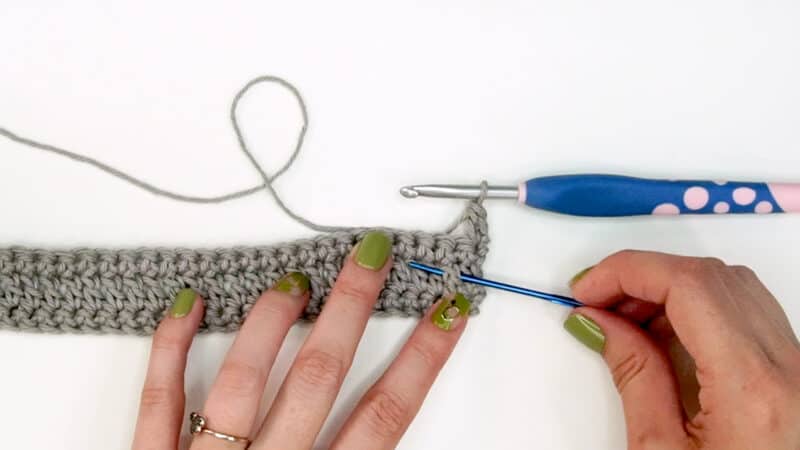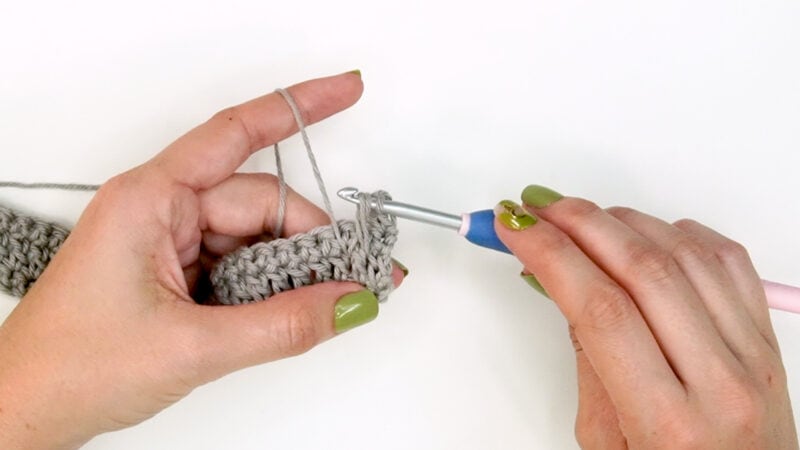 Row 5: Single crochet in each of the stitches across, turn.

Row 6: Stsc in the first st, *dc in next st, Fpdc around the dc sts from the previous dc row*; repeat from * to * until the last st, dc in last, turn.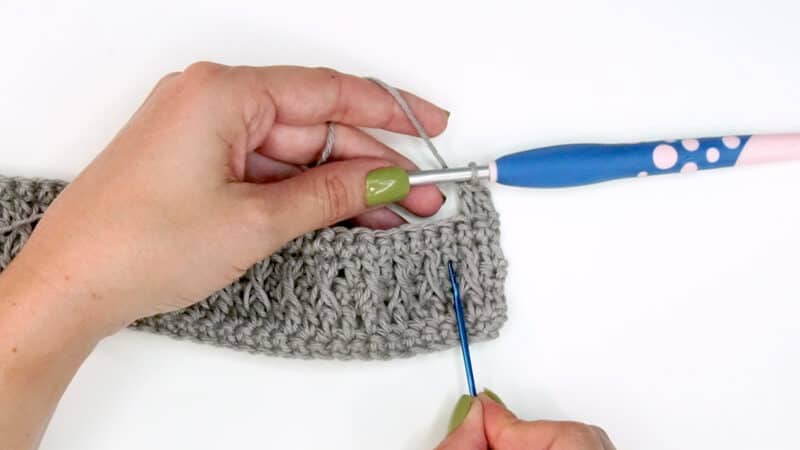 Row 7: Single crochet in each of the stitches across, turn.

Alpine Stitch Section Repeats: Repeat Rows 4-7 six more times or until keep creating the pattern repeat until desired height of your washcloth. If creating the washcloth border, continue to the next steps and do not cut the yarn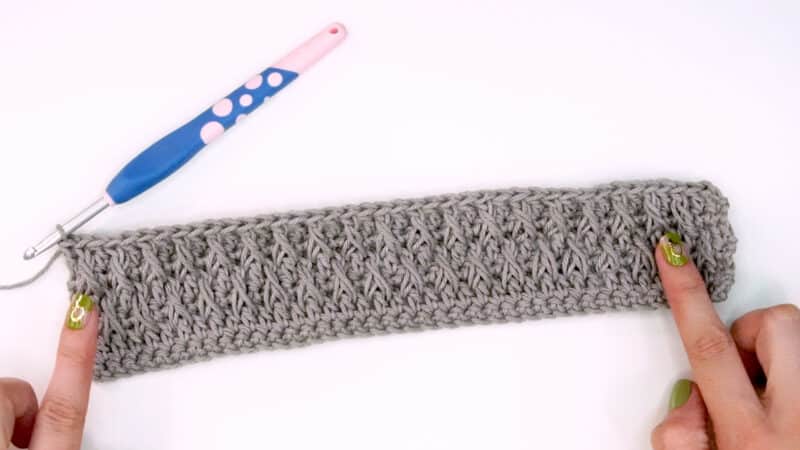 Instructions for the Alpine Washcloth Ribbed Border:
This will be worked on the top and bottom edges of the washcloth.

Row 1: Ch 5, sc in the first chain from hook and across towards the end of the row to the washcloth edge, sl st 2 sts along the blanket edge (these do not count as sts), turn. 5 sts
Row 2: Skip the two sts from the blanket edge, working in blo sc in the remaining loops of each st across until the last st, sc in both loops of the last st, turn.
Row 3: Ch 1 (does not count as a stitch), sc through both loops of the first st, blo sc in each st across, sl st in the next 2 sts along the blanket edge, turn.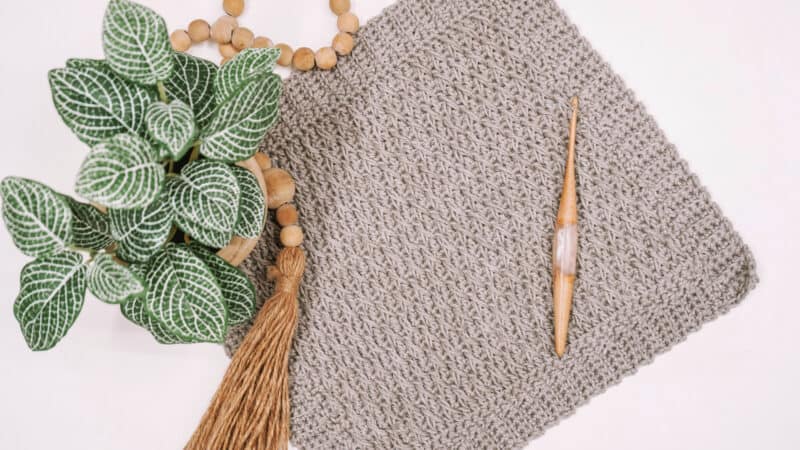 Repeats: Repeat Rows 2-3 across one side of the blanket, and cut yarn.
After completing one edge of the washcloth, repeat on the opposite edge by turning the washcloth around and attaching the yarn to the opposite corner of the washcloth.
Repeat the instructions from above along the long edges of the washcloth. To start, insert hook and sl st to the corner of the previous ribbed edge and working 2 sl sts per row along the edge of the washcloth.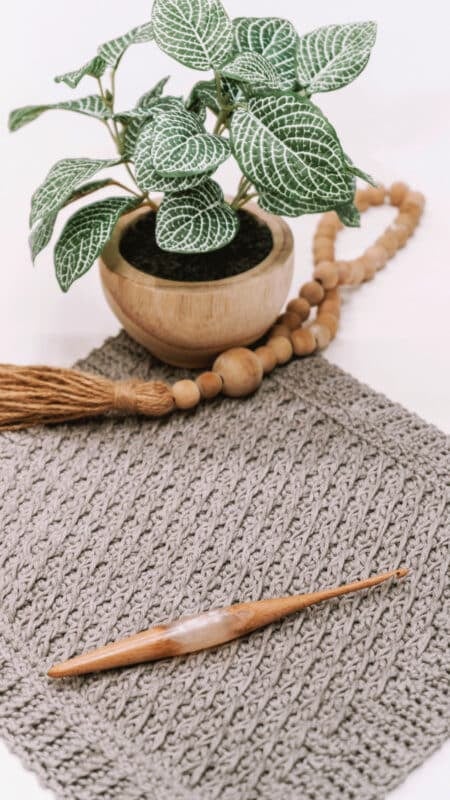 Finishing the Alpine Crochet Stitch Washcloth:
Weave in all yarn and enjoy your new washcloth with an amazing crochet texture. This is such a beautiful stitch to use for blankets, hats, and garments.
I will be making a baby blanket for my nephew using this stitch pattern, it's a great give for a baby.
A similar stitch pattern to this worked in the round, is the Teton Crochet Basket Pattern or the Super Cute Poppy Crochet Hat Pattern For All Ages.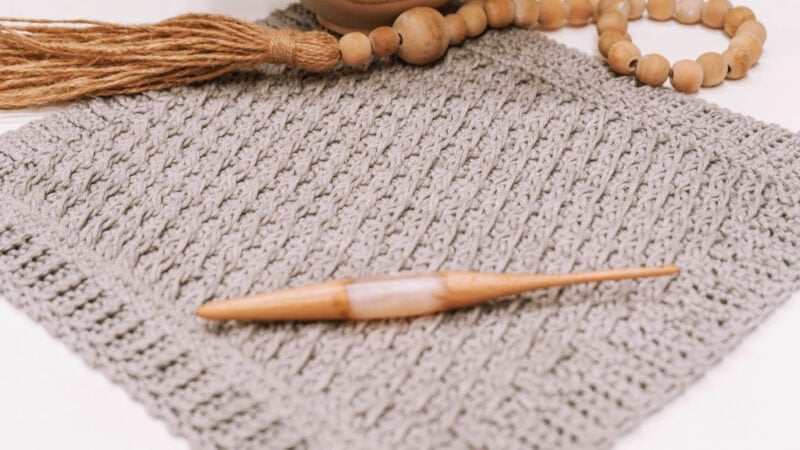 How to Use Your Alpine Crochet Washcloth:
Now that you've created your free crochet washcloth pattern with the alpine stitch, it's time to use it! Here are some creative ways to make the most of this cozy project:
1. Use your alpine-stitched washcloth in the kitchen! Relying on a traditional terry cloth can rough your delicate dishes and cookware. Instead, use your crochet washcloth – it's gentle on surfaces yet provides ample scrubbing power!
2. Make a relaxing spa day out of cleaning the bathroom. Put on your favorite album, light a few candles, and grab your alpine-stitched washcloth for an at-home spa experience while you give your sink and tub a much-needed scrub.
3. Turn cleaning into an enjoyable activity with the whole family! Invite young and old people to craft their washcloths because it's a great introduction to learning to crochet.
Or for really little ones, make it a game to use them together for a friendly cleaning competition. It may even inspire a few helpful habits in the long run.
Now that you know how to use your free crochet washcloth, it's time to get started! Enjoy stitching up this cozy project and putting it to good use. Happy crocheting!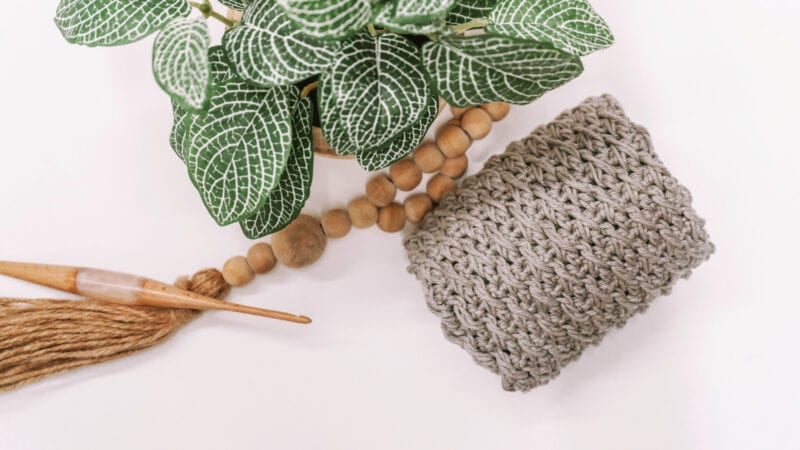 Love making crochet washcloths and want to learn more about crochet stitches?
I love crocheting washcloths, are here is why: Not only are they useful around the home, but they're also relatively quick and easy to crochet. And they can be made with a variety of materials like cotton or bamboo yarn.
If I'm going to take the time to learn a stitch pattern, I don't just want a small useless swatch. So why not create something while learning?
If you loved this crochet tutorial, check out my free patterns: How To Crochet the Moss Stitch + Free Washcloth Pattern or the Infinity Crochet Washcloth Free Pattern or learn How To Do The Extended Single Crochet Stitch (esc) In 4 Easy Steps. All of these crochet patterns also come with a video tutorial.
Want to create a beautiful blanket in various sizes with the Alpine Stitch? Head over to Alpine Stitch Textured Baby Crochet Blanket Free Pattern.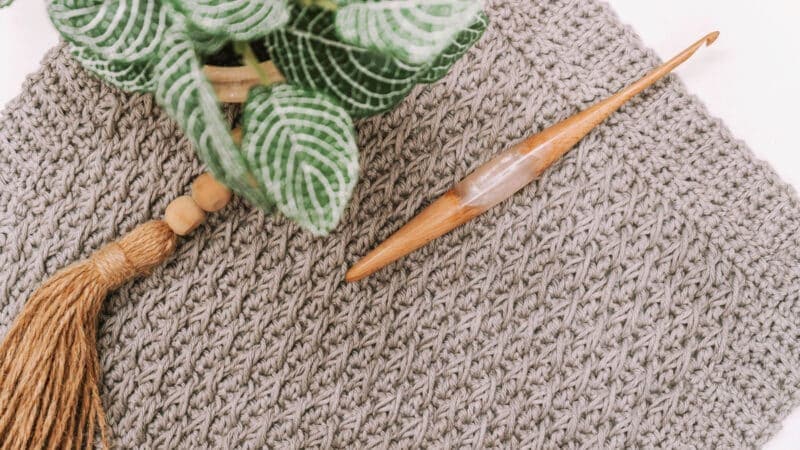 Share Your Project & Share Pictures!
I really hope you enjoyed working on this project. The best way to make a designer smile is to share what you've made! When it comes to free or premium content, I really rely on you to help me keep designing and supporting my family. Here is how you can make my day:
Share your yarn choice, in-progress, or finished projects on Instagram and use the hashtag #brianakdesigns
Link and share your project on Ravelry. It really helps to have inspirational photos for others.
Join the Briana K Designs Community Group on Facebook and share anything crafty.
Don't Lose This Project! If you aren't ready to start it save it on Pinterest by clicking any of the images above.